This post contains affiliate links. See my disclosure for more information.


If you are confused by the term Gluten-Free-ish, wonder why you shouldn't eat a food cooked in a shared fryer with gluten and often turn to Facebook groups for gluten-free support, please read on…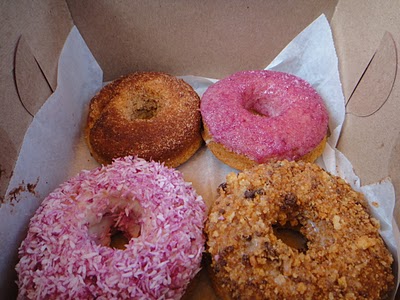 Recently someone in one of the local Facebook groups in my area commented that a donut shop in a nearby vacation area has gluten-free donuts. I had heard this place was offering donuts they call Gluten-Free-ish and wanted to know more. I asked my usual questions: Are the donuts kept separate? Do they have a dedicated fryer? The replies didn't match, the original poster said the donuts were kept separate, prepared in a separate part of the kitchen in their own fryer. Another person followed up by saying they were in the donut case with "regular" donuts and they wouldn't chance it.
In preparation for visiting this area soon, I called the donut shop to get the scoop. Here's what I was told: they do not have a separate prep area. They don't make "regular" donuts at the same time, but don't have a separate area or a separate fryer. They filter their oil before frying and since the oil is heated to 400 degrees, there is no gluten in it. They cannot guarantee their donuts are actually gluten-free and call them gluten-free-ish. To me, it is clear anyone who must avoid gluten by medical necessity should NOT be eating these donuts.
Here are my takeaways from this situation:
If a business calls their product "Gluten-Free-ish," they are willingly confusing their customers. Either it is gluten-free (20 parts per million or less) or it isn't. There's no "ish."
Heating oil to 400 degrees does NOT remove gluten. Gluten cannot be "killed" in high heat.
Filtering oil used with gluten does not remove gluten from previous use. Simply filtering oil is not sufficient to make the oil safe for use in frying gluten-free foods.
Be VERY cautious when taking recommendations from Facebook groups. Make it your business to know who moderates the group. It's important to know if recommendations from those who don't strictly adhere to a gluten-free diet are welcome.
Ask ALL THE QUESTIONS yourself anytime you are dining out, even when you have a solid recommendation. Ingredients change, cooking methods change, knowledge of the kitchen staff can change. Don't count on someone else's recommendation from yesterday or six months ago to keep you healthy.
I know this information hurts, we all want to find the easy button of eating out gluten-free. And yet we all want to be our best selves, the healthiest we can be while living gluten free. This will always require diligence on our end. That includes caution in who we accept recommendations from, not taking chances with shared fryers and sometimes even gently educating those who lead us astray, whether that be a business or a fellow gluten-free community member.