This post contains affiliate links. See my disclosure for more information.


Fresh Peaches are perfect for making Peach Salsa. This recipe makes enough that you could can or freeze enough to last well past summer. With just a few simple ingredients, you can make this in very little time and enjoy it well past the bright days of summer!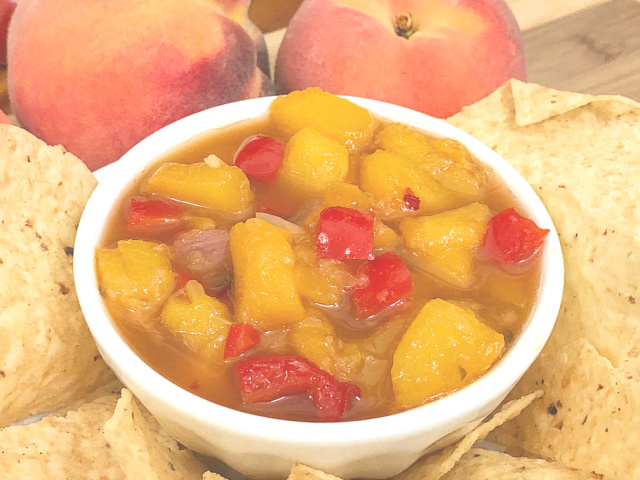 For several summers, I've made this peach salsa with Palisades Peaches from Colorado. They are extremely juicy and not a particularly hardy variety of peach, needing to be used relatively fast. If you've ever tasted one, you know why I've used them. The peach flavor is intense, the flesh is a light color with the prettiest red blush around the pit. Peach juice slides down your arm if you eat one straight out of the box. Simply the best peaches I've ever tasted. I've toted cases back to Missouri from road trips to Colorado and recently found there is a company in Kansas City doing the toting of the peaches. How great is that?!? I ran to a neighboring suburb and picked up a few cases specifically to make this salsa and pie/cobbler filling to freeze.
I learned to make this salsa from a Master Canning course I took through the University of Missouri Extension. The recipe in our class text, the 196-page Complete Guide to Home Canning from the USDA, included a recipe for making mango salsa, with a footnote that it could be used for peaches. I've modified it a bit but the pH has not been altered so the canning instructions included here are accurate.
Canning is something I rarely afford myself the time to do anymore, so I'm now freezing this recipe. One batch perfectly fills four pint containers of your choice. I've been using the Ziploc Twist n Loc containers for salsa for a couple of summers now. The lid screws on tight, so I can put a container in a bowl of hot water to thaw when I forget to set a container out of the freezer.
What to do with this Peach Salsa: It's amazing with tortilla chips. We eat this often on cheese tamales. Friends enjoy this over chicken or salmon. It's good on tacos and surprisingly pairs well with saucy BBQ.
Let's jump right in and make a batch of peach salsa for freezing or canning!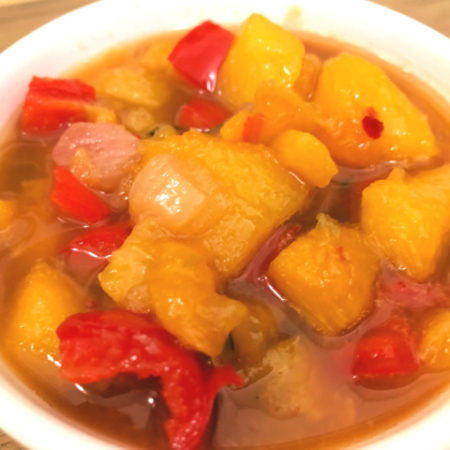 Peach Salsa for Freezing or Canning
Ingredients
6

cups

fresh diced peaches

1 1/2

cups

diced red bell pepper

1/2

cup

diced yellow onion

1

fresh jalapeno, finely diced

2

teaspoons

minced garlic

(about 3 to 4 cloves)

2

teaspoons

finely minced ginger root

(a 2" piece or less)

1/2

teaspoon

crushed red pepper flakes

1

cup

light brown sugar or coconut sugar

1 1/4

cups

apple cider vinegar (5% if canning)

1/2

cup

water
Instructions
To peel fresh peaches: Boil a large pot of water. With a small knife, cut an X onto the bottom of the peach. Drop into boiling water for 30 to 60 seconds, remove with a slotted spoon and immerse in an ice water bath. The peels will slide right off.

Combine all ingredients into large pan. Over medium heat, bring to a boil.

After salsa has come to a boil, reduce heat to medium/low and simmer for 5 minutes.

Remove from heat at the end of 5 minutes and divide into 4 pint containers for freezing.

If canning is preferred, there is a link in the blog post with specific canning instructions.