This post contains affiliate links. See my disclosure for more information.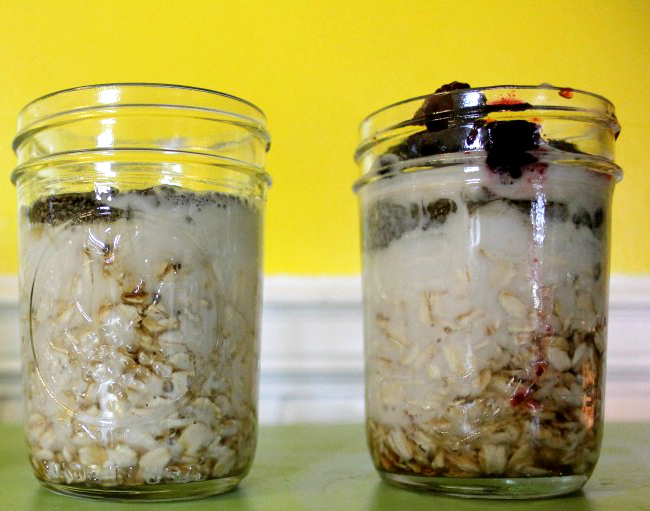 Overnight Oats, Gluten-Free and Dairy-Free. Breakfast in a hurry, made ahead, easy to grab and go on the most hectic of days!
Awhile back, overnight oats were all the rage on Pinterest. It took me a bit to figure out that most of the pins I was seeing took me to one site, The Yummy Life. I added the recipe to my list of "try someday" recipes. Maybe you have a similar board? Mine is hundreds of recipes long and I'll probably never get to half of them.
Anyway, fast forward a few months…I was attending a food media gathering and monetization was one topic being discussed. You know, how to make big bucks on a blog. If you are a blogger, this doesn't surprise you. We all want to know how we can make enough money writing recipes to buy enough food to write more recipes…and maybe replace the leaking dishwasher. For the rest of my readers, that's food blogger speak for trying to figure out how to make money creating recipes and sharing them on-line. It's tricky business. Anyhow, one gal spoke up and talked about the power of Pinterest and what it had done for her blog. It was Monica from The Yummy Life, THE overnight oats gal!
I didn't get a chance to talk to her during the conference. Every time I saw her, someone was chatting with her about the money thing…I really wanted to talk to her about the overnight oats! (This goes a long way in explaining why I am not wealthy, but I eat well…) The thought of making breakfast the night before makes me very happy. The possibility of making several days breakfast ahead of time really makes me happy!
I missed my opportunity to talk to Monica, but came home and looked at her recipes. There are many variations of overnight oats on her site, you should visit. The original recipe contains dairy and potentially gluten, so that had to be changed. I also needed some consistency between flavors, a one-size-fits-all-flavors concept if you will. With a lot of trial and error, I figured out a way to make overnight oats for folks like me who must avoid gluten and perhaps a few other foods like dairy.
So what are Overnight Oats? Well, it's oatmeal that you don't have to cook. I make mine in 1/2 pint mason jars and store them in the refrigerator. I eat mine cold, but I know folks who eat theirs at room temperature or warm them up. On Sunday, I make 12 jars, breakfast for two for the next 6 days. It takes me about 15 minutes. That's it, 15 minutes. Packed with nutrients, this is a perfect breakfast for those of us in a hurry. The chia seeds are rich in fiber, antioxidants and omega-3 fatty acids, more so than flax. Add to that all of the goodness in purity protocol gluten-free oats, non-dairy milk and the add-in toppings and you've got a super healthy breakfast in no time!
Overnight Oats, Gluten-Free, Dairy-Free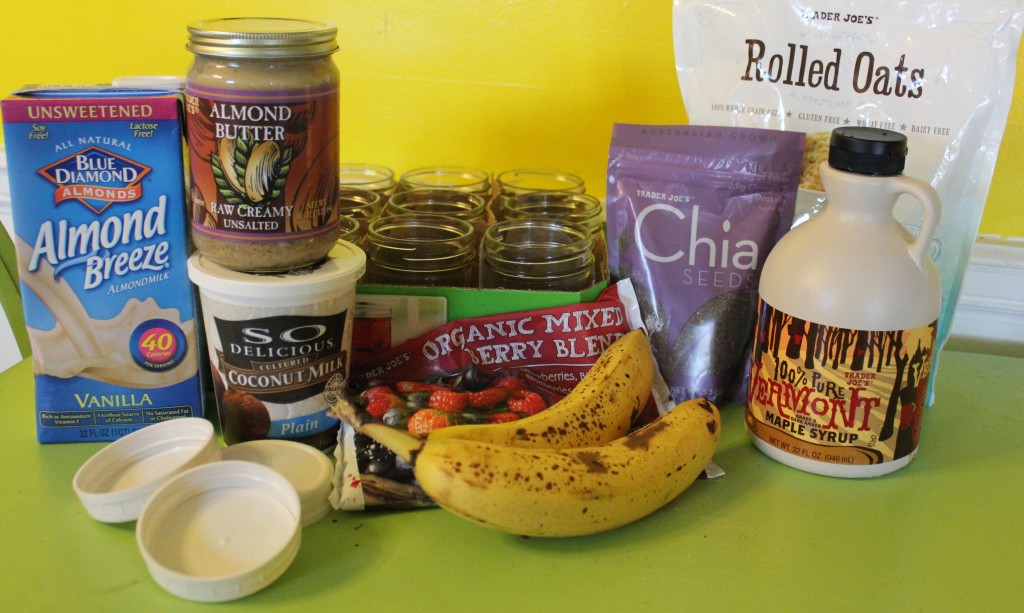 Makes 1 serving, multiply to make as many servings as needed
1 half pint mason jar
¼ cup purity protocol gluten-free oats (Choose a brand from this list.)
1/3 cup non-dairy, unsweetened milk (I use almond milk and coconut milk most often, use what works for you)
¼ cup non-dairy yogurt, such as So Delicious coconut or Amande
1 ½ t. Chia Seeds
1 t. sweetener of your choice, honey, maple syrup, coconut nectar
¼ cup add-ins*
Spices as desired
*Add-ins include fruit, nuts, nut butter, chocolate pieces, etc…
In a mason jar, layer oats, non-dairy milk and non-dairy yogurt.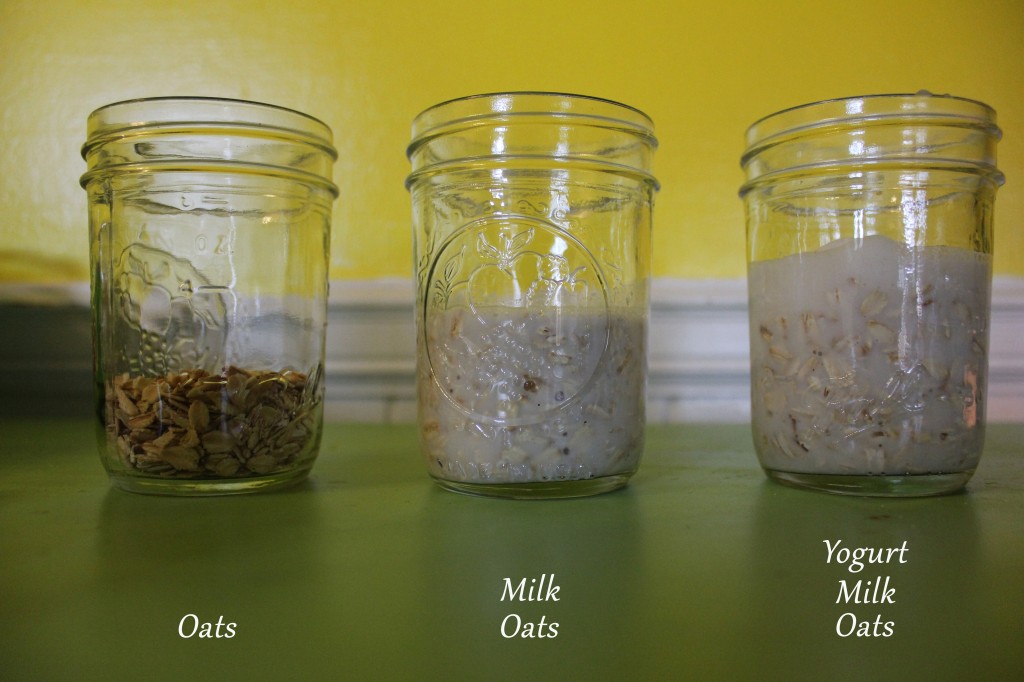 Next, layer in chia seeds, sweetener and add-ins.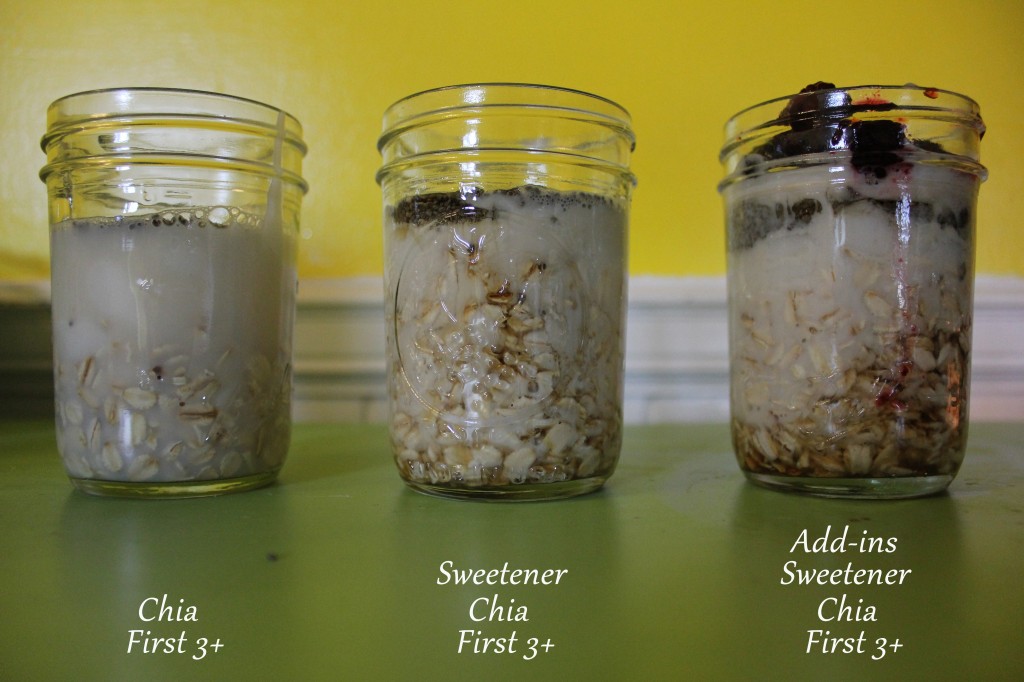 Stir well, put lid on tightly and store in refrigerator at least overnight before eating. Reusable Plastic Lids
for canning lids are available at areas stores as well as on Amazon. I find a butter knife works very well to stir these, as the jars are very full and trying to get a spoon in the jar makes quite a mess for me.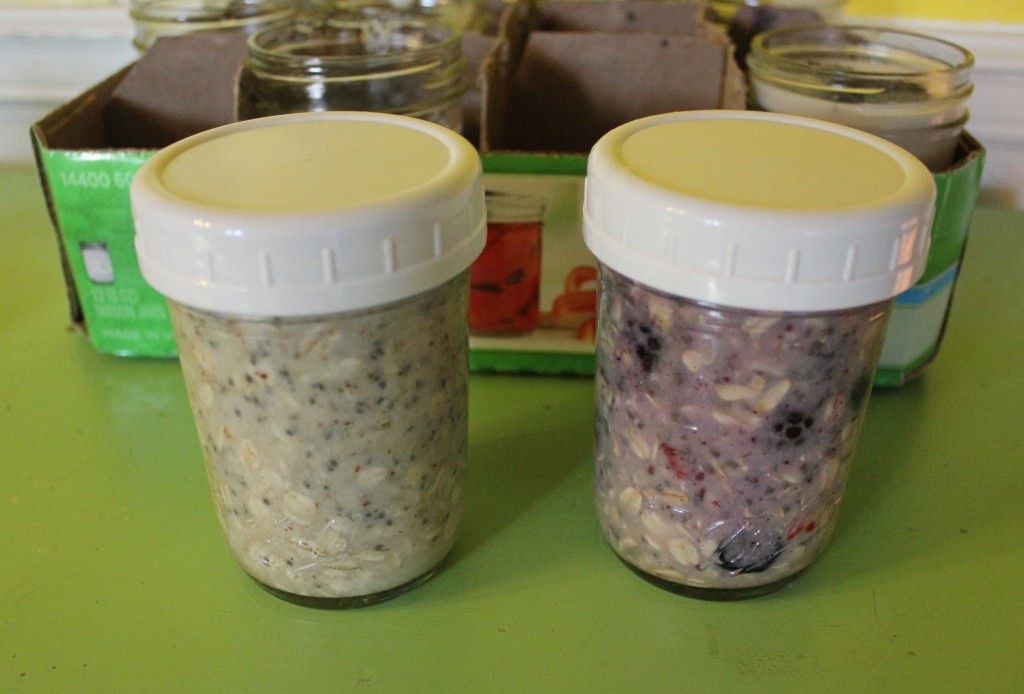 These will keep well in the refrigerator for 3-4 days depending on your add-ins. If using a banana, I try to eat within 3 days. If using other fruits and nuts, some will store well for 5-6 days. I do not stir in nuts and seeds, I leave them on top of the stirred mixture so they retain more of their crunch.
Favorite Add-In combinations:
Chunky Monkey
Add honey for sweetener, 1 t. cocoa or cacao powder, 1 T. nut butter of your choice and ½ of a small banana, diced.
Peach Cobbler
Add maple syrup for sweetener, ¼ cup finely diced peaches, ¼ t. cinnamon and a dash of nutmeg.
Pina Colada
Add honey or agave for sweetener, ¼ cup finely diced pineapple and ¼ cup finely shredded unsweetened coconut.
Autumn Blend
Add maple syrup for sweetener, 2 T. pumpkin puree, 1 T. dried cranberries (Eden Organics) and 1 T. chopped pecans. Stir in 1 t. pumpkin pie spice.
Frozen or fresh fruit will work in this recipe. In addition, dried fruits will work but may absorb some of the liquid in the oats. I sprinkle nuts and seeds on top AFTER stirring everything else together. They retain a bit of crunch.
In a recent culinary class, I taught how to make my variation of Overnight Oats. We had a sampler of four flavors. While not a fancy food photo, I think this shows well the texture of overnight oats.
Are you a fan of making meals ahead of time? I'd love to hear what you are making!