This post contains affiliate links. See my disclosure for more information.


I've long been a fan of Chef Rick Bayless. Several times I've walked by his community of restaurants in Chicago (Xoco, Frontera, Topolabampo) but was always on the way to a dinner reservation elsewhere or a work commitment. On a recent trip to Chicago, I made sure I wouldn't walk by again without stopping in for a meal.
And, wow, what a meal!
Before I share too much about my meal, I have to tell you the menu at Frontera changes seasonally. I was there on the last day several of the dishes I ate were offered. Today's menu may reflect different dishes than what I ate. But based on the six dishes I sampled, I'm gonna guess you'll be well fed, regardless of the season. Here's a peek into the dining space: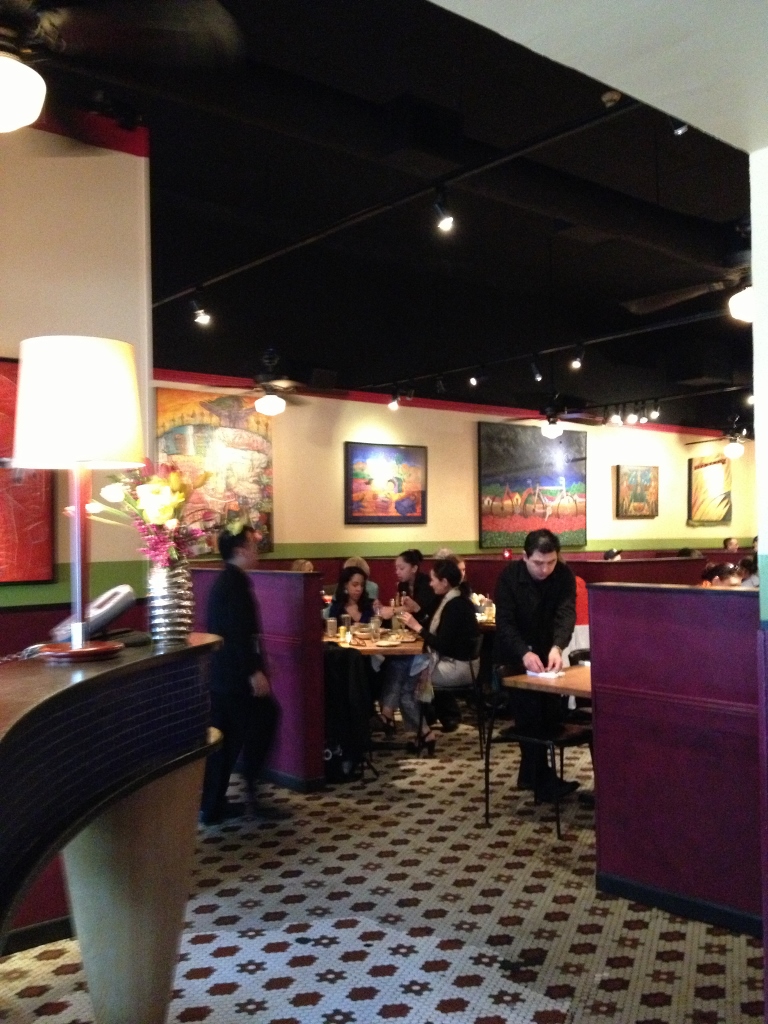 About eating gluten-free here: while they don't have a specific gluten-free menu, they have well-informed staff. Our server was quick to point out what was gluten-free and was unsure on only one of the many dishes I asked about. She was incredibly patient and made a trip to the kitchen to confirm one dish that she suggested to us. I felt comfortable eating here.
First up, from the Vegetables (and a little meat) section of the menu, Jicama Street Snack. This dish is so very simple…and so very delicious. Crunchy spears of jicama, cucumber and pineapple with a drizzle of lime juice and sprinkled with guajillo chile. This was the best $6 I spent in Chicago.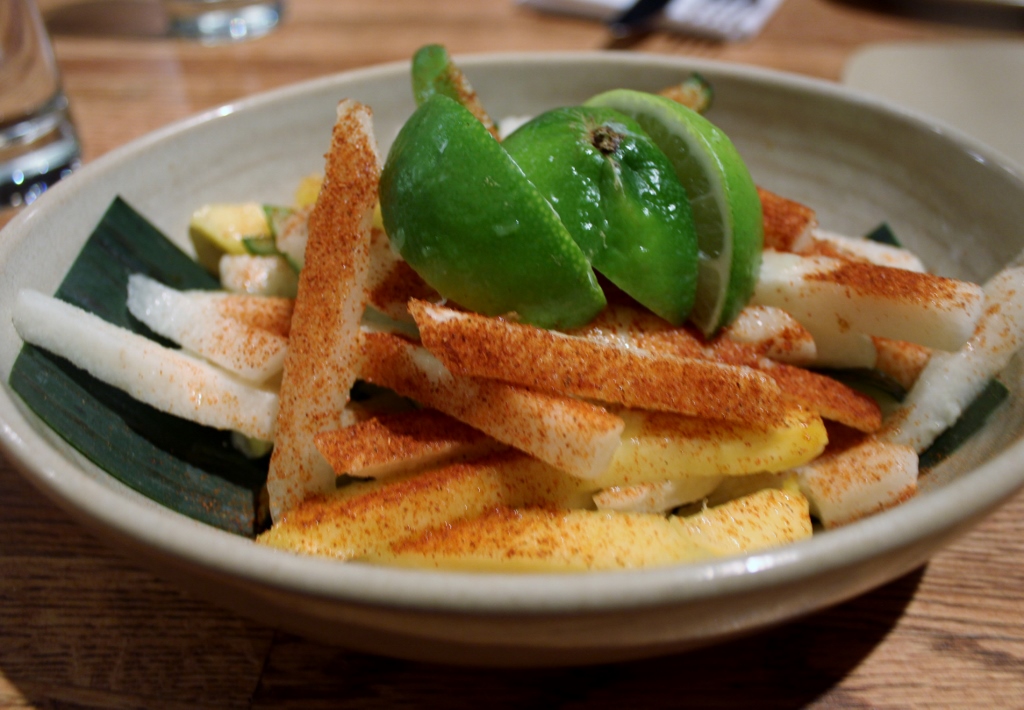 Next, I shared a couple of rice dishes with my favorite fella. White rice with black beans, grilled knob onions, morita chile peppers, a basic yet flavorful dish. This is the kind of food I could eat every day. The second rice dish was a red chile rice with lentils and pineapple.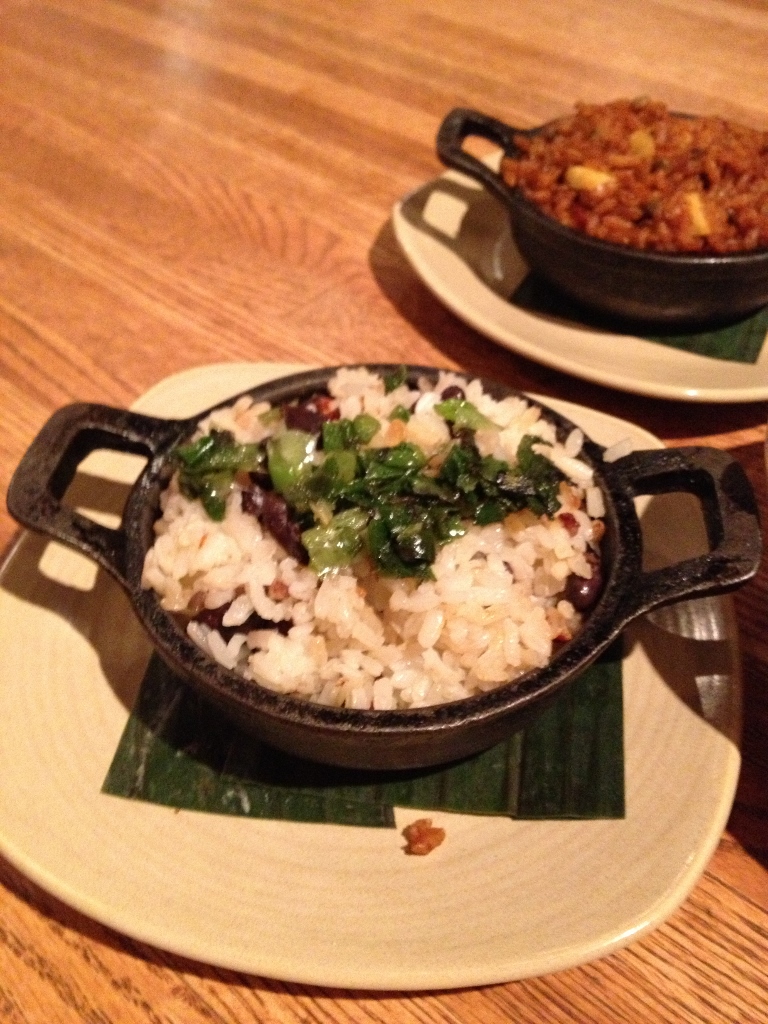 This kale dish, oh the kale. You know I'm a big fan of kale, but this dish would make a believer out of the kale-reluctant. I know, some of you still don't buy into my kale craziness. This dish, I'm convinced it would change that for you. Black kale with a guajilla chile sauce, little chunks of sweet potato and wood-grilled onions. I'm usually a good sharer of food. I considered stabbing my favorite fella's hand with my fork every time he reached for some of this. Only kinda sorta kidding.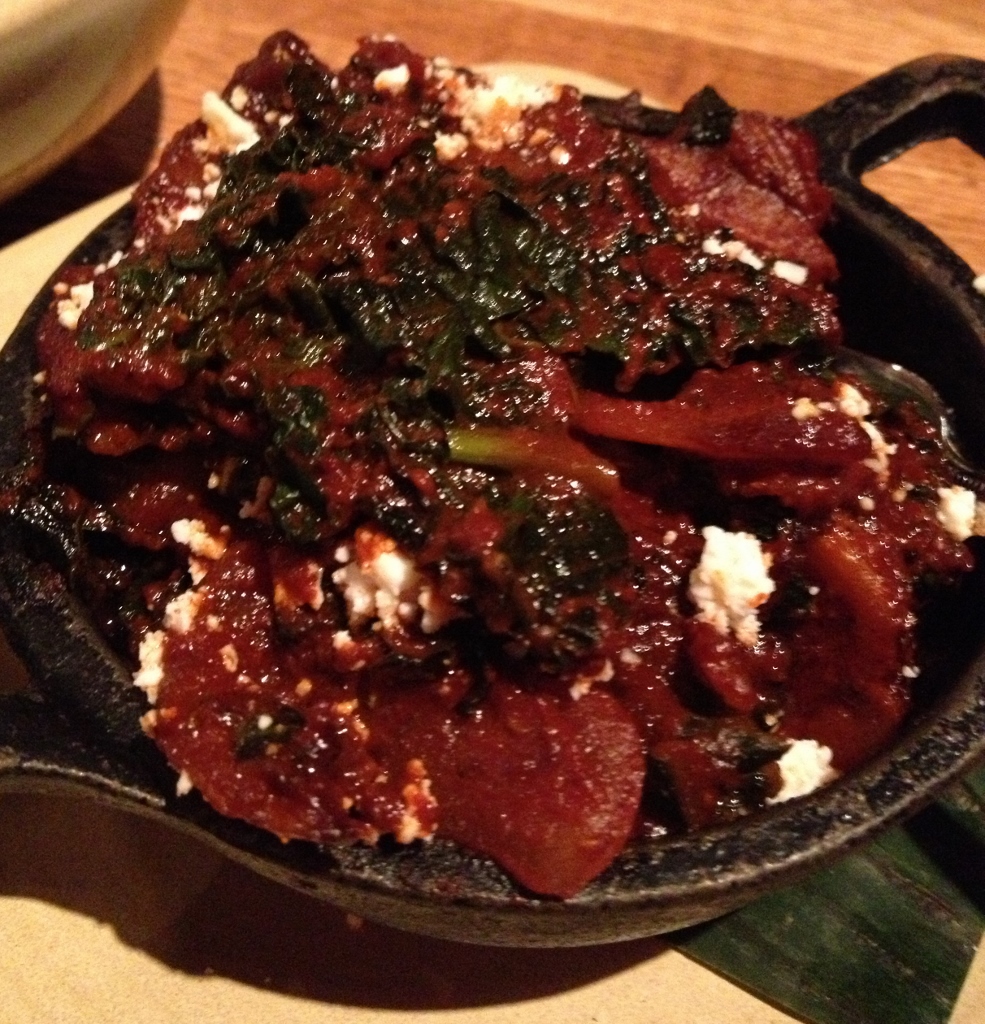 Then there were a couple of tamale dishes. Fresh corn tamales, two little pillows of masa and corn kernels steamed in banana leaves, were delightful. I know that's not very descriptive but they truly were delightful. The masa had a fluffiness to it and the pillow shape was the perfect serving size for one. These left me wanting to know more about tamales beyond the traditional corn-husked steamed version.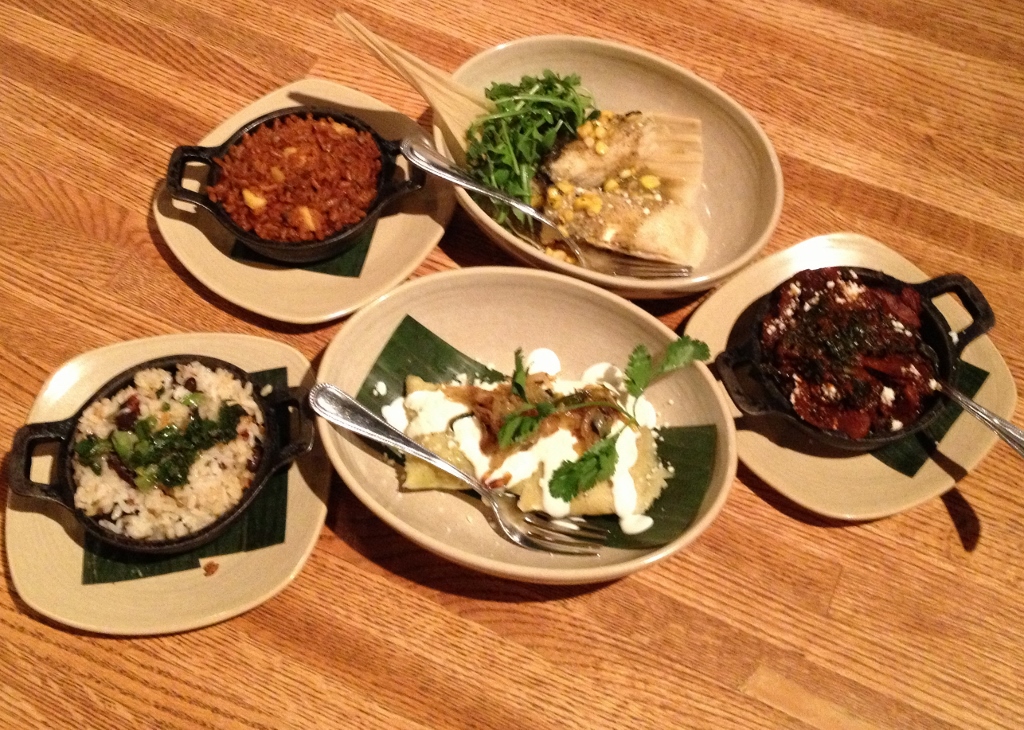 The second tamale course was huitlacoche tamales. Corn-husked steamed, more like the traditional tamale I'm most familiar with. Huitlacoche seems to be a polarizing food, folks love it or hate it. I'm in the love it corner and it was great in a tamale dish. I suppose if I called these corn smut tamales you wouldn't like them, but I'd encourage you to try them anyway.
Here are a couple more photos of the space. It's no surprise this entire stretch of street in Chicago, claimed by Rick Bayless, is full of delicious smells, vivid color and activity. I would eat here again in a heartbeat. I had more gluten-free vegetarian choices here than at many vegetarian restaurants and every dish I tried was something I would happily have again. Except that the menu has now changed. I may need to go back for another round…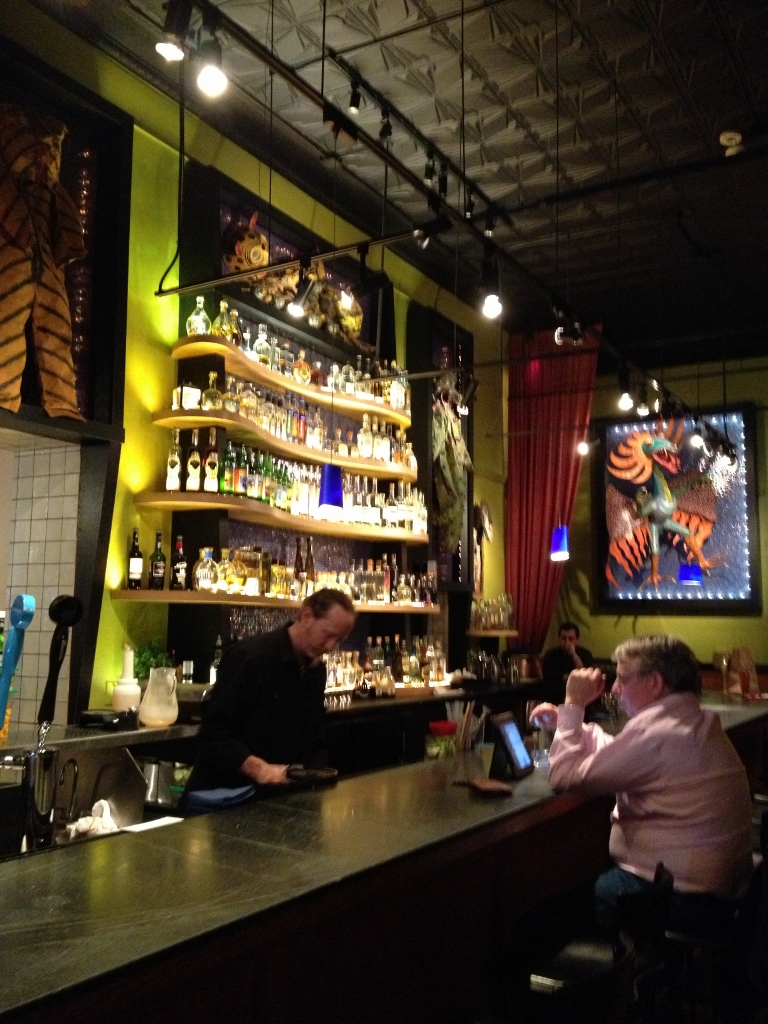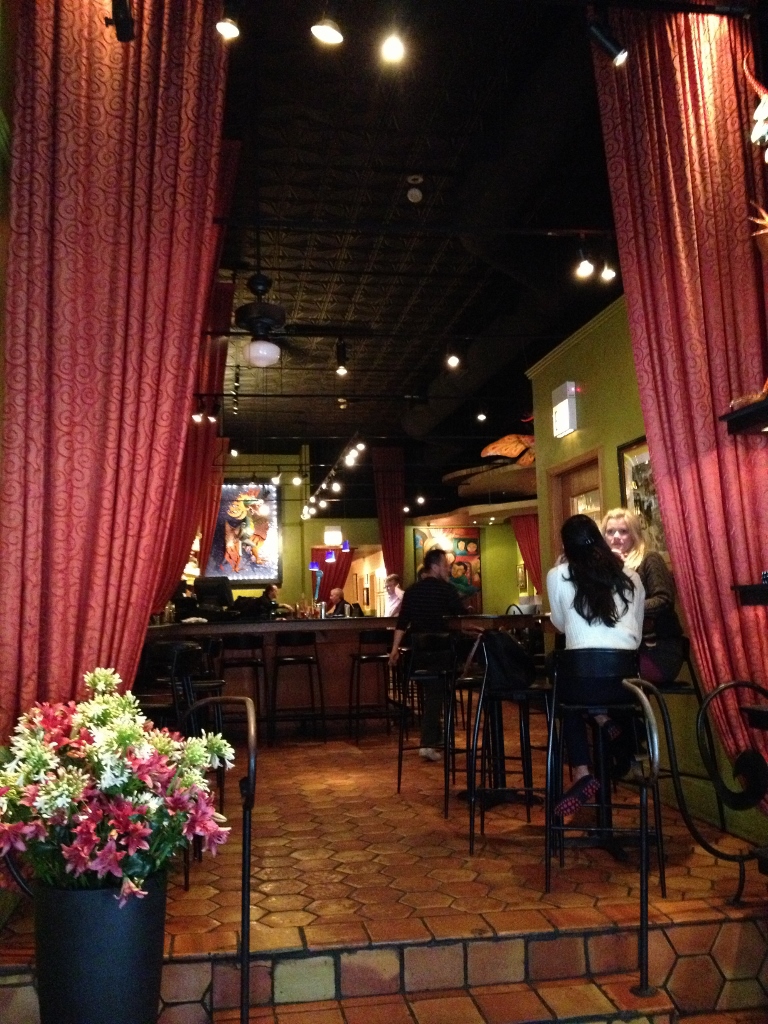 Frontera Grill is located at 445 North Clark Street in Chicago, IL. 312.661.1434
Eat With: minimal caution. My experience was that the staff is well-informed and cautious in providing a safe gluten-free meal. I was told that chips are fried in a shared fryer, however I was offered corn tortillas as an alternative. Ask away, questions were welcomed.
Johnna's I Ate Here series is not intended as a restaurant review, rather a summary of Johnna's experience dining out. You may or may not have a similar experience. Menu prices, items and ingredients featured were current at the time of writing. Please read the menu carefully and ask your server for assistance in ordering if you have dietary restrictions. It's a good idea to call ahead and let the restaurant know of your food needs.