This post contains affiliate links. See my disclosure for more information.


For the past couple of years, I've made a taco filling with walnuts. It's very quick to make and really tasty. Until you need something with no nuts. While I can't eradicate the human nuts from my kitchen, I knew I could find a way to make meatless tacos that were also nut free and maybe even raw vegan.
So I sought out to find an alternative to nuts. Would you believe this is even better than the walnut one I thought was absolutely fine? Isn't that how it often works out? A new dietary challenge often ends up being the impetus to creating something that tastes even better. This taco filling is made with sunflower seeds! While not always a cup-for-cup replacement for nuts, it required minimal modification to my walnut taco filling to make a similar filling that is even more flavorful.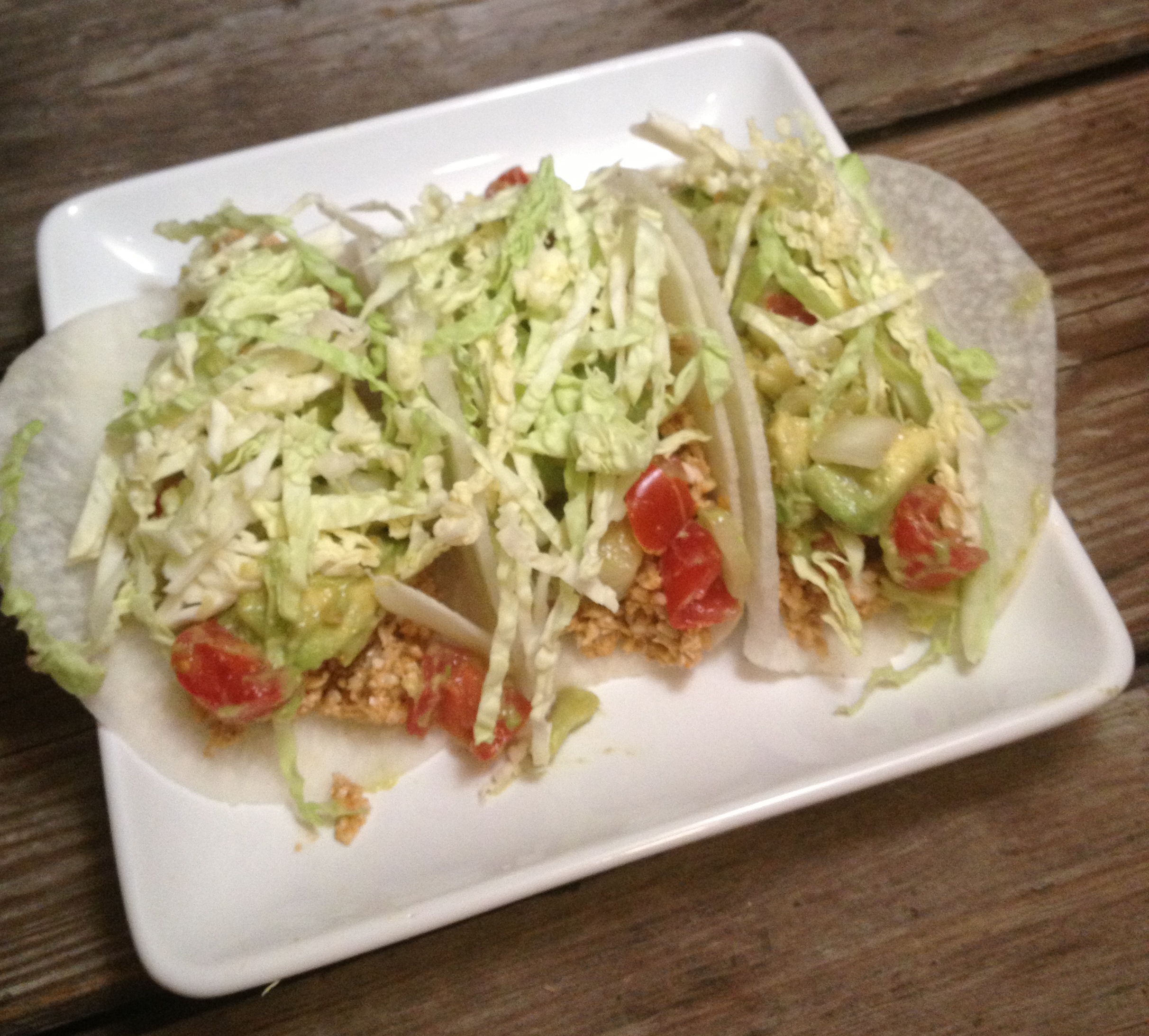 As I mentioned in my jackfruit taco post, my go-to for taco shells is a very thinly sliced jicama. I learned this from Diane at The Whole Gang and have never looked back. It's crunchy, light and perfect for making a plate full of tacos, not to mention gluten-free.
Here's how I made these tacos:
One slice of jicama and a bit of sunflower seed filling: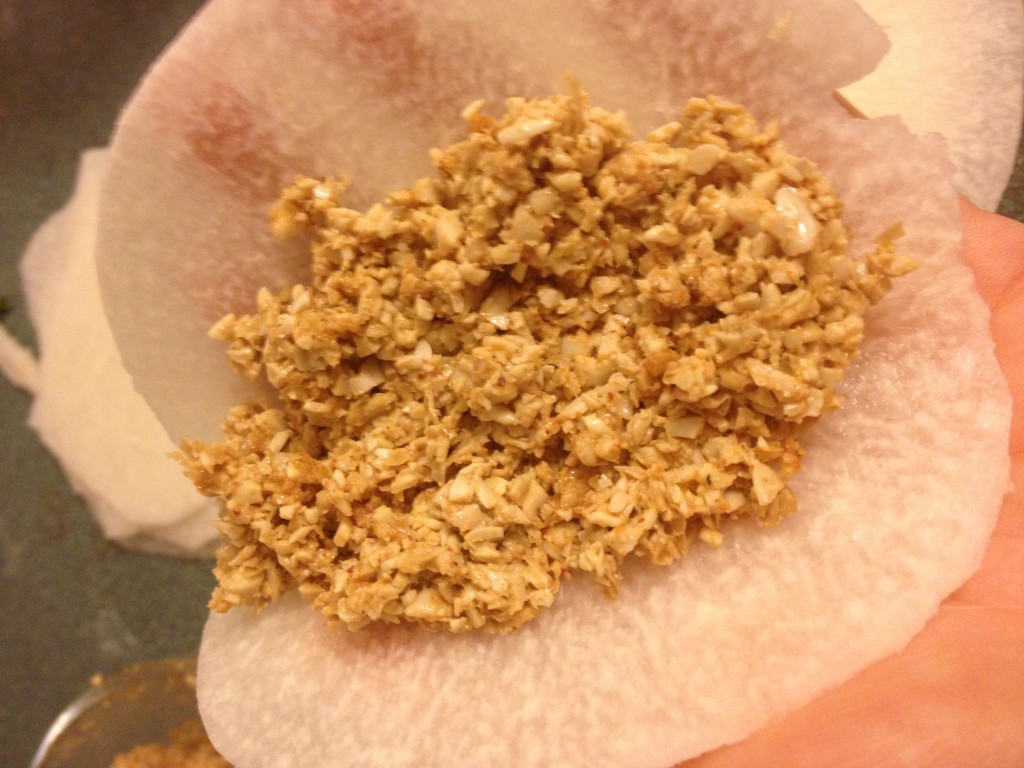 A generous dollop of lazy guacamole*: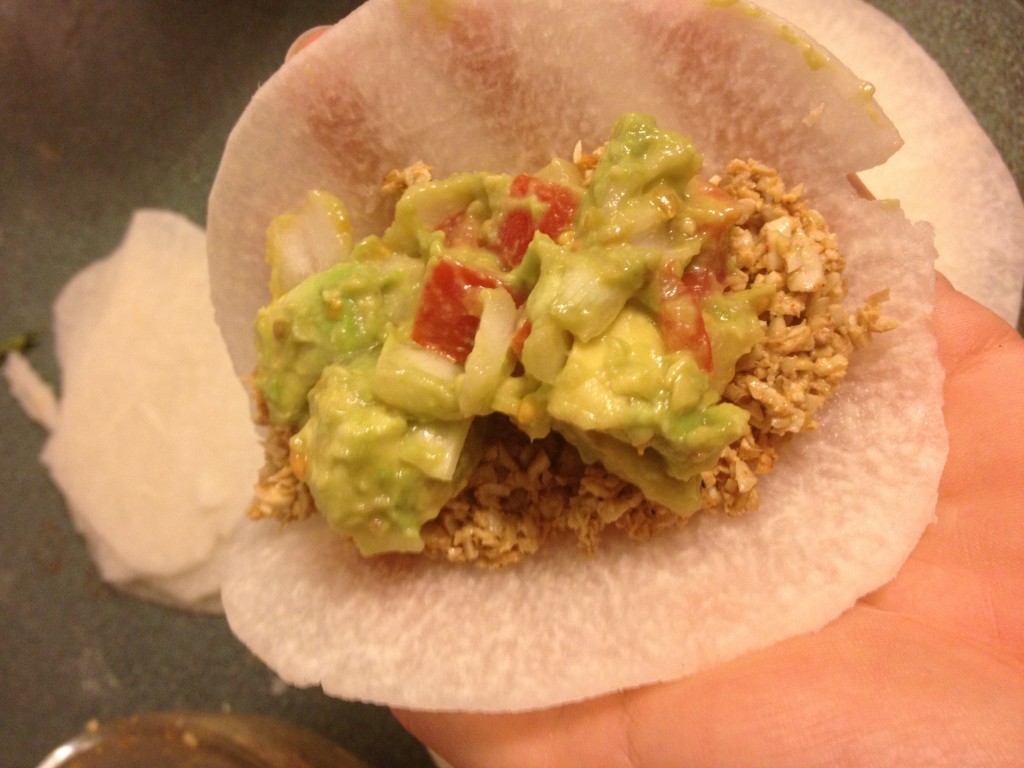 Just a bit of shredded cabbage. And that's it.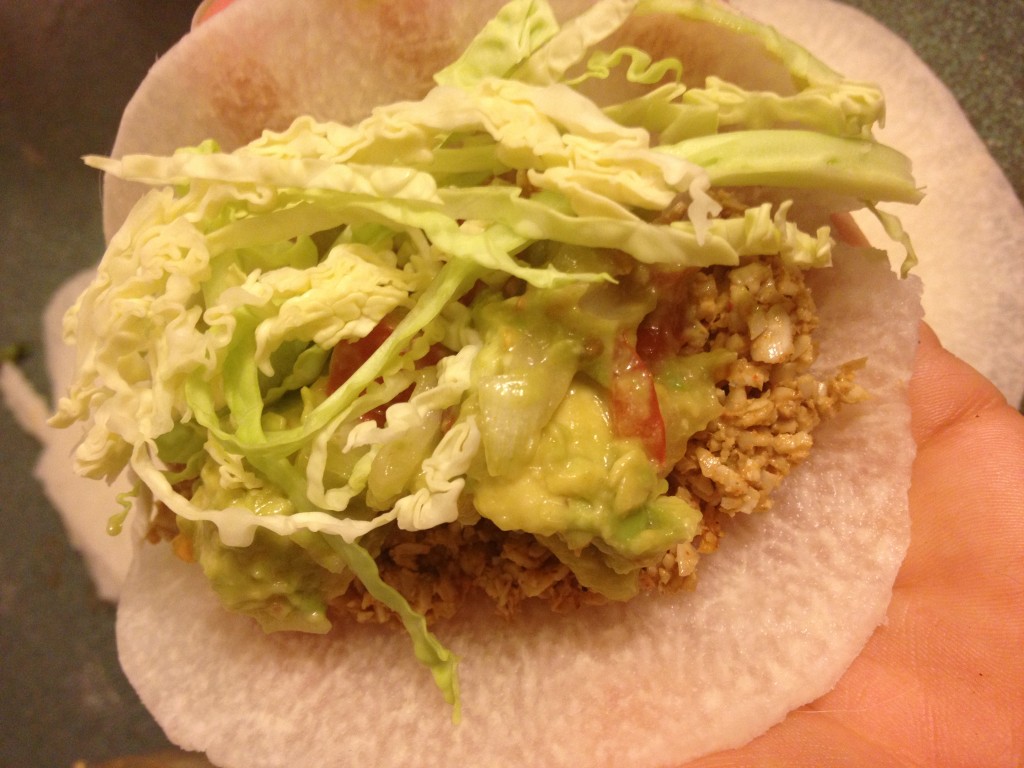 Super easy and makes a very quick dinner for four!
Johnna's Favorite Taco Seasoning Blend
Ingredients
2

T

. chili powder

(I use medium heat from Penzeys)

1

T

. cumin

2

t

. ground black pepper

1 ½

t

. finely ground sea salt

1

t

. paprika

(I like smoked)

½

t

. garlic powder

½

t

. oregano

½

t

. onion powder

½

t

. red pepper flakes
Instructions
Mix all together and store in an airtight container, such as a glass jar. I mix a large batch and keep it handy. Give the jar a good shake to mix the spices together before using.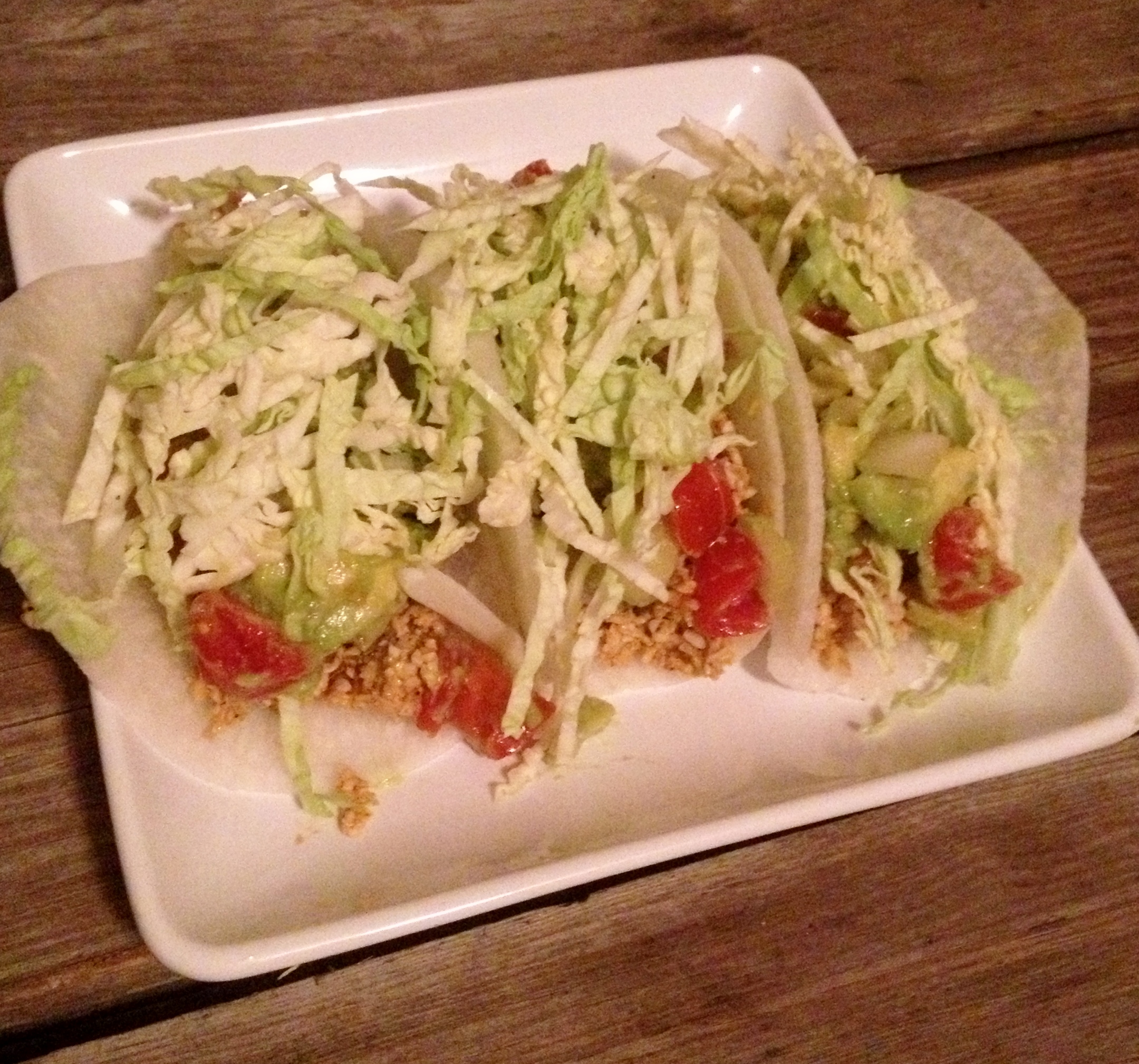 Sunny Tacos, gluten-free, raw vegan, nut-free taco filling
Ingredients
1

cup

sunflower seeds

, soaked overnight in water, rinsed and drained

2

cloves

garlic

, minced

1

T

. tahini

1

T

. Bragg's Aminos or gluten-free soy sauce

2

t

. taco seasoning

(see my favorite blend below)

Juice of 1 lemon

, approximately 2 to 3 T.
Instructions
Combine all ingredients in bowl of food processor, fitted with "s" blade. Pulse until well ground, but not long enough to turn into a paste.

This makes four generous servings. Store any leftovers for 2-3 days in the refrigerator.
*My version of lazy guacamole isn't really a recipe. I toss in a couple of avocados, one small onion diced, a handful of cherry tomatoes halved, a little garlic, a little cumin, juice of a lime and stir away.
I'm linking up with Gluten Free Cat's Raw Foods Thursday. And while you are at her site, check out the tacos she shared this week–the nacho cheese spread she made is delicious!