This post contains affiliate links. See my disclosure for more information.


We have these lovely backyard hens who entertain us, annoy one of our dogs to no end and occasionally lay tasty eggs for us.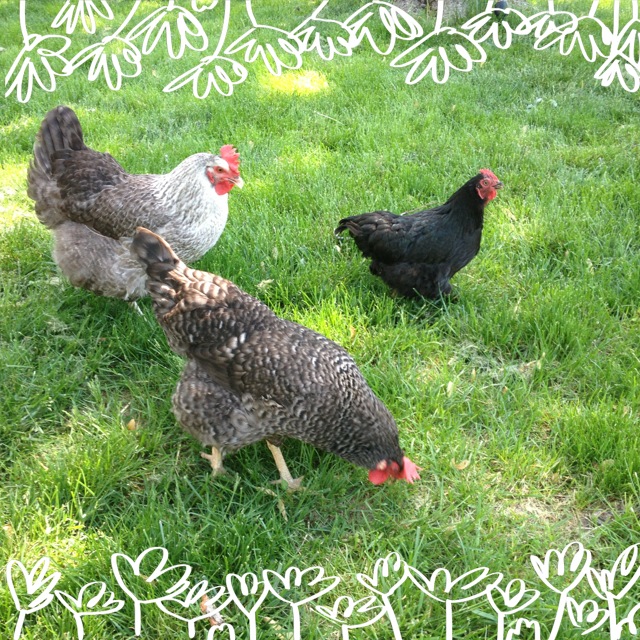 Lately, that "occasionally" part has been thrown out the window. With the arrival of Spring (finally!), they have been working overtime. Each of our hens has laid one egg a day for a couple of weeks now. It's nice to have a surplus of eggs to cook with for a change.
Quiche is a quick and easy go-to meal once you figure out gluten-free pie crust. My basic recipe is included below. I make this recipe, which makes enough for two 8″ or 9″ crusts. I split the dough in half and flatten into a disk, wrap in plastic wrap and freeze. Each disk is one crust and I pull it out of the freezer and let it thaw until it is roll-able. Or if you prefer, you can roll them into crusts and freeze them in pie pans. During the holidays, I make several crusts at once and freeze them in the single-use pie pans available at the grocery store. That way I don't have to worry about getting a pie pan back when I gift a pie!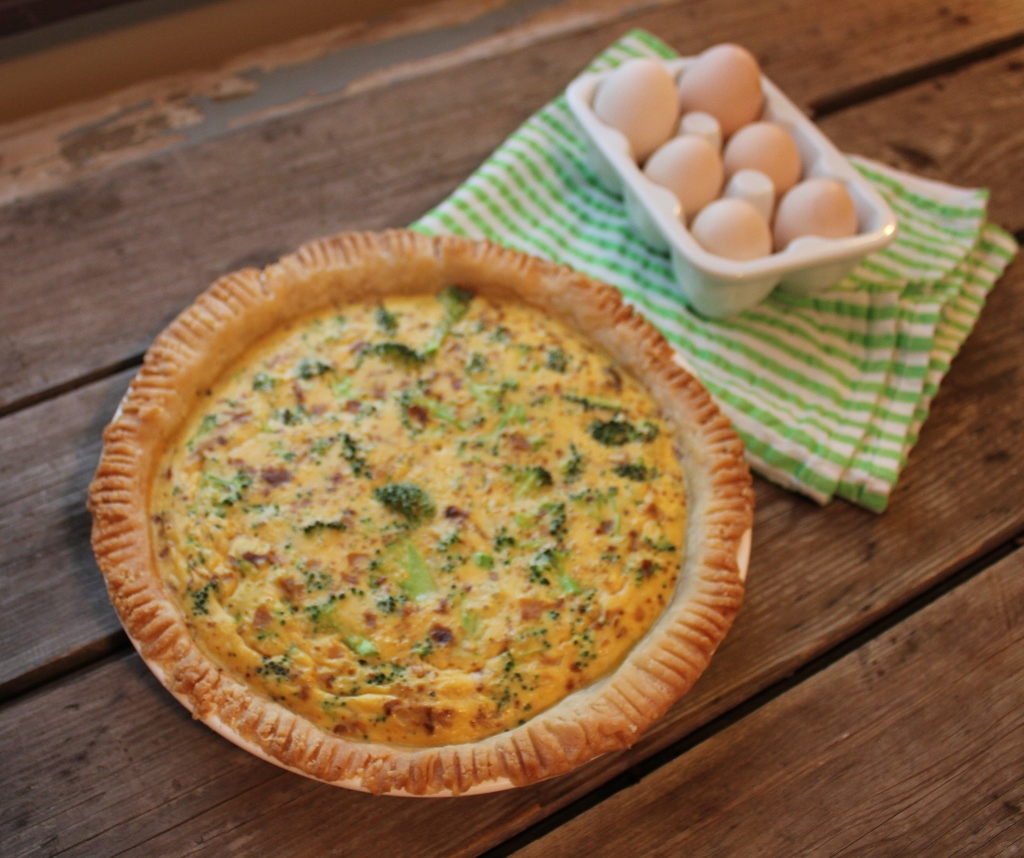 I roll my pie crust out between two sheets of plastic wrap or parchment paper. That way there is no need to add additional flour to the rolling surface. Another nice thing about gluten-free pie crust, it's easier to roll and re-roll than regular gluten-full pie crust. There's no chance of over-rolling and super activating the gluten, resulting in a tough crust. Gluten-free pie crust is a great teaching tool for new pie makers for exactly that reason!
So pie crust is covered, now on to the ingredients. Many quiche recipes call for heavy cream. Because I don't consume much dairy, heavy cream has been a challenge to me. My favorite substitute is this: 2 parts non-dairy unsweetened milk and 1 part non-dairy plain yogurt. For example, if a recipe calls for 3/4 cups heavy cream, I use 1/2 cup non-dairy milk and 1/4 cup non-dairy yogurt. Works like a charm!
I've used Daiya non-dairy cheese and Phoney Baloney's coconut bacon in this quiche. If you are a dairy cheese eater and oinkilicious bacon eater, I'd love to hear from you if you try this recipe with those versions of the ingredients.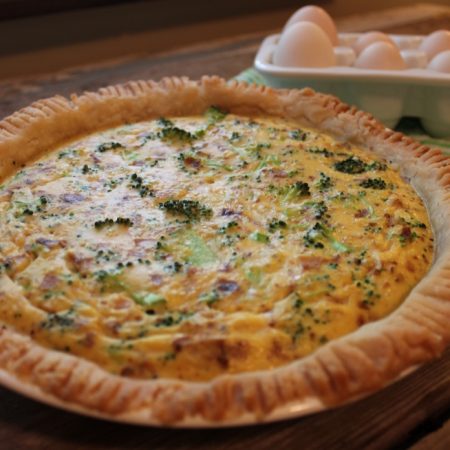 Cheesy Broccoli Bacon Quiche:Gluten-Free, Dairy-Free and Vegetarian!
Ingredients
For the Crust:
2 1/2

cups

of Johnna's favorite gluten-free flour blend

1/4

teaspoon

salt

2

T

. granulated white sugar OR blonde coconut sugar

2

sticks Earth Balance Vegan Buttery Sticks

, cold and cut into small pieces

1/2

cup

very cold water*

(I believe this is the trick to a good pie crust, water and butter must be cold) I start with ice water and measure out 1/2 cup after the water has been with ice for a few minutes.
For the Filling:
Four large eggs

1/2

cup

unsweetened non-dairy milk

(I use almond)

1/4

cup

non-dairy plain yogurt

(I use So Delicious)

3/4

cup

broccoli florets

, cut small

1/2

cup

shredded Daiya cheese

(I used the jack wedge and shredded it)

1/2

t

. black pepper

1/4

t

. sea salt

1/4

cup

Phoney Baloney's coconut bacon
Instructions
Preheat oven to 375 degrees.
For the Crust:
Mix flour, salt and sugar together. Add Earth Balance and break up with pastry cutter or two forks. Do not completely mix in the Earth Balance, you should still be able to see pea size chunks in the mixture. Begin adding the cold water, just a little at a time until you reach the texture of pie crust dough.

Divide dough into two equal balls and chill between two sheets of plastic wrap for 30 minutes. Instead of rolling out on a floured surface, I simply roll my dough between the sheets of plastic wrap. Roll out to the thickness of pie crust. (You will only need one crust for this recipe, so you now have a bonus crust. You can freeze it as a disk of dough or you can roll it out into a pie pan and freeze as a ready-to-fill pie crust.)

Place rolled out dough in an 8" or 9" pie pan. Finish edges of crust any way you would like. With a fork, prick a few holes in the bottom of the crust. Bake at 375 degrees for 10 to 12 minutes. Prepare filling while crust is baking.
For Filling:
In a medium size bowl, whisk together eggs, milk and yogurt.

Add in all remaining ingredients, mixing to combine.

Pour into par-baked crust.

Bake at 375 degrees for 20-25 minutes, until filling is set.

Allow to cool a few minutes before slicing.