This post contains affiliate links. See my disclosure for more information.


Often I hear folks say, "I tried making tofu once and it didn't work out so well." Or, "Tofu has NO flavor, it was like flavorless mush!"
I'm here to save the day, to right the tofu-wrongs of your past!
See, tofu is actually one of the easiest proteins to cook. Once you've got the basics down, it's quick, easy, inexpensive…AND it's going to be full of flavor if you play along with me. The comment about tofu having NO flavor is accurate, you get to decide what flavor it has by creating wonderful sauces, glazes and marinades.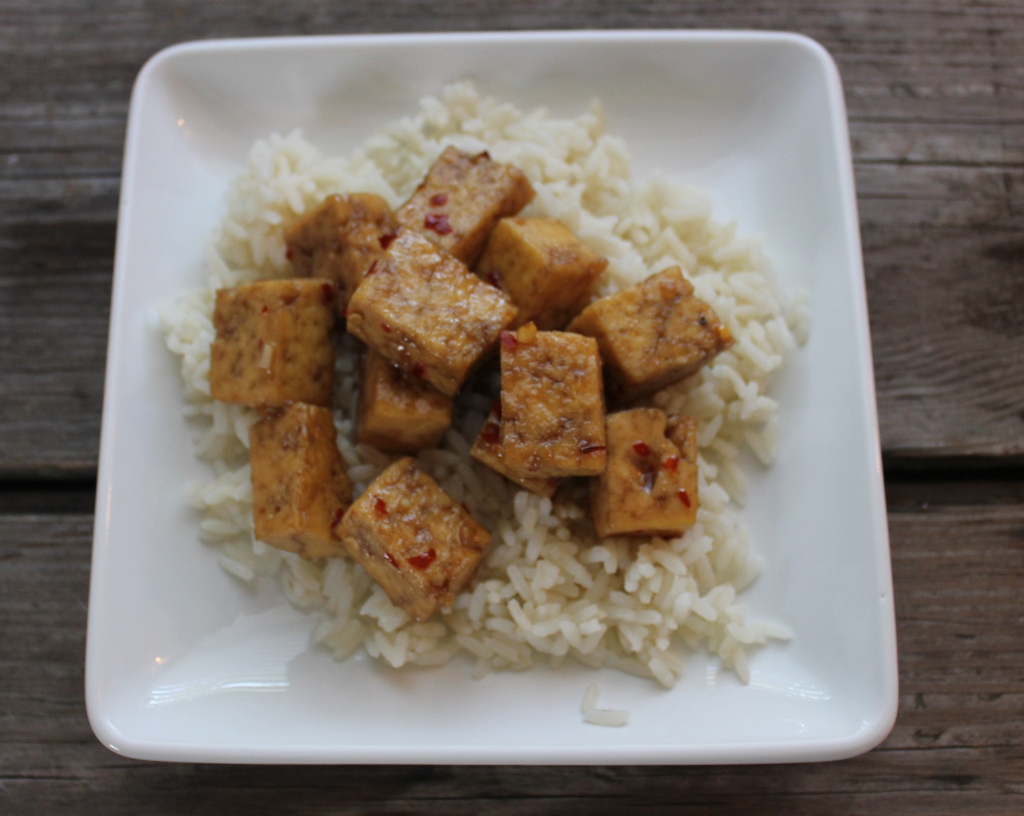 Today's recipe is Maple Sesame Tofu which is pan-seared tofu topped with an intensely flavorful sauce. Well, actually it's somewhere between a sauce and a glaze. I'll share with you step-by-step how I prepare this tofu in hopes it is the recipe that changes your thinking, in hopes you'll give tofu another chance.
First, you need to drain your extra-firm block of tofu. Open the package, drain the fluid around it. Place the tofu in a colander. I have a rectangular one with a flat bottom I use for tofu, but any colander will work. Atop the tofu, place something similar shaped, like a saucer and then place something heavy on top of it, like a can of beans. This will press out liquid. I let this sit for an hour or so, twenty minutes at a minimum. Sometimes, in a hurry, I'll press the tofu as long as time allows, then wrap it in a few paper towels and give it a gentle squeeze.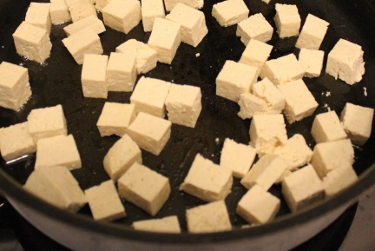 Second, cut the tofu into cubes. Mine are about 1/2″ cubes. Heat a large skillet on medium with just enough toasted sesame oil to cover the bottom of the pan with a light coating of oil. Not to much, just enough to help the tofu not stick.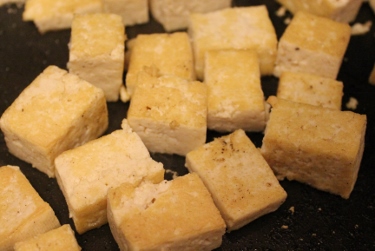 Third, put your tofu in the pan. Toss the cubes often just so they get a nice brown on each side. This will take only 4-5 minutes total. It happens quick.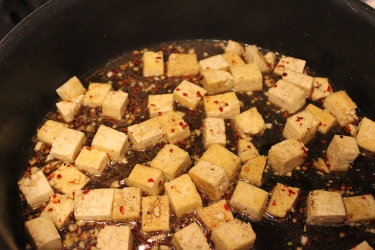 Add the sauce and cook until the sauce has reduced by about two thirds.
If you want the sauce to be more like a glaze than a sauce, this is the time to add just a tablespoon of honey. This will quickly become a thick, sticky glaze on your tofu.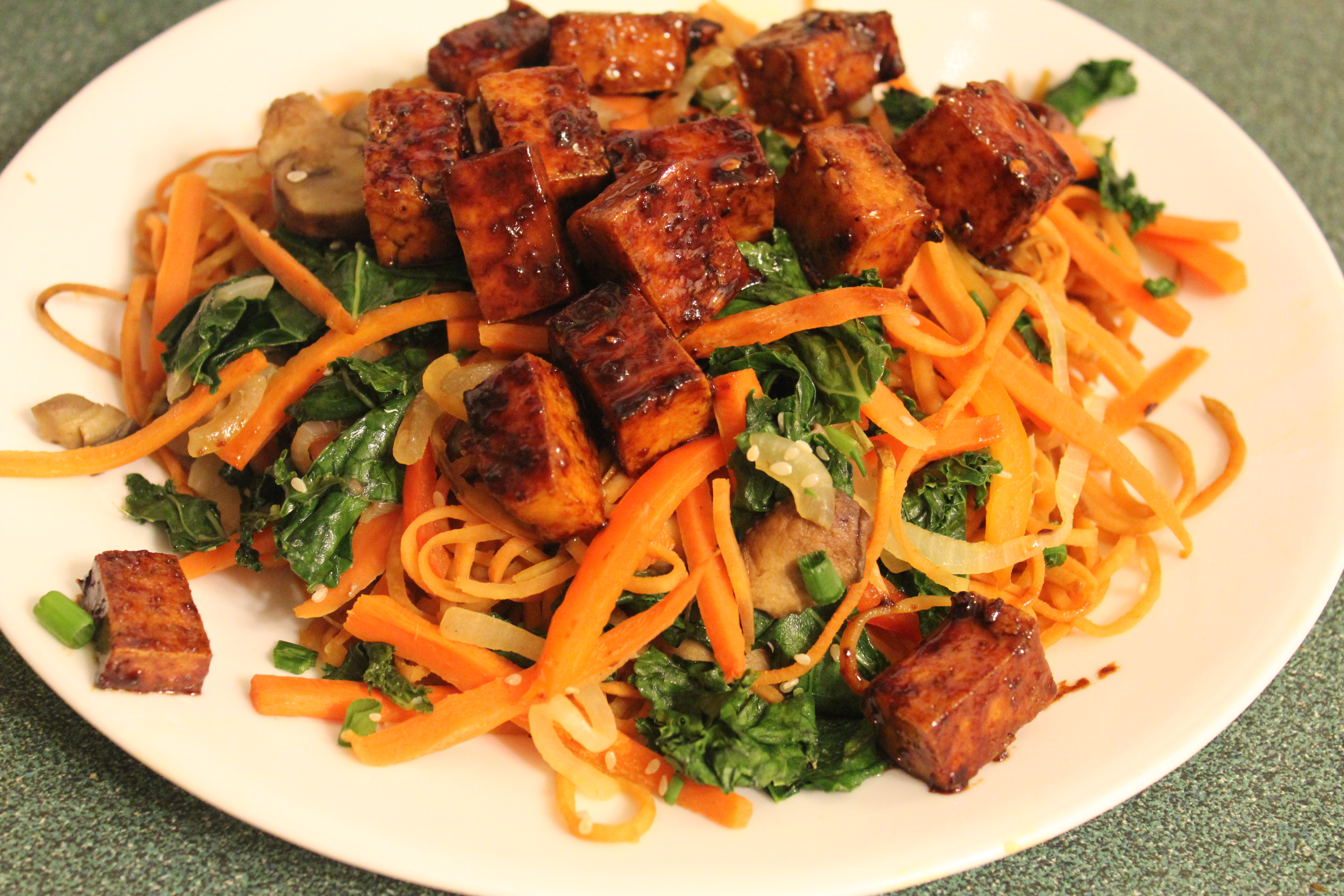 Remove from heat and serve over rice or my Sweet Potato Japchae.
See, easy! I hope you'll give it a try. It's seriously good stuff and will dazzle your tastebuds.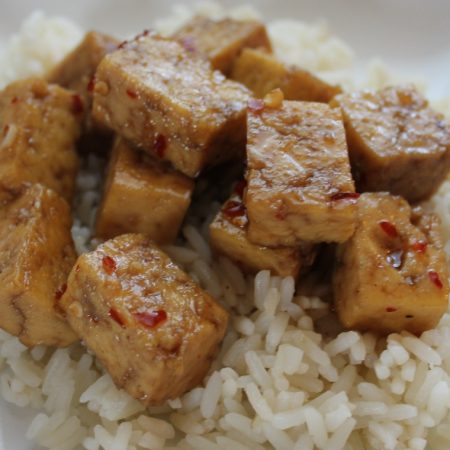 Maple Sesame Tofu
Ingredients
1

block extra firm tofu

, drained and cut into 1/2" cubes

1/3

cup

maple syrup

(grade B preferable)

3

T

. tamari

, gluten-free soy sauce, Bragg's aminos or coconut aminos

2

T

. ginger juice OR 2" piece of ginger root

, diced

2

T

. toasted sesame oil plus a tiny bit extra for skillet

2

T

. apple cider vinegar

2

garlic cloves

, minced

1/2

t

. red chili flakes

1

T

. honey

(optional)
Instructions
Drain and cube tofu. Set aside.

In mixing bowl, combine maple syrup, gluten-free soy sauce or aminos, ginger, sesame oil, apple cider vinegar, garlic and chili flakes. Mix to combine.

In large skillet over medium heat, add just enough toasted sesame oil to cover the bottom of the pan. Add tofu cubes and toss often. Brown the cubes just lightly on each side.

Add the sauce mixture and continue stirring often. The sauce will reduce by about two thirds.

If you would like this to have more of a glaze than a thin sauce consistency, at this point add 1 Tablespoon of honey. Stir quickly to incorporate, as this will almost immediately caramelize, creating a very sticky glaze on the tofu cubes.