This post contains affiliate links. See my disclosure for more information.


I have a fascination with Brazilian food. This might surprise you if your idea of Brazilian food is visiting a churrascaria to eat endless mounds of meat cooked on a skewer. What would a plant-based eater have in common with a meat-on-a-stick way of eating?
Nope, it's not about the meat for me. It's about the breads, the crepes, the desserts, made without gluten. Naturally gluten-free, always have been.
But here's the thing (there's always a *thing* with me and food)…many of the Brazilian desserts I like best are made with sweetened, condensed milk. That doesn't work well for me, so I wanted to find a way around it. Then I started thinking about how that became the Brazilian way in the first place. How did a processed food become an essential ingredient in the desserts of a country so rich with fresh products, fruits, seeds, nuts? It was because of World War II food shortages. Nestle introduced sweetened, condensed milk and cocoa powder to Brazil to compensate for their shortages of fruits and nuts. Interesting!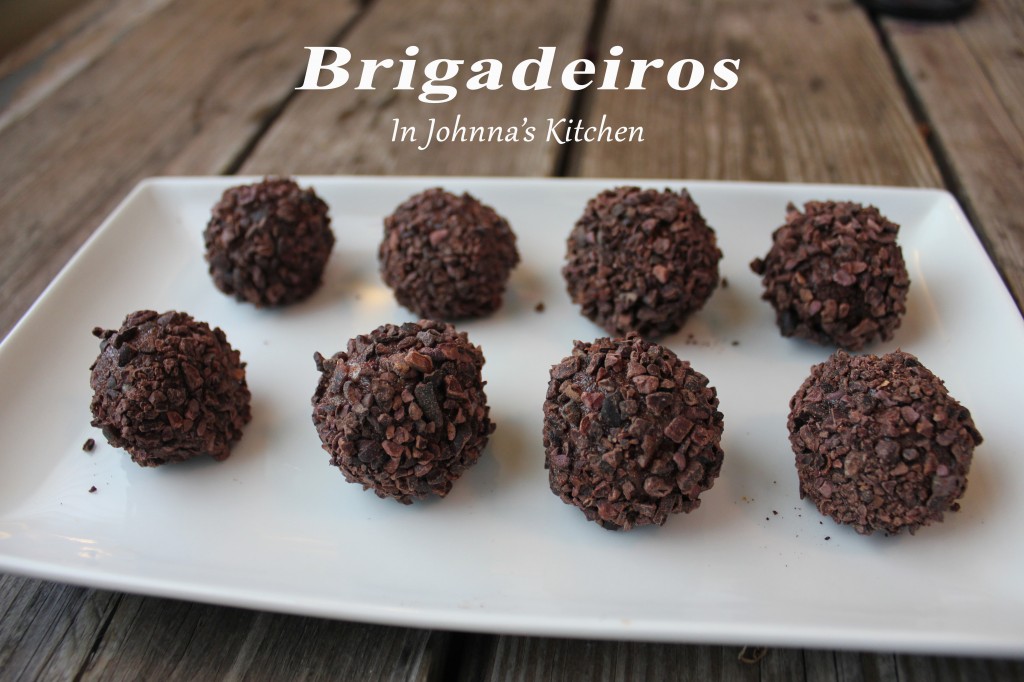 Since we aren't currently short of unprocessed foods, I'm reinventing the Brigadeiro. My version is free of dairy and refined sugar, it's technically raw and vegan if that's how you like to eat. You can also make it nut free if you prefer. Instead of rolling the truffles in the traditional chocolate sprinkles, I've rolled mine in cacao nibs. You could also roll them in finely shredded, unsweetened coconut. Any way you go about it, these are decadent, luscious bites of chocolate. Enjoy!
Oh! One more thing…there's still time to enter my giveaway for a signed copy of Michael Pollan's new book, Cooked. Click here to enter.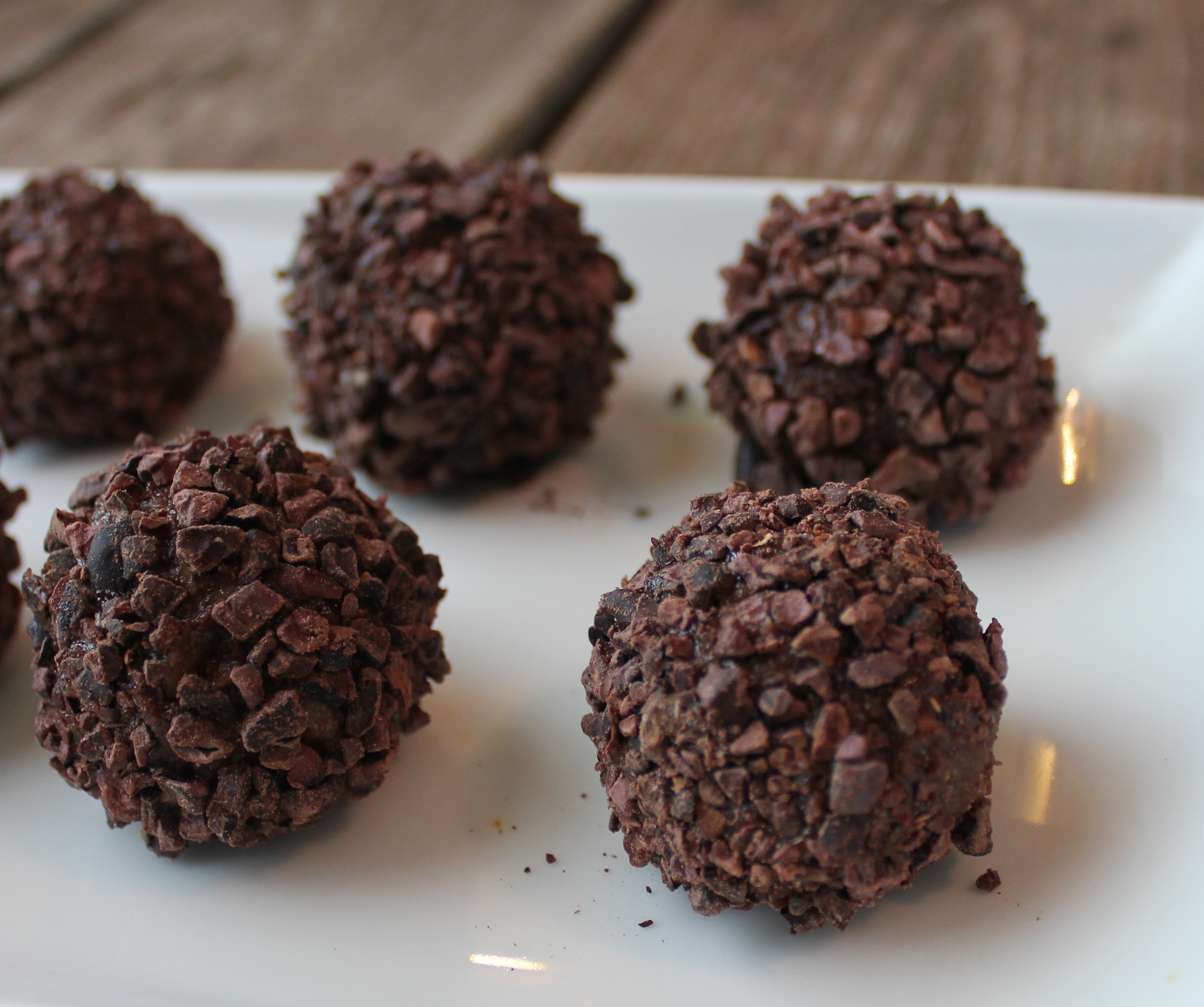 Brigadeiros, a raw vegan twist on Brazilian chocolate truffles
Ingredients
3/4

cup

raw sunflower seeds

, soaked in water overnight and drained

1/4

cup

raw nut butter of your choice OR raw sunflower butter

3

T

. maple syrup

, raw agave or raw local honey

1/4

cup

raw cacao powder

2

Tablespoons

maca powder

(replace with cacao if you don't have maca)

2

T

. coconut oil

, softened but not liquified

1/2

t

. cinnamon

1/4

t

. raw vanilla powder

(or scrape 1/4 of a vanilla bean)

dash of sea salt

raw cacao nibs for rolling

, about 1/2 cup (I break mine up a bit in the food processor)
Instructions
Place all ingredients except the cacao nibs in either a high speed blender or food processor with the "s" blade. Process until smooth.

Put mixture in a bowl and refrigerate for about 30 minutes. It will be firm enough to roll into a ball. Roll into 12 to 14 balls. Roll each ball in cacao nibs.

Store these in the refrigerator.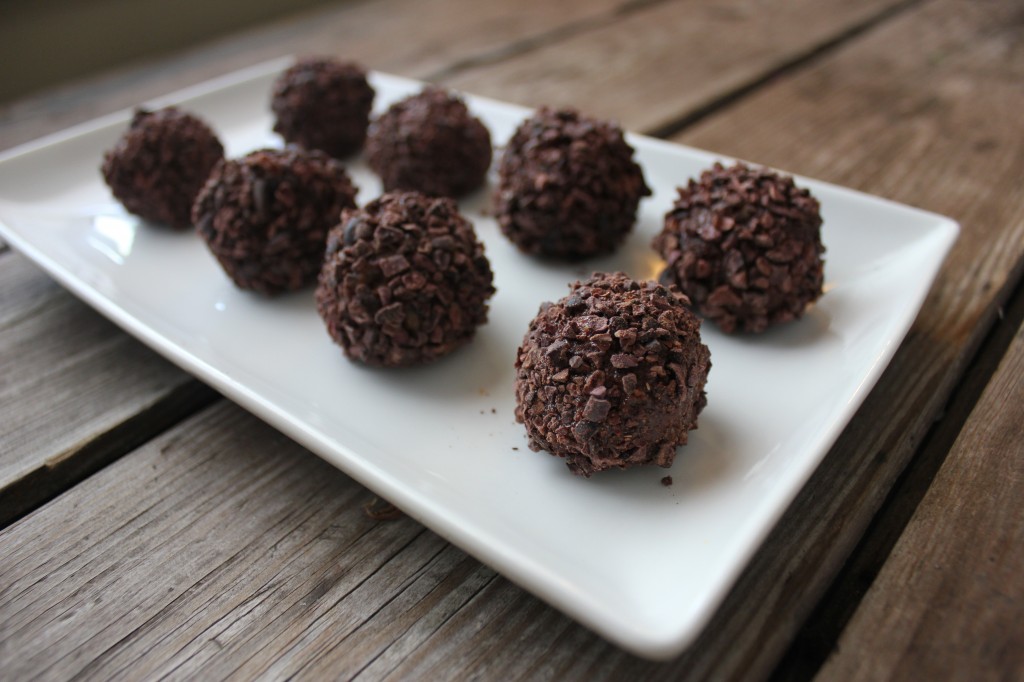 I'm linking this post up with Gluten Free Cat's Raw Foods Thursdays , Wellness Weekend at Diet, Dessert and Dogs and Slightly Indulgent Tuesday at Simply Sugar and Gluten Free. Drop by to see all of the goodness folks have shared this week!