This post contains affiliate links. See my disclosure for more information.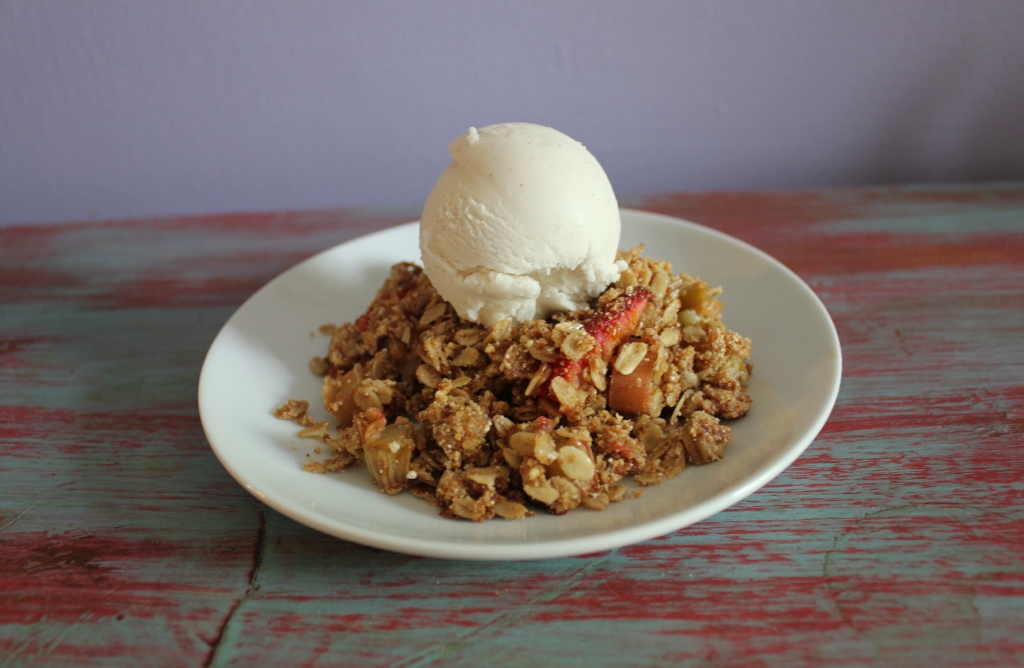 It's finally springtime here. For us Midwestern folks, that means rhubarb and morel mushrooms are making their way into the kitchens of those with a good connection.
And a good connection I have! My sweet friend Judy brought rhubarb to me from her garden in Iowa. I enjoy eating rhubarb, but have limited experience cooking and baking with it and have never tried to grow it. Judy cautioned me, "Don't juice or eat the greens, they are poisonous!" Now what would make anyone think I'd attempt to juice those beautiful, dark, leafy greens atop the rhubarb stalks? 😉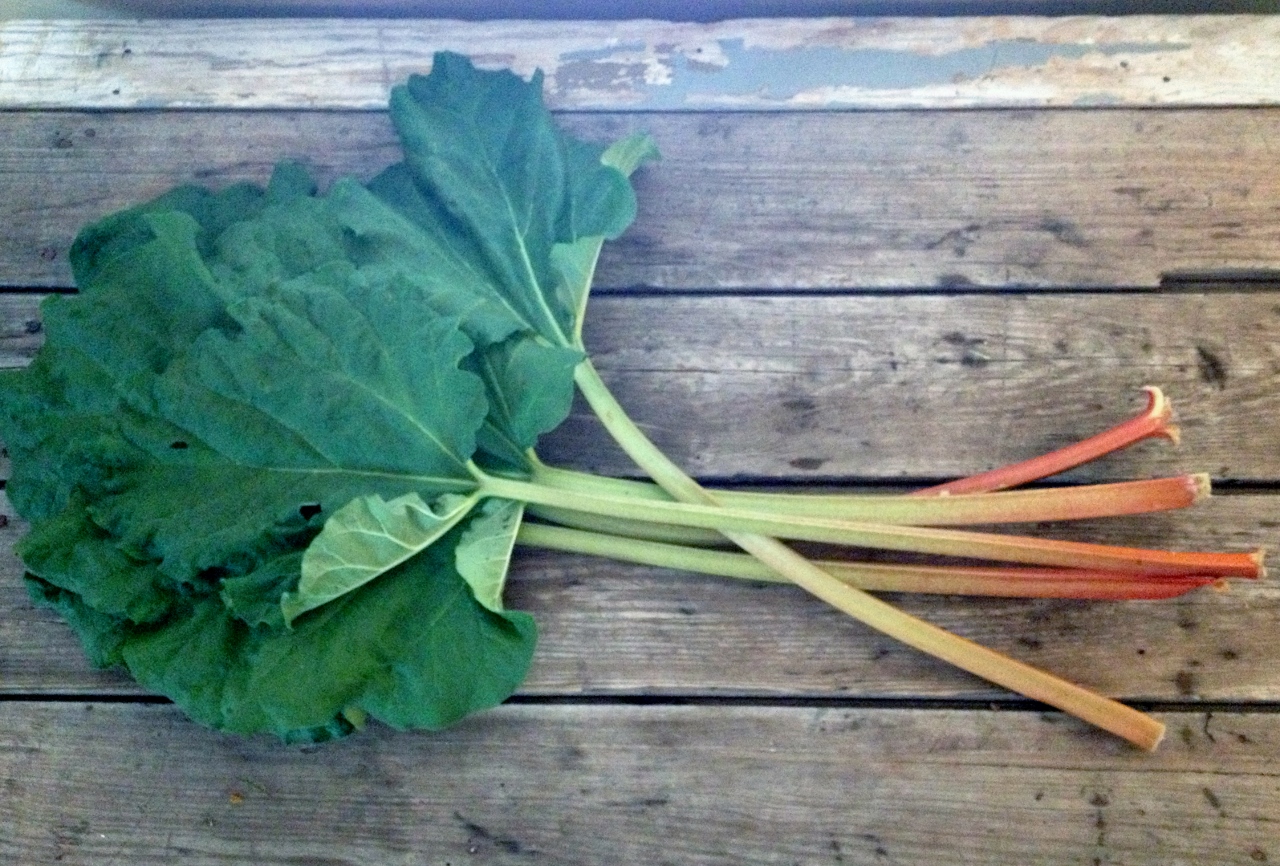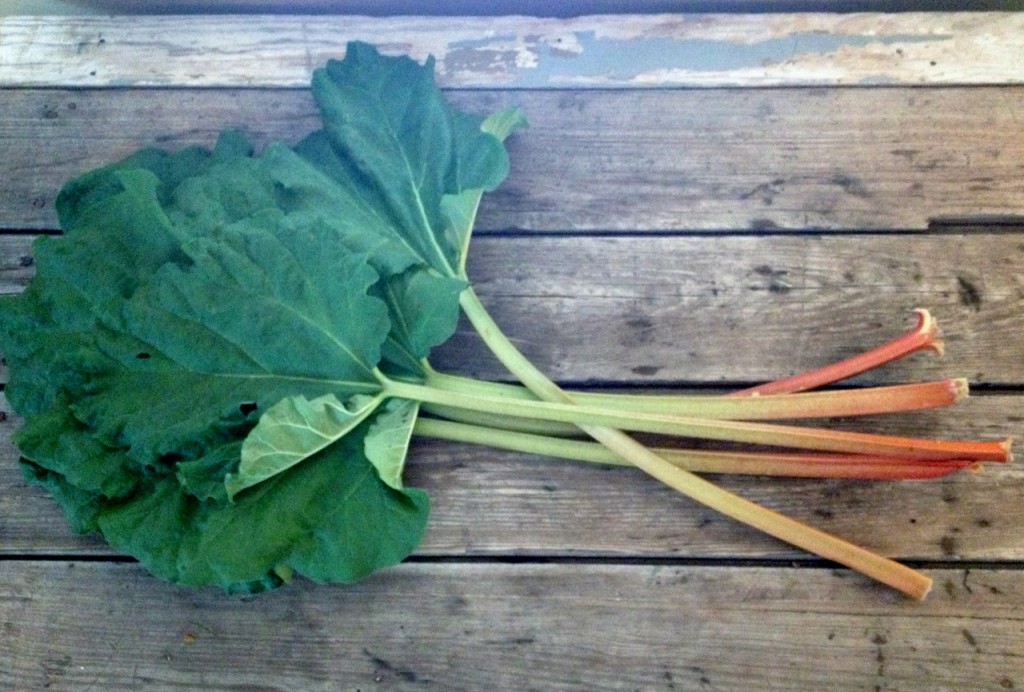 The area where this rhubarb exchange took place had limited cell service for me, so I couldn't immediately use my phone to research why I shouldn't eat the greens. My guess was high levels of oxalic acid (yes, this is how my food nerd brain works) but I couldn't imagine how high the levels would have to be for it to become toxic. Turns out it is oxalic acid and one would have to eat a pretty hefty amount of the greens for them to be deadly. But juicing them doesn't sound like a good idea at all, since I'm guessing removing the insoluble fiber would make the absorption of the oxalates more rapid.
So I stuck with a more traditional preparation of rhubarb. I made a strawberry rhubarb crumble with a few less-than-traditional ingredients like quinoa and bourbon. Yep, bourbon. I heard once it's good for digestion. Really, I heard that somewhere.
A quick tip on the quinoa flour: you can buy quinoa flour at many stores now but if you already have quinoa in your pantry, just turn it into flour using a high speed blender, spice or coffee mill. It can be a challenge to keep everything in the pantry fresh, so why keep two items in the pantry when you can keep just one? I do this with quite a few other ingredients, including flax seed. Anything I can do to keep my food fresh, cost and waste down, wins with me!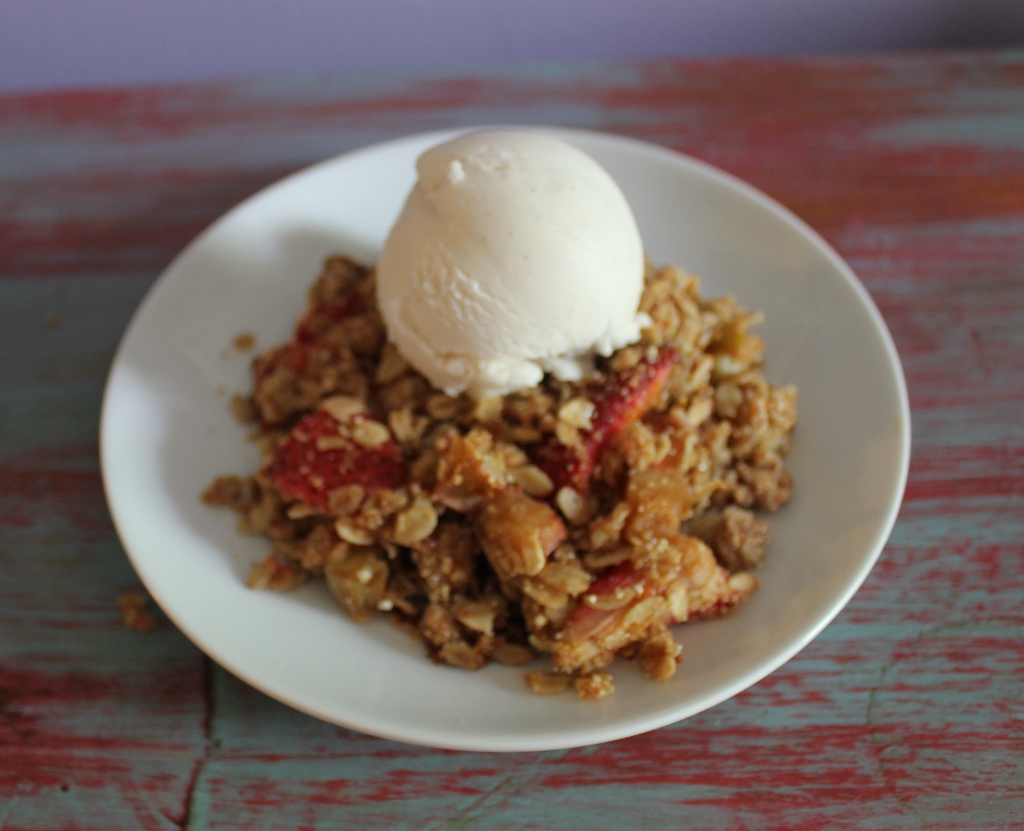 Strawberry Rhubarb Quinoa Crumble
Ingredients
2 1/2

cups

certified gluten-free oats

1

cup

quinoa flour

2/3

cup

coconut sugar

(or other unrefined sugar)

1

t

. pumpkin pie spice

1/2

teaspoon

sea salt

1 1/2

sticks chilled Earth Balance non-dairy butter substitute

2

cups

rhubarb stalks

(1" dice)

2

cups

fresh strawberries

, halved or quartered depending on size)

1/4

cup

coconut sugar

(or other unrefined sugar)

3

T

. fresh squeezed orange juice

2

T

. bourbon

(replace with orange juice if you prefer to skip the bourbon)

1

t

. orange zest

1

t

. arrowroot

Optional: Vanilla Ice Cream

(I used So Delicious Vanilla Bean)
Instructions
Preheat oven to 350 degrees. Have a 9 x 13 baking dish ready.

Combine oats, quinoa flour, coconut sugar, pumpkin pie spice and salt. Mix together just to combine.

Add chilled Earth Balance (or butter of your choice) and cut in using either a fork or pastry cutter until mixture is crumbly.

Cover bottom of 9 x 13 baking dish with HALF of the crumble mixture. Bake at 350 for 15 minutes.

While crust is baking, prepare filling.

In a small bowl, combine orange juice, bourbon, orange zest and arrowroot. Mix to combine.

Pour the liquid mixture over the rhubarb, strawberries and coconut sugar.

When crust has baked for 15 minutes, remove from oven. Top with fruit mixture.

Sprinkle the remaining crumble mixture over the top of the fruit. Return to the oven and bake for 20-25 minutes.

Serve warm with a scoop of your favorite ice cream.