This post contains affiliate links. See my disclosure for more information.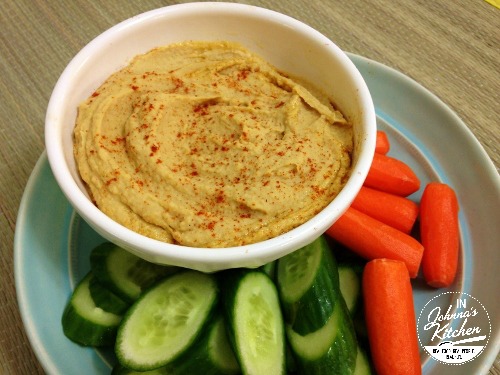 If you buy hummus at the grocery store, this post is for you! Today I'm sharing my basic recipe and how-to guide for making hummus.
While I still buy hummus at the grocery store in a pinch, I much prefer making my own for several reasons.
First, the ingredients in store-bought hummus. While there are brands that are made with only good-for-me ingredients, that are so many that are packed full of things I can't even pronounce. Here's what was in a tub of hummus I looked at recently:
Garbanzo beans (garbanzo beans, water, salt), tahini (ground sesame seeds), water, canola oil and/or safflower oil, garlic, concentrated lemon juice, salt, pine nuts, phosphoric acetic and malic acids, dextrose [preserves freshness], olive oil, spices, dehydrated red bell pepper, dehydrated parsley.
While none of these ingredients is a huge no-go for me, I do prefer my hummus made with olive oil (not canola and safflower), fresh lemon juice (not concentrated lemon juice) and without preservatives (even naturally derived ones), using freshly ground spices and fresh veggies (not dehydrated) where possible. There was another brand nearby on the same shelf that contained cornstarch and a warning on the label that it made on the same equipment as products containing wheat and shellfish. It's better for me to make my own.
The second reason I prefer homemade hummus: FLAVOR. The flavor difference in fresh, homemade hummus is very very noticeable. It's brighter, richer, just has more flavor.
Third, it's so easy to make your own hummus. And fourth, it's inexpensive! I can whip up a batch of homemade hummus in just minutes for less than half the price of storebought. I mentioned it tastes better, too, right?
A quick note on tahini: many basic hummus recipes will include the traditional ingredient of tahini, ground sesame seeds. While I will occasionally make hummus that includes tahini, I find the taste to be bitter in a basic hummus. For that reason, I omit it. You'll see it in upcoming hummus recipes here, just those with a more bold level of flavor that balances with tahini.
Have I convinced you yet to give it a go making your own hummus? I sure hope so! Below is my basic recipe. Later this week I'll share with you my current favorite flavor of hummus and then I'm going to share a round-up of my favorite hummus recipes. We eat so much hummus here that it sometimes feels like the kitchen is a mini-hummus factory. I want you to join me in the hummus madness!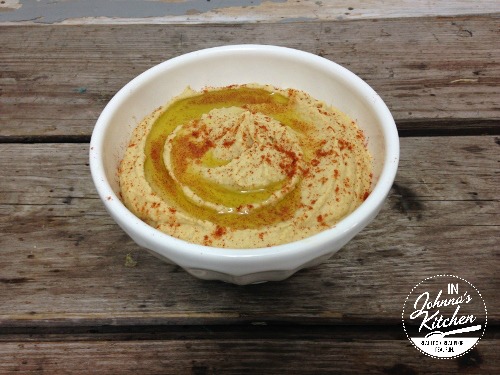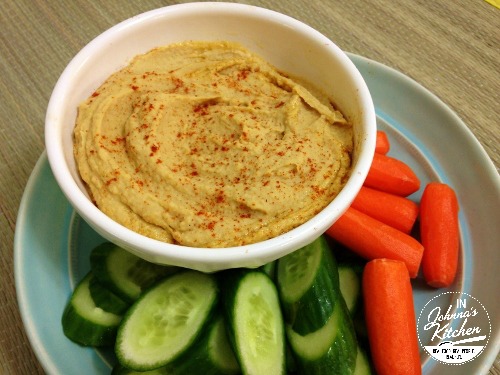 Hummus: The Basic Recipe
Ingredients
1-15

ounce

can chickpeas/garbanzos

1/4

cup

olive oil

1

Tablespoon

fresh lemon juice

1

teaspoon

minced garlic

1/2

teaspoon

cumin

1/4

teaspoon

paprika OR smoked paprika

dash of sea salt

(adjust to taste)

2

Tablespoons

filtered water

Additional olive oil and paprika for garnish

(optional)
Instructions
Drain and rinse chickpeas/garbanzos. Add to bowl of

food processor

fitted with "S" blade.

Add all other ingredients EXCEPT olive oil and water.

Pulse to combine well, making a thick, chunky paste of the chickpeas.

Next, with food processor running, stream in the olive oil slowly.

Leave food processor running until mixture reaches a creamy consistency.

If the hummus is still too thick for your preference, stream in the filtered water a tablespoon at a time.

Eat immediately or store in the refrigerator until ready to eat. You may choose to drizzle a bit of olive oil atop the hummus, with a sprinkle of paprika or leave it as is. Enjoy!