This post contains affiliate links. See my disclosure for more information.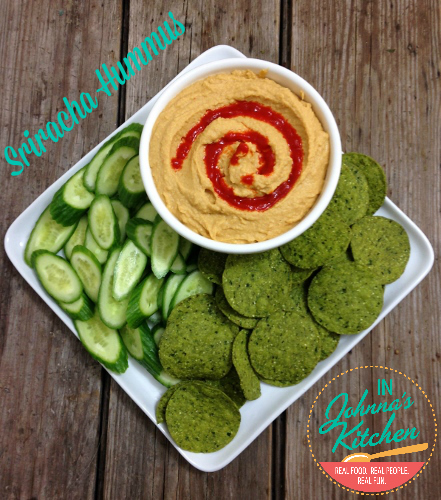 Earlier this week I shared my basic hummus recipe. Today I'm sharing my current favorite hummus: Sriracha Hummus.
I know, I know. There's Sriracha everything right now. I was told recently that I need to quit it with the Sriracha, it's too trendy, everyone is doing it. But here's the thing: I truly like Sriracha. I like it on my Ginger Sriracha Cashews, I like Honey Sriracha Ketchup with anything dip-able, I like it in the sauce for Bang Bang Tofu lettuce wraps. So I'm not gonna quit using it. And I'm gonna guess you aren't ready to quit eating it either. Right?
This is a super simple way to spice up basic hummus. I recommend serving this with something cooling like cucumbers. I simply cut them on the bias, which makes a nice chip size. Or, speaking of chips, this is great with The Better Chip Spinach & Kale Chips. My sweet friend Patricia brought of bag of these to me recently. They are like a corn chip, only better! And by better, I mean I feel like I'm eating something healthy while eating chips. 🙂 They do taste a bit like kale, but it undetectable unless you eat them plain. With this Sriracha Hummus on them, it's like eating sneaky greens.
Alrighty, on to the recipe. I hope you enjoy this as much as I do!
Sriracha Hummus
Ingredients
1-15

ounce

can garbanzo beans/chickpeas

1/4

cup

olive oil

1

Tablespoon

fresh lemon juice

2

teaspoons

Sriracha plus extra for garnish

1

teaspoon

minced garlic

1/2

teaspoon

cumin

dash sea salt
Instructions
Drain and rinse chickpeas/garbanzos. Add to bowl of food processor fitted with "S" blade.

Add all other ingredients EXCEPT olive oil.

Pulse to combine well, making a thick, chunky paste of the chickpeas.

Next, with food processor running, stream in the olive oil slowly.

Leave food processor running until mixture reaches a creamy consistency.

If the hummus is still too thick for your preference, stream in filtered water a teaspoon at a time until you like the consistency.

Eat immediately or store in the refrigerator until ready to eat. You may choose to drizzle a bit of Sriracha on top or leave it as is. Enjoy!
Full Disclosure: This post may contain affiliate links. Should you purchase a product via a link, you will still receive the same price, however I may receive a small commission. The use of affiliate links allows me to continue providing high quality, original recipes tested in my kitchen at absolutely no cost to you. I am grateful for your support!