This post contains affiliate links. See my disclosure for more information.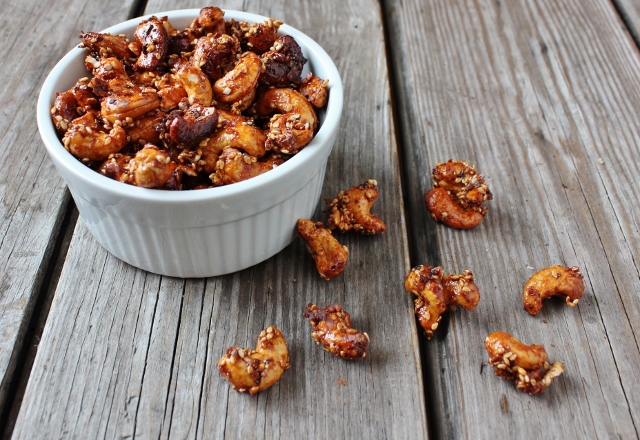 I've been on a roasted nut kick, roasting nuts in the crockpot and in the oven. They make such a wonderful gift during the holidays and beyond. A cute little jar of roasted nuts is a welcome hostess gift any time of year. But mostly they are just delicious to eat!
Yesterday I decided to make roasted nuts with a bit more heat than usual. I typically stick with sweet and warming spices. Instead, I decided to work with ingredients that I always have handy: ginger root and Sriracha. The result is sweet, spicy, a zesty kick of ginger…and addictive.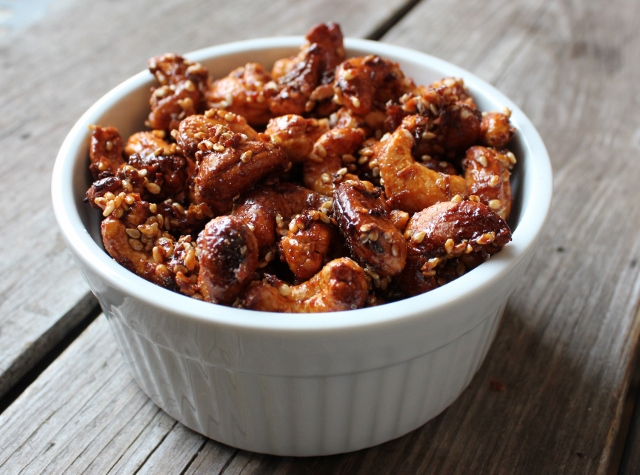 I'll be honest and tell you that I ate more than my share of the first batch and didn't have enough left for the gifts I needed to make. So I made a second batch. And then a third. The gifts are now all made and not a single neighbor has complained about the Sriracha odor pouring out of my house. No threats of this Srirachi nut roasterie being closed down!
A couple of pointers on this recipe: Ginger root is fibrous. If you are concerned about the strands of ginger root looking a little hairy, you can very finely dice your ginger. While the aroma of these roasting is alluring, use caution when opening up the oven to stir the nuts. Sriracha and ginger together pack a punch of heat, similar to roasting any spicy chile. Sinus clearing guaranteed!
Sweet Ginger Sriracha Roasted Cashews
Ingredients
1

pound

(approximately 3 cups) whole cashews (raw preferred, roasted also work)

1/2

cup

coconut sugar

(Trader Joe's has it for a great price!)

2

Tablespoons

Sriracha

2

" ginger root

, finely grated with a microplane or very finely diced

3

Tablespoons

sesame seeds

(optional)
Instructions
Heat oven to 350 degrees. Line baking sheet with parchment paper and set aside.

In a small saucepan, combine coconut sugar, sriracha and ginger root. Over medium heat, cook until sugar has melted. Stir frequently. This takes about 5 to 7 minutes. It is challenging to tell when coconut sugar has melted, especially after combining with sriracha. It is ok if you heat this mixture to the point that it bubbles just a little.

Place cashews in a medium mixing bowl. Pour hot sugar mixture over the cashews and stir well to combine. Add in sesame seeds (optional) and stir again to combine.

Pour out onto parchment lined baked sheet. Place in oven. Roast the nuts for 18-20 minutes. Stir every 5 minutes.

Remove from oven and allow to cool. After nuts are cool to the touch, you may choose to break them up a bit or leave them in clusters. Store in an airtight container or place in a jar for a gift!