This post contains affiliate links. See my disclosure for more information.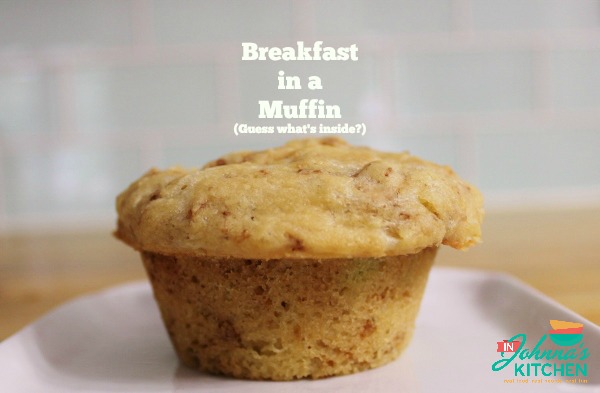 While on my Summer travels, I ventured into Rocket Baby Bakery in Milwaukee. Not a gluten-free bakery by any means, but I had heard they made monkey bread out of bits of croissant dough. I had to check that out and hope one of my gluten-eating travel mates would sample it!
Once inside the bakery, I discovered all sorts of gluten-full goodness, including croissants with bacon and cheese, divine looking monkey bread and something called Breakfast in a Muffin. Here's what it looked like: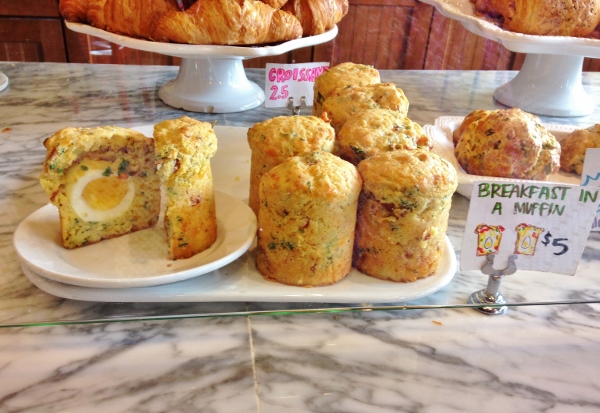 This little pretty contained an egg, double smoked bacon, aged cheddar, Italian parsley, stone ground mustard, and semolina flour. The intriguing part to me was that egg baked right into the muffin!
Since there was plenty o' gluten in this version, my dear friend Eileen did the job of taste testing this goodie and declared it delicious. I came home and immediately started researching this muffin craziness with a hard boiled or soft boiled egg baked inside. It turns out this muffin has achieved cult status (as usual, I'm living under a rock and had heard nothing of it), originally created by Craftsman and Wolves in San Francisco. They call it Rebel Within and their version includes Asiago cheese, sausage, green onion and a soft cooked egg.
The next stop on my research was at Follow Me Foodie, where they have spent a significant amount of time re-creating this recipe (14 tests for the egg, three tests for the batter). Then I checked out another rendition on Cooking Stoned. None of my research led me to a gluten-free, dairy-free or vegetarian version. (The versions from Follow Me Foodie and Rocket Baby bakery include bacon, Craftsman and Wolves includes sausage.) So off I went, baking batch after batch to make this gluten-free with a dairy-free option. And while all of the versions I've seen in person and on-line contained a soft-boiled egg, I decided I wanted to create a version that had a hard-boiled egg inside. Simply easier to eat while on the run…when you don't want to yolk to run along with you.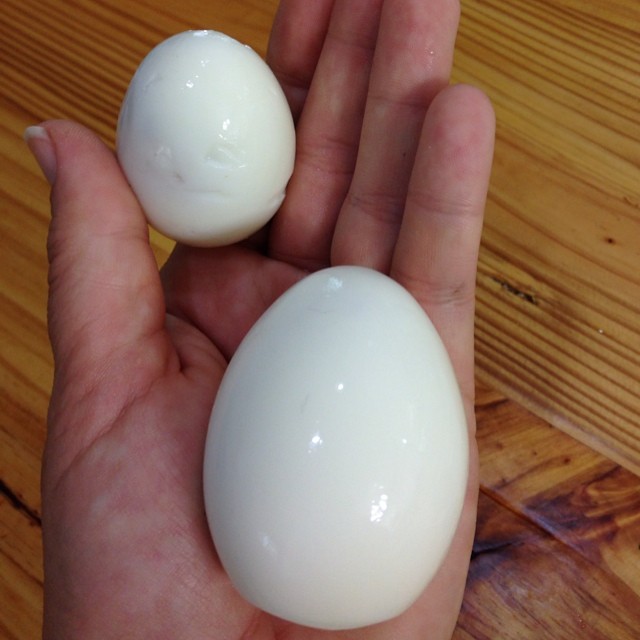 So about that egg…you may have noticed all of the versions from other places have contained a full-sized chicken egg. The muffins were actually baked in popover pans, making them slightly larger than a standard muffin. My first concern was how many people would actually have a popover pan or would spend the money to buy it for just this one recipe. How could I make them in a standard muffin pan, which won't accommodate a large chicken egg in a muffin? The answer turned out to be using an egg smaller than a chicken egg. Guinea eggs are the perfect size to fit in a standard muffin.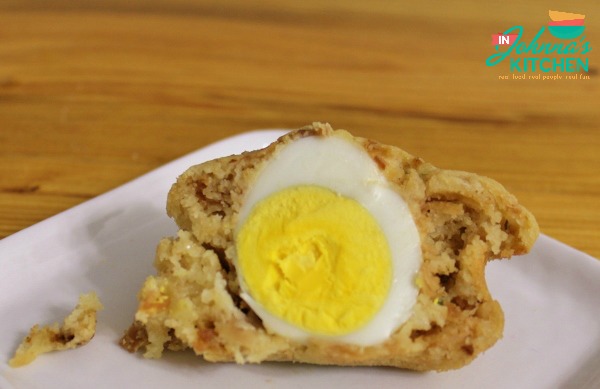 Before you say you would buy a popover pan before you would go on the hunt for guinea eggs, I want to share with you that guinea eggs are easily obtained. Lots of poultry farmers are keeping guineas. They eat ticks like crazy, so they are sought after for keeping farm dogs tick-free and as a bonus, they lay tasty little eggs. While I don't often bake with guinea eggs (the yolk-t0-white ratio is higher than a chicken egg which requires a bit of finagling in most egg-heavy recipes), I do like them fried, scrambled, in an omelet, but mostly hard-boiled in these muffins. I've seen guinea eggs at every farmers market I've been to lately and also noticed them at an Asian market alongside other eggs. Another option is to make friends with a farmer who has small chickens. If you know someone with bantam hens or hens who have just begun to lay eggs, their eggs are about the same size as a guinea egg.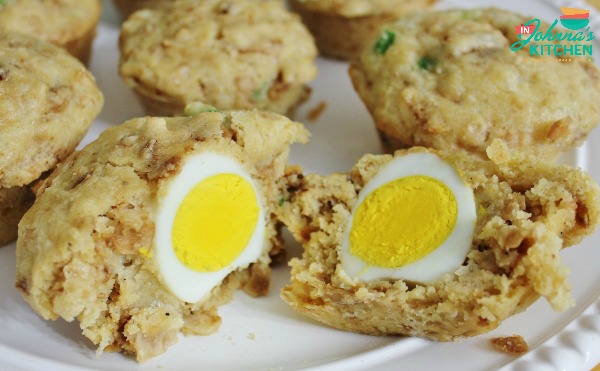 What about the bacon or sausage in these muffins, you ask? I cooked batch after batch using Phoney Baloney's coconut bacon. And then I decided I wanted to try them with sausage so I developed this recipe for tempeh breakfast sausage. The muffins are great with both coconut bacon and sausage. I prefer the sausage this week, but that's likely to change the next time I make them. I've made them with Daiya dairy-free cheese as well as with regular dairy cheese and found both to be good. Make these yours and report back so we all know what worked best for you, regular cheese/non-dairy cheese, regular bacon/oinkless bacon, etc…
Alright, I think that's all of the rambling on the backstory of how these muffins came to be. Here's the recipe. You are gonna love these!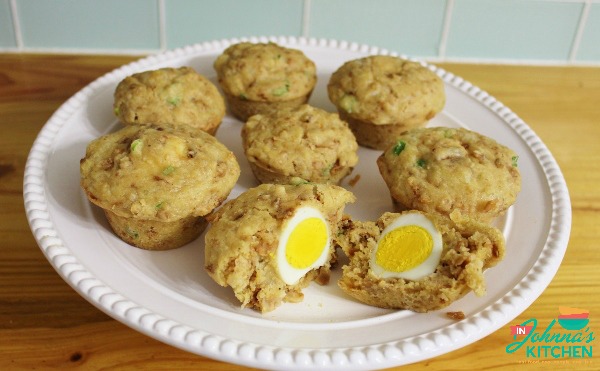 Breakfast in a Muffin
Ingredients
3/4

cup

almond meal or sunflower meal

1

Tablespoon

baking powder

1

cup

non-dairy milk

(I use unsweetened almond or coconut)

1

large chicken egg OR two guinea eggs

1/4

cup

grapeseed oil or healthy oil of your choice

1

Tablespoon

maple syrup

1

cup

shredded cheese or Daiya shreds

1

cup

coconut bacon or tempeh sausage

1/4

cup

diced green onion

10

hard-boiled guinea eggs

, peeled and cooled
Instructions
Preheat oven to 350 degrees. Lightly oil 10 cavities in a muffin tin. Set aside.

In a large mixing bowl, combine flour, almond or sunflower meal and baking powder. Mix together.

Add in egg, milk, oil and maple syrup, stirring to combine.

Gently fold in cheese, bacon or sausage and green onions.

Each muffin will use a scant 1/3 cup of batter. Pour about half of the 1/3 cup of batter into a well of the muffin tin. Insert one hard-boiled guinea egg, narrow end down. Then cover with the remaining batter. Repeat for the remaining 9 eggs.

Bake at 350 degrees for 12-15 minutes. Muffin will be lightly browned on the eggs. Allow to cool for a a few minutes, then gently remove from the muffin tin. Move to a cooling rack. These may be eaten warm or at room temperature.

Storing: because these have an egg in them, I keep them in the refrigerator and warm them for 30 seconds to 1 minute in the microwave before eating. I have also frozen these with great luck. Enjoy!
I am linking up this post with Gluten-Free and DIY Tuesday. Click over for many more great recipes and DIY posts! I'm also linking this post up with Gluten-Free Wednesday. Make sure you click over and visit. There are so many amazing gluten-free recipes and tips shared by wonderful gluten-free writers. It's the best gluten-free resource you'll find!
Disclosure: This post contains affiliate links. Should you make a purchase from one of the links, I may make a small commission and you will still get the same great price. You will also be supporting me in my crazy endeavor to bring original recipes tested in my kitchen, along with other useful content, to readers around the globe at no charge. Thanks for your support!