This post contains affiliate links. See my disclosure for more information.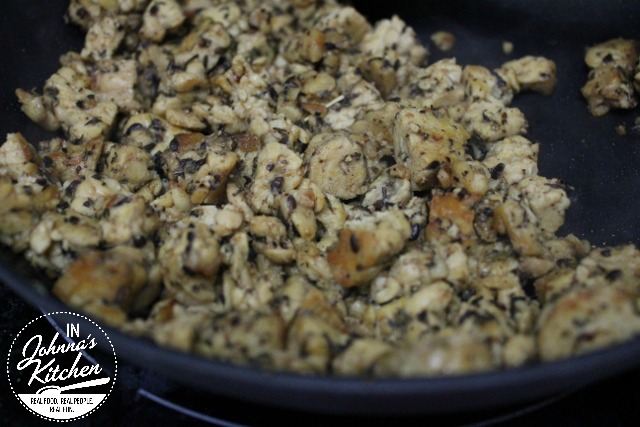 I have a confession to make. Even as a long-time vegetarian, I miss biscuits and gravy. This isn't about gluten, because I make wonderful gluten-free biscuits. I've got gravy figured out, even without gluten or dairy. It's the flavor of breakfast sausage I miss.
I've tried several different ways of making breakfast sausage: tofu, tempeh, mashed and sort of mashed white beans, mushrooms…but tempeh is the winner here.
If you are new to tempeh, I'll share a little with you about what it is and how it is made. Tempeh is made with whole soybeans that are cultured and fermented. It comes in a cake-like package, with a texture many compare to veggie burgers. It has a rich, earthy flavor which makes it perfect as a meat alternative. Because it is a whole soybean product, it is higher in protein, fiber and some vitamins than products that are made without the whole bean, like tofu. Plus it's fermented, which means it will contain prebiotics, so it could potentially be good for your digestion! Additionally, that fermentation will make the carbohydrates in soy easier to process and will reduce phytic acid levels, which makes absorbing the good-for-you minerals in tempeh easier to absorb. Good stuff!
A word of caution when shopping for tempeh: READ THE LABEL. Not all tempeh is gluten-free. Some varieties, like what is sold at the Trader Joe's stores in my area, are made with a variety of grains and not just soybeans. My local grocer stocks only one variety, the Lightlife organic tempeh with flax seeds. When you see a tempeh recipe on my site and it has little seed flecks in it, that's the flax seed.
Below is my recipe for Breakfast Sausage with Tempeh. This can be used in any recipe that calls for breakfast sausage. One pound of cooked sausage makes approximately two cups of sausage crumbles. This recipe makes approximately 1 1/2 cups of crumbles. Hopefully that will help you in making a substitution. You'll also find this recipe useful in tomorrow's post where I share my Breakfast in a Muffin recipe.
Alright…here we go! The recipe for Breakfast Sausage with Tempeh awaits below!
Breakfast Sausage with Tempeh
Ingredients
1-

eight ounce package gluten-free tempeh

3/4

teaspoon

fresh ground black pepper

1/2

teaspoon

dried sage

1/2

teaspoon

dried thyme

1/4

teaspoon

cayenne pepper

1/4

teaspoon

nutmeg

1/4

teaspoon

cumin

1/4

teaspoon

smoked or sweet paprika

(I prefer the smoky flavor)

2

teaspoons

maple syrup

2

Tablespoons

water
Instructions
In a skillet, crumble the tempeh into the size pieces you prefer your sausage crumbles to be.

With skillet over medium heat, cook tempeh, stirring occasionally until tempeh is lightly browning.

Sprinkle spices over the top and stir very well to combine.

Add in maple syrup and continue stirring.

Once spices and syrup have well-coated the tempeh, add in water. This will steam a bit and will also even out the spice blend so it coats the tempeh nicely. Cook until tempeh is browned but not burnt.

Use as desired to make biscuits and gravy, a breakfast casserole or my Breakfast in a Muffin.