This post contains affiliate links. See my disclosure for more information.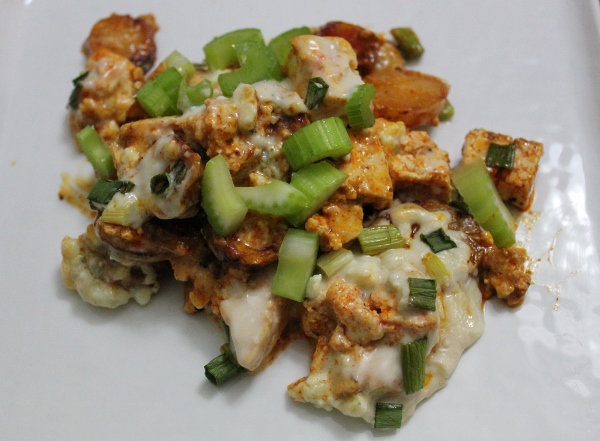 Do you ever see a recipe floating around in Facebook, the one all of your friends are sharing and you think it sounds kinda good? Yet you know it won't work for you because it contains gluten or dairy or meat or whatever it is you can't/won't/don't eat. You know the recipes I'm talking about, right? Lately, for me it's been some sort of Buffalo chicken and roasted potato casserole. I love Buffalo sauce and we have it often in my Buffalo Tofu Lettuce Wraps, which are usually served with a side of some sort of baked or roasted potatoes. So this one, it just had to happen. Oh, how I love a good recipe renovation!
I mentioned my affinity for Buffalo sauce, but have to share a funny with you about that…I was in Buffalo, New York just last week and the thought never crossed my mind to seek out a local Buffalo sauce or to find a restaurant serving up some sort of Buffalo-sauce rich dish that I could enjoy. I guess I'll have to visit Buffalo again to right my travel wrong! Somehow I didn't put together my geographic location with the sauce I enjoy so much. Instead I was focused on getting across the bridge and into Canada to take in this site: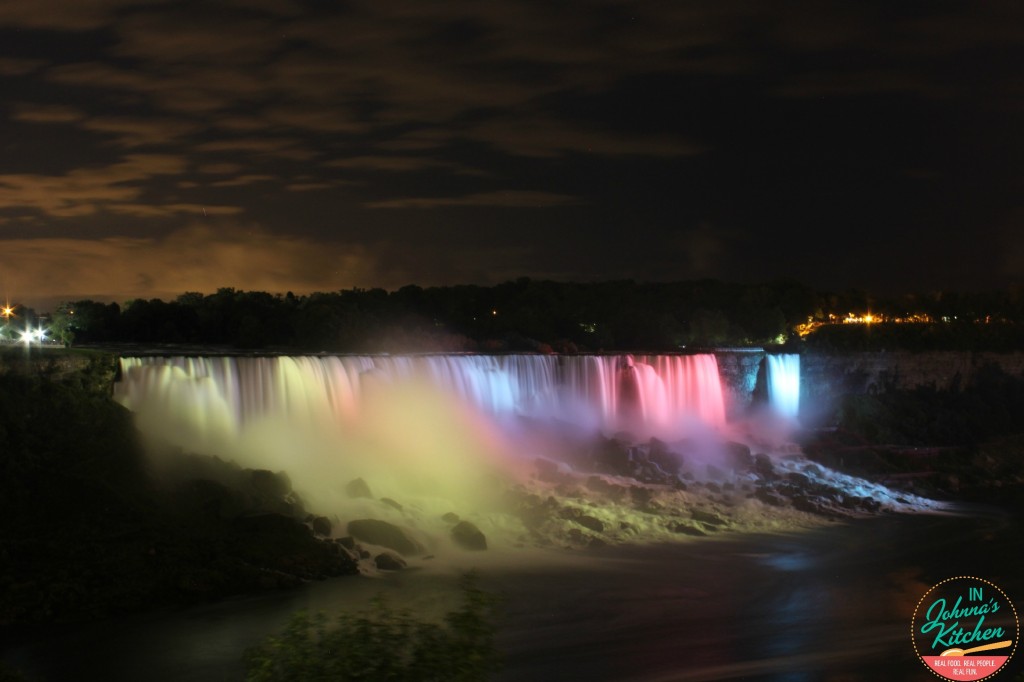 As always, I've got a few ingredient tidbits and suggestions to go along with this recipe. If you are new to cooking with tofu, you might find it helpful to know how to best drain a block of tofu. This is a great tutorial from Veggie Belly. If you want to make this dairy-free, you can whip up a batch of my dairy-free "bleu cheese" dressing. And if want to shred your own cheese at home, buy yourself this box grater. Occasionally someone in one of my cooking classes will look at me like I'm crazy when I say I don't buy shredded cheese, that I prefer shredding my own (this goes for Daiya, too). I find that if I shred my own cheese, it melts better. This might be due to whatever it is that is used to keep shredded cheese from clumping together in the bag. I'm not sure, I just know that I much prefer grating cheese when I need it AND I pretend I'm getting in a good workout using the box grater.
Alrighty, that's all I've got besides this awesome new recipe. Enjoy!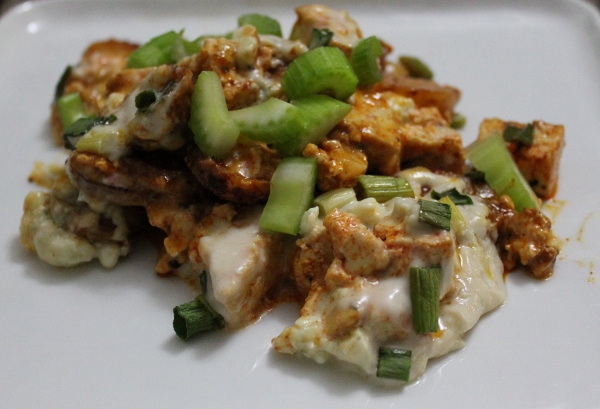 Buffalo Roasted Potato and Tofu Casserole
Ingredients
1/2

cup

wing sauce

(make sure it is gluten-free)

1/3

cup

olive or grapeseed oil

2

cloves

garlic

, minced

2

teaspoons

smoked paprika

(sweet paprika may be used, I prefer smoked)

1

teaspoon

fresh ground black pepper

1

teaspoon

sea salt

1 1/2

pound

sliced or diced baby potatoes

1

block extra firm tofu

, well drained and diced

1

cup

shredded Daiya

, jack style, or shredded Jack cheese

3/4

cups

bleu cheese dressing

(regular or dairy-free)

4

green onions

, sliced

3

stalks celery

, sliced
Instructions
Preheat oven to 450 degrees. Lightly oil a 9 x 13 baking dish.

In a medium mixing bowl, combine wing sauce, oil, garlic, paprika, salt and pepper. Stir well to combine. Toss potatoes in sauce.

Using a slotted spoon, move potatoes to the baking dish. Place in oven and bake for 35-40 minutes or until potatoes are tender. Stir every 10-15 minutes.

While potatoes are baking, move tofu to the bowl with any remaining sauce in it. Toss tofu and allow to absorb sauce while potatoes are baking.

Once potatoes are tender, remove from oven and reduce temperature to 400 degrees. Add tofu to baking dish and stir to combine.

Drizzle bleu cheese dressing over the top, then top with shredded cheese and green onions.

Return to oven and bake for 15 minutes.

Remove from oven and top with celery. Serve and enjoy!
I'm linking this post up with Gluten-Free Wednesday. Make sure you click over and visit. There are so many amazing gluten-free recipes and tips shared by wonderful gluten-free writers. It's the best gluten-free resource you'll find!
Disclosure: This post may contain affiliate links. If you make a purchase through a link, I may make a small commission. You will still get the same awesome price on an item I fully endorse. I don't recommend anything I don't use. By purchasing through affiliate links, I can continue providing original recipes tested in my own kitchen, along with other helpful information, at no charge to you. Thank you for your support!