This post contains affiliate links. See my disclosure for more information.


Today I'm sharing how to make the perfect pie crust which also happens to be gluten-free, dairy-free, egg-free and vegan. Just in time for Thanksgiving.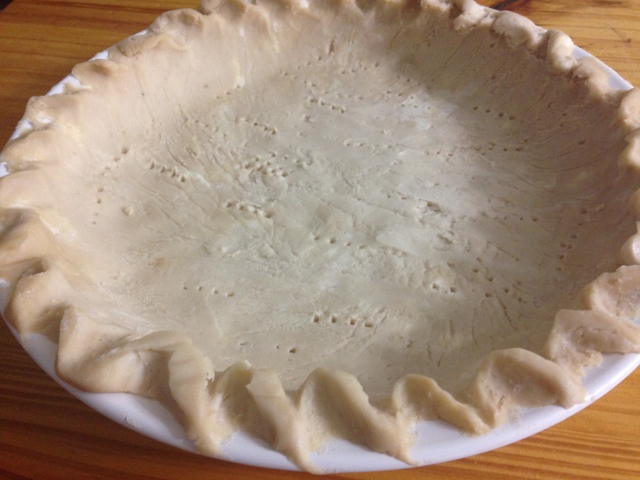 One of my first worries when the doctor told me I had to eliminate gluten: pie crust. I'm not even kidding you. Like, right behind donuts kind of worry. I have always made my own pie crust, always been the one to bring pies to gatherings…and certainly not the kind from the freezer section. I worried homemade pie crust would be a thing of the past.
Once I figured out how to make a gluten-free flour blend that acted pretty much like gluten-full, all purpose flour, I decided I was going to have at it. I was going to figure out a way to make gluten-free pie crust that was every bit as good as the crust I learned to make from my high school home economics teacher, Mrs. Sylvia Anderson.
Well, guess what? It didn't take me nearly as long as I thought it would to "re-invent" pie crust into one that is not only gluten-free, but also free of dairy and eggs and also vegan!
I stuck with the pie crust recipe that I had used for hundreds of pies, simply substituting my gluten-free flour blend (super easy, you can make it with ingredients your local grocer probably carries) and switching out the butter for a non-dairy variety.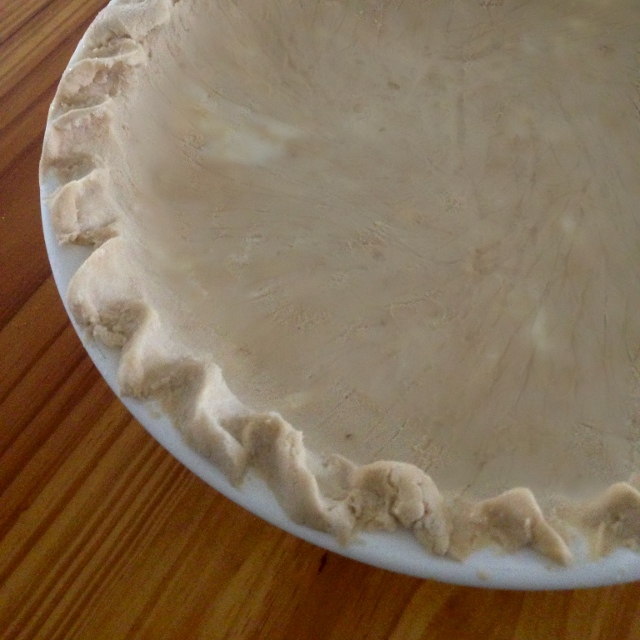 I'll share all of the tips on how to make this pie crust truly perfect in the recipe below, but first I want to share some success stories with you. I often meet folks who are fearful of pie crust. It scares people. I don't know why because I had an amazing teacher before I had ever attempted pie crust on my own.
So to me, it has always been "easy as pie." But I see the fear, the timidity, the trepidation with which many approach pie crust. I've been on a mission the last few years to ease that anxiety.
And it works! I taught fifteen people in a recent class how to make pie crust. Each of them took a pie home to bake! And prior to that, I taught my favorite littles who were nine and six at the time how to make pie crust. They made lattice-topped pies on the very first try. See? You can do this.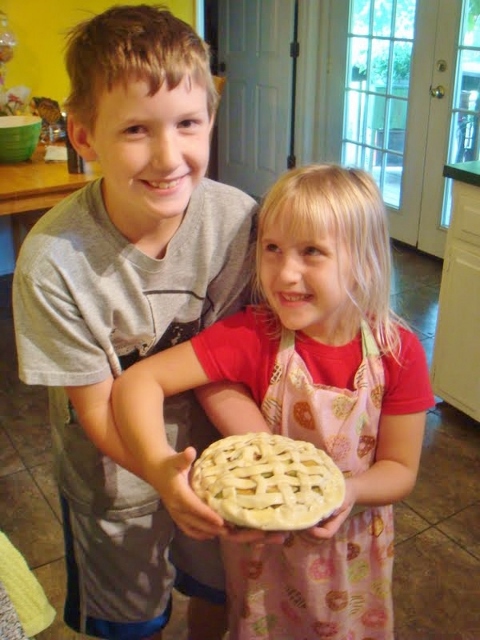 How about one more little vote of confidence before you get started? When you hear folks talk about over-working dough or crust, it has to do with the gluten in the dough. It is EVEN easier to make pie crust when you remove the gluten!
Rolling and re-rolling pie crust that has gluten in it can result in a tough, chewy crust. No worries here, take the gluten out and you have a pie crust that can be re-rolled with no harm in case you don't get it right the first time. Truly, EASY AS PIE!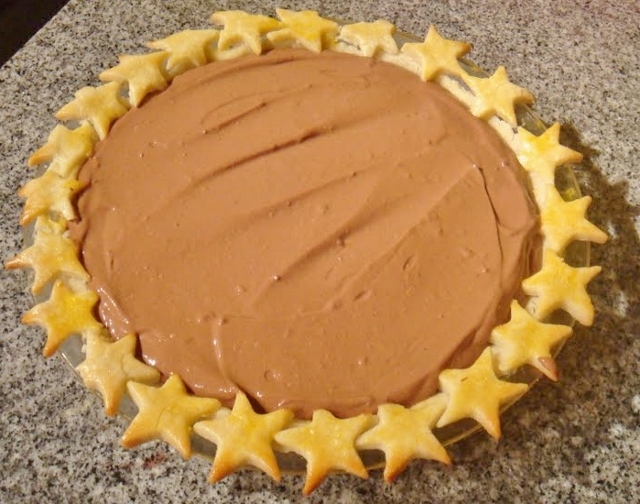 The recipe is below. Hidden in the recipe is a BIG vote of confidence from me. I know you can do this. Go on, make your own pie crust. You'll never look back, I just know it. 🙂
Perfect Pie Crust (gluten-free, dairy-free, egg-free, vegan)
Ingredients
2 1/2

cups

of Johnna's Favorite Gluten-Free Flour Blend

1/4

teaspoon

salt

3

T

. coconut sugar

1

t

. guar gum

(optional, but if you are new to crust, it is helpful to hold it together)

1/4

cup

shortening

(I use palm shortening OR coconut oil, not liquified) (Crisco works, too...)

1 1/2

sticks of Earth Balance Vegan Butter Substitute

, cold and cut into small pieces

1/2

cup

very cold water*

(I believe this is the trick to a good pie crust, water and butter must be cold)

*I start with ice water and measure out 1/2 cup after the water has been with ice for a few minutes.
Instructions
This recipe makes pie crust for two-8" or 9" pies. (Single crust pies, not double crust. If you are making a double crust or a lattice-topped pie, you will need the full recipe.) Make one pie now, freeze the second for later!

Mix flour, salt and sugar together in a large mixing bowl.

Add shortening and break up with a pastry cutter, two knives or a fork. I prefer a

pastry cutter

with flexible tines. Many pastry cutters available today are actually a series of firm blades, not flexible tines. I prefer the flexible tines. Sometimes the easiest place to find these is in the small selection of utensils in the supermarket.

Next add the butter substitute and mix with pastry cutter, just until the pieces of butter substitute are about the size of peas. You don't want to complete mix them in. The little chunks of butter and shortening lend to the flaky texture of the crust.

Begin adding the cold water, just a little at a time until you reach the texture of pie crust dough.This will vary depending on weather conditions. When it is very dry here, I need the entire 1/2 cup of water, sometimes just a Tablespoon or so additional.

Divide dough into two equal balls and chill between two sheets of plastic wrap for 30 minutes.

Roll out 1 ball of dough for one regular size (8"or 9") pie crust. Freeze other half of dough for use later.

Do not roll this dough out on a floured surface. The dough is perfect as is, no need to add extra flour while rolling it out. Instead, roll it between two pieces of plastic wrap. Super easy and the dough won't stick to your rolling pin.

Start rolling in the middle. Roll from the middle straight up. Picture this as 12 on a clock. Then roll from the middle toward 1, then 2, then 3. Now rotate the entire crust (this is easy because it is in plastic wrap) 45 degrees and repeat. Continue this process until you have rolled all the way around. Continue this until you have a thin circle of pie dough.

Once you have rolled it out to be slightly larger than your pie pan, remove the top layer of plastic wrap. Place your pie pan atop the pie crust.

Gently slide your hand underneath the bottom of the pie crust and plastic wrap. Invert the pie plate and you'll now have the crust in your pie plate. Press the crust down into the pan and carefully remove the plastic wrap. That's it!

You can finish the crust with a fancy finish, with the tines of a fork or by rolling out the second half of the dough and cutting small shapes with a cookie cutter. Completely up to you how to finish a crust!

Crust can be frozen before being rolled out or after being rolled out and placed in a pan. I make this type of crust in disposable foil pie pans ahead of the holidays so I can make a pie in a hurry.
This is the pie crust I use to make pot pie, toaster pastries (pop tarts) and sweet little pocket pies like this.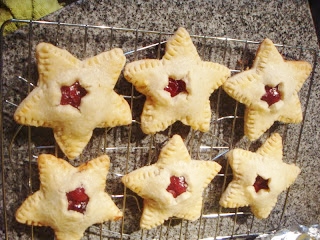 Join me tomorrow when I share a gluten-free, dairy-free, egg-free, soy-free, nut-free, vegan, no-bake pumpkin pie filling. WAIT! It's up now. You can get the recipe right here! No kidding, I've made it work and it's packed with all of the flavors traditional pumpkin pie!
I'm linking this post up with Gluten-Free Wednesdays. Click thru for many more recipes from great folks!