This post contains affiliate links. See my disclosure for more information.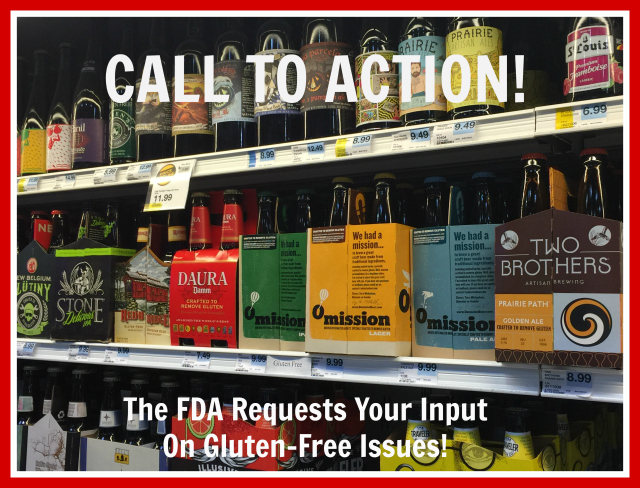 If you live gluten-free by medical necessity, you have heard about and read many reports lately of food labeled gluten-free that isn't really gluten-free. It's getting scary out there in the aisles of the supermarket! You have seen ingredient lists that include barley malt extract, yet are labeled gluten-free, be removed from store shelves. Or you've made a trip to the liquor store and been confused by the labels on beer labeled gluten-removed or crafted to reduce gluten. You've heard about products using wheat starch and wonder if they are truly safe. Today is your day: the FDA is requesting input on the gluten-free labeling of fermented and distilled products.
You can read the Proposed Rule from the FDA here.
For more reading, you can see the comments submitted by Tricia of Gluten-Free Watchdog here.
But this is truly a CALL TO ACTION. Your input is needed. You have a voice, you are an advocate for the gluten-free community. Now is the time to stand up and be heard. Your voice, your words, can help all of us stay safe when purchasing food labeled gluten-free.
Here's how to let the FDA know of your concerns by February 16, 2016 April 25th, 2016 (deadline extended by 60 days):
1. Click here to go to the Regulations.gov site. (UPDATE: Deadline extension and updated comment link here.)
2. Click "Comment Now" in the blue box, upper right hand side of the page.
3. Insert your comments. I'm providing a sample script below. The Bold/Underlined fields are for you to fill in with your information. Feel free to use all or none of the provided script, it is simply a starting point.
4. Tell your friends who should be concerned about this. That includes your family members, your friends who are gluten-free, your local support group members… It is time to stand up and be heard!
5. Pat yourself on the back for giving a damn about gluten-free food labeling. It isn't always easy to stand up for what is right, for what is important. Good on you for doing it!
Sample Script:
Dear FDA,
Thank you for your continued efforts to establish requirements for the gluten-free labeling of fermented and hydrolyzed foods.
As a person living with a medical necessity to be gluten-free due to Celiac Disease/Non-Celiac Gluten-Sensitivity/Your Medical Diagnosis, I rely on the established requirements of the FDA to ensure food safety as it relates to gluten-free labeling.
(Please insert any information about you, your child, your family member who cannot eat gluten and why this matters to you here.)
I would ask that you clarify your position on barley and barley-derived ingredients, including but not limited to barley malt extract. Barley should not be labeled gluten-free. A clarification of your position on specifically barley malt would be helpful to food manufacturers as well as consumers.
I would ask for clarification of acceptable testing methods for ingredients including wheat starch for which the Sandwich R5 ELISA test may not be sufficient.
I would ask that "gluten-removed" and "crafted to remove gluten" fermented beverages, such as beer, created with gluten-containing grains continue to not be labeled gluten-free. As there is an absence of a scientifically valid method that is accurate, precise and specific to test for gluten content in fermented beverages in terms of equivalent amounts of intact gluten proteins, such products should not be labeled gluten-free.
Please also consider the comments and scientific data provided by Tricia Thompson, MS, RD, founder of Gluten-Free Watchdog, LLC (FDA-2014-N-1021-0067) in regard to this matter.
Sincerely,
Your Name
City and State