This post contains affiliate links. See my disclosure for more information.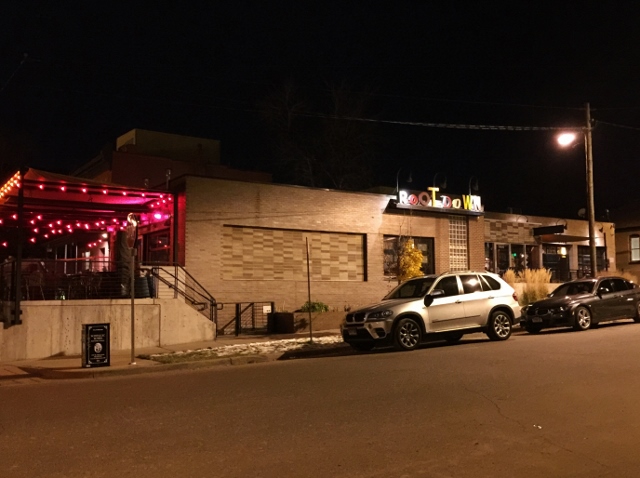 Root Down in Denver makes it not only easy, but also very safe for gluten-free diners. Today I'll share with you my experience dining at both their restaurant in The Highlands neighborhood and their outpost in the Denver Airport. Both belong on your not-to-miss list in Denver.
Root Down's restaurant in The Highlands neighborhood is in a converted filling station. You'll notice that upon arrival, the garage bays still noticeable on the bar end of the restaurant. Inside, the host station is a repurposed air compressor tank.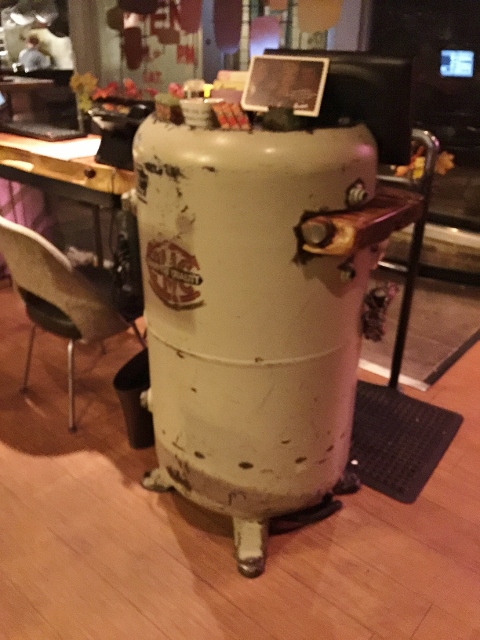 Seating is very comfortable, a combination of booths and tables. My dinner companion and I had a reservation via Open Table and were seated very promptly on a busy Saturday evening. We had a cozy corner booth, which gave us a great view of the restaurant.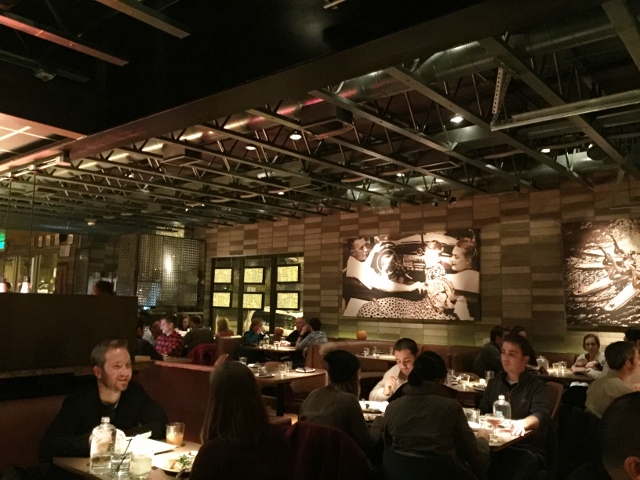 We started with drinks, a Moscow Mule for my friend and a Hip & Critical for me, rum, pineapple shrub, lemon, absinthe and bitters. Had I not been the driver, I would have had another. Well-crafted cocktails here with thoughtfully sourced ingredients and spirits.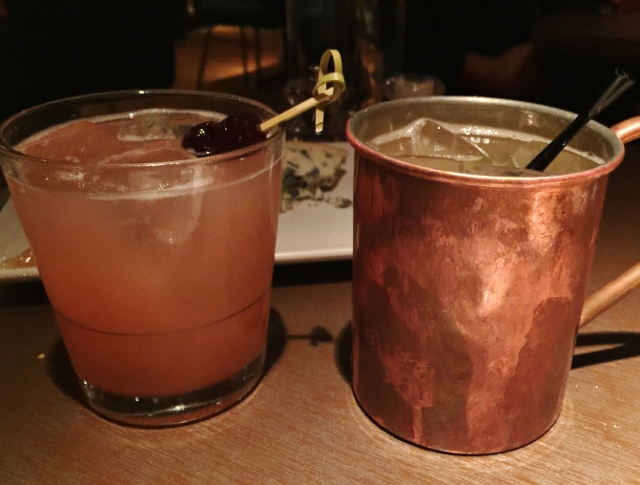 We started with chickpea fries. These were a bit like polenta, yet not. Well seasoned, lightly crisp on the outside yet soft and cake-like on the inside. Nothing with gluten is fried here, which made these a safe option.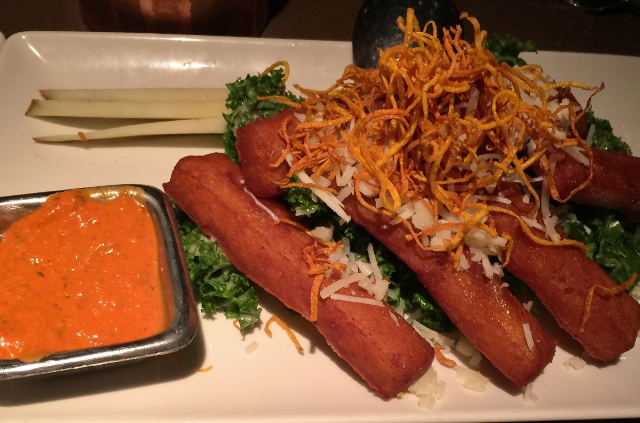 Speaking of gluten here, now would be a good time for me to mention that the labeled is very clearly labeled with which items are available gluten-free. Just tell you server. (Same for vegan items.) We had a very savvy server who understood my needs and was quick to take care of them.
Because we had eaten our way through Denver, we weren't incredibly hungry. I decided to have the Carrot Thai Red Curry Soup which comes with a generous dollop of apple pear chutney mixed in and topped with cilantro. When I mentioned to the server that this soup was among the best soup I have ever had (no exaggeration), she told me if they took that soup off of the menu there would be riots. So very creamy, just a hint of heat and a slight bite of acidity in the chutney. Lovely combination.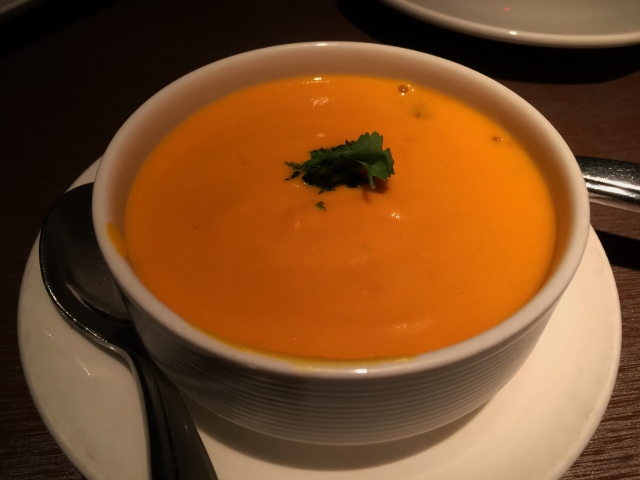 My friend ordered the risotto, which changes seasonally. So very creamy with cheese and rich with warming spices in the puree. Risotto isn't something I often order out, but I would order any risotto offered at Root Down.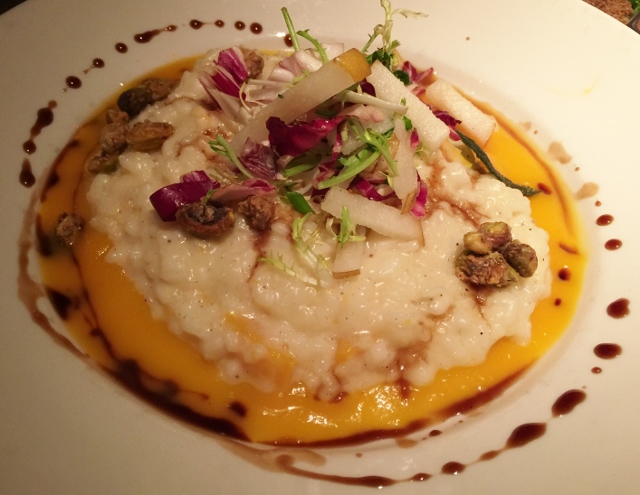 I know I mentioned neither of us were incredibly hungry, yet somehow we talked ourselves into dessert. We had the Banana Creme Brulee, which comes atop a peanut butter chocolate crust and has brulee'd bananas on the dish. We didn't manage to eat it all so my friend who lives in Denver took the rest home.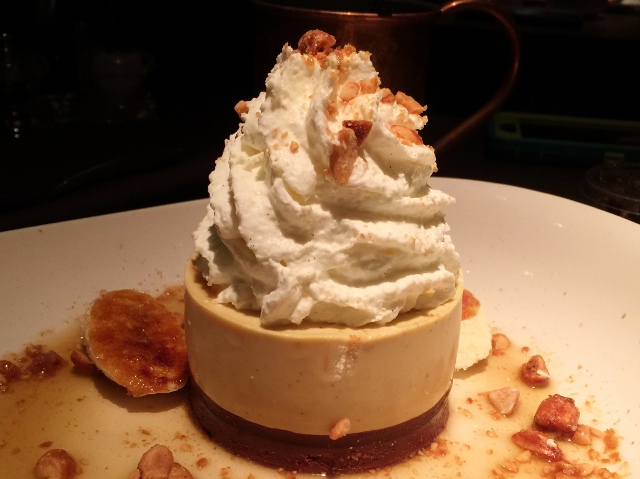 Now that I've told you all about Root Down in The Highlands neighborhood, I have to tell you they also have an outpost in the Denver Airport, Concourse C. I fly often and rarely have a meal in an airport, at least not if I can avoid it. If more airports had restaurants like Root Down, our travel experience would be better.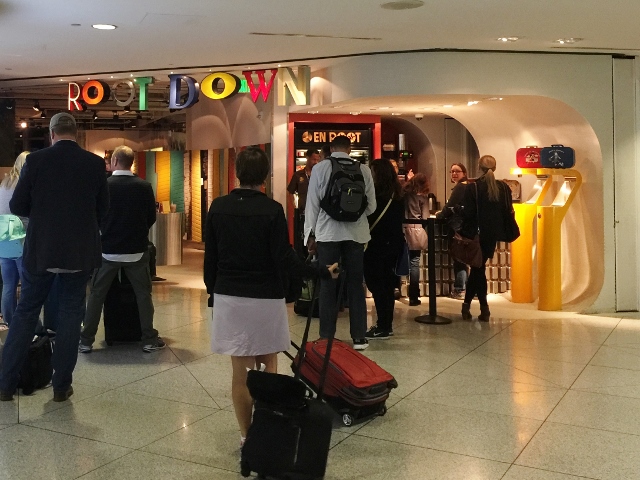 I waited just a few minutes for a table, although immediate seating was available at the bar. I had my carry-on luggage in tow plus a box of donuts from Glazed and Confuzed, which made juggling a barstool tricky. The few minutes I had to wait gave me a chance to browse the offerings at their En Root cooler case, packed with healthy and delicious nibbles for travelers in a hurry. How great!
At Root Down DIA, I gladly accepted the opportunity to have one more bowl of the Carrot Thai Red Curry Soup. I also had the Roasted Beet Salad, which included arugula, goat cheese from Sonoma, toasted hazelnuts, beet-sunflower seed pesto & basil vinaigrette. Oh, and there was a cocktail. I kept it simple with a Don Draper with citrus infused Bourbon, Demerara and bitters. A lovely twist on an Old Fashioned.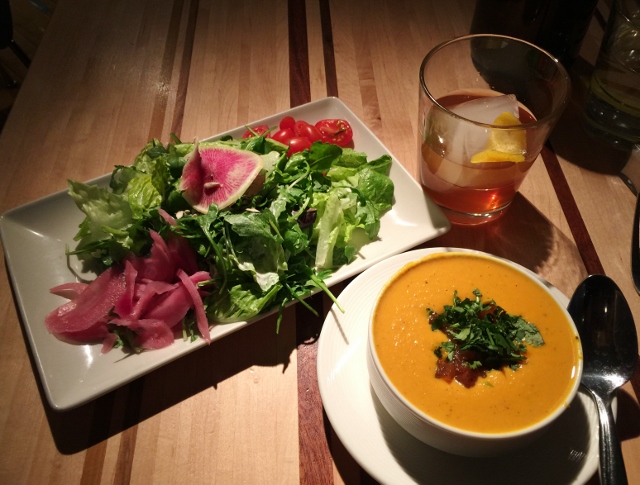 Most airport restaurants are anything but well-designed and comfortable. Root Down has a funky retro vibe, with repurposed wood tabletops, an illuminated globe lighting installation on the ceiling and ample workspaces with plug-ins and complimentary wi-fi. I would eat here outside of an airport, truly you would not know this is an airport restaurant both in atmosphere and in food.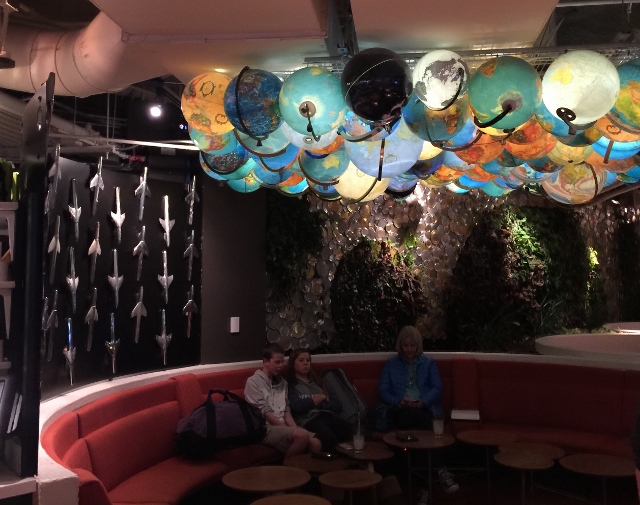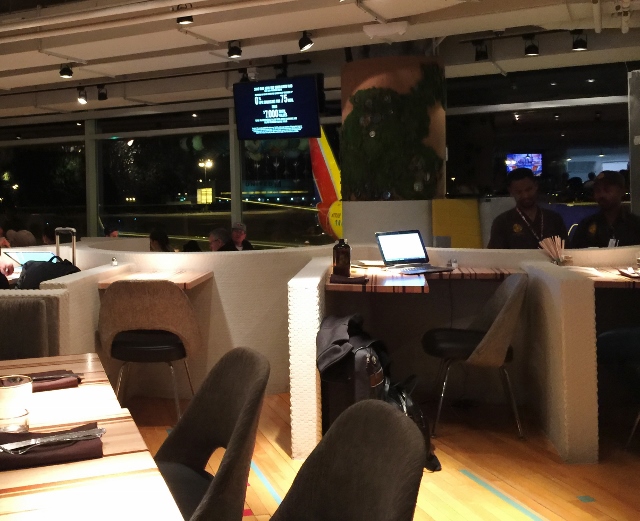 Root Down is located at 1600 W. 33rd Avenue, Denver, Colorado. 303.993.4200. There is plentiful streetside parking as well as complimentary valet parking. Root Down DIA is located in Concourse C.
The I Ate Here series is not intended as a restaurant review, rather a summary of my experience dining out.* Menu prices, items and ingredients featured were current at the time of writing. Please read the menu carefully and ask for assistance in ordering if you have dietary restrictions. It's a good idea to call ahead and let the restaurant know of your food needs.
*Writing bad reviews doesn't feel good. Only in extreme cases (a total of two in six years) where gluten has been apparent in my food or the handling of my food restrictions was of great concern do I share anything less than a recommendation. I'd rather share a good recommendation with you. I hope that's what you are looking for anyway, recommendations on where to dine and fun places to visits in your travels. Thanks for understanding.