This post contains affiliate links. See my disclosure for more information.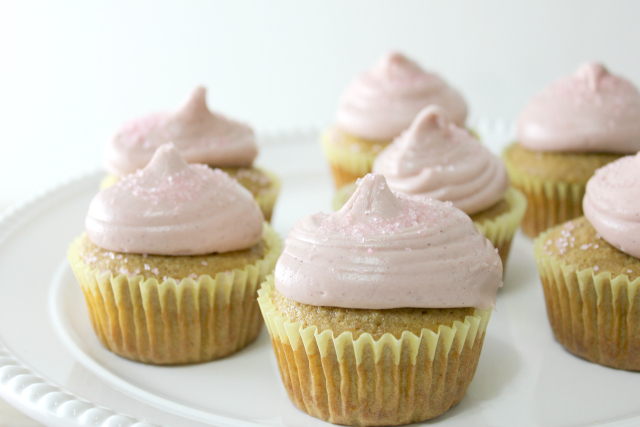 It's the season of all things citrus. Blood oranges, Sumo oranges, Ojai Pixies and my baking favorite: Meyer lemons! Today I'm sharing my recipe for Meyer Lemon Cupcakes with Raspberry Frosting. I really enjoy the unique flavor of a Meyer Lemon, which is a cross between a standard lemon and an orange. They are a bit less acidic than a standard lemon, a little more sweet yet still have the tang of a lemon. They will still make you pucker, but without that bite of a lemon. Imagine that flavor in a cupcake and then add raspberry buttercream to the top. Lovely!
A quick word or two (which is never really quick) on ingredients: Buy a jar of vanilla bean paste already. Unless you are scraping a vanilla bean into your baking, there is no better way to get a clean, pure vanilla flavor in a recipe. Plus you'll get the pretty little flecks of vanilla bean. Look closely, you'll see them in the frosting on these cupcakes. If Meyer lemons are out of season, use regular lemons in this recipe. It will have a bit more tang, but still be delectable with the raspberry frosting on top. I used just a touch of a colored sugar on top of these cupcakes for a pretty finish. I bought it at Eataly and it is colored with beets. The brand is Molino Rossetto. I couldn't find a link to buy it online, so grab a few the next time you are in Chicago or NYC.
Alright, on to the recipe I hope you enjoy these as much as we did…and our neighbors, too. Meyer Lemon Raspberry Cupcakes are a wonderful sweet treat to share!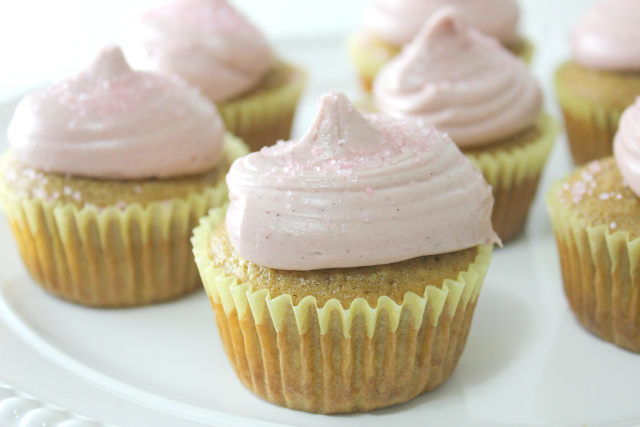 Meyer Lemon Raspberry Cupcakes (gluten-free, dairy-free)
Ingredients
For Cupcakes:
1 1/4

cups

of Johnna's favorite gluten-free flour blend

1/2

cup

almond meal

1 1/2

t

. baking powder

1/2

t

. baking soda

1/2

t

. sea salt

1

cup

coconut sugar

1/4

cup

Earth Balance vegan butter-y sticks

, room temperature

2

T

. flax meal in 6 T. hot water to make an egg- replacer slurry

1/3

cup

unsweetened dairy-free milk of your choice

1

container

, 6 oz. So Delicious plain Greek-style cultured coconut milk or other non-dairy yogurt

1/4

cup

grapeseed oil or other neutral oil

3

Tablespoons

Meyer Lemon Juice

1

T

. vanilla bean paste or vanilla extract

1

T

. Meyer Lemon Zest
For Frosting:
1

stick Earth Balance vegan butter-y sticks

1

teaspoon

vanilla bean paste or vanilla extract

1/3

cup

seedless raspberry jam

3

cups

powdered sugar

, sifted

1

to 2 Tablespoons dairy-free milk

Pink sugar or regular sugar to sprinkle on top

(optional)
Instructions
For Cupcakes:
Preheat oven to 350 degrees. Line 15 cavities of muffin tins with cupcake papers.

In mixing bowl combine gluten-free flour blend, almond meal, baking powder, baking soda and salt. Set aside.

In bowl of stand mixer, combine Earth Balance butter and coconut sugar. Mix on medium speed until well combined. Add in flax meal slurry, milk, yogurt, oil, lemon juice, vanilla bean paste and lemon zest. Mix on medium until combined.

In three even parts, add flour mixture. Mix until combined, but do not overmix.

Place batter into cupcake papers, a scant 1/3 cup into each.

Place into oven and turn temperature down to 325 degrees. (An oven heated to 350 degrees then turned down to 325 degrees will help the cupcakes have a more mounded top.)

Bake for 20-22 minutes, until a toothpick inserted into the center comes out clean. Allow to cool in the muffin pan for a few moments. Once cool enough to handle, move to a cooling rack.
For Frosting:
In bowl of stand mixer, place Earth Balance, vanilla bean paste and seedless jam. Mix until smooth.

Begin adding in the powdered sugar one cup at a time, mixing each time to fully incorporate. Once all three cups are fully incorporated, turn the speed up and blend until fluffy. If it is too stiff, try adding milk a teaspoon at a time. Do this slowly, one teaspoon of liquid can quickly change a frosting!

Once cupcakes have completely cooled, frost using your preferred method. I used a big, open frosting tip in the snipped off corner of a ziploc bag for the cupcakes in the photo.

Top with a sprinkle of your favorite sugar if you'd like. Optional, but pretty. Enjoy!
If you are looking for more fun things to make with Meyer lemons, I also created a recipe for Meyer Lemon Frosting. I use it atop my favorite vanilla cupcake.
Meyer lemons also work really well in my Lemon Curd recipe. A jar of this makes a lovely hostess gift.
Do you have any favorite ways to use Meyer lemons? I would love to hear from you!