This post contains affiliate links. See my disclosure for more information.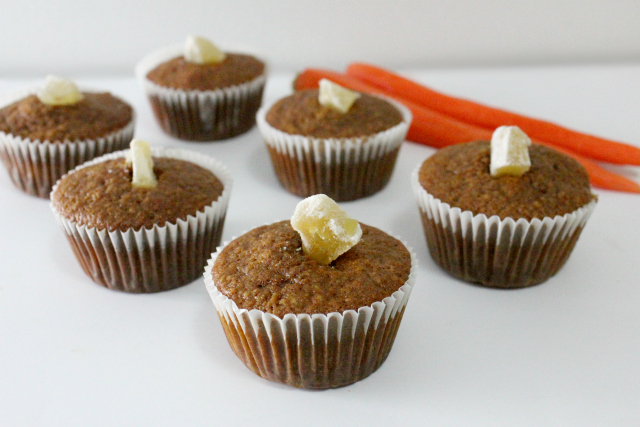 What a fantastic way to start off the day, with a Carrot Ginger Muffin. Free of gluten and dairy, low on refined sugar with just a hint of sweet to go with the zing of ginger. Plus it's a muffin. Who doesn't love muffins?!?
And speaking of muffins, who doesn't love 22 days full of muffin-y goodness? Today's muffin recipe is my contribution to March Muffin Madness hosted by Shirley of Gluten Free Easily. Coinciding with the "other" March Madness, March Muffin Madness is 22 days of muffin recipes created by 22 incredible gluten-free food writers. Plus each day there are daily giveaway prizes and an overall giveaway throughout the event with prizes, including a very special grand prize, awarded at the end. (You've gotta check it out, it's one of the most asked for kitchen appliances!) You'll find all of the information on entering to win prizes below the recipe.
This time of year I think about carrot cake a lot. Perhaps it because of Easter, Easter bunnies and all of the carrots they eat. Or perhaps I don't really need an explainable reason to be thinking about carrot cake. Anyhow, since I pretend to be a responsible adult and don't eat cake for breakfast most days, I've come up with a muffin that is similar to carrot cake yet not so indulgent you can't have it to kick off the day. And with that zingy addition of ginger, it will certainly start your day off with a kick!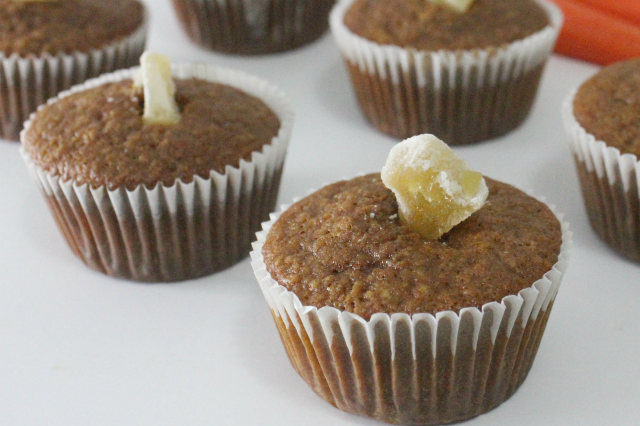 A few notes on ingredients: I used crystallized ginger from Trader Joe's, which had to be cut into small pieces. I have also used ginger chips in recipes, which eliminates a little bit of choppping. Instead of using the typical crushed pineapple as is used in many carrot cake-like recipes, I prefer to use fresh pineapple cut into small pieces. Canned will also work in a pinch. Any non-dairy milk will work in this recipe, however I used my homemade hemp milk in the muffins pictured. The addition of apple cider vinegar is to make the milk a bit like buttermilk. There's a good kitchen tip to file away for future reference, 1 Tablespoon apple cider vinegar per cup of milk.
Make sure you scroll through the recipe to see all of the GIVEAWAY goodness at the bottom. You will want to do three things: 1. Make these muffins. 2. Enter the Rafflecopter giveaway at the bottom on this post. 3. Enter all 22 of the daily giveaways at Gluten Free Easily for even more chances to win prizes!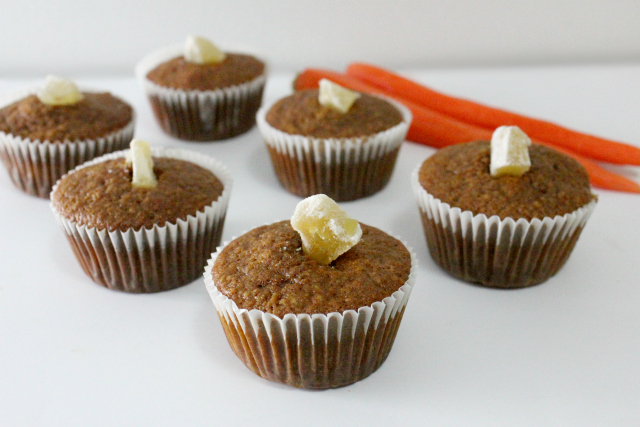 Carrot Ginger Muffins (gluten-free, dairy-free)
Ingredients
1/2

cup

almond meal

1

teaspoon

baking powder

1/2

teaspoon

baking soda

1/2

teaspoon

cinnamon

1/4

teaspoon

sea salt

2

large eggs

1

cup

coconut sugar

1/3

cup

non-dairy milk with 1 teaspoon apple cider vinegar

1/4

cup

grapeseed oil or other neutral oil

1

teaspoon

vanilla bean paste or vanilla extract

1

cup

shredded carrots

1/2

cup

small chunks of fresh or canned pineapple

1/2

cup

crystallized ginger

, either chips or cut into small pieces plus additional pieces for garnish on top (garnish is optional)
Instructions
In a liquid measuring cup, add non-dairy milk and apple cider vinegar. Set aside while mixing other ingredients. This will allow milk to become buttermilk.

Preheat oven to 350 degrees. Line 15 cavities of muffin tin with cupcake papers.

In a mixing bowl, combine flour, almond meal, baking powder, baking soda, cinnamon and sea salt. Give a good stir to combine.

In a small mixing bowl, whisk eggs until blended. Add milk and vinegar mix, coconut sugar and grapeseed oil, whisking to combine. Stir in vanilla bean paste or extract.

Add the liquid mixture to the flour mixture, stirring to combine. Gently fold in carrots, pineapple and crystallized ginger.

Using a 1/3 cup measuring cup, put a scant 1/3 cup of batter into each lined cavity of muffin tins.

Bake at 350 for 22-25 minutes, until a toothpick inserted into the center comes out clean. Remove from oven and top immediately with a piece of crystallized ginger, gently inserted into the top. Allow to cool for just a few minutes before turning out onto a cooling tray.

Enjoy!
Now you should head over to Gluten Free Easily and enter the giveaway for daily prizes. There's a new giveaway every single day during March Muffin Madness! These giveaways include terrific cookbooks, resource books, subscriptions, and meal plans—ones that have probably been on your "wish list" for a while. There will be over 75 winners in March Muffin Madness, so be sure to enter both the grand prize giveaway and daily giveaway each day so you can be sure that you will be one of the winners!
Enter the grand prize giveaway via Rafflecopter below. The giveaway includes 1/2 gallon of Hidden Springs Vermont organic maple syrup, USA Bakeware 12-cup muffin pan, 5-lb bag of Honeyville almond flour, Cuisinart ice cream maker, Paderno spiralizer, Instant Pot pressure cooker, and finally—I promised you would love this–a grand prize sponsored by Blendtec! Blendtec Designer 625 with Wildside+ jar and Twister jar. Everyone should have one of these incredible high-speed blenders in their kitchen!
Big THANKS to Shirley for coordinating March Muffin Madness and inviting me to participate again this year!