This post contains affiliate links. See my disclosure for more information.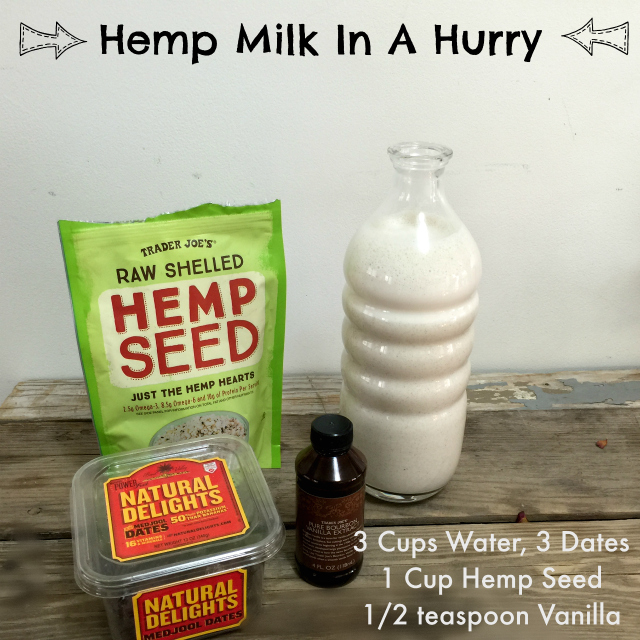 Hemp Milk In A Hurry is going to change your dairy-free milk woes. No kidding, you can make your own milk in less than 5 minutes with 3 ingredients, 4 if you count water.
Most dairy-free milk requires soaking of nuts or of a grain at least overnight. That's not helpful when you run out of milk midway through an epic baking marathon. For some of us, the ingredients in the store-bought dairy-free milks don't fit with how we need to eat, yet the convenience of being able to have a little more milk in a hurry would be great.
So let me introduce you to Hemp Milk In A Hurry. No soaking required, no straining, no weird leftover pulp that you don't know what to do with, no trips to multiple grocery stores to get everything that is needed. I bought everything needed to make a quart of hemp milk at Trader Joe's.
How does it taste, you ask? I'm a huge fan of cashew milk, but the soaking, the straining, the cost all steer me away from it. It's my favorite non-dairy milk ever. But…hemp milk gives cashew milk a run for its money! It has a slightly nutty flavor, it is rich, thick and creamy, more like a full-fat milk than most dairy-free options. The dates give just a hint of sweetness and a good vanilla extract or vanilla bean paste really seals the deal.
About the ingredients: Hemp seeds are also called hemp hearts. They are a complete protein, plus they are packed with Omega 3's, 6's an GLAs. And in case that isn't enough, the protein in hemp seeds/hearts is more easily digested than animal protein, including cow dairy. Good stuff! Dates: buy nice plump medjool dates. And don't forget to remove the pit. Wow, does that ever make a loud noise in the blender. As for vanilla, I sometimes use extract and sometimes use vanilla bean paste. I like the intense flavor of vanilla bean paste, but for milk that is going on cereal or into baking, I use extract. If I'm going to drink the milk or have it on cereal, I definitely go for vanilla bean paste.
Ok, enough chitter chatter. Let's get to the recipe. Get your blender ready, let's make Hemp Milk In A Hurry!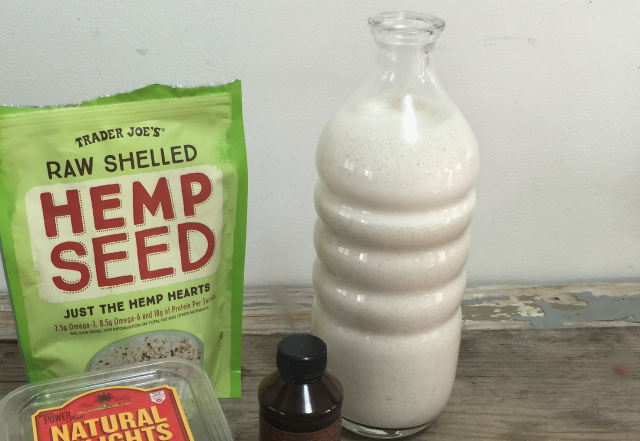 Hemp Milk In A Hurry: Make Your Own Dairy-Free Milk In Minutes
Ingredients
3

cups

filtered water

1

cup

hemp seeds/hearts

3

medjool dates

, pitted

1/2

teaspoon

vanilla extract or vanilla bean paste
Instructions
Start blending on low, gradually increasing to high speed.

Blend until smooth, just a few minutes.

Store in the refrigerator. Shake well before using. Keeps for 3 to 4 days.
Disclosure: This post contains affiliate links. I use affiliate links to offset the cost of maintaining this website. If you make a purchase, I may make a small commission, you will pay the same price and will help me continue providing original recipe, travel and dining info at zero cost to you. I appreciate your support.