This post contains affiliate links. See my disclosure for more information.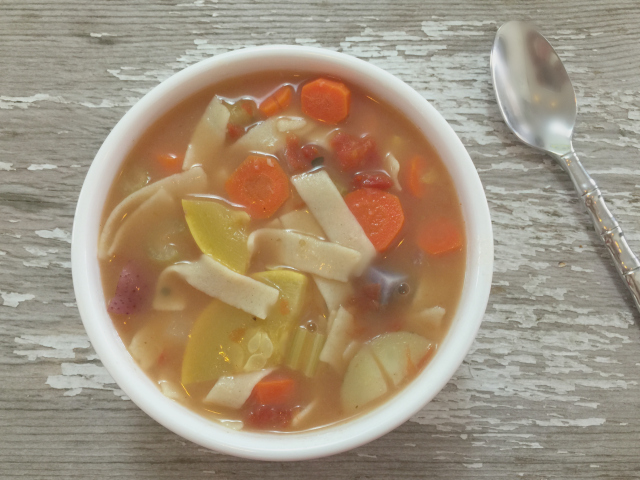 Vegetable Noodle Soup is a perennial favorite in my kitchen, whether it be to ward off the chill outside, to stave off the flu or a cold or just to have a bowl of comfort food.
When it starts warming up and feeling a little more Spring-like, I turn away from thick, hearty soups, stews, and chili and lean more toward broth-based soups many days. Do you lean seasonally like this with soups, too? I'm not sure why this happens, but I do notice when menu planning for the upcoming warm weather I am including more soups like this, less thick and rich stews. In fact, the Vegetable Noodle Soup has been on our dinner menu for the past two weeks.
About the noodles: I've used Jovial's gluten-free egg noodles. You could use whatever noodle you prefer. I like these noodles a lot and recently split a case of them with a friend so I have plenty to use. I've also used gluten-free ziti in this recipe but much prefer an egg noodle for that slightly chewy texture. It reminds me of a homemade chicken noodle soup–just without the chicken and gluten.
When making a big pot of soup (this does make a nice, big pot of soup), I use this cast iron Dutch oven from Lodge. I've cooked with cast iron most of my life, but really took a liking to it when it was suggested to me the iron content in my food would be increased if I cooked in cast iron. I don't know how significant the iron content is increased, but thanks to Celiac disease, I fight with iron. I was willing to try it…and then I fell in love with cast iron. It's easy to clean, holds heat well and can go from the cooktop to the oven. The only downfall is that it is heavy. My Dutch oven sometimes feels like it weighs 248 pounds. It's really only 16 pounds, but still…
Alrighty, let's get right to the recipe. Enjoy!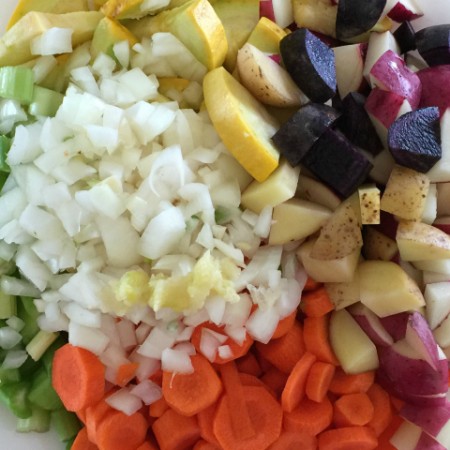 Vegetable Noodle Soup
Ingredients
4

cups

Vegetable Stock/Broth

(make certain it is gluten-free)

8

cups

filtered water

3

stalks celery

, finely sliced

2

cloves

garlic

, minced

1 1/2

cup

thinly sliced

1 1/2

cup

cut zucchini

, cut into 1/3" thick rounds and then quartered

1 1/2

cups

diced potato

(I used three colors of potatoes in the batch pictured here)

1

medium yellow onion

, diced

18

oz

. jar of diced tomatoes

1

teaspoon

dried basil

1

teaspoon

dried oregano

salt and pepper to taste

(Please taste before adding salt. The stock/broth you use may be salty.)

1

box Jovial gluten-free egg noodles
Instructions
In large stock pot or

Dutch oven

over medium heat, combine broth and water. Bring to a low boil.

Add all vegetables, except for canned tomatoes, along with basil and oregano. Cook over medium or medium-low until vegetables are tender. Once vegetables are tender, add diced tomatoes. You may wish to add salt and pepper at this point as well.

Bring back to a low boil. Add pasta at this point and cook until noodles are the desired texture, following the box instructions as a guideline.

This soup freezes well for re-heating when made with the referenced Jovial gluten-free noodles. I cannot speak to how well it freezes with other brands of gluten-free pasta.