This post contains affiliate links. See my disclosure for more information.


Creamy chocolate, soft marshmallows, chewy caramel and a few roasted peanuts. This to me is the perfect candy bar. Surely you've had one, a Goo Goo Cluster.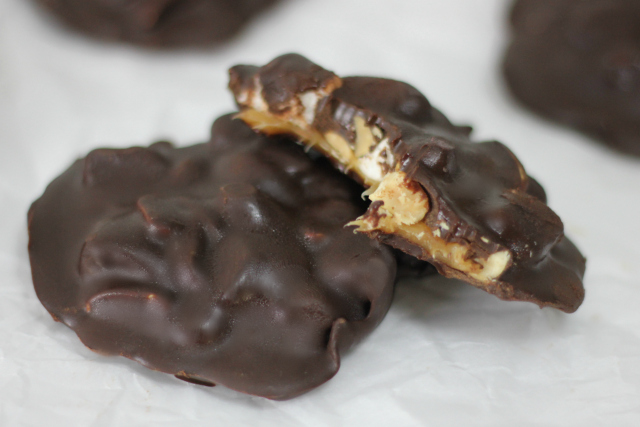 If you are like me and can't eat gluten, Goo Goo Clusters aren't an option. Or maybe it's gelatin you avoid or dairy. You don't have to count Goo Goos out, I've gotcha covered! I've created a homemade version that is so easy to make, you'll be having candy bars you can enjoy in no time at all. Or if you simply like the idea of making Goo Goos at home and have no dietary restrictions, this recipe works for you, too.
(Does it make you crazy when people think recipes labeled "gluten-free" or "vegan" or whatever-free can only be enjoyed by people who eat that way? Good recipe developers are creating recipes every single day that work for everyone. That's a topic for another day, but it does make me crazy when people don't want to eat what I create because they don't eat like I do. Their loss, I suppose, missing out on all of the tasty goodness…)
Growing up, I could hardly wait until we got far enough South from Missouri on a roadtrip to get a Goo Goo Cluster. Often the first sighting was in a Cracker Barrel gift shop outside of Nashville. Or a gas station somewhere near Chattanooga. As soon as I spotted "See Rock City" emblazoned on a barn roof, the next stop would include a mad dash inside to see if Goo Goo Clusters were sold there.
Yet it seemed like forever between opportunities to get a Goo Goo Cluster; they just weren't in the stores at home and vacations didn't always take us south. We would listen to the Grand Ole Opry on WSM AM radio on Saturday nights, chock full of commercials for Goody's Headache Powder and that chewy, crunchy, chocolate-y candy bar that had not made its way to the Midwest yet. The radio taunted me with those commercials. Oh, how I craved Goo Goo Clusters.
I don't think Goo Goos get the credit they deserve. They were created in 1912 and claim to be the first candy bar made of more than one element. Can you imagine there being only bars of just chocolate? No chewy caramel, no soft marshmallows, no crunchy peanuts, just chocolate. Sigh. Not that I don't enjoy chocolate, but I'm so glad two guys at the Standard Candy Co. had the vision to put lots of sweet goodness together in one concoction.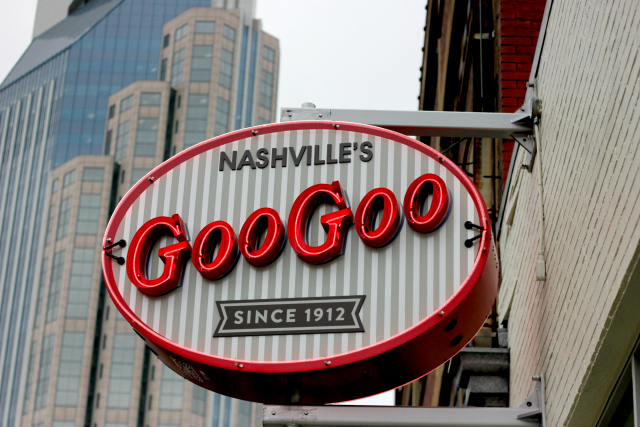 On my last trip to Nashville with my favorite fella, we popped into the Goo Goo Shop. Holy wow, all things Goo Goo were there. Still nothing I could eat, but my fella had one of their enormous Premium Goo Goos, made right there in the shop. It was full of Nutella and pretzels. Swoon. I left there with the most serious craving I have ever had for a Goo Goo. (Slip across the street from the Goo Goo Shop to the Johnny Cash Museum when you are in the area. It's well worth a visit.)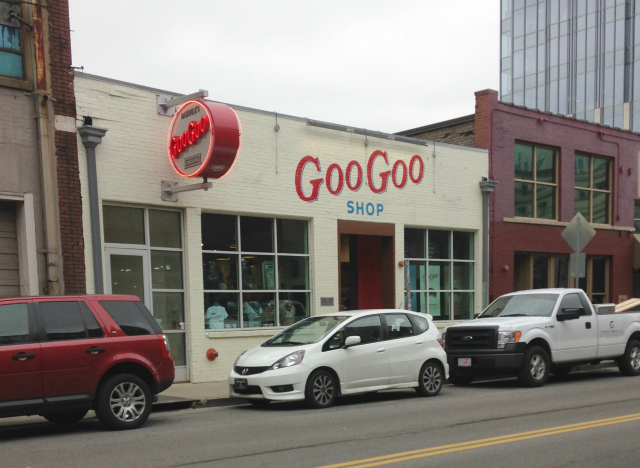 And so here it is. My homemade version of Goo Goo Clusters that work for me…and hopefully for you. I like these so much I am incorporating them into cupcakes for my own birthday. Come on, celebrate with me. Whip up a batch of these sweet goodies today! (Ingredient notes below the recipe.)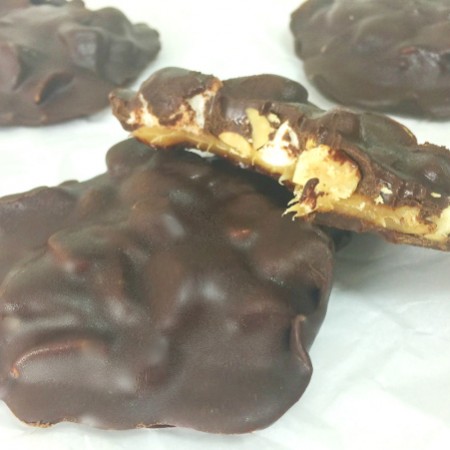 Homemade Goo Goo Clusters (gluten-free, dairy-free, vegan)
Ingredients
1

package Cocomels

(15 in a package, I like the sea salt variety)

1

package Dandies mini marshmallows

(you'll need 35 total marshallows)

1

cup

Enjoy Life Mini Chips

, divided

1/2

cup

roasted peanuts
Instructions
Turn the broiler on in your oven. If it has a high/low setting, go with the low setting.

Line a baking sheet with parchment paper.

Unwrap the caramels and resist the urge to put any in your mouth--you will need the entire package.

Each Homemade Goo Goo requires 3 caramels. Using your hands, smoosh the three together into a round circle of chewy goodness. I make mine slightly cup shaped. Repeat so you have five caramel discs.

In the center of the caramel disc, add seven marshmallows.

Place under the broiler, keeping a very close eye on them. Broil just until the marshmallows start looking soft, but not fully toasted. You'll also want to make sure these don't stay in the oven so long that the caramel liquefies and spreads out.

Remove from the oven and top each with a handful of peanuts, giving them a good push into the soft marshmallows. You'll need to work quickly.

Now you have the option of either putting the baking sheet into the freezer so these set up quickly or you can leave them at room temperature until the caramels are set and the marshmallows are no longer hot.

Once they are cool and set, melt 2/3 of a cup of chocolate chips either using a double boiler or microwave. Once melted, use a spoon to top the Goo Goos with chocolate, covering them down to the edges.

Return to the freezer until the chocolate is set.

Once they are set, turn them over on the baking sheet. Melt the remaining 1/3 cup of chocolate chips and spoon the melted chocolate over what was the bottom side of the Goo Goos. Return to the freezer to set.

Enjoy immediately. Because you won't be able to wait a minute longer!
A few notes on ingredients: I used Enjoy Life Mini Chocolate Chips with the best results. They melt quicker than the dark chocolate pieces or the chunks, plus I like the flavor of these better than dark chocolate with this combination of ingredients. The caramels I used are Cocomels. If you don't want to buy them online, check at Whole Foods. Whether you are vegetarian or not, you really should try Dandies marshmallows. Their marshmallows quickly become *the* marshmallow when I offer them to friends. Super soft, perfectly chewy and a nice hint of vanilla. As for peanuts, I prefer roasted peanuts in these, but unsalted. I like the sea salt variety of Cocomels caramels which adds just enough salt.
I also made a batch of Mini Goo Goos, perfect as a little topper on cupcakes. I can't wait to share the whole cupcake recipe with you, it's fun! If you want to make these minis, just use one caramel. They are a little more than bite size, perfect for a pick me up!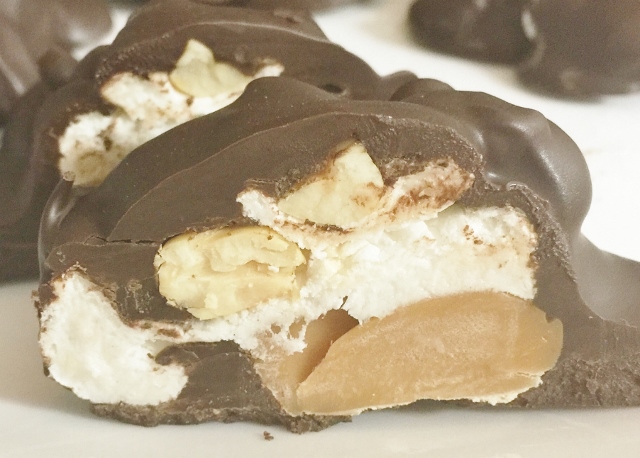 Are you a Goo Goo Cluster fan? I want to hear your childhood memories of this delightful concoction!