This post contains affiliate links. See my disclosure for more information.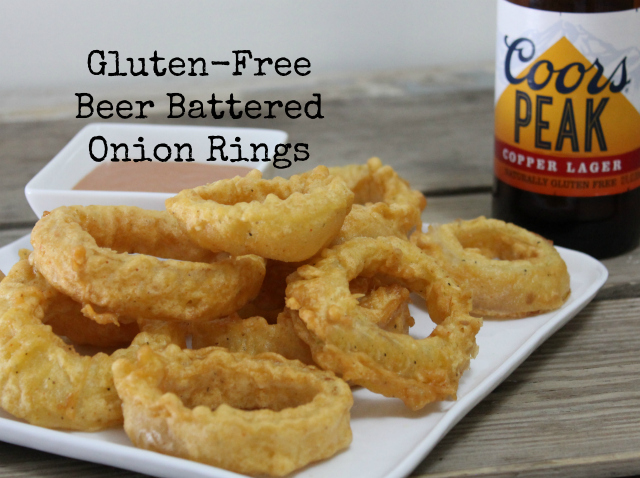 Gluten-Free Beer Battered Onion Rings. The crunchy, fried batter surrounding a ring of sweet Vidalia onion was high on my list of foods I would miss when I eliminated gluten. But I won't miss this goodness anymore, I've created a recipe that perfectly soothes the craving.
Remember when I shared my tips on how to host a gluten-free beer tasting? One of the beers I included was Coors Peak Copper Lager. I had a bottle left from the complimentary samples Coors sent and used it in this batter. It's perfect in this application, however you could use a gluten-free beer of your choosing or one that is available in your area.
Because we rarely fry in our house, I only have a little fryer that holds about a liter of oil. It has been so handy when we make Tempura Avocado Tacos, but it wasn't the best for frying onion rings. It held exactly two large onion rings. As you can imagine, it took forever to fry three onions worth of rings. Next time I'll use my cast iron Dutch oven, which works much better for frying larger batches. But just in case you only have access to a small fryer, I've included a tip on the recipe to keep all of your onion rings piping hot and crispy until the last few are fried.
The onion rings in the photos were fried in grapeseed oil. I like the neutral flavor of grapeseed oil and it has a high smoke point, making it ideal for the 380 degrees I like to fry battered foods in. When I was researching frying onion rings (yes, I'm a nerd like that when it comes to recipe development), several people mentioned peanut oil. Have you tried frying in peanut oil? I'd love to hear your thoughts on this.
Alrighty, on to the recipe!
P.S.–If you scroll to the bottom past this recipe, I've shared my super secret onion ring dipping sauce. Two ingredients, quick, a little spicy and a whole lot like Red Robin's campfire sauce.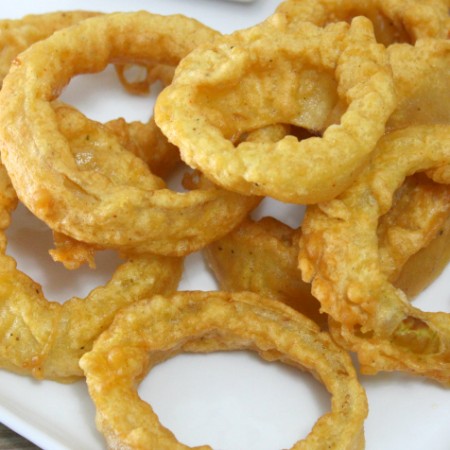 Gluten-Free Beer Battered Onion Rings
Ingredients
1 1/2

cups

Johnna's Favorite All-Purpose Gluten-Free Flour Blend

(make your own, it's easy!)

1/2

cup

plus 2 Tablespoons arrowroot or cornstarch

1/2

teaspoon

sea salt

1/2

teaspoon

black pepper

1/4

teaspoon

smoked paprika

2

eggs

1

cup

gluten-free beer

2

to 3 vidalia oniona

grapeseed or other neutral oil for frying
Instructions
In deep fryer or Dutch oven, be ready to heat oil to 380 degrees. (You will know best how long it takes your oil to heat up in the fryer of your choice. The prep for the onion rings is 10 minutes or less before they are ready to go into the fryer.) If you have a small fryer, heat your oven to 225 degrees and line a large baking sheet with paper towels. You can keep the onion rings hot while frying more.

Slice onions in 1/2" slices. Separate rings. Place in a large ziploc bag with 1/2 cup arrowroot or cornstarch. Shake to coat.

In a large mixing bowl, combine flour, 2 Tablespoons arrowroot or cornstarch, salt, pepper and smoked paprika. Stir to combine.

In another bowl, beat eggs with a fork until combined and slightly fluffy. Stir in one cup of beer.

Add the egg and beer mixture to the flour mixture. Stir until there are no large lumps, but do not overstir. You don't want to stir out all of the bubbliness of the beer.

Dip rings of onion into the batter and place in the fryer. Turn the rings once the down side is lightly browned. Onion rings fry very quickly, less than 4 minutes total. Repeat until all onion rings are done.

Serve with dipping sauce of your choice. Or not. 😉
Super Secret Onion Ring Dipping Sauce
Mix together 1/2 cup Ketchup (I use the organic ketchup from Trader Joe's) and 1/2 cup Hampton Creek Just Mayo Sriracha (this is also available at Whole Foods and WalMart). Super easy and so tasty!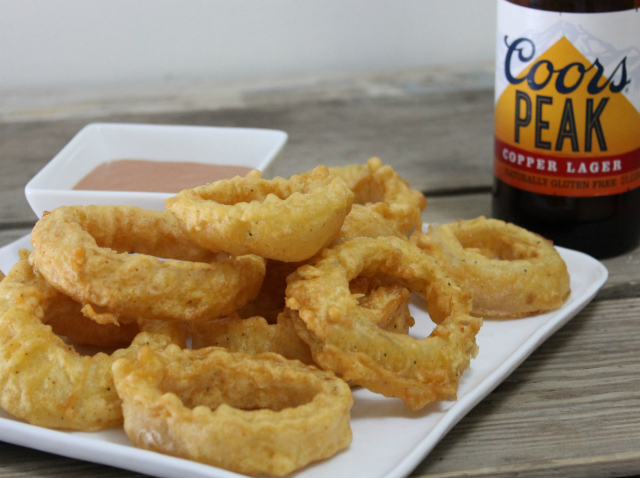 Full Disclosure: I was provided free samples of Coors Peak gluten-free beer. They didn't ask me to write about their beer and no payment was received in exchange for mentioning it. As with all of my posts, there are affiliate links in this post. If you make a purchase after clicking on a link, I may make a small commission; you will still get the same great price. My full disclosure policy is here. Thanks for your support of my site!