This post contains affiliate links. See my disclosure for more information.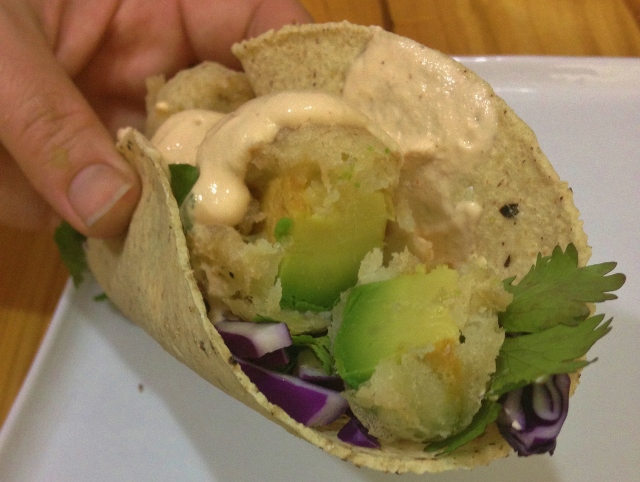 My favorite place to grab tacos used to have these divine avocado tacos. A generous slice of avocado in lighty, crispy tempura batter, fried to tasty perfection. The tempura avocado tacos used to come and go from the menu seasonally. Plus they didn't work for me (because gluten) but my favorite fella digs them.
Since going gluten-free, I've learned to not fret much about food I can't eat. But when my favorite fella says he misses something, even if it's from a restaurant, I'm all over trying to re-create it at home. He has never once complained about the sometimes-awful attempts I've made at remodeling recipes to make them gluten-free. It was BAD in the beginning, y'all. Not everything tasted great. And he never once complained. So for him, I'll sacrifice and make these tempura avocado tacos.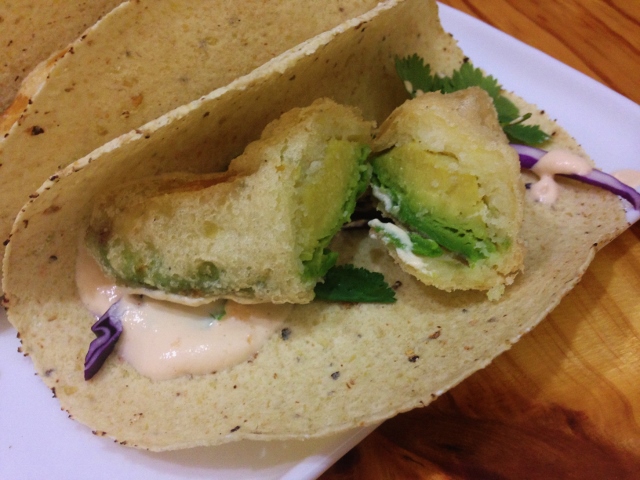 It's really not a sacrifice on my end–these are my absolute favorite taco. The crunch of tempura with the creaminess of an avocado, all topped with the hint of spiciness from my Sriracha Cashew Cream. I haven't tried a lot of dishes with cooked avocado and was skeptical at first, but fried avocado creates happiness around here.
We don't fry food often at home and therefore don't have a fancy deep fryer. I use a large dutch oven and a thermometer to get the oil to the right temperature. I prefer frying in grapeseed oil but you do what works best for you.
Alrighty, here's the recipe. I hope you enjoy these tacos as much as we do.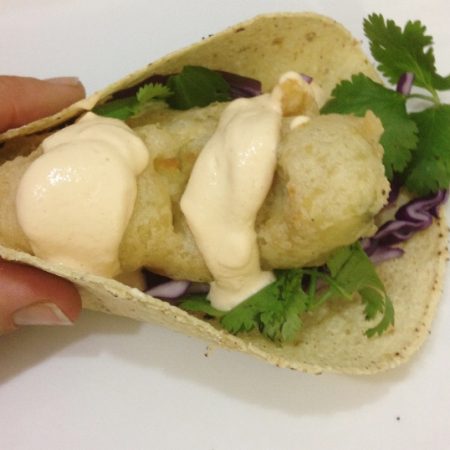 Tempura Avocado Tacos (gluten-free, dairy-free)
Ingredients
1 1/4

cups

chilled club soda

2

Tablespoons

grapeseed oil

1

egg yolk

1

teaspoon

salt

1 1/4

cups

white rice flour plus additional 1/2 cup or so for dredging

additional grapeseed oil for frying

3

avocados

corn tortillas

shredded red cabbage

fresh cilantro
Instructions
In a large dutch oven (or pan you prefer to fry in), add approximately 3 inches of oil to the bottom of the pan. Heat over medium to 375 degrees.

While oil is heating, get avocados ready to be battered. Cut each avocado into six wedges.

In a mixing bowl, combine 2 Tablespoons grapeseed oil, egg yolk, 1 teaspoon salt and chilled club soda. Gradually add in rice flour, stirring while adding, until batter forms.

Place remaining rice flour into a small bowl for dredging.

Once oil is at 375 degrees, dredge each wedge of avocado in rice flour and then in batter. Gently drop into hot oil. Fry for about 3 minutes, flipping as needed. Keep an eye on the oil temperature. Adding too many avocados at once will reduce the temperature.

When the avocados are done being fried, remove from oil and place on a paper towel lined plate to drain.

To assemble, fill each corn tortilla with red cabbage and fresh cilantro. Drizzle in a bit of Sriracha cashew cream. Top with avocado wedges. I generally get about two to three wedges in one taco. Top with more Sriracha cashew cream if you like spice.
Before I go, I wanted to ask if you've seen these cute Sriracha keychains? I think I need one or two. This girl can't get enough Sriracha or Gochujang or well, really anything spicy. And you?

Full Disclosure: This page contains affiliate links. Should you click on a link and make a purchase, I may make a small commission. I use affiliate links to offset the costs associated with maintaining this website and creating original recipes, which I share with you at no charge. I'm so very grateful for your support!