This post contains affiliate links. See my disclosure for more information.


Today I'm sharing my Copycat Fried Pickle and Ranch Dip Recipe. I created this to be gluten-free and declared by taste testers to be even better than the one sold at Sam's Club!
Have you tried the Sam's Club Fried Pickle and Ranch Dip? I can't wait for you to try this recipe!
Are you a fan of all things pickle? I'm pickle obsessed.
I ate a chocolate covered pickle at the Tulsa State Fair years ago. I had a pickle snow cone at a street fair in Arkansas. If it's a pickle or pickled (not the same thing), I'm into it.
The minute the Fried Pickle and Ranch Dip hit the internet, I knew I had to try it. BUT… it contains gluten. The "fried" part of it is accomplished by adding bread crumbs to the dip.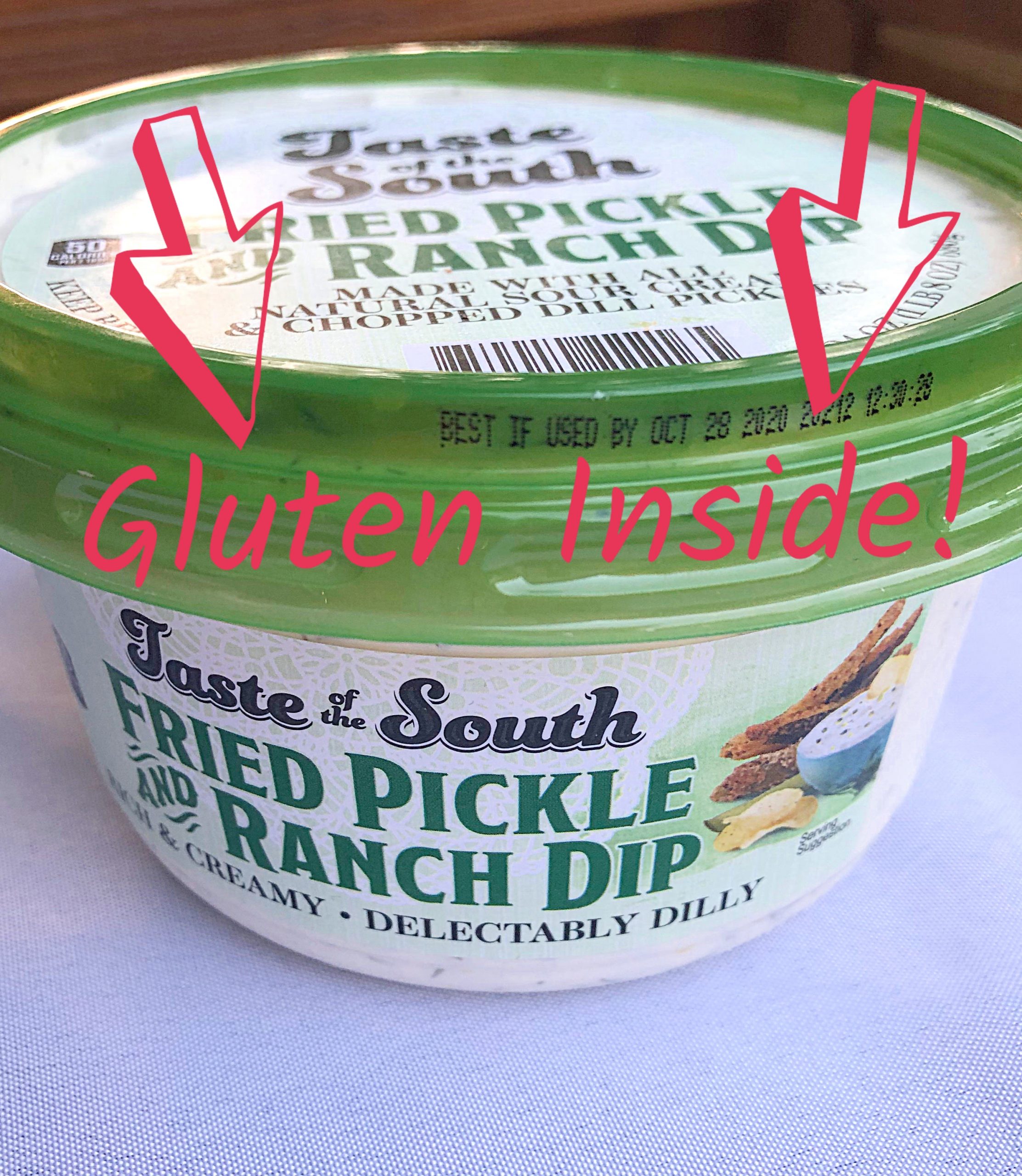 No biggie. I hatched a plan to re-create it, free of gluten, in my kitchen.
My friend Renee snagged the original gluten-containing dip for me at Sam's Club, my friend Brian provided texture and accompaniment input as I developed the copycat version and then my taste testers who can eat gluten got busy doing a side-by-side taste comparison.
Here's what they discovered: The store bought version has little lumps of cream cheese in it. While not problematic, it is easily avoided using whipped cream cheese.
The bread crumbs were hard to discern in the store bought version, but they are definitely there in the flavor according to taste testers, providing that hint of fried breading flavor.
Also of interest: the store bought version uses dill pickle relish. In my first copycat batch made at home, I only had sweet pickle relish. Even using sweet relish, my homemade version was LESS sweet than the store version! Just a heads up on this if the sweetness of the Sam's Club version is appealing.
Before I share the recipe, here are a few notes on my ingredients: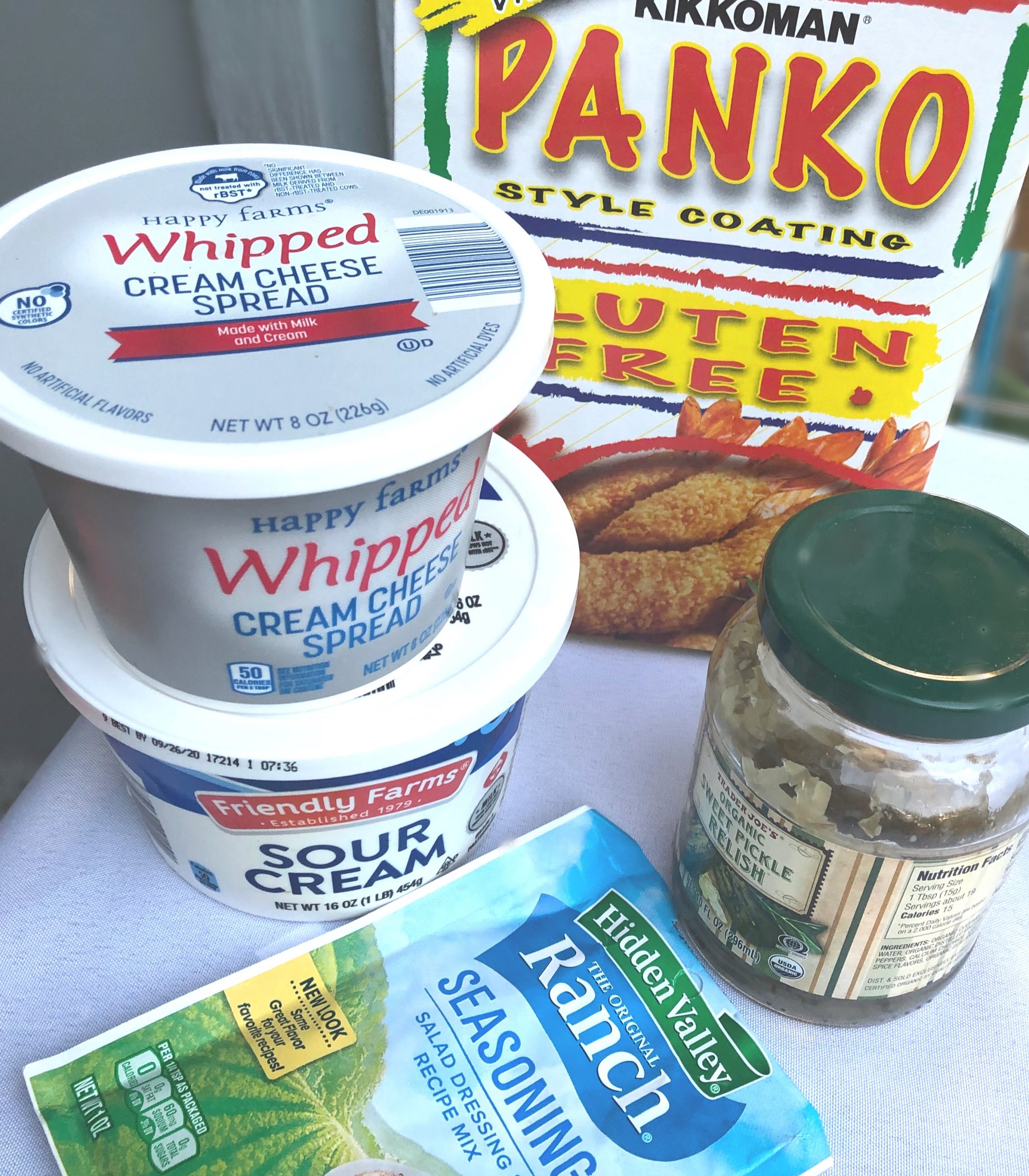 Sour Cream: I used a "regular," not low-fat version.
Whipped Cream Cheese: Whipped is necessary to get the right fluffy texture. You could definitely whip a regular block of cream cheese with a hand or stand mixer.
Pickle Relish: As I mentioned above, I first tried this with sweet relish. Sweet relish and dill relish work well in this. There is more pickle flavor using dill.
Bread crumbs: I used Kikkoman's gluten-free Panko. These come out of the box very white and have little flavor. Toast them in a dry skillet or on a baking sheet in a hot oven before stirring into the dip. See photo below for color difference. Much more flavorful after being toasted a bit!
Ranch Dressing Mix: I used the dressing mix, not the dip mix. I used a packet of Hidden Valley, however if you use a dry mix or a bulk mix, you'll need approximately 3 Tablespoons of the dry mix.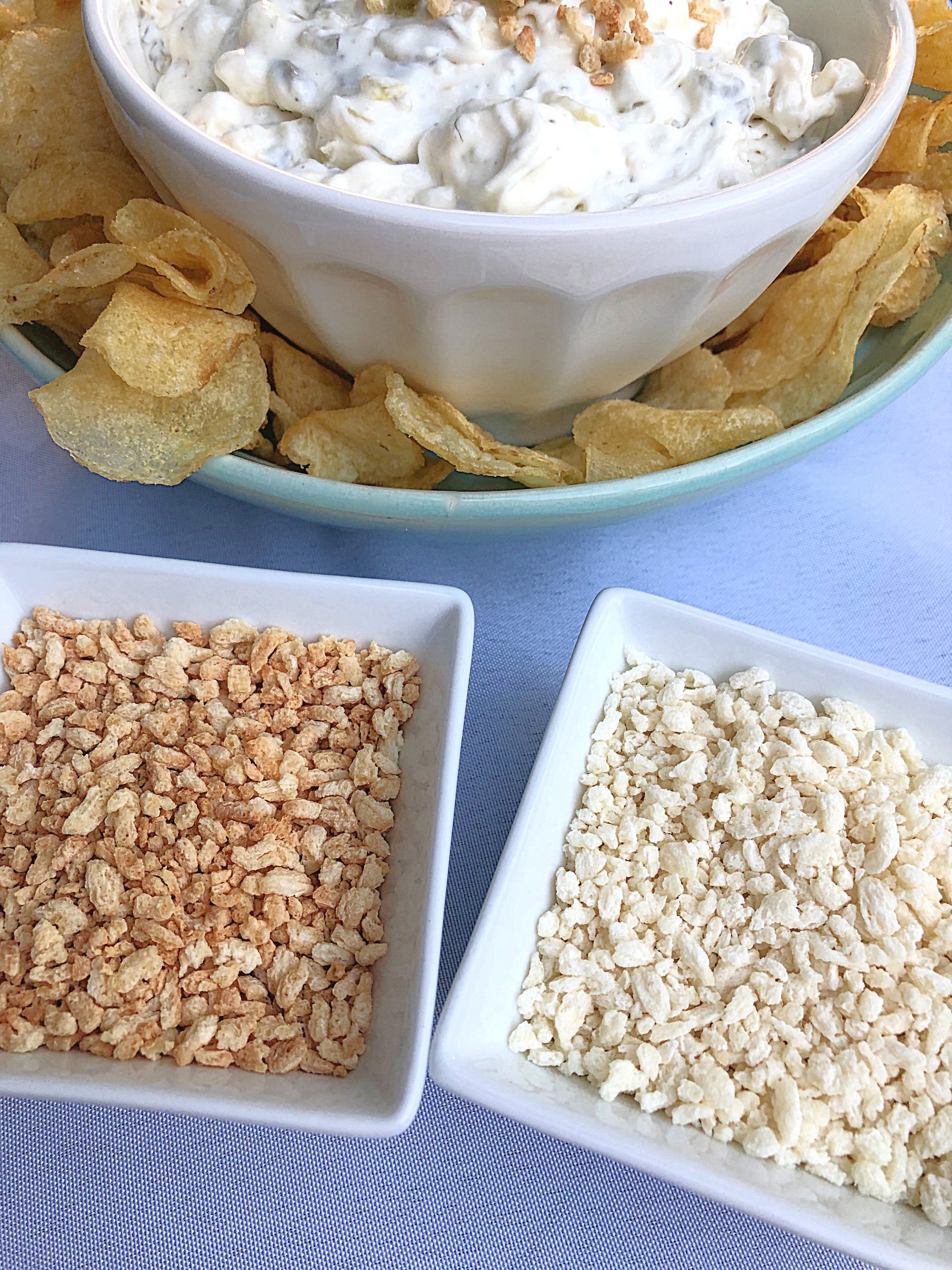 Ok, let's move on to Copycat Fried Pickle and Ranch Dip Recipe, Gluten-Free!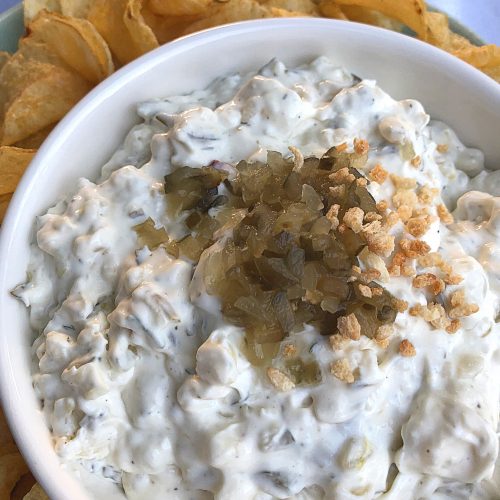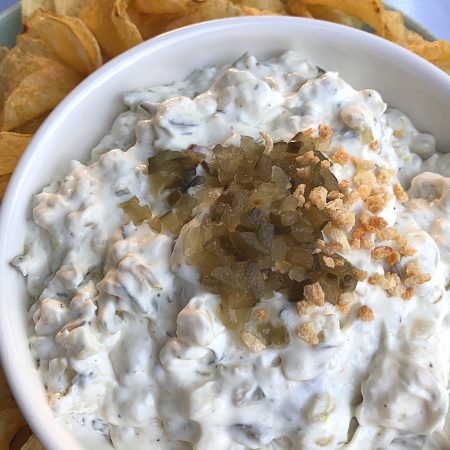 Copycat Fried Pickle and Ranch Dip Recipe, Gluten-Free
Copycapt version of the Fried Pickle and Ranch Dip sold at Sam's Club, modified to be gluten-free
Ingredients
1

cup

sour cream

8

ounces

whipped cream cheese

1

packet

Hidden Valley Ranch Dressing Mix (1 ounce)

1

8 ounce jar

dill pickle relish or sweet pickle relish

(reserve 1 teaspoon for garnish)

1/2

cup

toasted gluten-free Panko bread crumbs

(reserve 1 teaspoon for garnish)
Instructions
Toast the gluten-free panko bread crumbs in a dry skillet over medium-high heat, stirring constantly until they have a touch of brown color. You can do the same in a hot oven, but watch very closely as the color changes fast. Remove from heat and set aside.

In a mixing bowl, combine sour cream and whipped cream cheese with contents of ranch dressing mix. Stir well to combine.

Add pickle relish and toasted panko bread crumbs. Stir to combine.

Refrigerate for at least two hours before serving to allow contents of dry dressing mix to rehydrate and flavors to combine.

You may wish to top with the reserved teaspoon of relish and bread crumbs for garnish before serving.

This is good with kettle potato chips, tortilla chips or vegetable sticks.