This post contains affiliate links. See my disclosure for more information.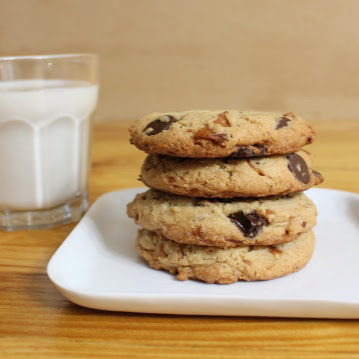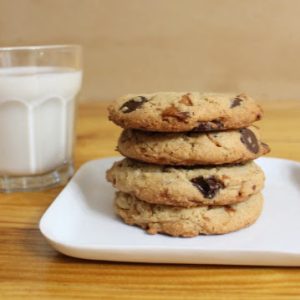 Which gluten-free flour should I use in baking?
That question is in the Top 5 of questions I am asked about being on a gluten-free diet. There is one very simple answer when it comes to making recipes that are written gluten-free: Use the flour the recipe developer used if you want the same result.
For example: the chocolate chip cookie recipe in my cookbook, Gluten-Free Baking for Beginners, was written to be used with my Favorite Gluten-Free Flour Blend. A dear friend made them using Cup4Cup flour, which contains powdered milk. Dairy, in any form including powdered milk, will cause a recipe to brown faster. And that's exactly what happened, the cookies browned quickly. Still delicious, just a different texture and color.
Some ready-made gluten-free flour blends have a high starch content, others have a higher protein content. You simply cannot expect the same result with these flour blends in a recipe. Whole grain flour blends won't have the same texture in a finished baked good as a blend that is high in refined starch-based flours like tapioca. We also run into the challenge that comes with using gums like xanthan or guar with gluten-free flours. Ready-made blends may have gums included, but we don't usually know how much per cup and how that translates into a recipe that uses a different flour blend or a recipe that has gums added in as a separate ingredient. How much a cup of a gluten-free flour blend weighs compared to a cup of all-purpose gluten flour weighs is a consideration, along with how much liquid the gluten-free flour blend will absorb, which is usually more than a flour that contains gluten. There are so many variables!
With all of these considerations in mind, the best route to success with a recipe is to use the flour blend suggested by the recipe developer for that specific recipe.
I understand the concerns about keeping a lot of single flours in your pantry to make a few cups of a specific blend for one recipe. It gets expensive! My advice on this is to invest in what is necessary for the recipes you have added to your frequent rotation list in your kitchen. In my cookbook, I use three flour blends, combined in my kitchen from single-ingredient flours, and have shared which recipes adapt to using more than one of the blends. There is some crossover of ingredients between the blends as well. I find this to be more cost effective than having frequent failures using a flour blend in a recipe that wasn't developed with the same flour or flour blend.
A few words on converting treasured gluten-full recipes into gluten-free recipes: I know many of us want to make family recipes, treasured for generations, converting them to be gluten-free. I do this often with much success, but it took a lot of learning and a lot of experimenting to get to this point, especially with yeasted breads. Even after two rounds of culinary school, over a decade of gluten-free baking and authoring a cookbook on gluten-free baking, I often try to find a similar recipe that is written gluten-free by a food writer I trust than trying to reinvent the wheel myself. If I am bound and determined to convert a recipe, I am always prepared for it to fail, never making it in a hurry or with the expectation I'll take it to a dinner party that evening. Taking good notes about what I changed in the recipe, how long it baked, etc… and then notes about the results are important because there is sure to be a Round #2, #3…sometimes as many as 12 batches before I get it exactly as I want it to be. Keeping a notebook in the kitchen will be helpful as you sort this out and decide which flour blend works best and what additional adjustments need to be made to convert those treasured recipes to delectable gluten-free recipes.
Thanks for reading along. I hope this answers your question about which gluten-free flour to use and helps you have great success with gluten-free baking!