This post contains affiliate links. See my disclosure for more information.


Perched at the top of Gondola One on Vale Mountain, The 10th offers not just beautiful views but also amazing gluten-free fare! This is the most swoon-worthy stop I've made in a long while.
I'm an avid snow skier but rarely eat at on-hill restaurants. First, there's rarely anything I can eat and second, the restaurants aren't usually spaces in which I'd like to take a break from skiing. Vail is the exception to this, I've enjoyed on-hill food several times and The 10th is a great addition to their offerings. The 10th was newly opened in the 2012/13 ski season.
All of that said, I didn't visit The 10th mid-day while skiing. My favorite fella surprised me with a nighttime visit to The 10th to celebrate Valentine's Day. Back when I was still eating gluten, one of my very favorite things to do was to have wine and dessert out. Not a full meal, just a glass of wine, maybe even a shared dessert. That doesn't happen often now, especially when there is only one restaurant in my home city where I can indulge in dessert. What a sweet surprise!
On a lovely evening stroll through Vail Village, my fella steered me toward the gondola and suggested we go for a ride. What?!? Well, ok…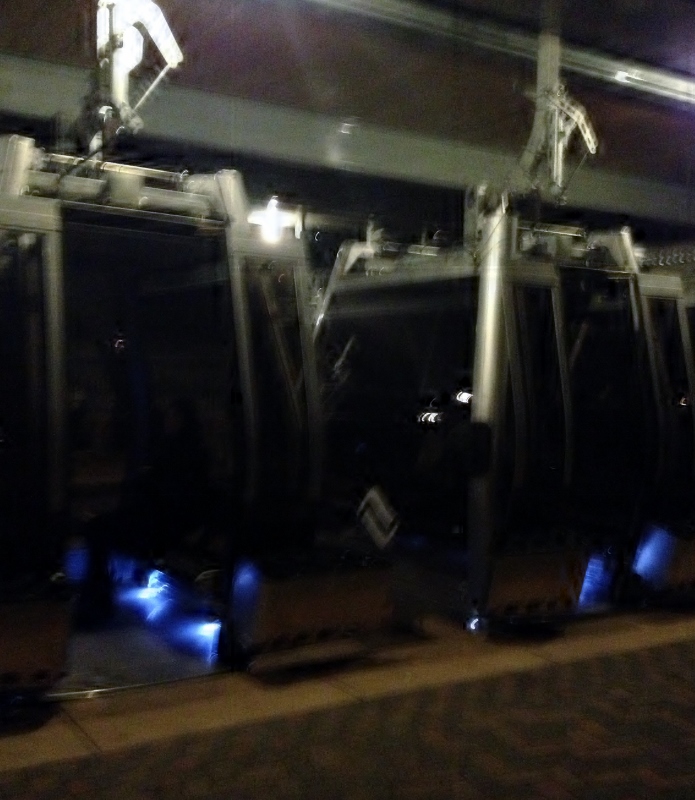 We were tucked in a gondola with cozy blankets and spent about 8 minutes watching Vail Village slip away…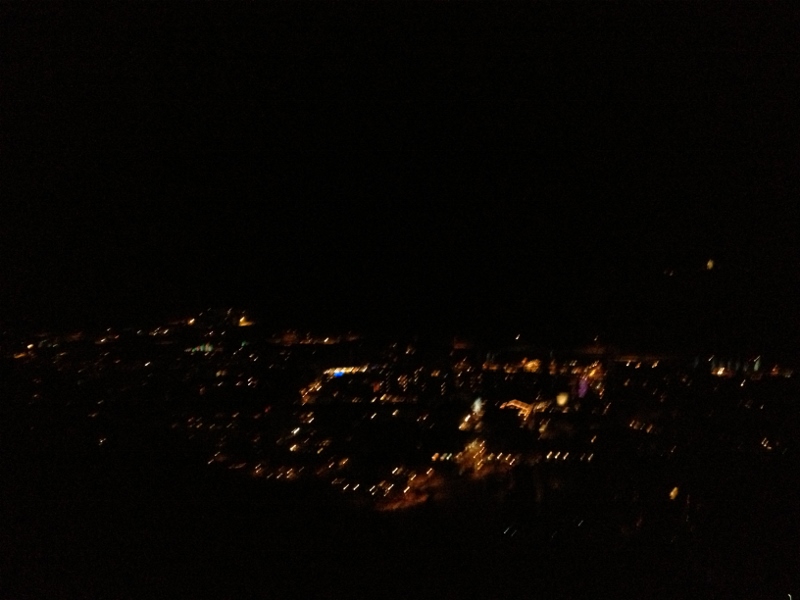 At the top of the gondola, this fella greeted us and took us on a quick Snow Cat ride to The 10th.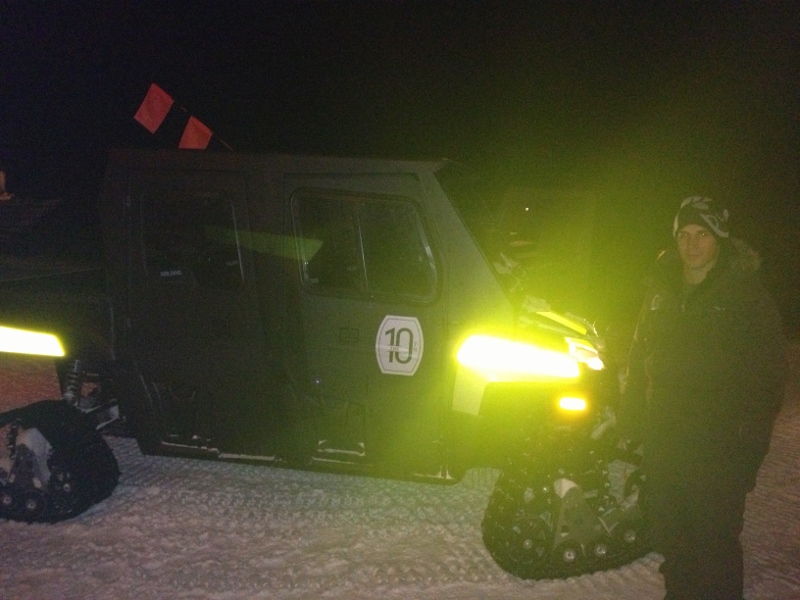 Inside The 10th, it is warm and welcoming. Exposed timbers and stonework create a space that feels both rustic and elegant. A large fireplace consumes one wall of the lounge area. Comfy seating is in abundance. The dining area looked beautiful, but we were there for dessert and drinks and found our way to the lounge area.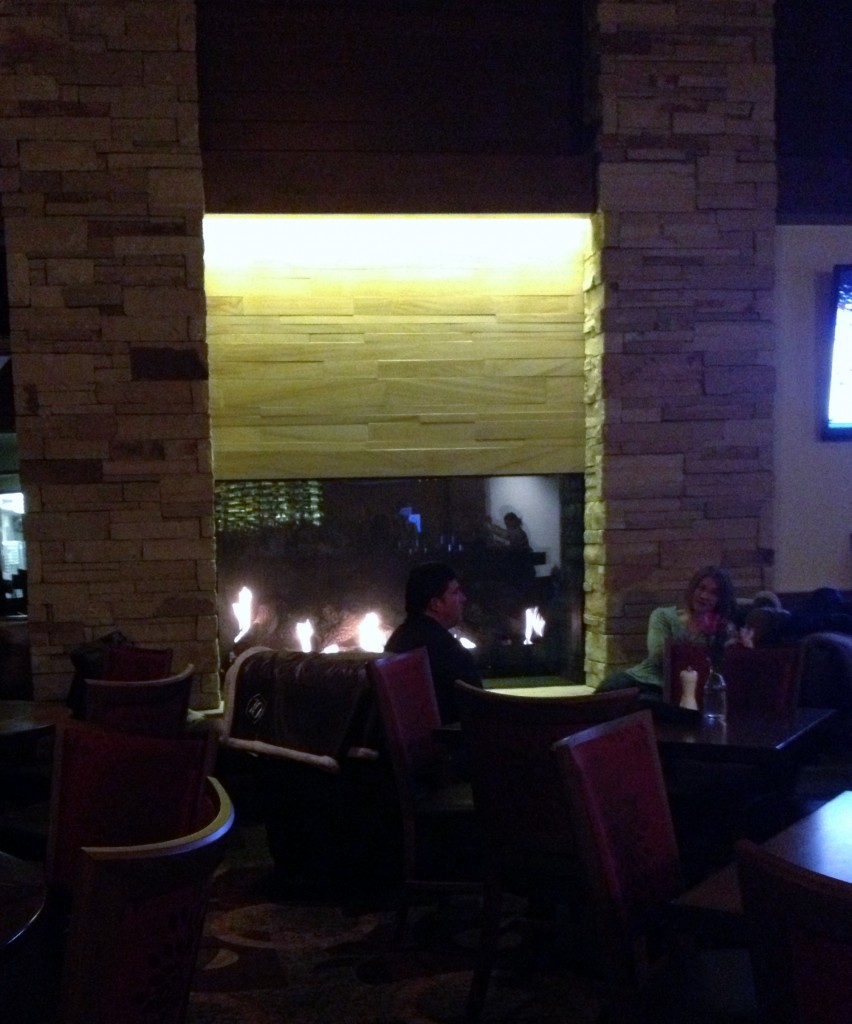 A gluten-free menu awaited us. Wow! Lots to choose from for meals AND desserts. Pizzas, sandwiches, soups, all were available gluten-free. This statement appears on the menu: "WE ARE COMMITTED TO PROVIDING AN EXCEPTIONAL EXPERIENCE FOR OUR GUESTS WITH DIETARY RESTRICTIONS. PLEASE ALERT YOUR SERVER TO ANY ALLERGIES OR SENSITIVITIES WE MAY ACCOMMODATE." And accommodate they did. I had no fewer than four desserts to choose from.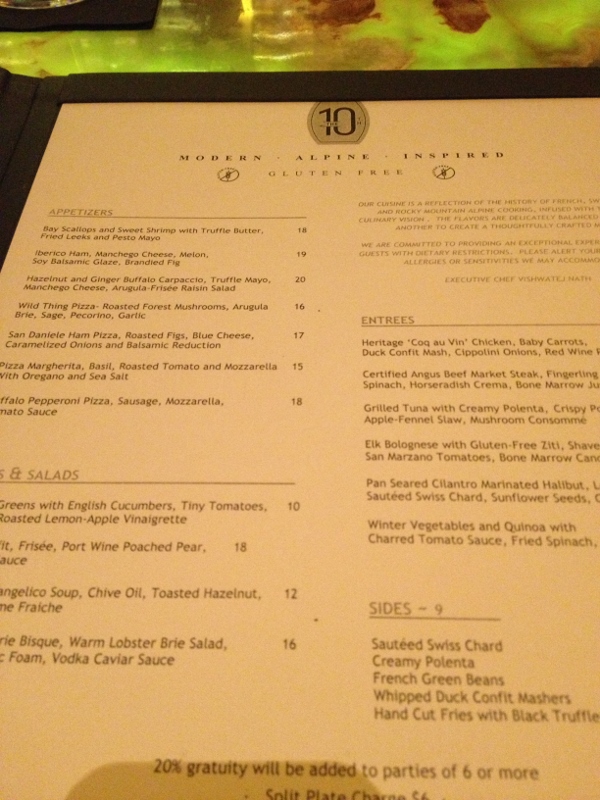 We ordered drinks from the bar: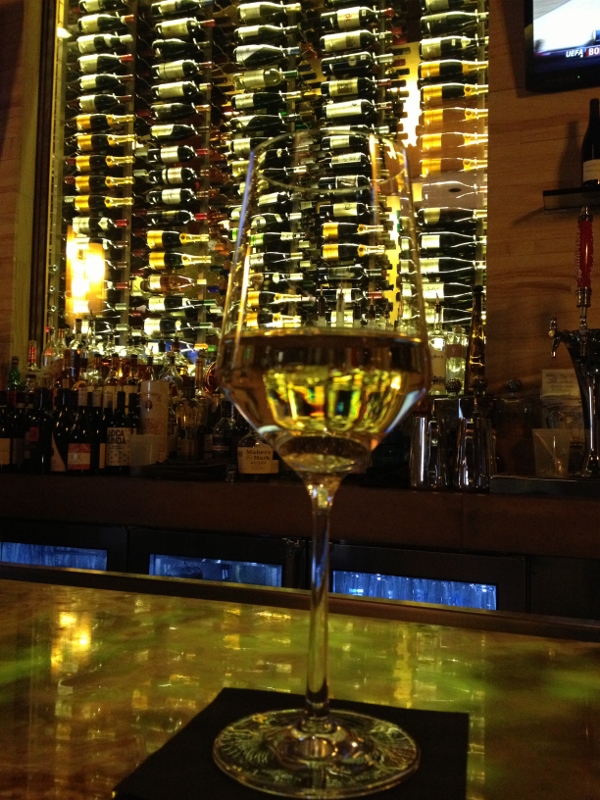 We indulged in the Baked Alaska: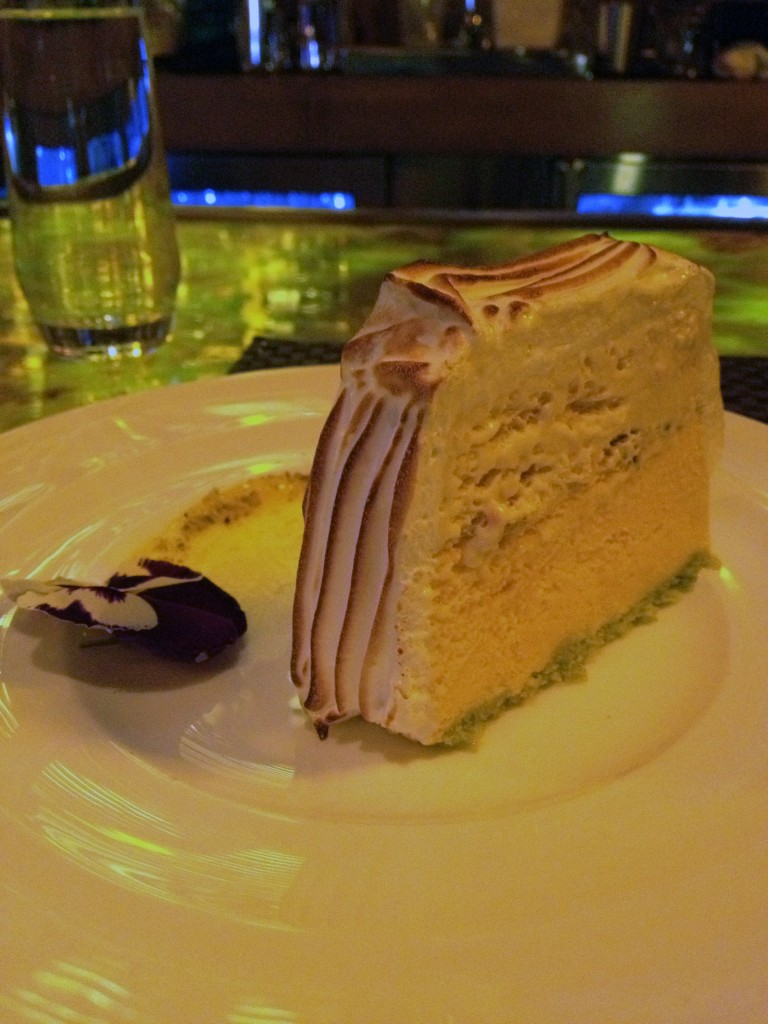 And the Vanilla Pot de Creme with bruleed bananas: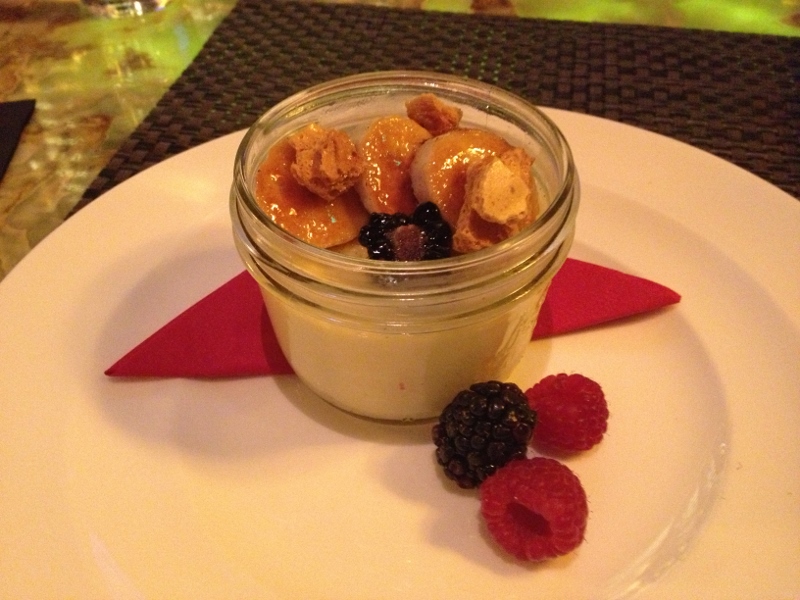 Of all of the places I have dined gluten-free, The 10th is one of the few with a profound attitude of ease when it comes to gluten-free. Every question I asked was answered knowledgeably and without hesitation. Surely there's a more verbose way for me to describe it, but easy is what comes to mind. Wouldn't it be great if more restaurants made dining out gluten-free safe and easy? If I had to take a gondola up a mountain to reach such restaurants, I would gladly do it!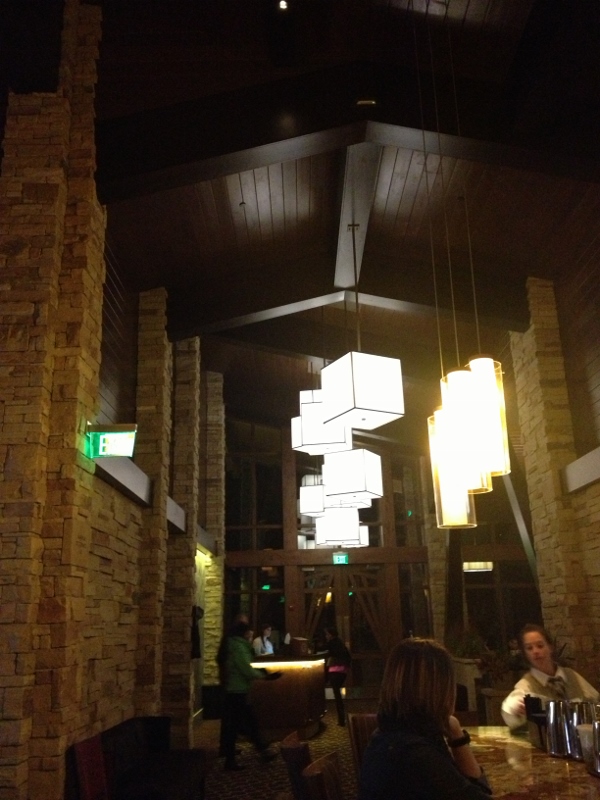 The 10th is located at the base of Look Ma run at Mid-Vail. Beginners may ski into The 10th using Meadows from Chair 3 or 4, or using Over Easy from Chair 2. Beginners may ski out of The 10th by accessing Chair 3 or 4, by using Git-a-long road to ski to Chair 2 or the bottom, or by downloading on the new gondola at Mid Vail. Foot passenger traffic for dinner is free up Gondola One, but for lunch a scenic ride ticket is required. The 10th is open for breakfast (coffee, hot chocolate and pastries fireside), lunch and dinner. I would suggest a reservation for lunch or dinner, 970-754-1010.
Eat With: Very Minimal Caution. A gluten-free menu is available and the staff I encountered were very knowledgeable.
Johnna's I Ate Here series is not intended as a restaurant review, rather a summary of Johnna's experience dining out. You may or may not have a similar experience. Menu prices, items and ingredients featured were current at the time of writing. Please read the menu carefully and ask your server for assistance in ordering if you have dietary restrictions. It's a good idea to call ahead and let the restaurant know of your food needs.