This post contains affiliate links. See my disclosure for more information.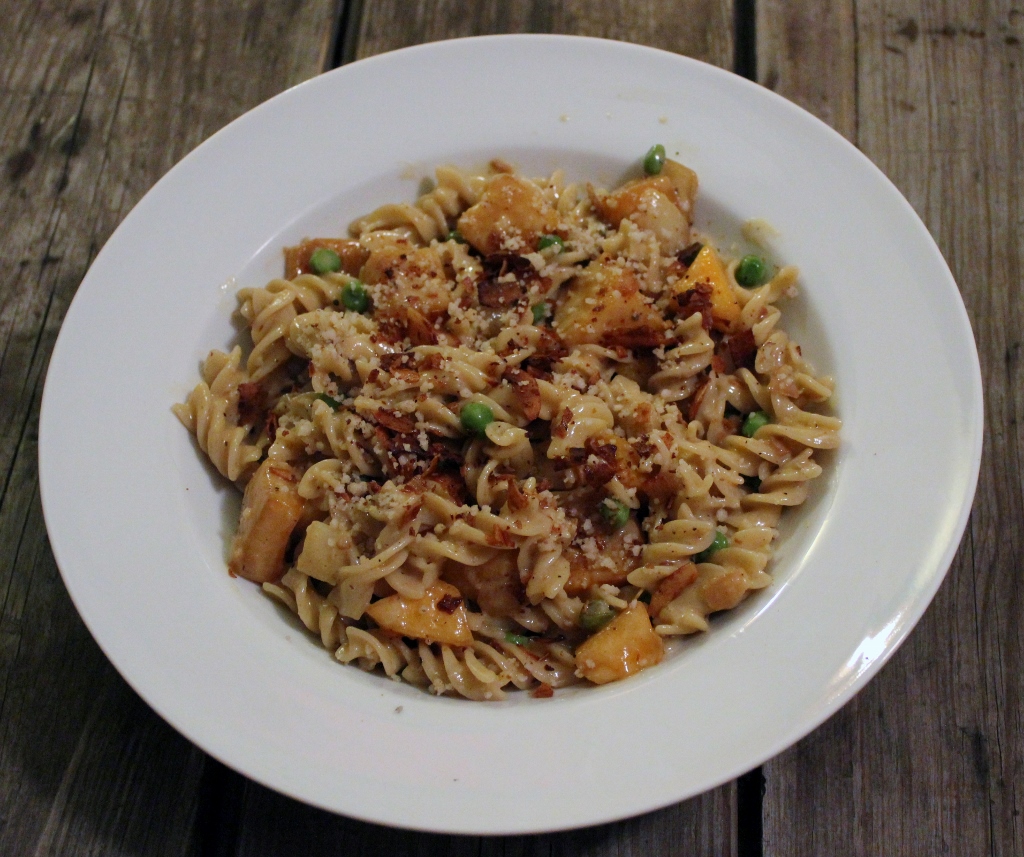 Recently a friend said to me, "Oh, I feel so bad for you. I would just die if I couldn't eat pasta or dairy."
I explained I still eat my share of pasta. And I'm not missing dairy because I use non-dairy milk, eat non-dairy cheeses, even yogurt.
Then came, "But bacon would be the real problem for me. I couldn't do all of that AND be vegetarian." Well, I've got that covered, too.
So I asked for a challenge. I asked my friend to share with me a recipe that she would imagine to be impossible for me to eat. Pasta Carbonara was the challenge. It took just two tries for me to figure out a Pasta Carbonara that passed the test, got a thumbs up from the friend who, it turns out, wouldn't really die without wheat, dairy or bacon. 🙂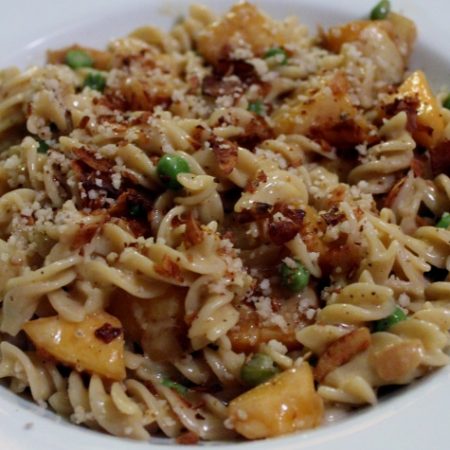 Pasta Carbonara, gluten-free, dairy-free and vegetarian
Ingredients
16

oz

. gluten-free pasta of your choice

(I use Trader Joe's rice pasta)

1

t

. coconut oil

1

medium onion

, diced small

3

cloves

garlic

, minced

2

cup

diced butternut squash

4

eggs

3/4

cup

Brazil nut parmesan

1/2

cup

unsweetened almond milk or other non-dairy milk

1/4

cup

non-dairy yogurt

(I use So Delicious plain)

1/2

cup

fresh or frozen green peas

, room temperature

1/2

cup

coconut bacon

(I use Phoney Baloney's)
Instructions
Cook gluten-free pasta according to package instructions.

While the pasta is cooking, in a large, deep skillet, saute the diced onion and garlic in coconut oil. Once onion is transparent, add butternut squash cubes and continue sauteing until squash is fork-soft.

Remove the vegetables from the skillet and place in a bowl nearby.

In another bowl, combine the eggs, milk, yogurt and Brazil nut parmesan. Whisk to combine.

Drain pasta, reserving 1 cup of the pasta water. While pasta is still hot, place it in the large, deep skillet you used to saute the vegetables. Slowly begin pouring the milk and egg mixture over the pasta.

When you have poured in half of the milk and egg mixture, add the sauteed vegetables, the green peas and the coconut bacon. Keep stirring, adding in the remaining half of the milk and egg mixture.

If the pasta is too thick, slowly stir in a bit of the reserved pasta water. It doesn't take make, so just add a few tablespoons at a time.

If you'd like, you can serve this with an additional sprinkle of Brazil nut parmesan and coconut bacon on top.