This post contains affiliate links. See my disclosure for more information.


Starlight Theatre is one of my very favorite places to catch a Summertime concert. It was mentioned recently in Buzzfeed's "6 Outdoor Music Venues You Need to Visit In Your Liftetime" article. Spending a summer evening at Starlight is magical…and it can be food-filled, too!
While I most often write about restaurants, I'm sure many of you want to know about eating gluten-free and healthier beyond restaurants. Ballparks, concert venues, amusement parks…all the places we visit and eat beyond restaurants deserve some press, too. So I'm going to share my food finds from Starlight with you.
But first, here's a peek at Starlight. The theatre seats almost 8,000 people and there isn't a bad seat among them. I've sat all the way at the back to see Ben Folds, front and center to see Jack Johnson, right in the middle to see many musicals. There's really not a bad seat. Here's a peek at the seats before they filled up on a recent night at Starlight: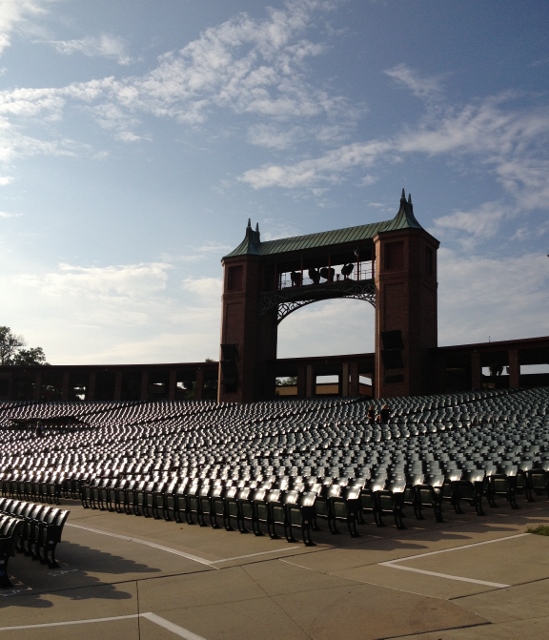 And here's the view from the middle of the seats, right before the curtain rose for Footloose: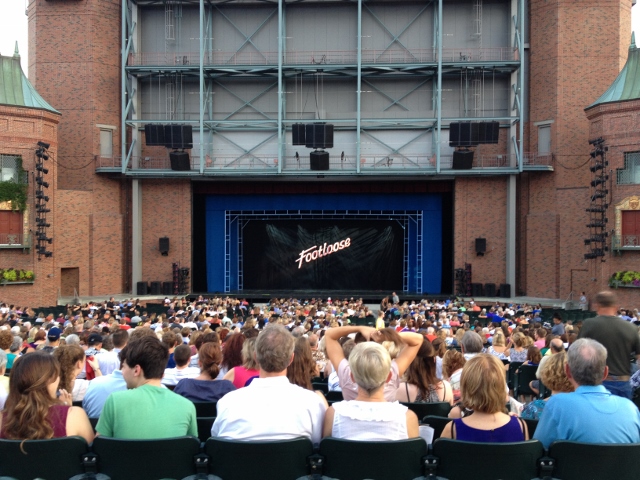 Now, about those food finds…
The VIP Club is open to all guests before musicals at Starlight. The offer a buffet dinner. While they don't prepare dishes specifically to accommodate food allergies or intolerances, they will walk you thru the buffet and point out dishes that work for you.
There is outdoor seating at the VIP Club: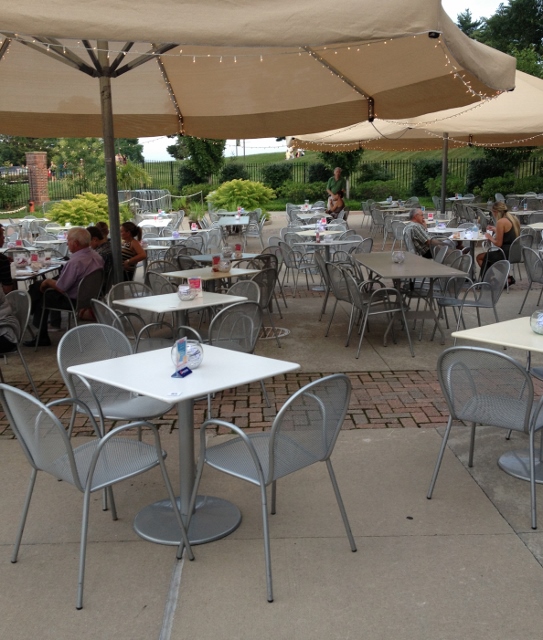 And indoor seating: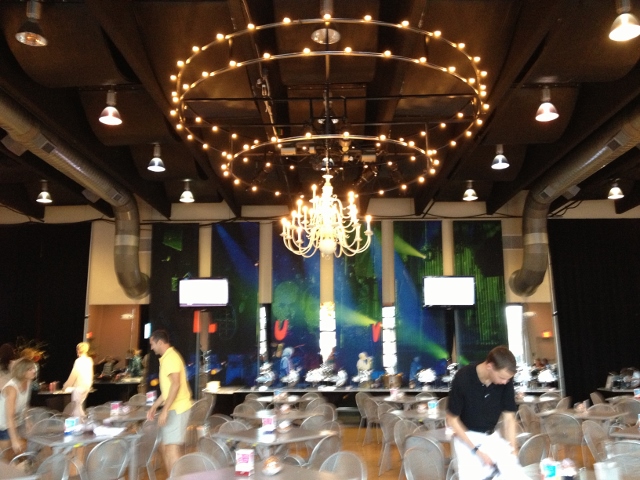 I was thrilled with the veggie bar, a step up from a basic salad bar. There were two prepared green salads on the night I visited as well as all sorts of veggies that could be made into a salad or eaten on their own. It was easy for a gluten-free vegetarian to make a meal right here!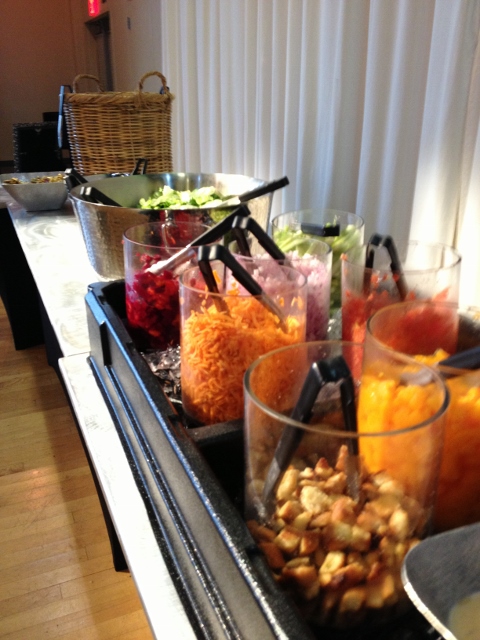 Beyond the VIP Club, there are several options at Starlight. I visited a snack bar and found the nachos included single-serve bags of Tostitos. The friendly staff headed to the back to check ingredients on the nacho cheese sauce, which was gluten-free at the time of my visit. They also let me know they would be happy to serve any of their sandwiches without a bun.
Around the corner from one snack bar was a bar that had different food options, including a "gluten free snack," which was a KIND bar. Not a bad option in a pinch!
I spotted two other snack options, kettle corn and peanuts in the shell. There were plenty of drink options, including smoothies or frozen cocktails from this stand: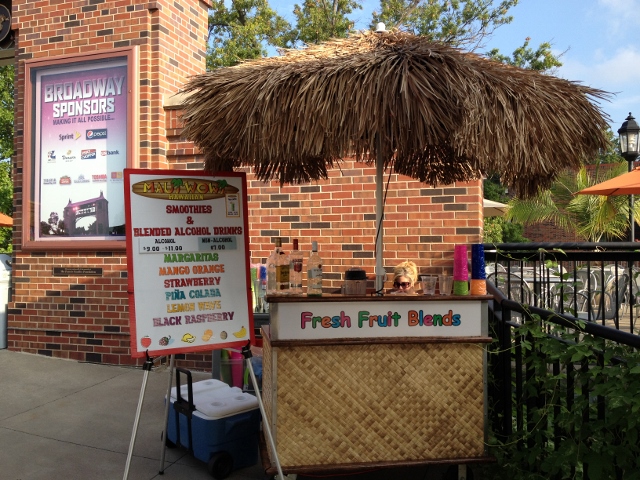 The smoothies and cocktails are made with Maui Wowi mixes, which are gluten-free and contain yogurt. They are free of HFCS and artificial flavors and colors.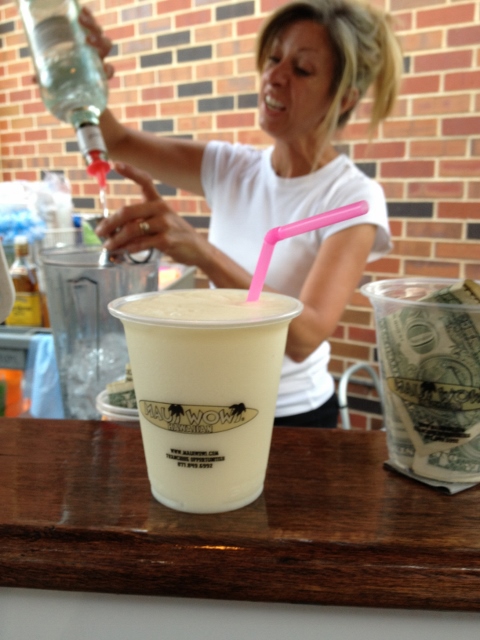 I was pleased with how easy it is to eat at Starlight and how nice everyone was when I asked lots of questions about ingredients and how food is prepared. I like knowing I can grab a bite before a show and have a snack and a cocktail during a show. I've been to Starlight three times so far this Summer and enjoy it every time.
Starlight is located at 4600 Starlight Road, Kansas City, MO 64132. Please visit their website for a list of upcoming concerts and musicals. Dining options are also listed on their site.
Eat With: Moderate Caution. Please advise the staff of your dietary allergies, restrictions and the severity. Ask questions, as always.
Johnna's I Ate Here series is not intended as a restaurant review, rather a summary of Johnna's experience dining out. You may or may not have a similar experience. Menu prices, items and ingredients featured were current at the time of writing. Please read the menu carefully and ask your server for assistance in ordering if you have dietary restrictions. It's a good idea to call ahead and let the restaurant know of your food needs.
Disclosure: I was provided two complimentary tickets to a recent performance at Starlight. The opinions expressed are always my own and I was not asked nor required to write about my experience. I purchased my own food and beverages.