This post contains affiliate links. See my disclosure for more information.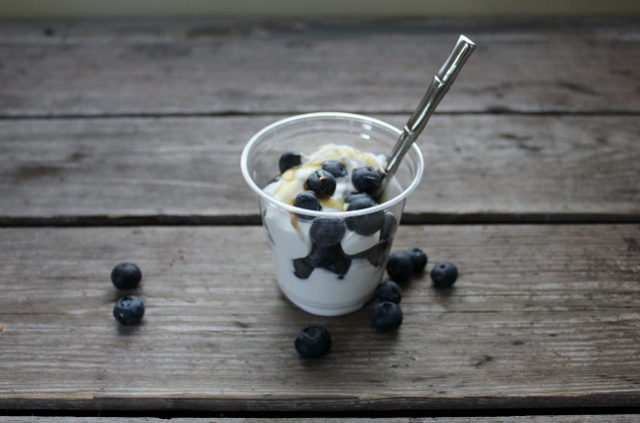 Some nights I want something a little sweet without having to make an actual dessert. Sometimes I want a dessert that is maybe a little healthier than what most would consider dessert. Sometimes I don't have the time to bake cupcakes or pie.
And truth be told, I'm not disciplined with a whole batch of any dessert sitting around in the kitchen. I've stuck with the one-sweet-a-week plan for over 3 years now but still don't have the willpower to not eat more than one serving of something yummy. I quickly pass the extras on to friends and neighbors but sometimes give in and eat more than my share. Sooooo….
Here's my favorite dessert when I need a sweet treat in a hurry. Feel free to use any fruit you like. We have an abundance of blueberries right now, so that's what I used. When in season, it's local peaches with a sprinkle of cinnamon and a dash of nutmeg on top. And that's right now. I snagged these beautiful peaches from Lorin of Fahrmeier Farms at the Anthropologie special event farmer's market this weekend. Aren't they pretty?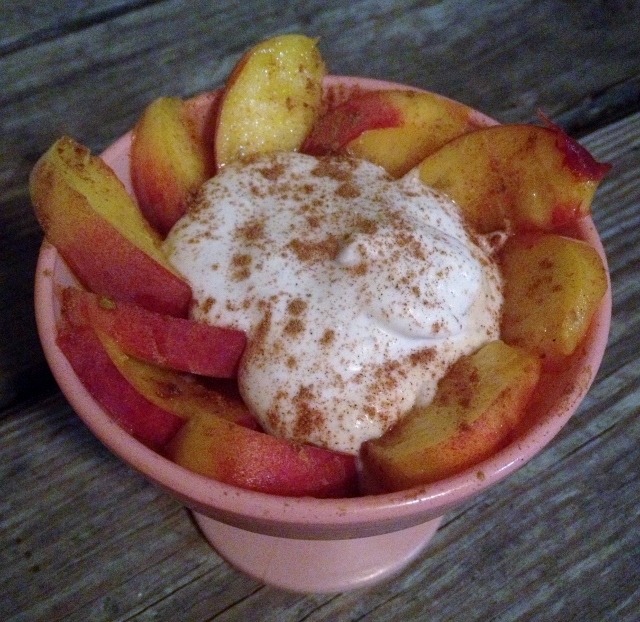 Real quick, before the simplest dessert recipe I have, I want to tell you about coconut whipped cream. Before discovering this, I was buying cartons of a processed non-dairy whipped cream. I've probably even included it in some of the recipes in my not-so-distant blog past. Now that I've discovered the simplicity and healthiness of coconut whipped cream, it's all I keep in the pantry. For this recipe, I've used an unsweetened version. If you are using this like a traditional whipped cream with a dessert, you might enjoy this post on making a sweetened version from Oh She Glows. Make this just once and you'll be sold!
Berries and Coconut Whipped Cream
Ingredients
1

generous cup blueberries

(or other fruit of your choice)

1

can

(11 to 13 oz.) full fat coconut milk (if possible, find one without gum as the gum inhibits separation)

1

T

. raw local honey

1/2

t

. vanilla bean paste or vanilla extract
Instructions
Place upside down can of coconut milk in refrigerator overnight. This will cause the "cream" to separate from the coconut water.

When ready to use, bring can out of the refrigerator and invert, placing it back upright. Open with can opener.

The heavy part, the cream will now be on the bottom of the can and the clear liquid (coconut water) will be on top. Drain off the coconut water, save to drink or use in a smoothie later.

Using a hand mixer, whip the coconut cream until it is about double in size. Add in vanilla and whip to combine.

To assemble: spoon berries into bottom of parfait cup, top with cream. Then add a second layer of berries and top with more cream. I add a drizzle of honey to the top. If using peaches, I sprinkle on cinnamon and nutmeg.

PRO TIP: Keep a can of coconut milk in your refrigerator. No worries about it spoiling like the dairy version and you'll always have a can ready when the urge for dessert strikes!