This post contains affiliate links. See my disclosure for more information.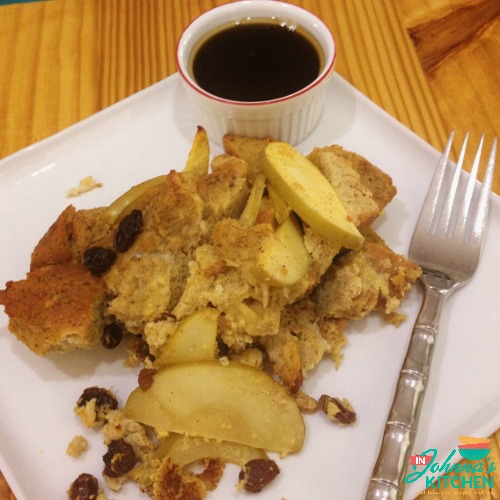 Apple Raisin Bagel Baked French Toast Casserole…that's a mouth full to say and to eat! But it's oh-so-good on a lazy morning.
I was watching a bit of food TV last week, the only reason we seem to keep a subscription to cable. A restaurant featured on the TV show offered French toast made with biscuits. How good does that sound?!? From the moment I saw that, I had French toast on the brain. Unfortunately, the only bread in the house was a surplus of cinnamon raisin bagels. Three batches of this French toast casserole followed suit, just to make sure I had it right. 😉 But don't worry, I'll work on a biscuit version soon…
If you are a fan of fried apples or baked apples, you'll enjoy this. If you are look for the chewy texture of a bagel, you won't find it here. The gluten-free bagels I used became soft and pastry like when baked in this concoction. In fact, it may be the best use for gluten-free store-bought bagels yet. Got a package in the freezer? Go get them, make this and enjoy!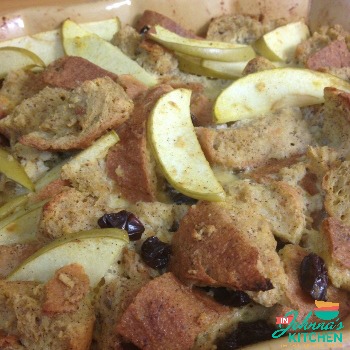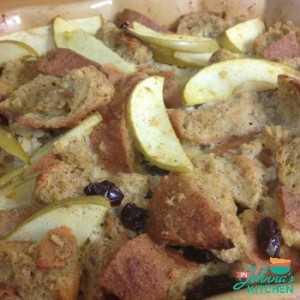 Apple Raisin Bagel French Toast
Ingredients
4

cinnamon raisin gluten-free bagels

(I used Udi's)

1

apple

, cored and thinly sliced (peel on is fine)

1/4

cup

raisins

5

large eggs from happy hens

3/4

cup

milk

(I use almond milk)

2

Tablespoons

coconut sugar

2

teaspoons

vanilla bean paste or vanilla extract

1

teaspoon

cinnamon

1/2

teaspoon

powdered ginger

1/2

teaspoon

nutmeg

Maple syrup for serving
Instructions
Preheat oven to 375 degrees.

Break bagels up into bitesize pieces. Place in a 9 x 13 baking dish.

Sprinkle sliced apple and raisins over the top.

In a mixing bowl, combine eggs, milk, sugar and spices. Mix well.

Pour over the top of the bagels, raisins and apple slices.

Cover with foil and bake at 375 degrees from 35 minutes. Remove foil and bake for an additional 15 minutes, until lightly browned on top. Serve with a side of maple syrup.