This post contains affiliate links. See my disclosure for more information.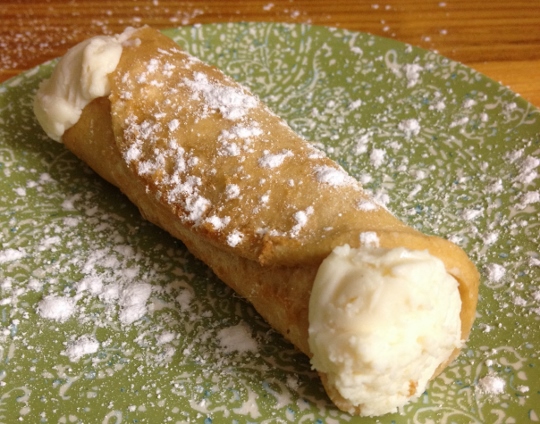 While organizing photos today, I came across a group of photos from a fabulously delicious food find in the Boston area that I neglected to share with you, Lola's Italian Groceria in Natick, Massachusetts.
When I was telling you about all of the incredible meals I had in Boston at places like The Parker House, Wink & Nod, CocoBeet and Sweet, I left out an important tidbit: I wanted a cannoli. You know that word is plural, right? And I used it in the plural form because I didn't want just one cannolo, I wanted multiple sweet little tubes of pastry filled with a creamy filling that includes ricotta cheese and maybe chocolate chips.
I walked all over Boston with my favorite fella. And by all over, I mean we walked enough miles that I expected to be handed a half marathon medal upon returning to our hotel from one day of our sightseeing adventures. But you know what? There was no one there to give me a medal for walking all of those miles and there was no gluten-free cannoli to be found in the heart of Boston. Not a one!
This doesn't mean I didn't try to find one. I went to Modern Pastry because I heard they have gluten-free cannoli. Nope. They did have a cute little acrylic box on the counter full of other gluten-free treats.
And then I went with my fella to Mike's. It's a requirement for gluten eaters when in Boston to go to Mike's for cannoli, the lobster tail pastry and other delectables. He left with enough goodies in the box to get him through our Boston trip and most of the way back to Kansas City. What I mean by this is that he hand-carried cannoli back on the airplane. I'm not gonna share a photo, it's just not right. Plus you might judge how much indulging was done in one trip to Mike's. 😉
I asked the always-busy ladies behind the counter at Mike's if anyone knew where I could get gluten-free cannoli. Nope. Not even an attempt at helping me find them or a second glance, just a quick, '"No," and then right back to their working tying up bakery boxes with an incredibly unnecessary amount of twine. (No kidding, my fella's bakery box had no less than 20 feet of twine sealing it up.)
On the verge of giving up, a Google search led me to Lola's Italian Grocery in Natick, Massachusetts. Having a rental car in a city as walkable as Boston is usually a luxury for us, but since we had been working on Boston's South Shore, we needed a car for work and had held on to it for our adventure days, just in case of an opportunity like this. So we headed out on the 20- mile trek out to Natick.
Natick is a charming town with a lovely downtown, which is where Lola's Italian Grocery is located. We parked on the street right in front of Lola's, popped some change in the meter and headed in.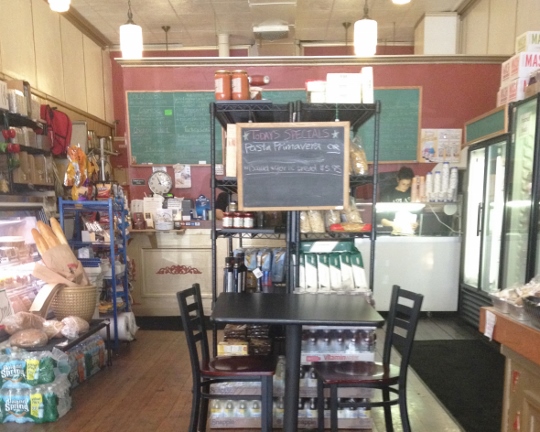 Inside is a deli counter, a bit of seating, several shelves of Italian grocery items and cooler cases full of cheese, meats, pre-packaged meals like gluten-free lasagna, eggplant parmigiana and…CANNOLI! Yay! One package was all that was available, a package of two, waiting just for me! The best nine dollars and ninety cents I spent in the Boston area was right here…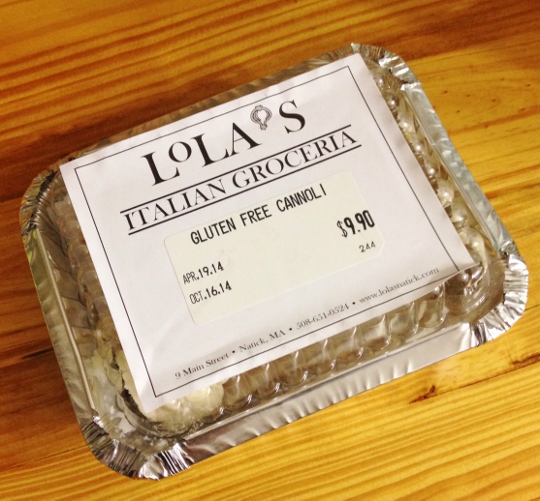 Since we were there, we decided to get a sandwich on a gluten-free roll and take it with us for a picnic. We had the Vegitalian sandwich with grilled eggplant, marinated artichokes, roasted red peppers and mozzarella, served up warm and wrapped tightly in foil and then butcher paper so we could enjoy it while still warm once we arrived at our picnic spot.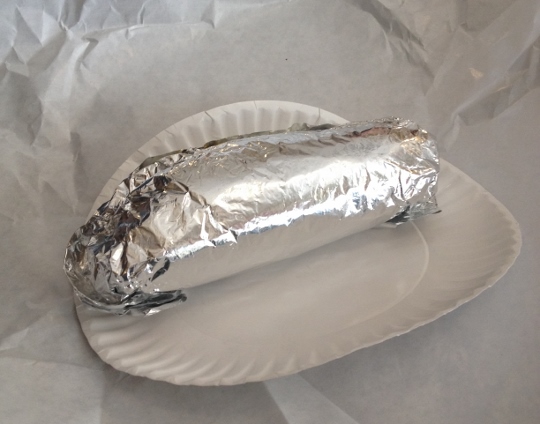 And enjoy it we did! This was one of the best deli sandwiches I've had, gluten-full or -free. The vegetables were overflowing with flavor from being grilled and marinated and the bread had a nice crunch on the outside, yet was soft on the inside. Excellent gluten-free rolls here!
We packed up our sandwich and cannoli and headed for Harvard, where we had a lovely picnic and enjoyed peeking into the progress of the new Art Museums on campus that are scheduled to open later this year. I may have to go back once the museums open…but only if I can stop at Lola's first for a sandwich and cannoli. 🙂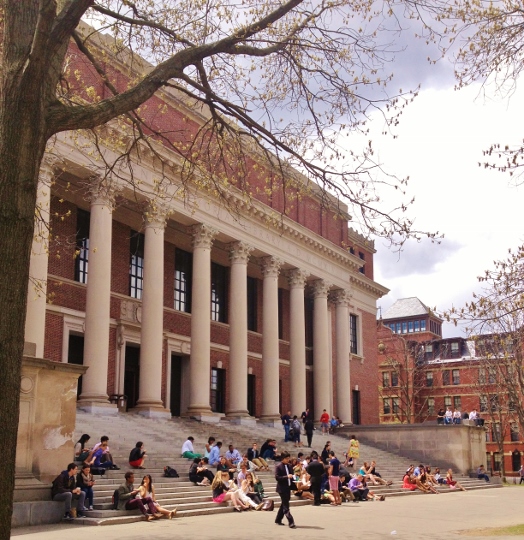 Eat With: Minimal caution. They know their gluten-free stuff at Lola's and also seemed very well-versed in other food allergies and dietary restrictions. Just make sure you communicate your needs clearly when ordering.
Lola's Italian Groceria is located at 9 Main Street, Natick, Massachusetts, 01760. 508.651.0524. A second location has been opened in South Natick. Additionally, gluten-free items are sold to other locations throughout the Boston area. Give them a call to ask who is carrying their items. I discovered on my visit that while Modern Pastry in Boston's North End does not carry their gluten-free cannoli, their Medford location does.


Johnna's I Ate Here series is not intended as a restaurant review, rather a summary of Johnna's experience dining out. You may or may not have a similar experience. Menu prices, items and ingredients featured were current at the time of writing. Please read the menu carefully and ask your server for assistance in ordering if you have dietary restrictions. It's a good idea to call ahead and let the restaurant know of your food needs. If you are eating gluten-free or specific allergen-free, Johnna suggests informing the restaurant staff of this, so they know this isn't a food choice, but a necessity, and consumption will result in illness.