This post contains affiliate links. See my disclosure for more information.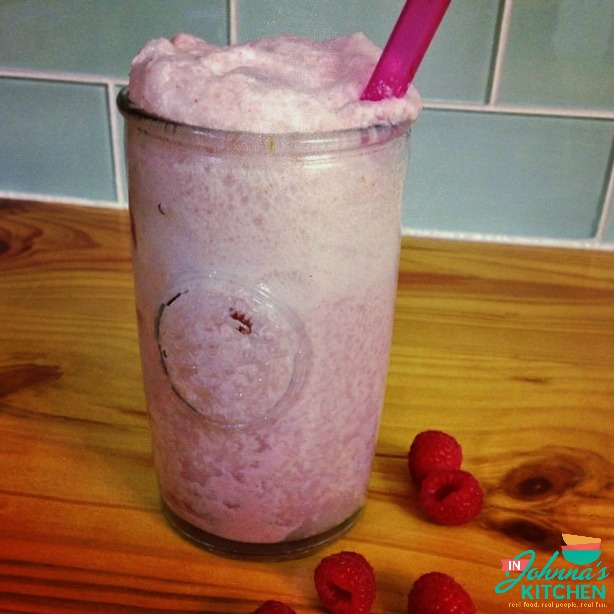 My favorite fella has taken a liking to the Italian cream sodas offered at a local coffee house…the $7.50 Italian cream sodas. Needless to say, he isn't buying one every single day, but admitted he would like to enjoy one every single day if it weren't for the price.
And then he mentioned it would be terrific if I could concoct a dairy-free version AND make it some sort of concentrate so he could quickly mix up a soda. Challenge accepted! I even took it a step further and made it free of refined sugar, using honey instead. We're in agreement here, sweetened with honey makes for an even better Italian cream soda! And the concentrate? If I do say so, it's downright genius! Mix up a batch of this and keep it in the fridge for 3-4 days. It makes about 8 sodas.
The result is not only a wonderful, cool treat on a hot afternoon, it's also economical. And I think it's just super pretty. It feels very indulgent on a Thursday afternoon to have a beautiful drink that's easy on the wallet.
While I'm showing raspberries in this recipe, feel free to experiment with other fruit. I've had success so far using blueberries and most recently with a berry blend, using strawberries, blueberries and blackberries I had left from making other recipes. I'd love to hear how you make this your own, what fruits you use!
Raspberry Italian Cream Soda, Dairy Free
Ingredients
1-13.5

ounce

can full fat coconut milk

3

Tablespoons

raw

, local honey

Fresh raspberries

(about 6 ounces or so)

club soda
Instructions
To begin, let's create the fruit concentrate to use in the Italian cream soda.

Using a blender, add can of coconut milk, honey and raspberries. I use the empty coconut milk can to measure out my berries, a can full of berries is perfect!

Blend until mixture is well blended and smooth.

This makes the concentrate.

To make a soda, add a handful of ice cubes to your glass. Pour in 1/4 cup of the fruit concentrate. Top with 3/4 cup of club soda. Add a straw and serve!