This post contains affiliate links. See my disclosure for more information.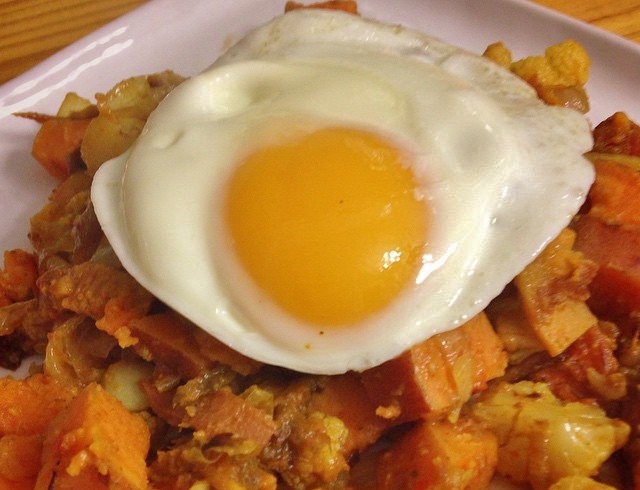 Perfect for breakfast, brunch or brinner, Curried Sweet Potato and Cauliflower Hash. I want to share with you how this came to be. It has a fun back story!
Last month the city I call home, Kansas City, was completely engrossed in the World Series. For the first time in 29 years, our boys in blue, the KC Royals, were contenders in the World Series.
Baseball always seems to be rooted in many weird superstitions. One friend wore the same hat to every playoff and World Series game the Royals played in this year. He bought that hat the last time the Royals were in the World Series. In 1985. It's never been washed. That's pretty hardcore. A local TV station did a story on the superstitions/traditions in our community related to baseball. One woman said she and her husband had invited new friends to a watch party. The Royals lost the game that night. They would not be inviting them again. Me, I just stick with food superstitions.
Early on in the playoffs, I started cooking this hash for dinner. It's a quick dinner, comes together in a hurry so I don't miss any of the game in the kitchen. Every time I made this, the Royals won.
And then we decided to go to our favorite taco spot for dinner to watch the game one night. The Royals lost. And it was surely because I didn't cook this hash. See how this works, this whole food and baseball superstition thing?
So it came down to the last game of the World Series and I knew I had to make this one more time. Alas, it wasn't enough for the Royals to win the World Series. I'll keep hoping they make it into the World Series next year and bring home the win this time. And in the meantime, I'll be making Curried Sweet Potato and Cauliflower Hash.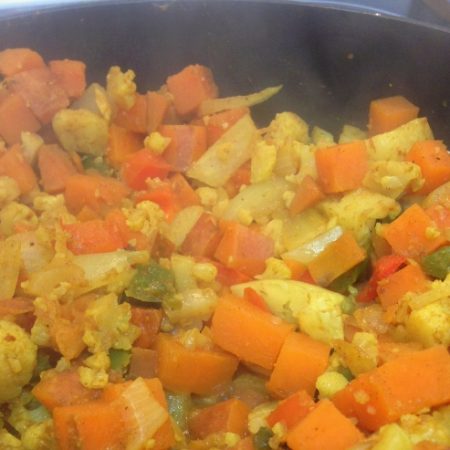 Curried Sweet Potato and Cauliflower Hash (gluten-free, dairy-free, vegan option)
Ingredients
1

teaspoon

olive oil or grapeseed oil

1 1/4

cup

diced yellow onion

(about 1 large onion)

1/2

cup

diced green pepper

(about 1/2 green pepper)

1/2

cup

diced red pepper

(about 1/2 red pepper)

3

cups

cauliflower florets

(about half of a large head)

3

cups

diced sweet potatoes

(about 4 small)

1-2

Tablespoons

curry powder

1

teaspoon

salt

fried eggs

(optional)
Instructions
In a large deep skillet (I like this one), heat oil over medium.

Add onion, red and green pepper. Cook over medium until all have started to soften.

Add cauliflower, continuing to cook over medium.

Follow with sweet potatoes. Cover and continue to cook over medium, stirring every 5 minutes or so. As the ingredients begin to get a bit dry, add 1 to 2 Tablespoons of water to the pan and cover. This is water sauteing. It will allow the vegetables to continue cooking, perhaps even a bit of steaming.

After vegetables are about half way to being soft, mix curry powder and salt in a small dish with a couple Tablespoons of water. Add mixture to pan and stir well to combine.

Continue cooking over medium until vegetables are fork tender. You may choose to not stir often, creating a bit of a crust before stirring again. Or you can stir often enough that a crust does not develop. I like the crusty bits that start to stick to the skillet when making hash.

Optional: fry an egg to top this. I like an over easy fried egg atop hash, the runny of the yolk pulling it all together. So good!
I'm linking this post up with Gluten-Free Wednesdays. Click through for many more recipes! I am also linking up to Gluten-Free Fridays at Vegetarian Mamma.