This post contains affiliate links. See my disclosure for more information.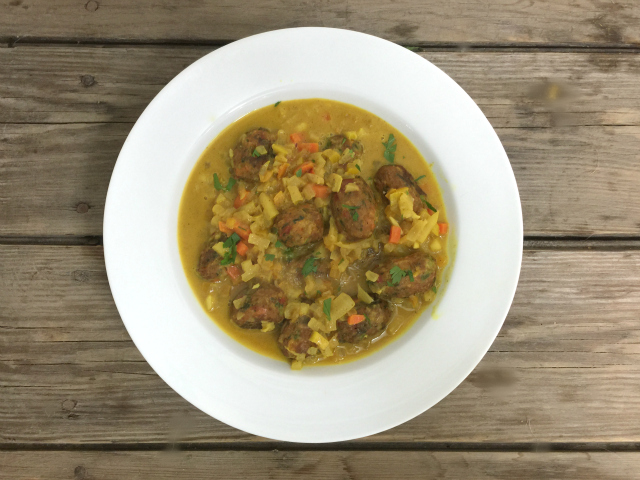 One of my favorite dishes to eat out is curry, but even for two of us we can easily spend $30 for carryout at our favorite curry spot. Plus we have to drive halfway across town to get curry we both like. In the time it takes to do that, I can make my Simple Curry Sauce and for far less than the cost of takeout.
Curry doesn't necessarily mean curry powder. It's actually a gravy type sauce. Yet some curry sauces contain curry powder or paste. Confused yet? I worked with a culinary coaching client who told me she was allergic to curry, which led to me explaining that curry powder is a spice blend, not a single spice, so there had to be a spice in the blend she was allergic to, not actually curry (the sauce) or curry (the spice blend). Still confused? Well, let me add to the confusion. There is also a curry plant. But that plant is not used in making curry powder (or curry paste) and isn't frequently used in cooking in regions where curry is popular. I think the curry plant smells more like maple syrup than curry.
I share all of this to explain that curry is what you wish it to be. It can be a thin sauce or a thick, creamy sauce. It can be so hot that eating it makes you sweat, like with this curry powder, or it can be mild and sweet, perhaps made with Garam Masala. I make hot dishes most often but in the fall we often have curry with roasted sweet potatoes, squash or pumpkin and then I use Garam Masala.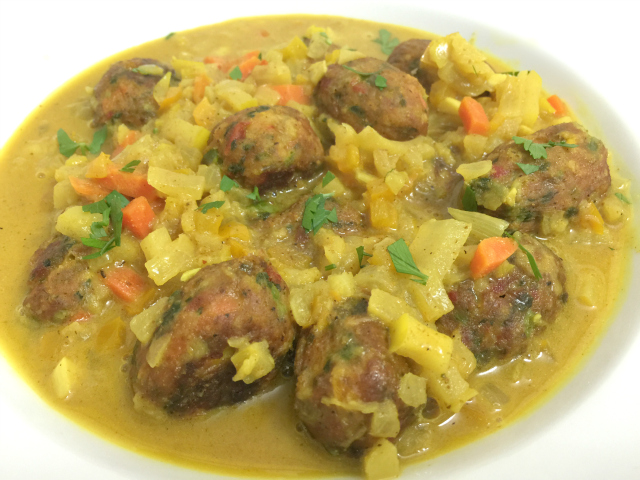 What goes with this sauce, you ask? Sometimes we have it with steamed veggies. Sometimes we add a block of cubed tofu. The day I photographed the sauce for this post, we had it with the vegetable balls from IKEA. When we are pushed for time, we pull a container of the sauce from the freezer and have it over rice or zucchini noodles.
Ready for the recipe? Here you go….but before you try it, I want to hear from you. What's your heat level in curry? Do you blend your own curry powder or do you buy it at a store?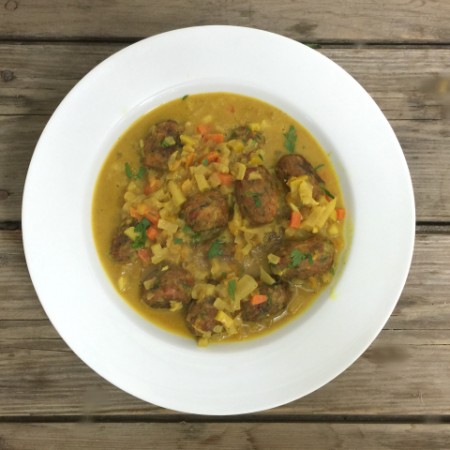 Simply Curry Sauce (gluten-free, dairy-free, vegan)
Ingredients
1

stick Earth Balance vegan butter sub

(8 Tablespoons) or 1/2 cup coconut oil

2

small onions

, diced

3

cloves

garlic

, minced

2

carrots diced

2

small apples

, diced

1

orange bell pepper

, diced

1

" piece of ginger root

, minced

2 1/4

cups

vegetable broth

(make certain this is gluten-free)

1

cup

non-dairy milk

(I use unsweetened almond milk, coconut milk is also nice)

2

Tablespoons

curry powder

(adjust according to taste and heat level)
Instructions
In a large deep skillet (I use

this one

), melt Earth Balance or coconut oil over medium heat.

Add diced onions and cook until almost transparent. Add garlic. Cook for 2 more minutes.

Add carrots, apples, orange bell pepper and minced garlic. Cook until carrots are fork tender.

Add vegetable broth, milk and curry powder. Continue cooking over medium heat until sauce has thickened to the consistency you prefer. This could be as long as 15 minutes. Stir frequently.

If you are using something like the vegetable meatballs shown in the photo, cook them per recipe or package instructions. Add to the sauce and simmer for 5 minutes. Serve with a sprinkle of fresh cilantro if you like.
Disclosure: This post contains affiliate links for spice blends and a skillet that I use almost every day in my own kitchen. Should you click on a link and make a purchase, you'll get the same great price and I'll get a small commission. Affiliate links offset the costs related with maintaining this website and providing original recipes at no cost to you. I'm so very grateful for your support! My full disclosure and privacy policy are linked at the bottom of each page.