This post contains affiliate links. See my disclosure for more information.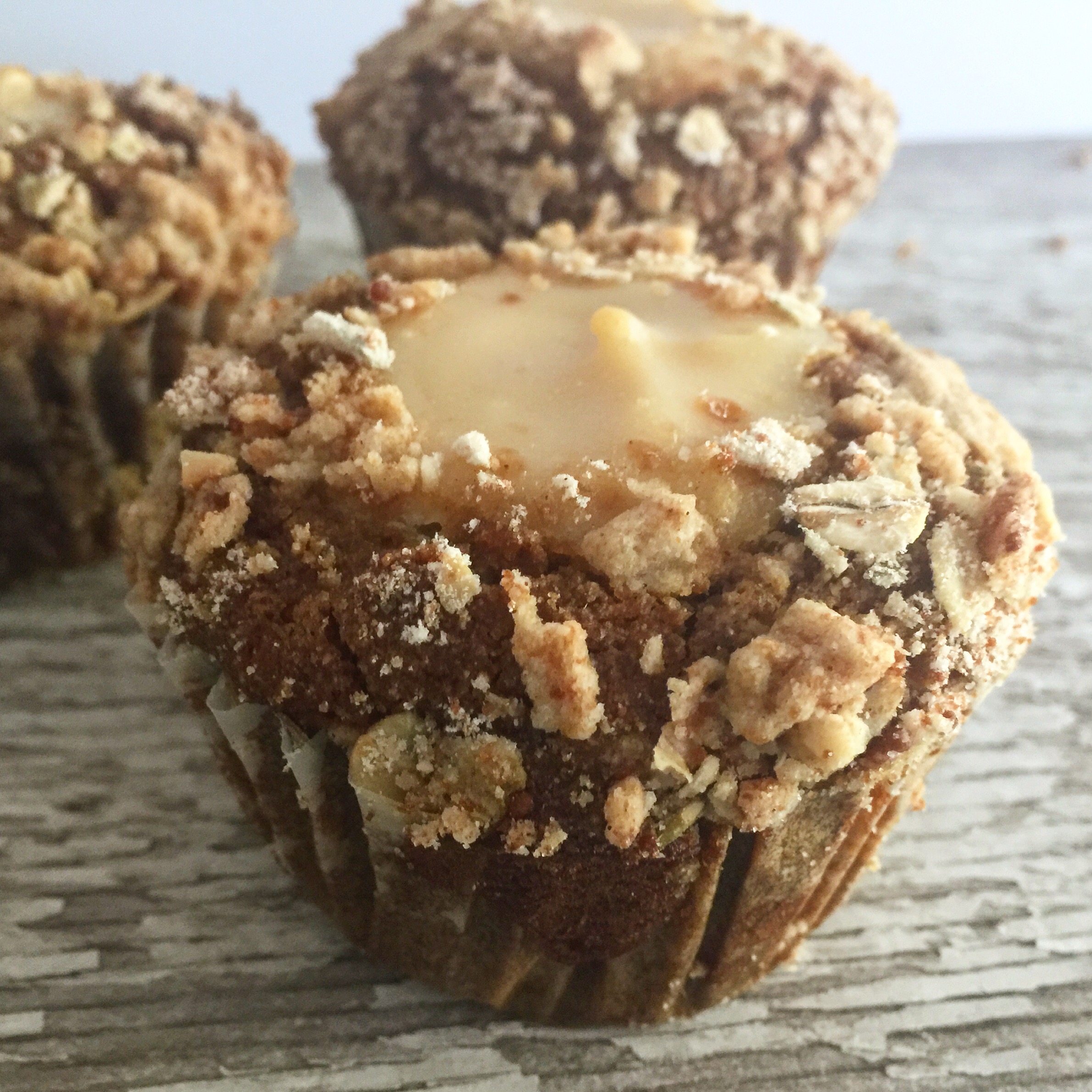 Pumpkin Streusel Cream Cheese Muffins. Blissfully sweet, resplendent in the flavors of autumn. Also a ripoff of something I spotted at Starbucks.
Just being honest, y'all.
When the folks at Delight Gluten Free Magazine interviewed me, they wanted to know what inspires my recipes. Not included in my interview response: Starbucks. I draw recipe inspiration from so many sources: from my travels, from mainstream food trends, from vintage cookbooks. But this time, the inspiration definitely came from a place where there isn't much for a girl like me to eat.
When my "other" job (I'm a visual and performing artist working with balloons) requires a change of clothing between events, I often stop at a Starbucks to change in their restroom. Spacious, always clean and nearly always single restrooms. Plenty of room to change clothes and then I grab a black coffee or iced green tea to go. I feel guilty about using their facilities if I don't buy something. On one such strip recently, I saw these pumpkin cream cheese muffins in their bakery case: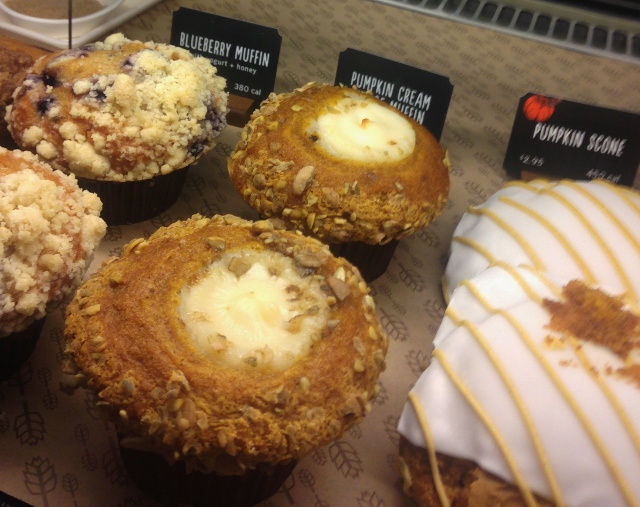 Somehow this Starbucks muffin sighting turned into a conversation with you lovely readers about streusel toppings on sweet pumpkin creations. This had me thinking about how I could use pumpkin seeds to make a streusel. Then I started thinking about how it goes beyond gluten-free folks not being able to eat at Starbucks; it is also those who cannot eat dairy or eggs or are vegan. So I set out to make these muffins work for more people.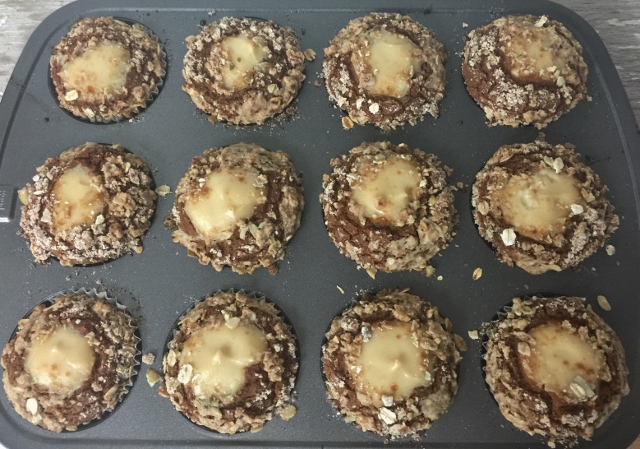 Before I share the recipe, there are a few ingredient notes to share with you:
These were created using my gluten-free flour blend. My blend does not contain xanthan or guar gum. If you are using a store bought blend that does contain a gum, your results may vary from mine.
The dairy-free cream cheese used in this recipe is from Kite Hill. It is available exclusively at Whole Foods. By far the best non-dairy cream cheese I have tried and the ingredient list doesn't give me pause. Mix in the maple syrup in the recipe and you've got a serious treat on your hands.
I've created the streusel with certified purity protocol gluten-free oats (don't buy them if they aren't if gluten-free is a necessity to you) and pumpkin seeds, which are sometimes labeled pepitas. Use caution when buying pumpkin seeds. The ones in my local grocery store are labeled for potential cross-contamination with gluten and peanuts.
Canned pumpkin pureee: stock up now. The news is reporting there is a shortage. Every time I see one of these news stories, I buy more canned pumpkin. I may be responsible for the shortage. Or maybe it's because Starbucks is using real pumpkin in their lattes now.
Pumpkin Pie Spice: Make your own! Stop buying blends at the store. Two reasons: it can be tricky to know if spice blends are gluten-free AND it's a challenge to rotate spices for maximum flavor and freshness. You probably have all of the spices needed to make your own pumpkin pie spice already. Here's my list of mixes; lots of options in case you like one spice more than another!
Vanilla Bean Paste: Think vanilla extract helps with flavor in your baking? Wait until you try vanilla bean paste (VBP). You can see actual flecks of the vanilla bean. The flavor is intense. Try it in your baking!
Alrighty, off to the recipe. Enjoy this with a warm cup of cider, tea or coffee. And invite a friend over. These are shareable and enjoyed by anyone, gluten-free or otherwise!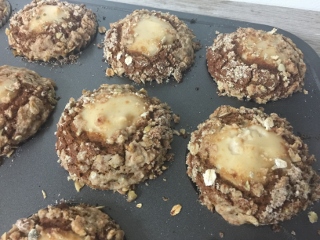 Pumpkin Streusel Cream Cheese Muffins (gluten-free, dairy-free, vegan)
Ingredients
*For the Cream Cheese Filling:

1/2

of a container Kite Hill cream cheese style spread

(container is 8 ounces, use 4 ounces)

2

Tablespoons

maple syrup

*For The Muffin Batter:

2

cups

Johnna's All Purpose Gluten-Free Flour Blend

1

Tablespoon

pumpkin pie spice blend

1

teaspoon

sea salt

3/4

teaspoon

baking soda

1/2

teaspoon

baking powder

1 1/4

cup

coconut sugar

1/2

cup

grapeseed oil

2

Tablespoons

flax meal in 6 Tablespoons hot water

(egg replacement, will make a gel/slurry)

1

teaspoon

vanilla bean paste

1

can

(15 ounce) pumpkin puree

*For the Streusel Topping:

1/2

cup

Johnna's All Purpose Gluten-Free Flour Blend

1/4

cup

coconut sugar

2

Tablespoons

certified gluten-free oats

2

Tablespoons

pumpkin seeds

, roughly chopped in a food processor, spice mill or blender to about the size of the oats

1/2

teaspoon

pumpkin pie spice blend

4

Tablespoons

(1/4 cup) Earth Balance Vegan Butter Substitute or solid coconut oil
Instructions
Preheat oven to 400 degrees. Line 12 cavities in a muffin tin with papers.

In a small bowl, combine half of the container of Kite Hill cream cheese with the maple syrup. Stir will to combine. Set aside.

Mix the dry ingredients for the streusel topping in a small bowl. Add the Earth Balance or coconut oil next. Mix in using either two forks or a pastry cutter until the Earth Balance or coconut oil is mixed in just to about the size of peas.

In a large mixing bowl, combine all dry ingredients EXCEPT coconut sugar. Stir to combine, set aside.

In a second mixing bowl, combine all wet ingredients AND coconut sugar. Stir well to combine.

Make a well in the dry ingredients. Pour in the wet. Stir just to combine. No need to overstir.

Place a scant 1/3 cup batter in each of the cavities of the muffin tin.

Using a small spoon, making an indention in the batter, about one inch deep.

Spoon in a scant Tablespoon of the cream cheese and maple mixture into the indention in the batter.

Sprinkle the streusel mixture just around the outside of the muffin, not over the cream cheese filling.

Bake at 400 degrees for 15-18 minutes, until a toothpick inserted comes out clean.

Allow to cool in the muffin pan for a minimum of 5 minutes. Remove and place on a cooling rack.

Serve warm or at room temperature.
Full Disclosure: There are affiliate links in this post. Should you make a purchase, I may make a small commission. You'll great the same great price on a product I use in my kitchen while helping me offset the costs of maintaining this website. Thank you!