This post contains affiliate links. See my disclosure for more information.


Roots N Blues N BBQ Festival: Food, Art, Music, FUN!
I kicked off this weekend traveling to Columbia, Missouri for the Roots N Blues N BBQ Festival. In its 10th year, the festival is held at Stephens Lake Park with two large stages, one charming porch stage, musical acts playing roots, blues, gospel, country, folk, bluegrass, rock and soul, plenty of BBQ, illuminated art installations and loads of fun.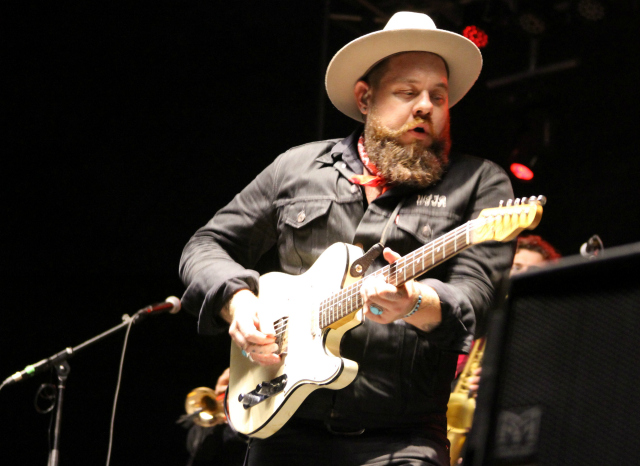 My plan is always to share my food finds in real time so those who are attending the same festival can cut down on some of the time they spend seeking out gluten-free or veg food, but I couldn't get anything to post while at the festival. But with good reason: this festival draws a HUGE crowd, over 25,000 last year. Even with the large crowd, which was very noticeable during the last musical performance of the night, there was plenty of room to walk, wander, browse, listen to music…just not enough cell signal with my provider to show you what I was eating. I'll share it now…
But first, I want to share with you a few hurdles. I've been accused of making this gluten-free by necessity thing look easy. It isn't. Every once in awhile the universe smacks me upside the head with a good challenge to remind me it isn't always simple and there won't always be a multitude of food choices. I had a long list of potential food finds based on my research. When I arrived and asked all of the requisite questions, I found options at exactly three places. Ice cream, a few sides and fresh fruit. And you know what? I did just fine. Didn't starve to death and got sufficient sustenance that was also delicious. Here's what happened:
The first place I asked about gluten-free options told me they had pasta salad. I asked if it was made with gluten-free pasta. Blank stare, clueless. So that's a no. The place with tacos assured me they could handle my order. I could see them prepping the food, my favorite fella went back and reminded them about my order, asked them to change their gloves, take precautions, which they said they would do. They didn't. They heated the corn tortillas on the same grill beside flour tortillas, they pulled all ingredients from the same containers for all tacos, so everything was gluten-y. (Tip to them: just tell me you can't make gluten-free tacos instead of taking my ten bucks.) The next stop had a multitude of options, including simmered greens, but the owner was quick to say he had zero clue what was in any of his dishes. I don't know how this is possible, but I agreed with him I would err on the side of caution and pass since he didn't know what was in the food he was serving. Then I wandered around seeking a hard cider or something similar-y boozy at the beer tents but found none. So I had free water from the refillable bottle station (see this post for tips on packing for music fests) and found a nice assortment of food I could eat while enjoying all of the music, art and fun this festival has to offer. No meltdown because the food I had hoped to eat wasn't available, not letting this ruin the fun. Plus you know I had a week's worth of food waiting in the car just in case this happened.
First food find: ice cream sweetened with local honey. I split caramel apple ice cream with my favorite fella and our friends had pumpkin ice cream. Both were very tasty and the honey flavor quite noticeable. Each of the dishes of ice cream were labeled with ingredients. Super easy! As we were walking around with our ice cream, a lady stopped us to see what kind of ice cream we had and was super excited to discover it was her favorite brand of ice cream. I can see why. Good stuff!
My second food find was easy, since the vendor had a sign up that she had gluten-free and veg options. It was a treat to get baked beans somewhere besides home. I'm from the BBQ capital of the world and rarely get to eat beans out because of beer, bbq sauce with soy sauce in it, or meat in the beans. These were perfect for me and it was nice to eat something warm on a chilly night. They also had gluten-free BBQ meat options for the carnivores. The other dish is a 3-bean pesto salad that was very nice and filling.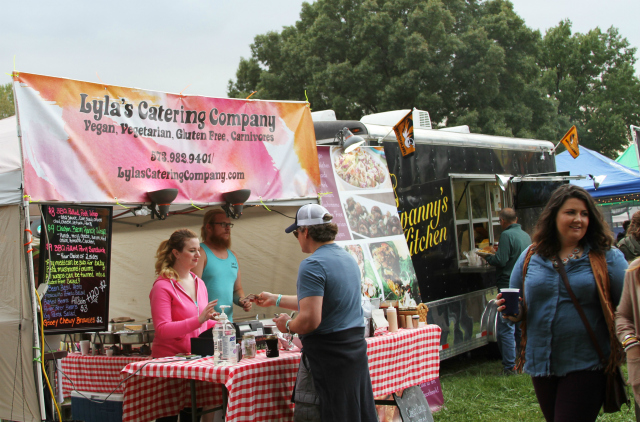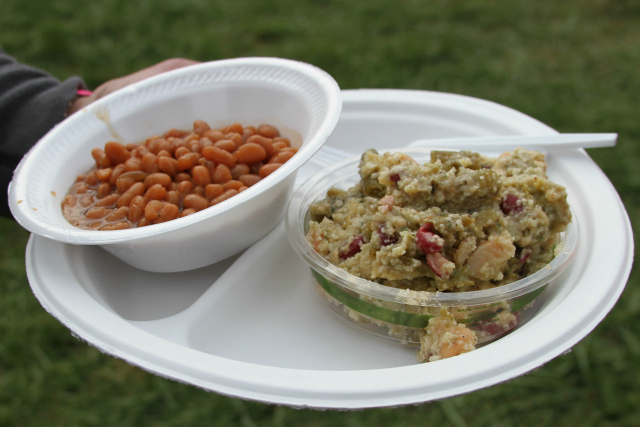 The last food find of the night: fresh fruit. Well, maybe. I might have had them dunk it in a big ol' vat of caramel sauce. But only after I confirmed what was in that caramel sauce, which was also easily done. It was a messy caramel apple, another time that list of things to take to a music festival came in handy. My friend Laurie quickly dug her wet wipes out of her festival bag and I was back in business.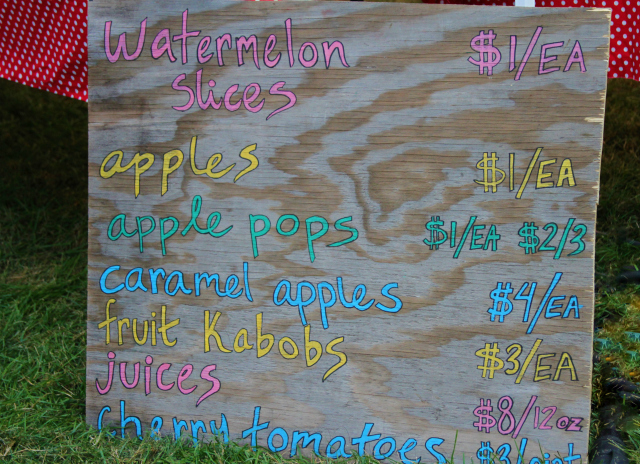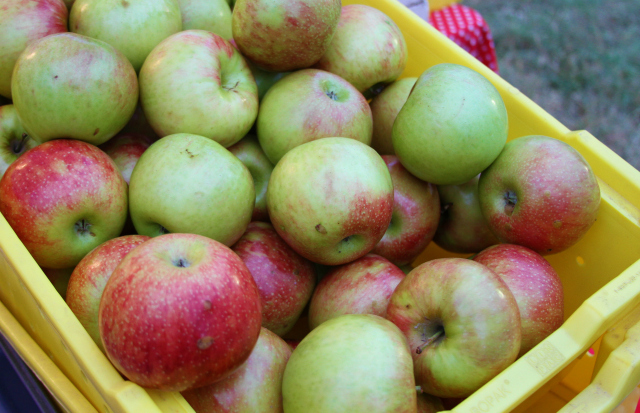 It's not a festival without someone playing hacky sack or giant Jenga. My favorite fella is having a go at this one, sponsored by a local brewery.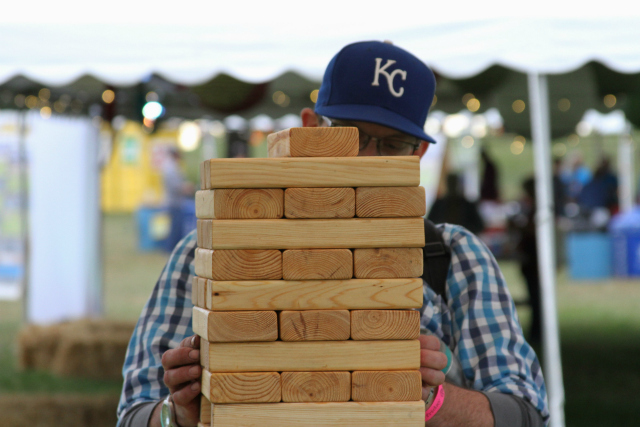 Here was the big surprise at this festival: all of the art! This festival had so many art installations sprinkled around the park, nearly all illuminated, that it reminded me of Smoky Hill River Festival in Salina, Kansas.
These fairies were in trees, all playing musical instruments.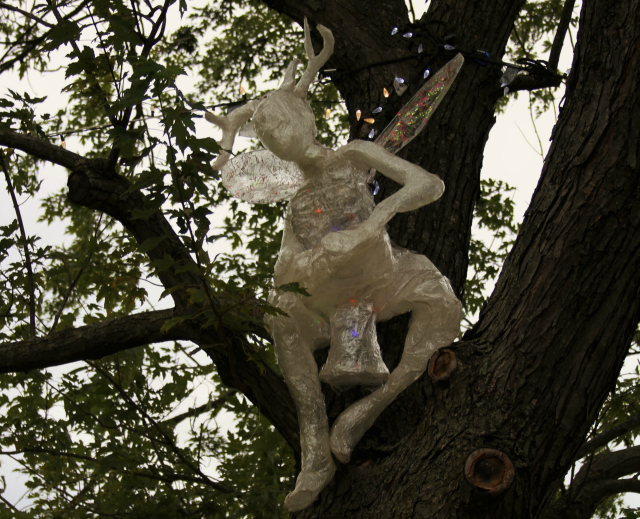 This is one panel of Guitar Henge. Each side has a quote from an artist who has been at the festival in the past, with the other side featuring more information about that year's festival.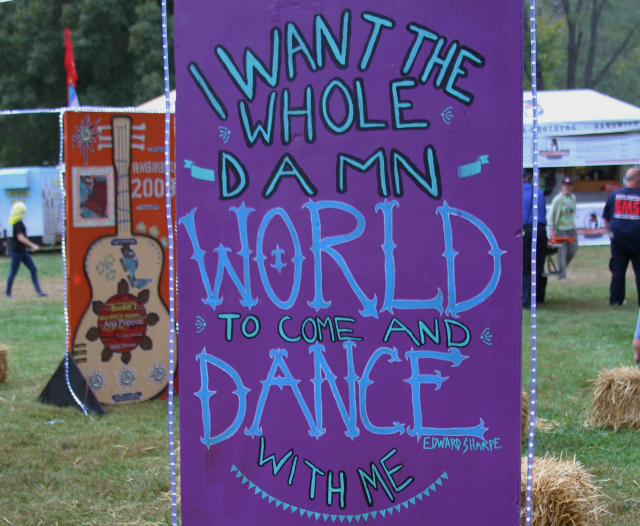 I don't know the name of this installation, but it reminds me of unicorn horns growing out of the ground. Color changing LED lights illuminated these sculptures.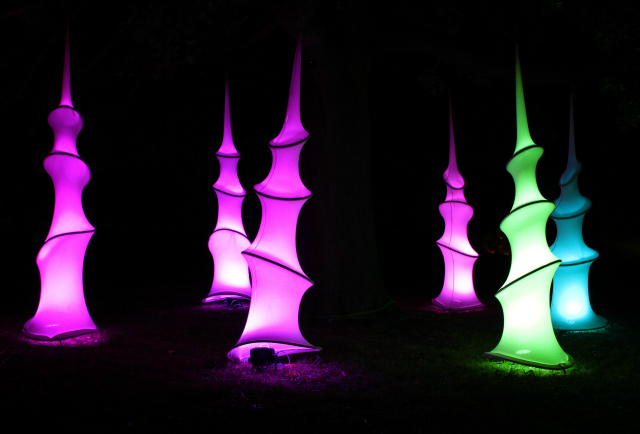 These painted panels provided a bit of a visual barrier between the bank of port-a-potties and the main thoroughfare. They were more stunning at night than during the daylight. The lighting on the sculptures was terrific. Even trees were uplit in an array of colors throughout the park.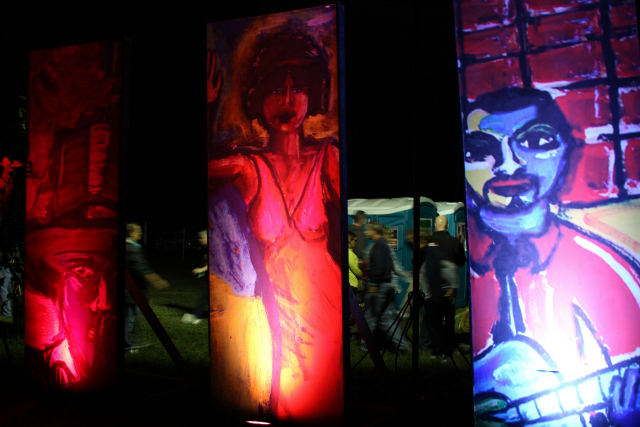 While not technically art, the Trailer Swift photo booth was even more adorable after dark than in the daylight. It's a restored Fleetwood camper from the 50's turned photo booth with the most whimsical photo props. And it was just five bucks. FUN!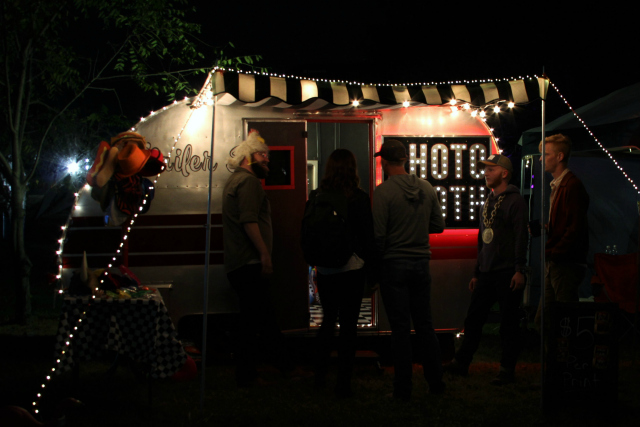 There was also illuminated performance art, courtesy of The Hulagans, a mid-Missouri hoop troop. I think this gal and her illuminated hoop were as much a draw as the band she was hooping to right after the sun had set.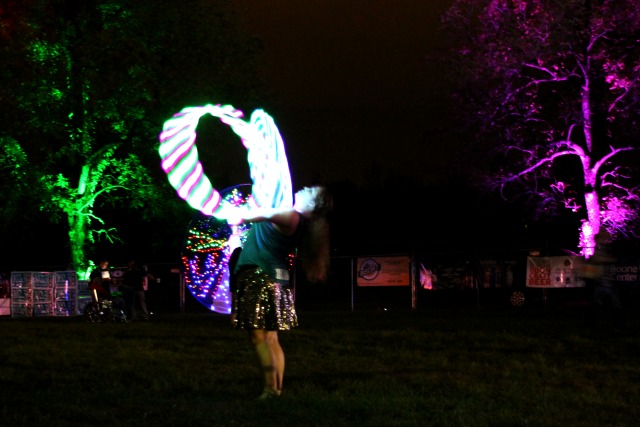 And look at that sunset!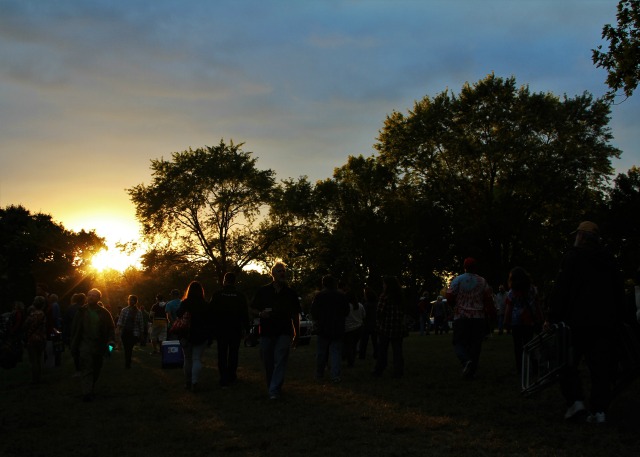 Wanna know about the music?
As we entered the festival, we saw this stage, reminding me of a similar one at Beale Street Music Festival in Memphis: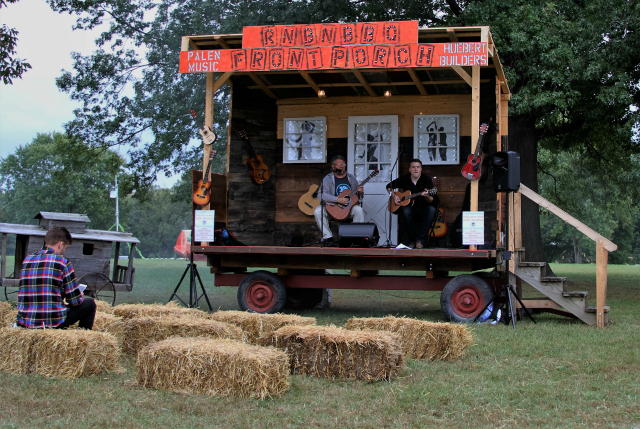 Then there were two large stages at opposite ends of the park. Smart for traffic flow, never a big mess of people going the same way until it was time to leave and even then it wasn't too bad.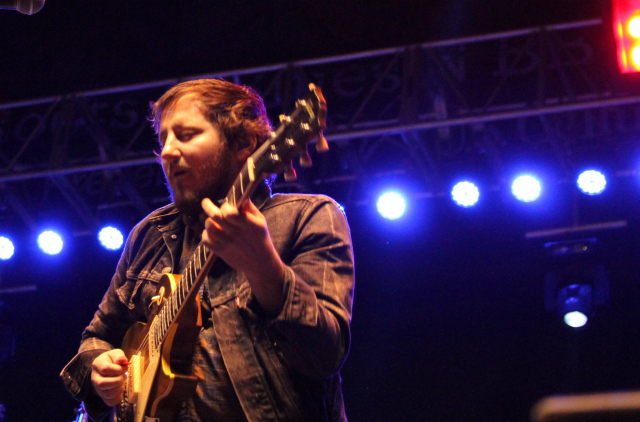 We listened to Houndmouth, Mike Farris (formerly of Screamin' Cheetah Wheelies) and Nathaniel Rateliff and The Night Sweats. You probably recall I saw Nathaniel Rateliff and The Night Sweats a few weeks ago at Farm Aid. And I would see them again in a couple of weeks if an opportunity presented itself. Alas, this was my last music festival of the year, so I'll just look at these photos often, spin my nearly worn-out record album and remember what a great year of festivals it has been. I'll hope to see you down the road next year. Pack your boogie shoes and meet me there, wherever "there" might be…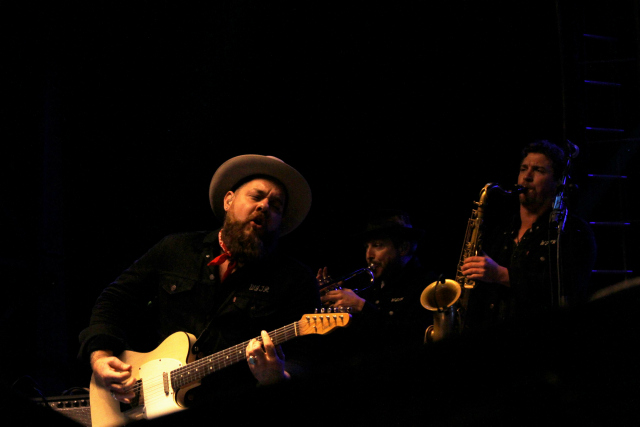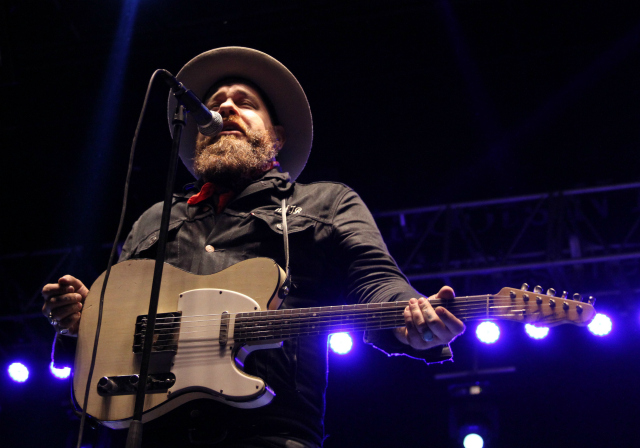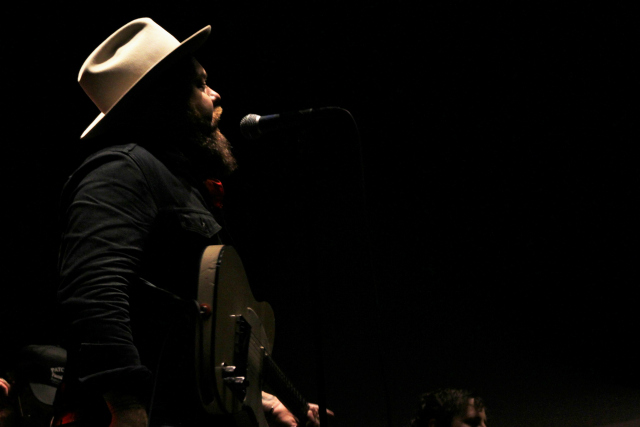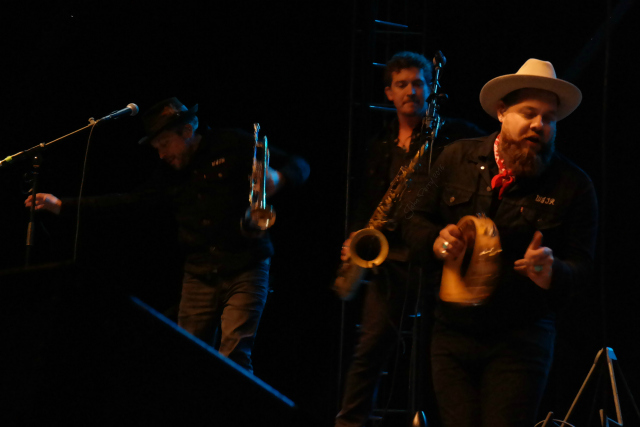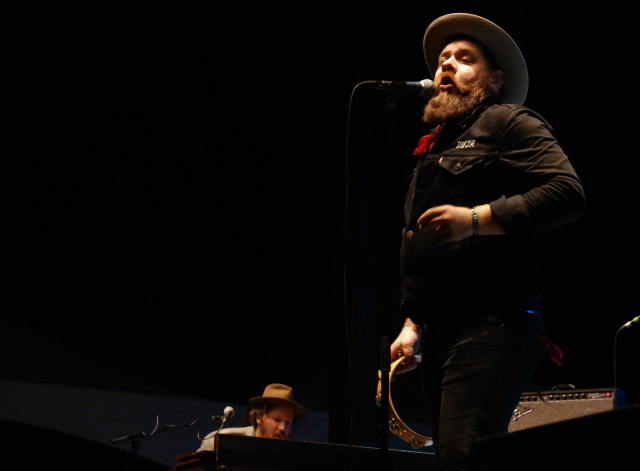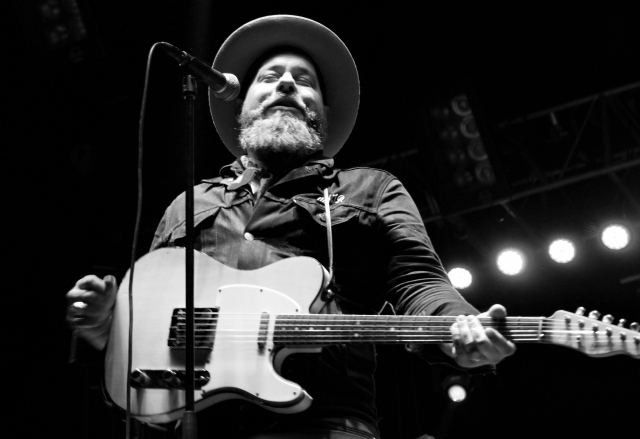 All Nathaniel Rateliff and The Night Sweats photos are Copyright 2016 John Perry. All other photos are Copyright 2016 Johnna Perry. No photos may be republished, printed or used without express written permission.