This post contains affiliate links. See my disclosure for more information.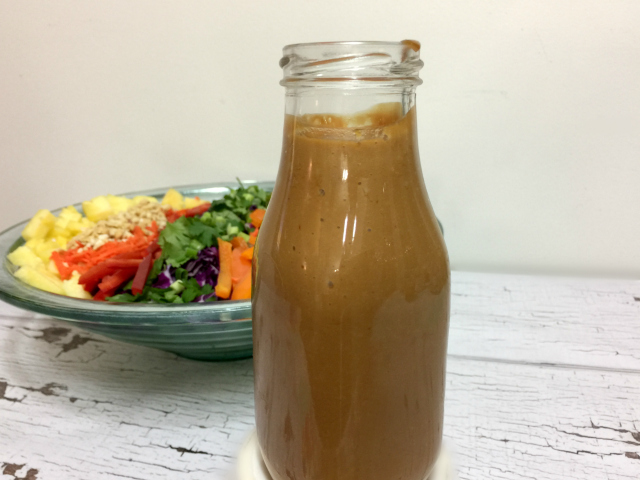 This dressing is swoon-worthy. Amazing on a crunchy salad, great as a dip for spring rolls, fabulous as a marinade. Easy Thai Peanut Dressing comes together in just a few minutes in the blender with simple ingredients.
I made this over Easter to take to a large gathering. It made the perfect dressing for my Crunchy Thai Salad with Baked Peanut Tofu. I have to admit I was hoping for leftovers but instead found my giant salad bowl had only a smattering of cabbage and one lonely cube of tofu left in it. I blame this on the dressing.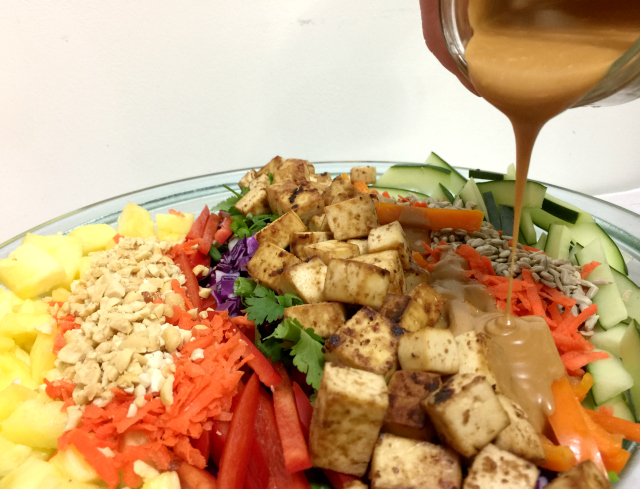 Here's the scoop on ingredients:
Garlic: use fresh cloves. I grate using this microplane.
Peanut Butter: I've been using the Simply Nature from ALDI lately. It's nice, creamy and affordable.
Maple Syrup or Honey: I have made this with both and prefer maple syrup. Honey is a bit more sweet in this dressing, so if you enjoy a hint more sweet, go with honey.
Gluten-Free Soy Sauce: Usually that is Tamari in my kitchen, but Bragg's Aminos or coconut aminos works as well.
Lime Juice: Fresh-squeezed makes a big flavor difference.
Rice Wine Vinegar: you can use any vinegar, but this is the best flavor for this dressing.
Toasted Sesame Oil: I buy this at Trader Joe's for the lowest price I can find in my area.
Sriracha or Gochujang: Add a nice bit of heat. If you are using Gochujang, make certain it is gluten-free. I like Wholly's best.
I blend this dressing in my VitaMix blender*, however you could use a food processor instead of a blender if that is what you have handy. While it is a pretty thick dressing, it isn't one of those concoctions that requires a high-speed fancy blender, any blender will do. I used a super cheap blender for many years and it worked great for most things. (Or mostly margariatas. I should be honest in my former cheap blender habits.) Use what you have is my point! *I am a fan of refurbished appliances. I've had a refurbished VitaMix for years and it hasn't let me down. The savings were substantial.
Alright, let's move along to the recipe. I know you hate reading through all the mumbo jumbo to get to the good part. True story: Google tells us food writer folks that we need to add lots of words before the recipe if we are to expect them to show you our recipes when you search the interwebs. Isn't that crazy? I pack my words with tips and tricks, but know most just want to zip directly to the recipe. So anyway, about that recipe… 😉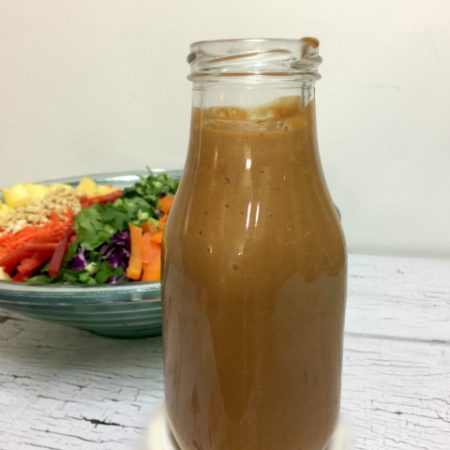 Easy Thai Peanut Dressing (gluten-free, dairy-free, vegan)
Ingredients
2/3

cup

creamy peanut butter

1/4

cup

maple syrup or honey

1/4

cup

gluten-free soy sauce

, Tamari, Bragg's aminos or coconut aminos

1/4

cup

fresh squeezed lime juice

1/4

cup

rice wine vinegar

1/4

cup

toasted sesame oil

1

teaspoon

Sriracha or Gochujang

(make sure Gochujang is gluten-free)

1 or 2

cloves

fresh garlic
Instructions
Add all ingredients to blender or food processor fitted with "S" blade.

Blend or process until smooth. Thin to desired consistency adding 1 teaspoon of water at a time. (One teaspoon doesn't sound like much but it will change the consistency in a hurry.)

Store in the refrigerator for up to one week.