This post contains affiliate links. See my disclosure for more information.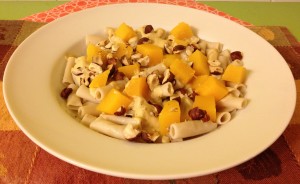 Yesterday I wrote about the amazing gluten-free dining experience I had at Otto in NYC. I enjoyed the dish I ate, Penne con Noci Zucca, so much that I wanted to replicate the flavors at home.
Except I don't eat dairy at home, so the wonderful smoked ricotta I had on the dish needed to be replaced.
And I had no idea how to make the un-sauce kind of sauce that was on the dish I ate.
It struck me that I should start with what I know, that's making non-dairy cream sauce and roasting butternut squash. It wouldn't be the same, but the flavors would be similar.
The resulting dish is really nothing like what I ate at Otto, except that it brings together the wonderful smoky flavor of the cheese, butternut squash and hazelnuts. Is is the same dish? No. It is still packed with warm, roasted flavors and has been in weekly rotation on our menu for the last month. It's a lovely Autumn dish, perfect for a chilly evening.
Are you new to roasting butternut squash? Here is a helpful post from Ina Garten. If roasting a whole butternut squash is not an option, the frozen butternut squash cubes will also work.
Here's another tip. The hazelnuts needed for this dish may be called filberts at your local grocer. How did I not know this? I looked and looked last year during the holidays and they were there the whole time, just not labeled as hazelnuts. Here's what they look like at the store: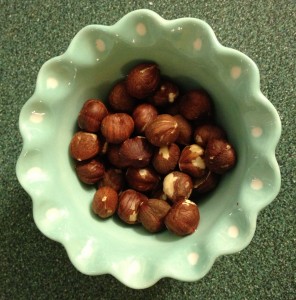 They will come whole and you don't want them chopped into tiny pieces in a nut chopper or your food processor. They are also difficult to cut with a knife because they are round. I find it easiest to place them on my cutting board and use my chef's knife parallel to the board (not the cutting edge down, but the flat side of the knife) and press lightly on the hazelnut. It will split, resulting in some halves and some larger pieces. This is similar to the technique I use for peeling cloves of garlic. Here's how they look using this rough chop method: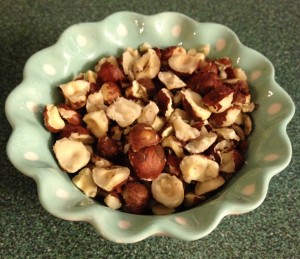 Make sense? Good! So here we go, the pasta recipe that is like what I ate at Otto but not really.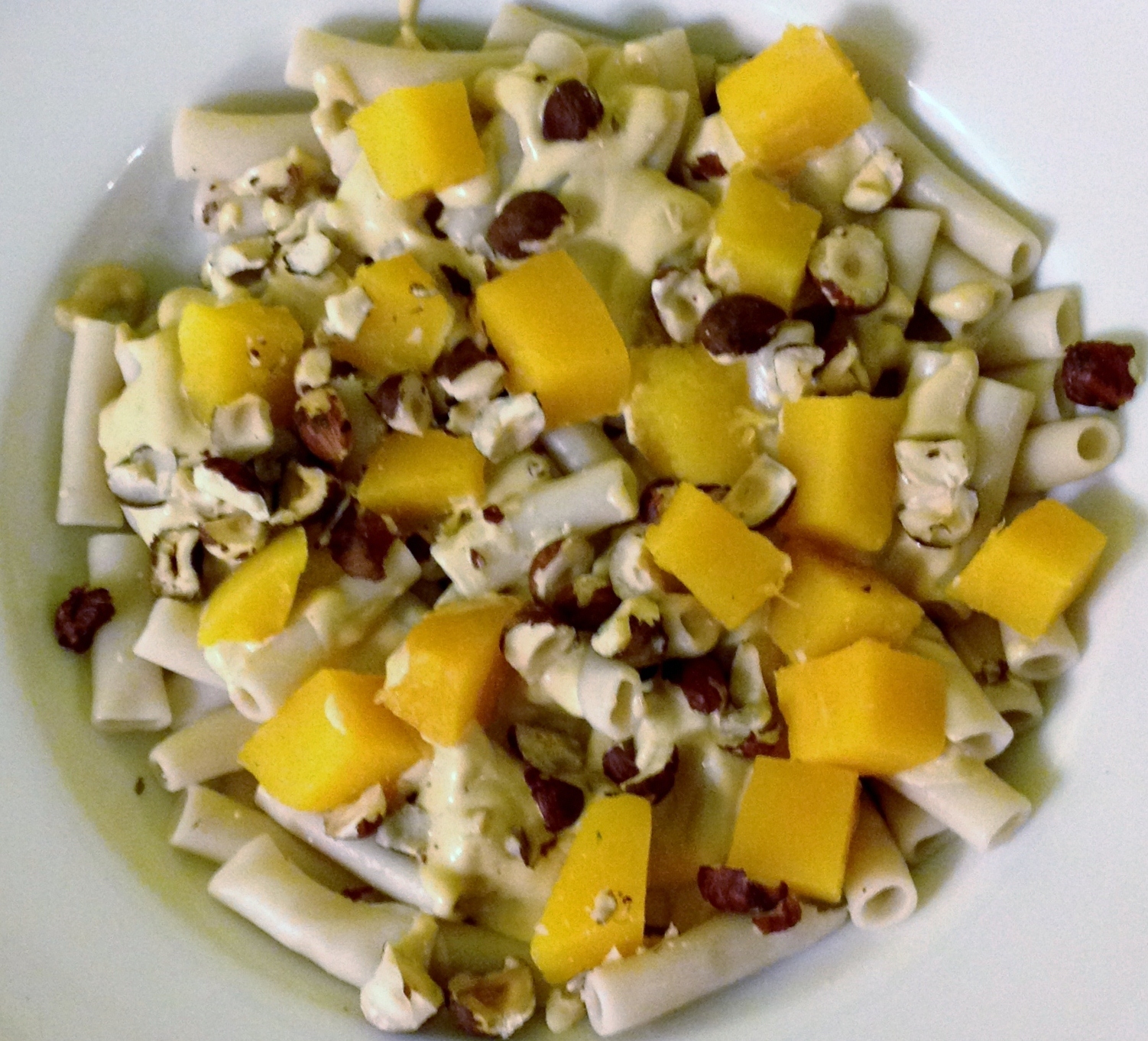 Butternut Squash and Hazelnut Pasta with Smoked Cream Sauce
Total Time
2
hours
15
minutes
Ingredients
Cream Sauce
1/2

cup

roasted butternut squash

3/4

cup

cashews

, soaked in water for at least 2 hours, then drained

2

T

. pinolos/pine nuts

3/4

cup

unsweetened almond milk

2

T

. olive oil

1

T

. miso

(I used red, use whatever you have)

1

T

. nutritional yeast

1

garlic clove

1

t

. salt

1/2

t

. liquid smoke

1/2

t

. cumin

1/4

t

. smoked paprika
Pasta
8

oz

. gluten free pasta

, cooked

2

cup

roasted butternut squash

1/2

cup

rough chopped hazelnuts
Instructions
For the sauce, combine all ingredients in a high speed blender. Process until smooth and hot. If you do not have a high speed blender, process the ingredients in a food processor until smooth and then heat sauce on the stovetop.

Boil pasta per instructions and drain. Place pasta in each dish, toss with sauce and top with squash cubes and hazelnuts.
I hope you enjoy this dish!