This post contains affiliate links. See my disclosure for more information.


In 2012, instead of a 52 project, I did a 40+12 project, 40 Days of 40 Favorite Things for my 40th birthday plus 12 Adventures. This post is one such adventure. While it does not include a gluten-free or healthy recipe, it is part of my healthy approach to life lived well. I hope you'll read along when I write about my adventures, they are an important part of the journey to health!
This adventure lasted more than a day and was by far one of the most fun adventures of the year…
I belong to a wonderful group of bloggers called BlogKC. We meet once a month, sometimes more, to talk about blogging, learn about blogging and have a little fun. Ok, we always have a lot of fun. I've met really terrific folks through this group and have been given many opportunities because of the people I've met in this group. A great example of the goodness in this group is the fabulous duo, Kathy and Roxanne.
These ladies have been working in the food world for many years. Their knowledge about cooking, recipe development, and all that is food astounds me. With several cookbooks to their credit and long-term relationships with companies in the food world, they are great role models to me. When they asked me to contribute to two of their upcoming cookbooks, I was absolutely ecstatic. Prior to that, my professional recipe development work had come to me a single recipe at a time. To be given an opportunity to develop multiple recipes at a time was the best kind of adventure I could imagine!

Do you know about these clever little appliances? Perhaps you've seen the Babycakes line at Kohl's or Michaels or JCPenney or any of the many stores carrying them. Here's what is so very different about the Babycakes line: instead of the pamphlet with 7 or 8 recipes that typically comes with an appliance, Kathy and Roxanne have been busy creating full-on cookbooks to go with these appliances, hundreds of recipes! There are now two cookbooks to go with the cupcake maker and two cookbooks to go with the cakepop maker.
Before you tune me out and say, "I don't need another single-use countertop appliance," let me share a few tidbits with you. I am not a fan of lots of little appliances either. I do not own a fortune cookie maker or a food-on-a-stick device. But I have made room in my kitchen for both of these appliances. Our Thanksgiving pumpkin pies were made in the cupcake maker. One guest proclaimed they were the best pumpkin pies he has ever had. For our small household, we are enjoying making recipes that don't feed a small army and cook up in a hurry.
These appliances are sticking around in my kitchen and they may be a good fit in yours, too, especially when you read what's in the cookbooks. For several days, I created in the kitchen, baking cupcakes and pies for the cupcake maker. And then I spent more days in the kitchen making sweet cake bites and savory quinoa fritters and even vegan hushpuppies for the cake pop maker. The goodness I was able to bake up in these appliances has made me downright giddy!

In 175 Best Babycakes Cupcake Maker Recipes: Easy Recipes for Bite-Size Cupcakes, Cheesecakes, Mini Pies and More!
, you'll find some of my favorites such as Bourbon Pecan Fig Hand Pies and Salted Caramel Apple Mini Pies. The Raspberry Coffee Cake Bites are one of my favorite ways to start the day.

In the 175 Best Babycakes Cake Pop Maker Recipes, there are even more of my favorites, like Spicy Tempeh Bites, Zucchini and Sundried Tomato Fritters and of course, a few sweets like Autumn Apple donut holes. I'm proud of the recipes in these books and hope you'll try them. It'll be like you tagging along with me on one of my crazy adventures and this one is guaranteed to have tasty food we can all enjoy!
All of those recipes I mentioned are gluten-free, many are also dairy- and egg-free and plenty of modifications are included to make them work for you. Part of what made this such a terrific project for me was that recipes with special dietary considerations were being included in mainstream cookbooks. What a great day for all of us who aren't exactly typical in how we eat!
During every single minute of this project, this adventure, I was aware THIS is where I belong. In the kitchen, creating food that everyone can enjoy, dietary restriction or not. I am beyond grateful for this adventure, so thrilled to have had a chance to work with Kathy and Roxanne.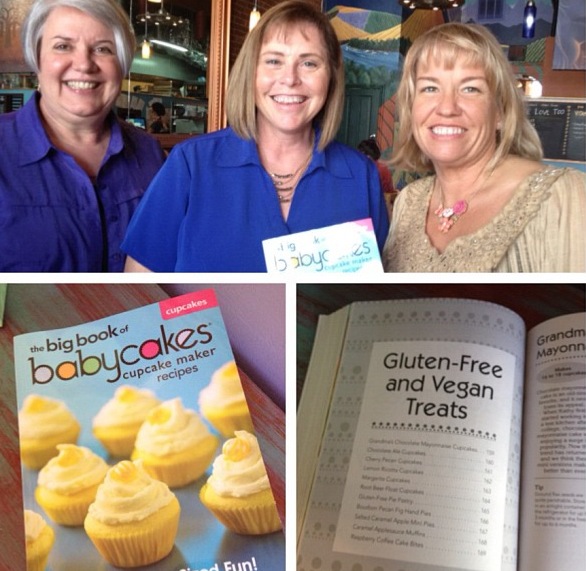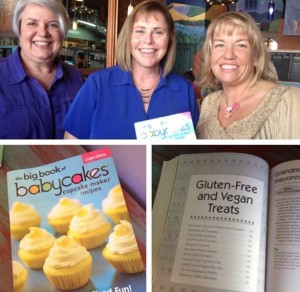 More adventures coming your way this week…but first, I'm off to make some Chocolate Mint Cake Pops!