This post contains affiliate links. See my disclosure for more information.


I recently received a beautiful plate of cookies in the mail from Debi at Hunter's Lyonesse. And before that, Debi received a plate of cookies, the same plate, from Heather at Gluten-Free Cat. And before her….well, you see where I'm going with this.
The plate, a 2012 Jacques Pepin design, was sent on its journey by BeBetsy, inspired by Kitchenaid's Cook for the Cure. This is a program that brings passionate cooks a way to support the fight against breast cancer through culinary fund raising with programs like Pass the Plate. I was tickled to get the plate in the mail.
While the plate is beautiful, to be honest it was the cookies I was most excited about. In my gluten-free years, I can't recall many folks bringing me cookies. Gluten-free donuts, yes. Gluten-free cinnamon rolls for my birthday, yes. But cookies, nope. This was indeed a sweet treat for me in many ways. And the cookies were perfect, so much so that my favorite fella and I consumed them quickly. I should have taken a photo of them, but they were gone before I thought to. You'll have to visit Debi's site to see these marvelous morsels of oats and chocolate. Not only did they taste great, they shipped well, a great quality of a cookie in my book.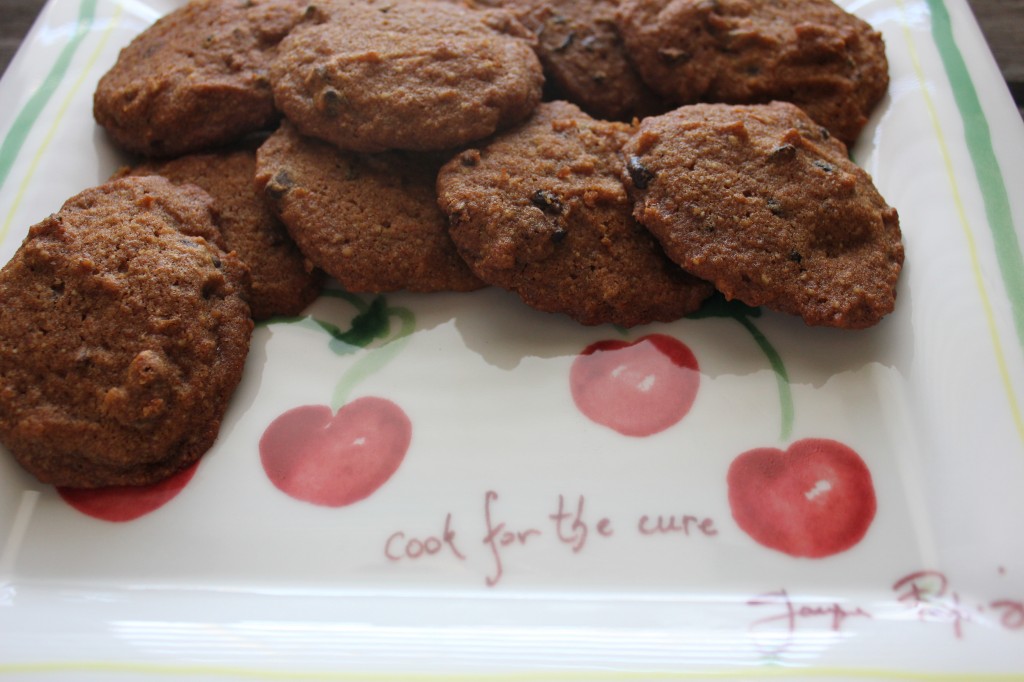 To keep the plate moving along, I baked Sweet Potato Chocolate Chunk Cookies for Deanna at The Mommy Bowl. Deanna's blog is full of great recipes, including lots of cookie recipes that sound delicious to me. I've got big shoes to fill with these cookies!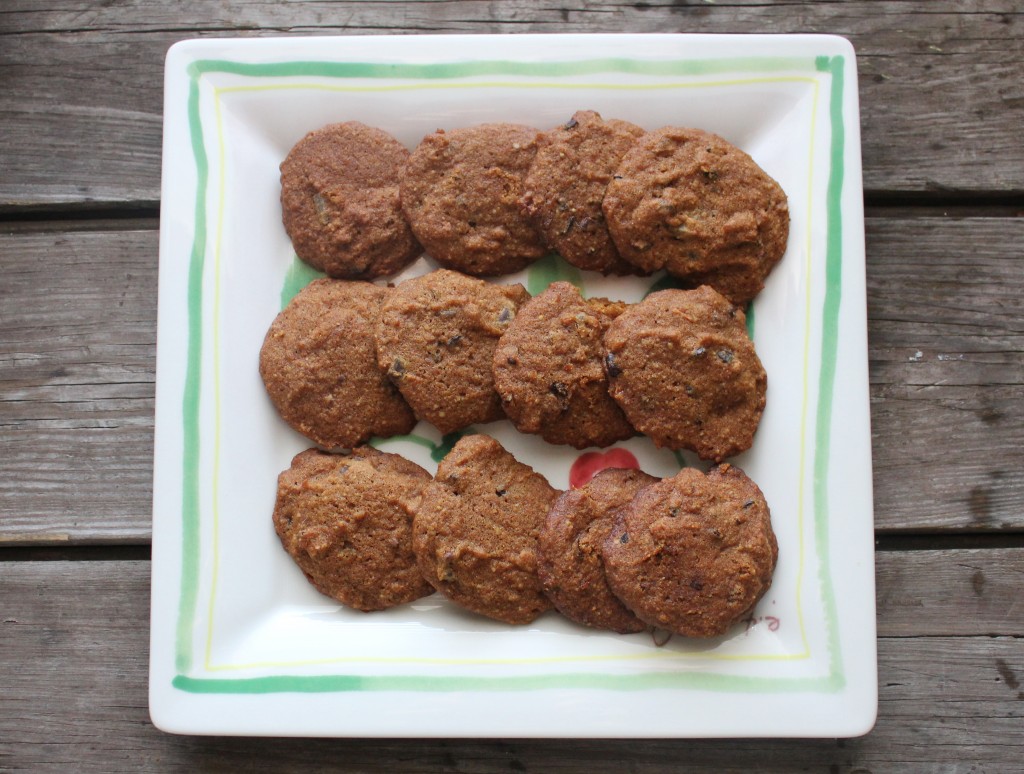 This recipe was inspired by a recipe from the most recent Penzey's Spices catalog.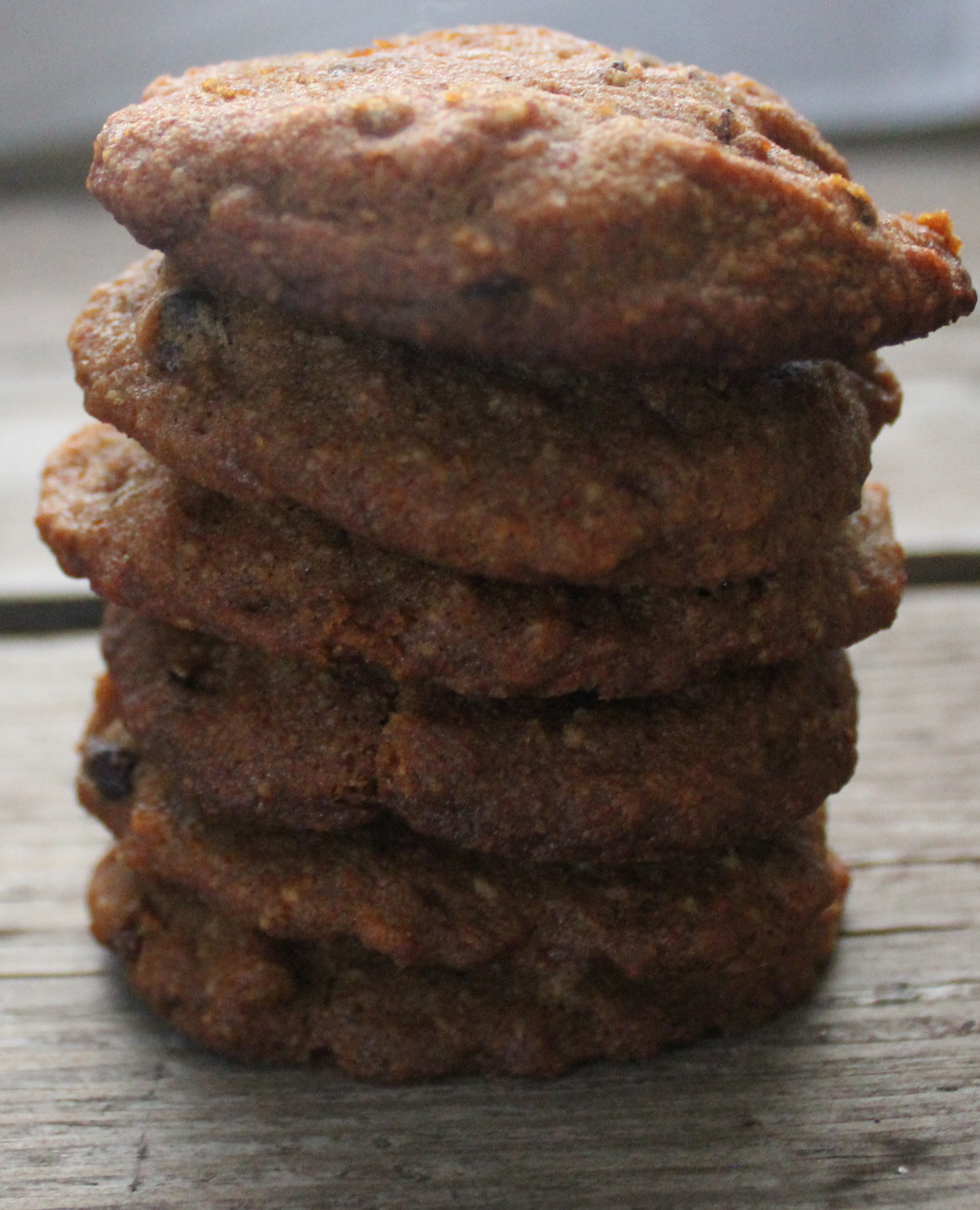 Sweet Potato Chocolate Chunk Cookies, Gluten-Free, Dairy-Free
Ingredients
1

cup

mashed sweet potato

(this was 1 large potato for me)

2

sticks softened Earth Balance vegan butter-y sticks OR 1 cup soy-free Earth Balance

2

eggs

1 1/2

cups

coconut sugar

2

t

. vanilla bean paste

(or vanilla extract)

1

cup

Almond Flour

1

t

. baking soda

1

t

. baking powder

1/2

t

. guar guam

1/4

t

. salt

1/4

t

. cinnamon

1/2

cup

chocolate chunks

(I use Enjoy Life)

1/2

cup

cacao nibs

(I use Navitas)
Instructions
Preheat oven to 300 degrees. Line baking sheet with silpat mat or parchment paper.

In bowl of stand mixer, cream together the cooked mashed sweet potatoes, Earth Balance, eggs, coconut sugar and vanilla.

In a second bowl, combine Johnna's Favorite Gluten-Free Flour Blend, almond flour, baking soda, baking powder, guar gum, salt and cinnamon. Gradually add those ingredients into the sweet potato mixture with the mixer running on low. Mix until blended.

Fold in the chocolate chunks and cacao nibs last.

Drop by generous teaspoonful onto baking sheet. Bake at 300 for 22-25 minutes until just firm in the middle. This cookie has a slightly cake-like texture. Makes approximately 48 cookies.