This post contains affiliate links. See my disclosure for more information.


I know it doesn't seem possible to make pepperoni pizza that is gluten-free, dairy-free, vegan and still tasty. IT IS! It's not just tasty but it's melty, cheesy and full of pepperoni spiciness. The bread is slightly crunchy on top, like a thin crust pizza, yet doughy in the center. I'd have this over pizza any day!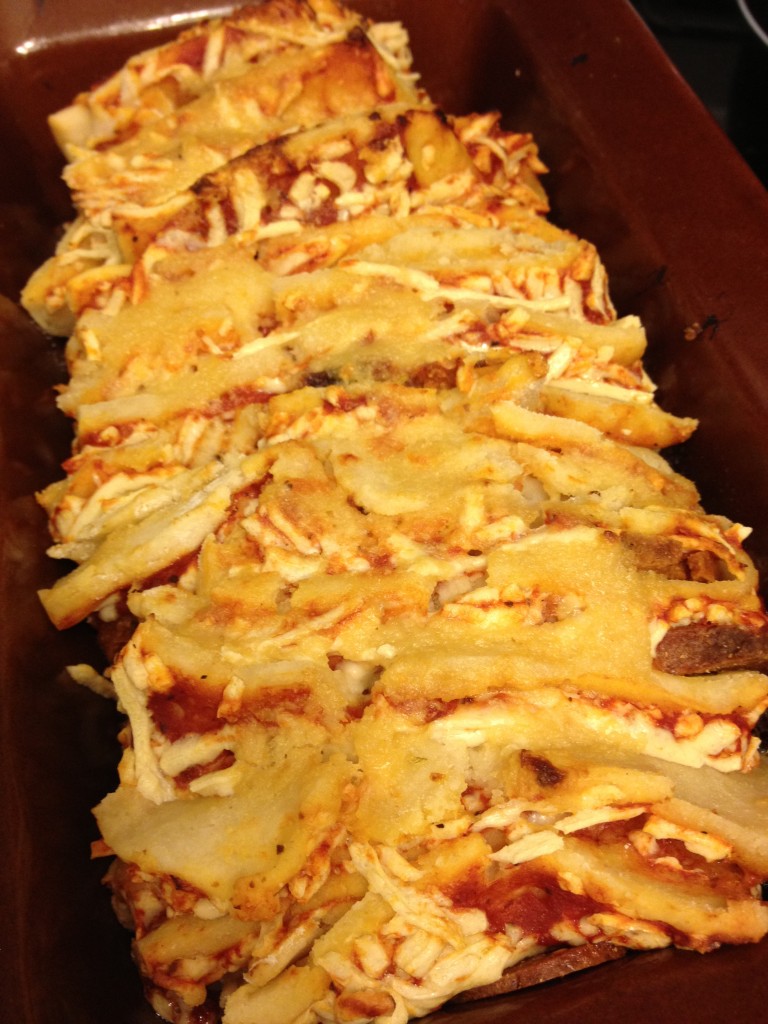 This was our Superbowl treat. We started with multiple loaves, because I like testing my recipes a few times before sharing and also like to bake in a variety of pans if that's a possibility. This time I baked in a stoneware pan and also in metal loaf pans. Anyhow, my point is that we started with multiple loaves. We ended with just a partial loaf. I'm going to blame this on the power outage at the Superbowl, it was a long game after all and we needed plenty of nourishment to sustain us through all of those commercials!
You'll need to whip up a batch of my Wheatless and Meatless Pepperoni before you get started. Otherwise, this is pretty straight forward and easy to make.
First, make the dough according to the recipe. Roll out on a lightly floured countertop to about 12″ x 20″.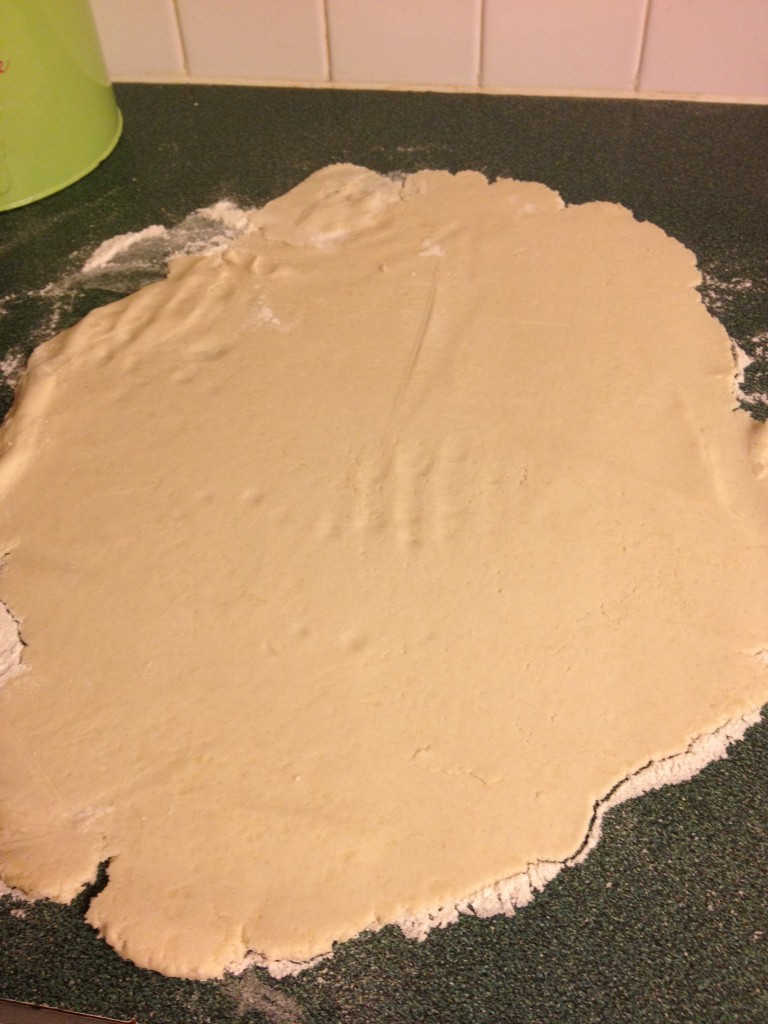 Next, spread a thin layer of pizza sauce on the dough.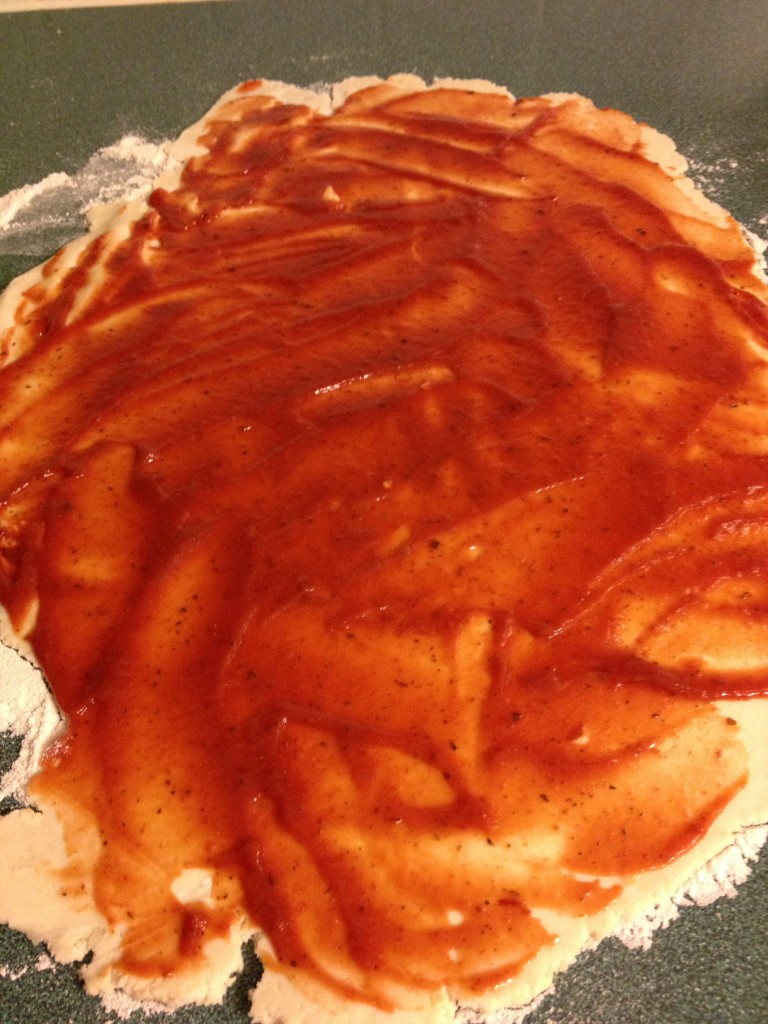 Then top with cheese.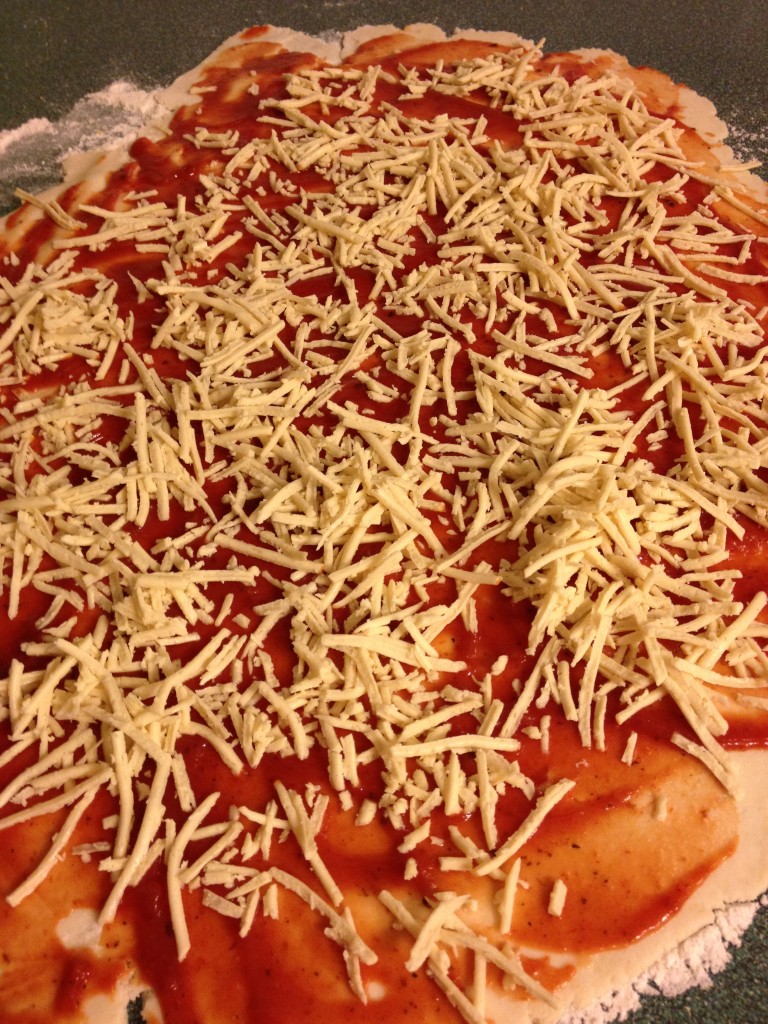 At this point, go ahead and cut into 30 squares (I cut 6 rows of 5 each). Place one slice of pepperoni on each square.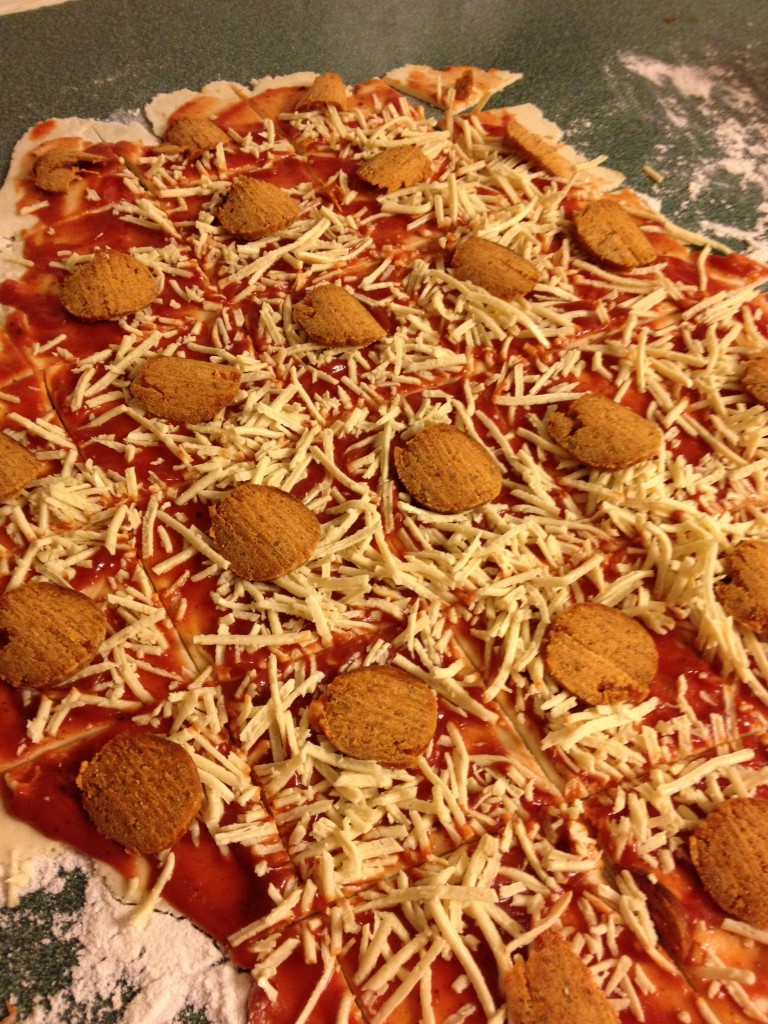 Stack squares 5 tall.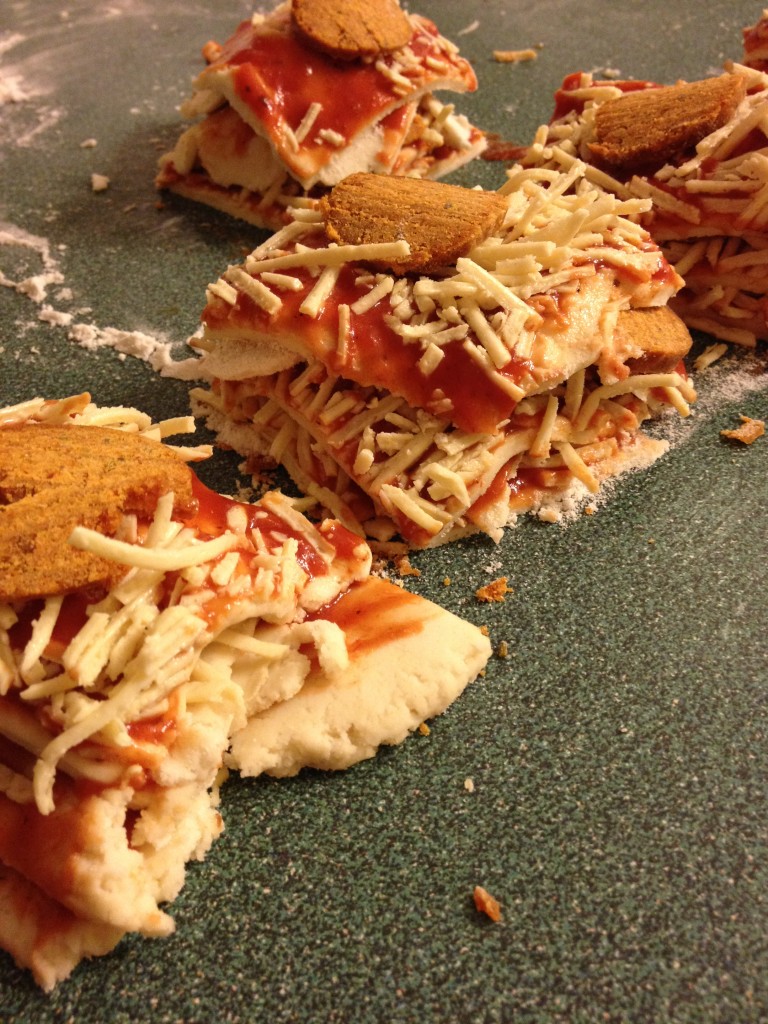 Turn squares on end, sauce side facing away from you for the first 5 stacks and place in standard size loaf pan. Reverse the last stack. This makes it start and end with dough. If you don't reverse the last stack, you'll have sauce and cheese against your pan. It will still work, it's just a little tidier if you reverse the last stack.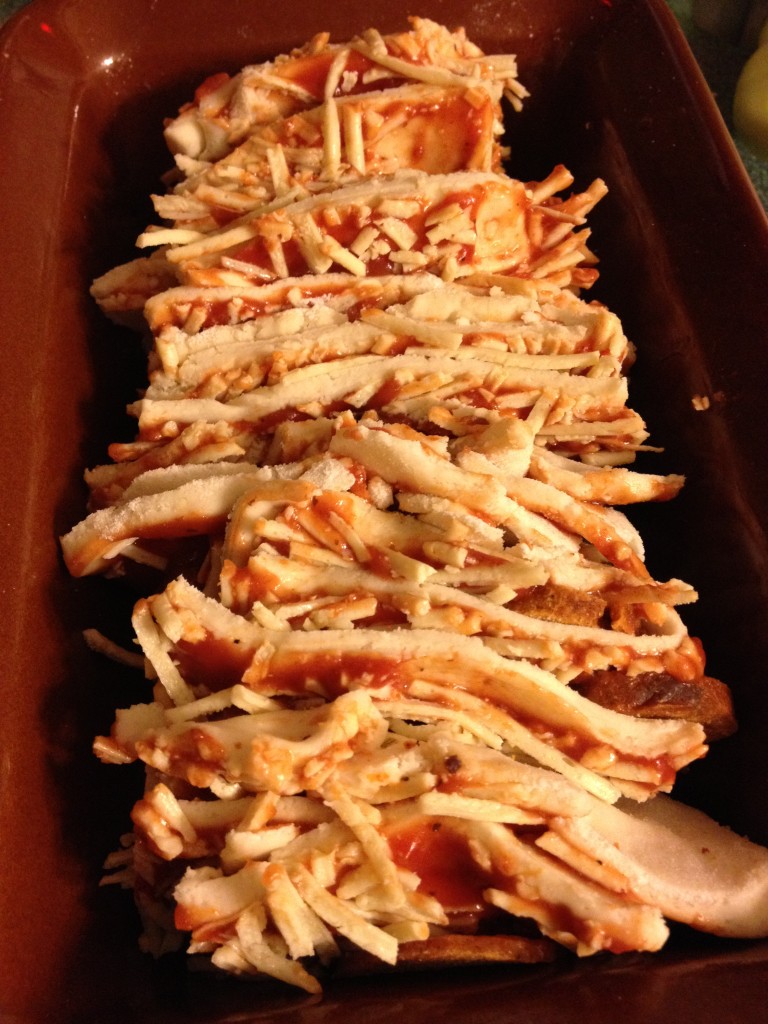 Pop it in the oven.
Mid-way through baking, pull it out of the oven and top with melted butter and minced garlic.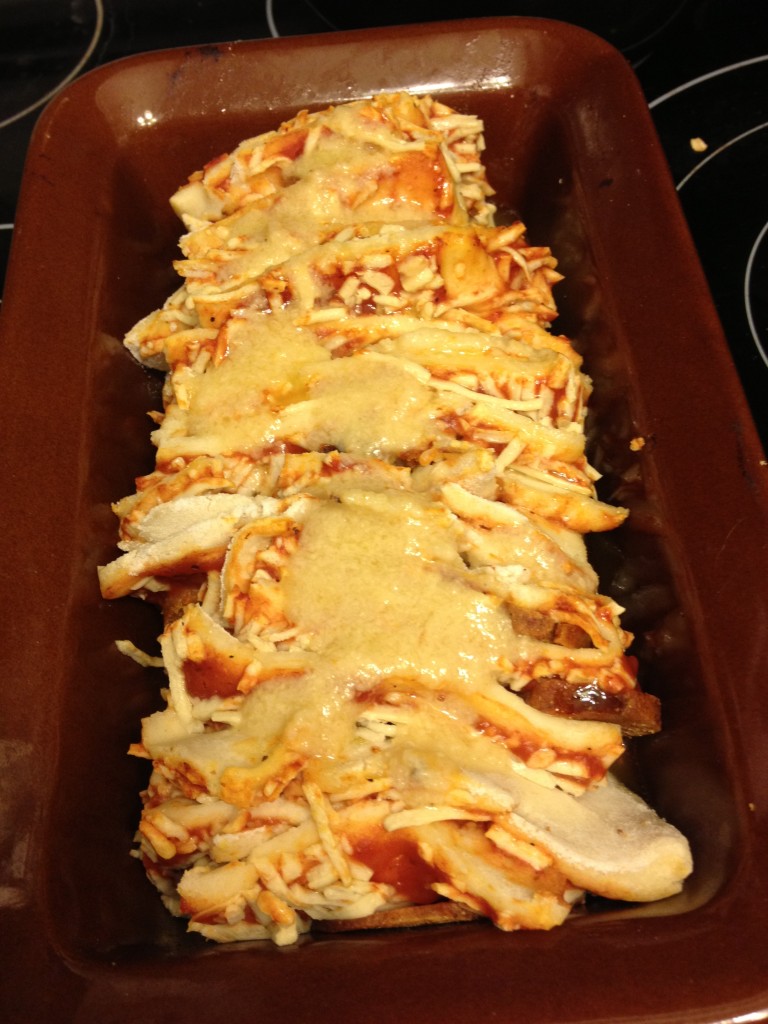 Finish baking and allow to cool for a bit. If you loosen the sides, it is possible to remove the entire loaf from the pan and place on a serving tray.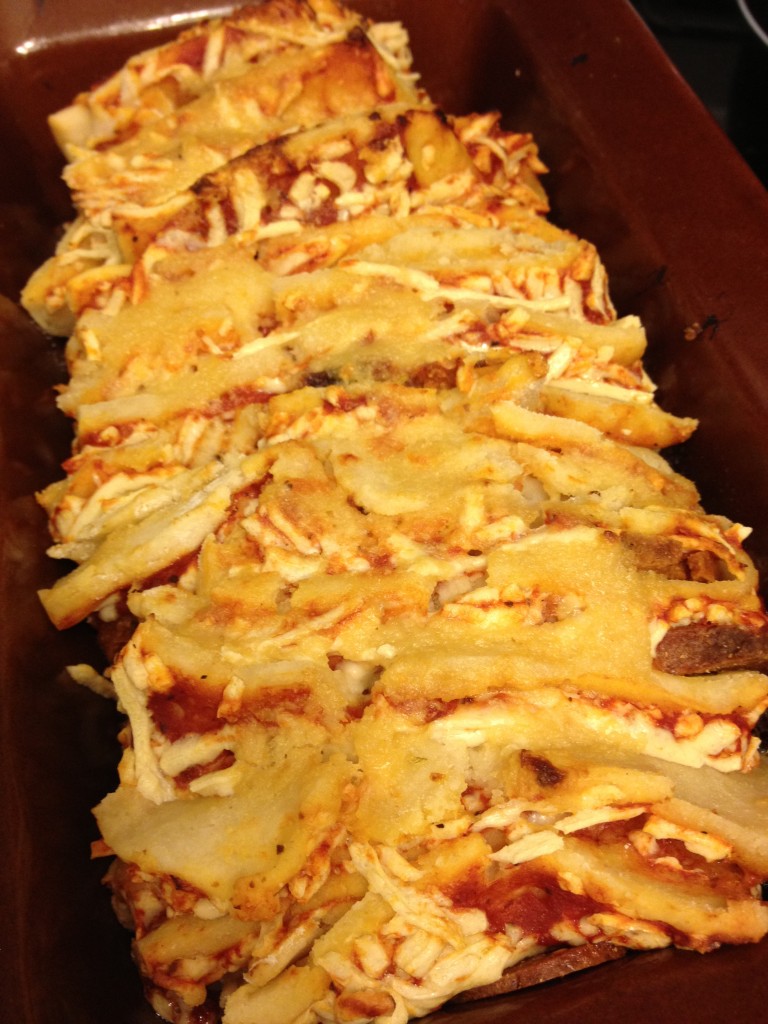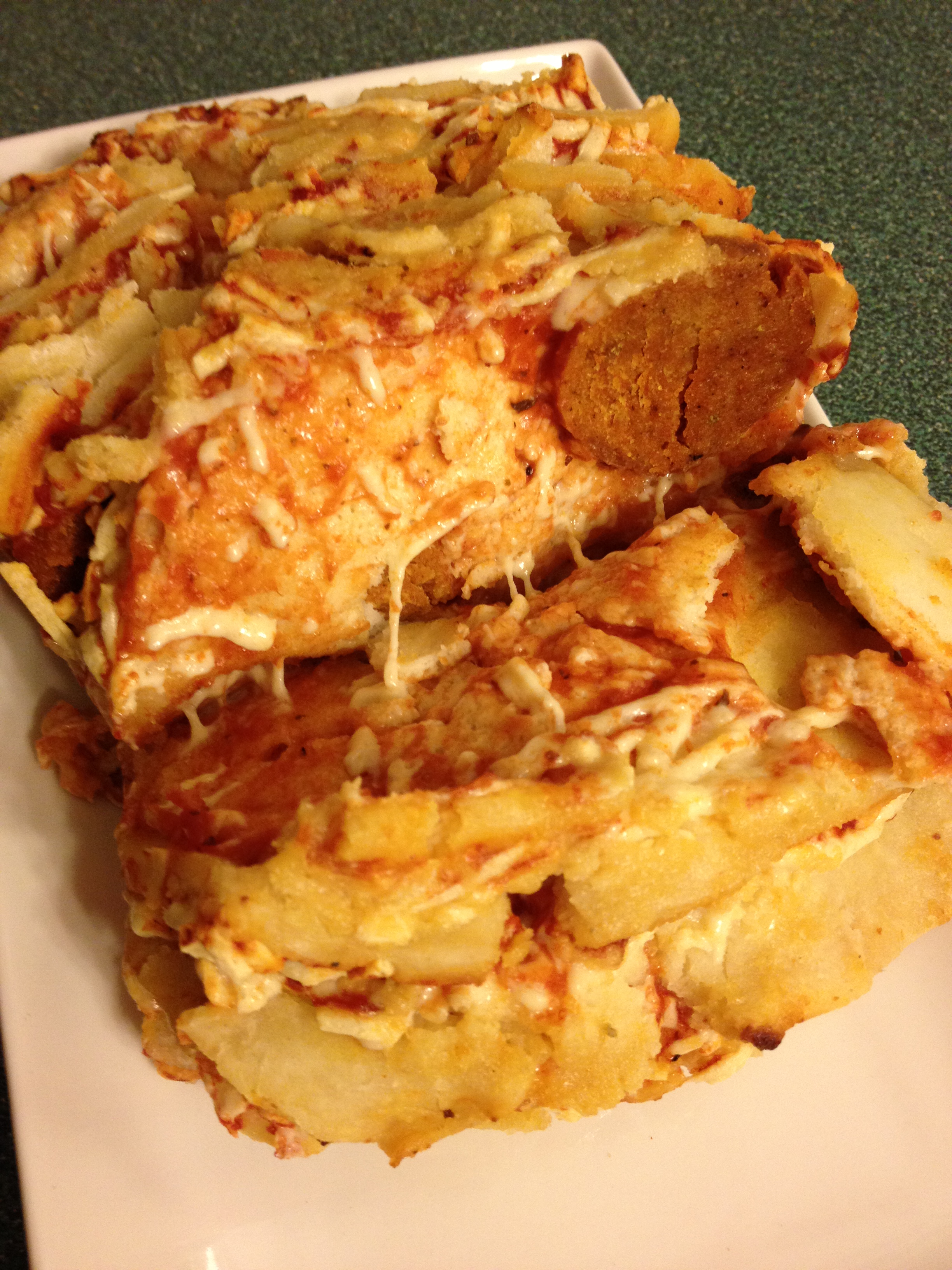 Pull-Apart Pepperoni Pizza Bread, gluten-free, dairy-free AND vegan!
Ingredients
1

batch Wheatless Meatless Pepperoni

1

cup

warm water

1

t

. honey

(or maple syrup to make vegan)

1

package dry active yeast

2 1/2

cups

Johnna's Favorite Gluten-Free Flour Blend

, plus additional for flouring counter when rolling dough

1

T

. olive oil

1

t

. guar gum

1

t

. salt

2/3

cup

pizza sauce

(I use Trader Joe's, you could make your own)

1

cup

Daiya or cheese alternative of your choice

30

pepperoni slices

2

T

. Earth Balance or other butter substitute

, melted

2

cloves

garlic

, minced
Instructions
Make batch wheatless meatless pepperoni ahead of time. Slice off 30 pieces.

In a small mixing bowl, combine 1/4 cup warm water with honey or maple syrup and yeast. Let sit 5 minutes, yeast will start to foam.

In bowl of stand mixer with dough hook attached, combine flour, guar gum and salt, Add the olive oil and yeast mxture, followed by the 3/4 cup of water that remains. Mix on low/medium-low until well combined and set, 5-7 minutes.

In a lightly oiled bowl, place the ball of dough in a warm spot in your kitchen. Cover with a kitchen towel and let rise for an hour. I like to place mine on the bake of a warm oven or near the oven.

In an hour, the dough will rise, not quite doubling in size. Punch down, then roll out on a lightly floured surface until it is approximately a 12"x20" rectangle.

Preheat oven to 375 degrees at this time.

On top of dough, spread pizza sauce. You want only a thin layer, too much sauce will slide out of the bread.

On top of the sauce, sprinkle a layer of cheese. Again, just a thin layer.

Cut into 30 equal sized squares. Place one pepperoni slice in the middle of each square.

Stack the squares 5 tall. You'll have 6 stacks of squares.

Lightly oil a standard loaf pan. Turn the stacks on their side, sauce side facing away from you. Insert 5 stacks into the loaf pan. The 6th stack needs to be sauce facing you, so both ends of the loaf end with dough. If you don't reverse the 6th stack, one end of your loaf will end with sauce and cheese.

Bake at 375 degrees for 20 minutes. While baking, melt Earth Balance and combine with minced garlic.

After that 20 minutes, remove the loaf from the pan. Pour the melted Earth Balance and garlic mixture over the top. Return to oven for 25 more minutes or until lightly browned on top.

You may either serve directly from the loaf pan or let it cool a few minutes, lightly cut loose from the sides with a knife and remove to place on a platter.