This post contains affiliate links. See my disclosure for more information.


Whole Foods did it again, they sucked me into the frozen food aisle. I find myself there every few months, usually on the way home from a 12-hour or longer work day, looking for something fast for dinner when I haven't planned well. And also something slightly-less-objectionable than most processed, frozen food for this mostly-healthy eating girl.
So yeah, about that…We don't eat a lot of processed food here, but we do eat Daiya cheese. I was teaching a cooking class a few months back and suggested Daiya as a dairy-free pizza topping for my favorite homemade gluten-free crust. A woman in class, can of Diet Coke in hand, read the ingredients on the Daiya bag and said she would not ever eat that as it was created in a lab, not in a kitchen. Here's my thing about that: I can't eat regular cheese. Well, at least not without some pretty serious protests from my body. Daiya is the least objectionable alternative for me. I don't drink Diet Coke, some folks don't eat Daiya. We all have to decide where the line is, it's not the same for each of us. My line has a curve in it that allows me to occasionally have Daiya. And also a frozen pizza. Just being real with all of you. 🙂
The Daiya frozen pizzas were a splurge, about $10 each. My favorite fella pointed out to me when I was able to call and order pizza delivered to our front door, I wouldn't have hesitated to drop $20 on a pizza or two. Somehow it seems different when it's frozen in a box at the grocery store, but it is also made with organic toppings and crust ingredients, something our local pizza place doesn't offer. Oh, and it's gluten-free and dairy-free. It's also free of the top 8 allergens and vegan. The tomatoes are from Italy. So maybe it's worth $10.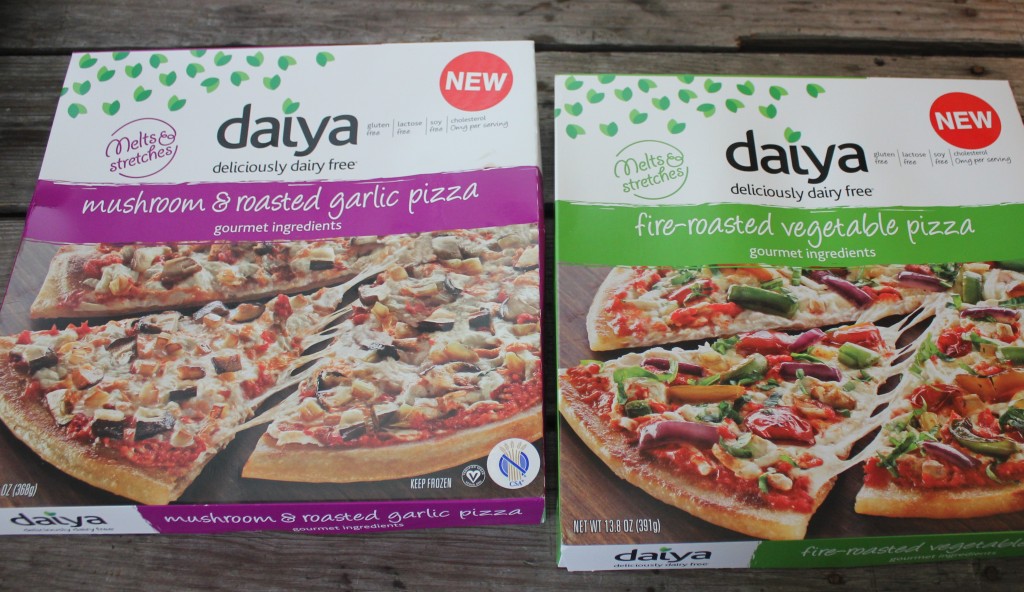 The pizzas are smaller than the box looks but on the large end of the frozen gluten-free pizzas I've tried. The box suggests a crazy high heat for the pizzas, 500 degrees. We followed the convection instructions, 450 degrees, instead. I don't think I've ever seen instructions calling for 500 degrees. That's screaming hot!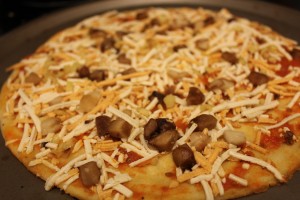 Roasted Garlic & Mushroom before baking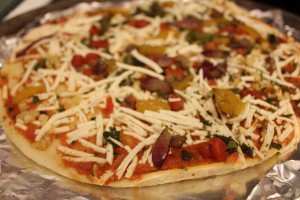 Fire-Roasted Vegetable before baking
We tried two varieties: Roasted Garlic & Mushroom and Fire-Roasted Vegetable. I gotta tell you, the house smelled so good while these were baking. Both of the varieties we tried included roasted garlic and there was no doubt plenty of garlic on the pizzas. One could tell that just from the aroma. Hot from the oven, I sliced both pizzas and found the crust held up to being eating without a fork, no soggy, limp, fall-apart gluten-free crust here.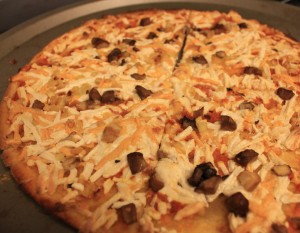 Roasted Garlic & Mushroom after baking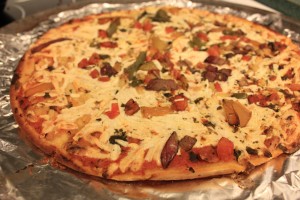 Fire-Roasted Vegetable after baking
The toppings were plentiful, nothing skimpy on the pizza except maybe the sauce. There were a few spots where I spotted completely bare crust. But in eating the pizza, I wouldn't have said it needed more sauce, it was more a visual observation.
With a salad or some other side, I think one pizza could serve two adults. I would probably buy these again if I had a coupon or caught them on sale. I'm still hesitant to buy a $10 frozen pizza, but this one tempts me.