This post contains affiliate links. See my disclosure for more information.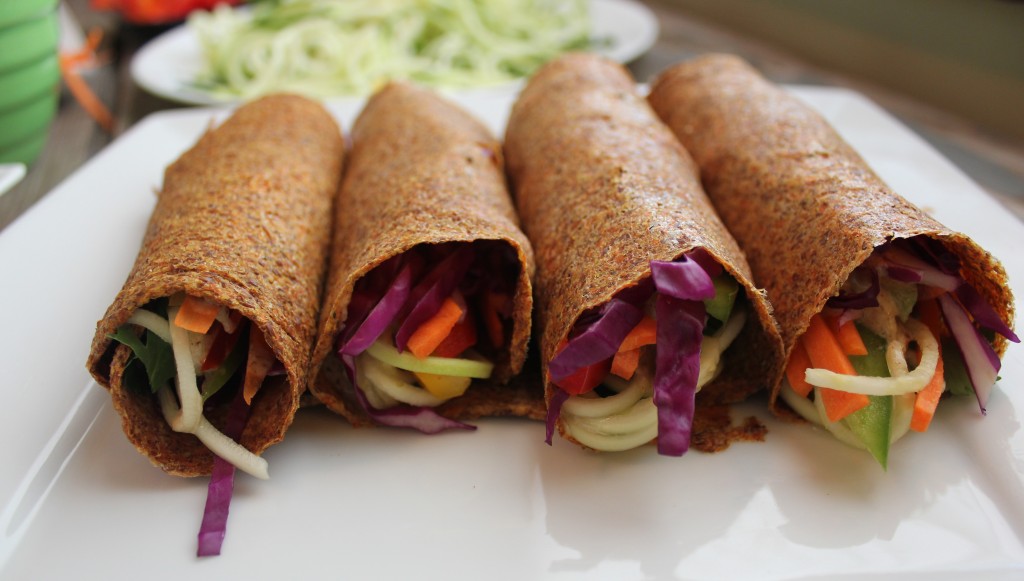 Last week I went to a raw foods potluck. I was almost overwhelmed, everything on the buffet was safe for me to eat!
I can't remember the last time I had a plate of food like this, unless I had prepared it all myself. There is so much joy in sharing a meal with others, especially when it is the same meal, when all of the food can be enjoyed by everyone gathered around the table.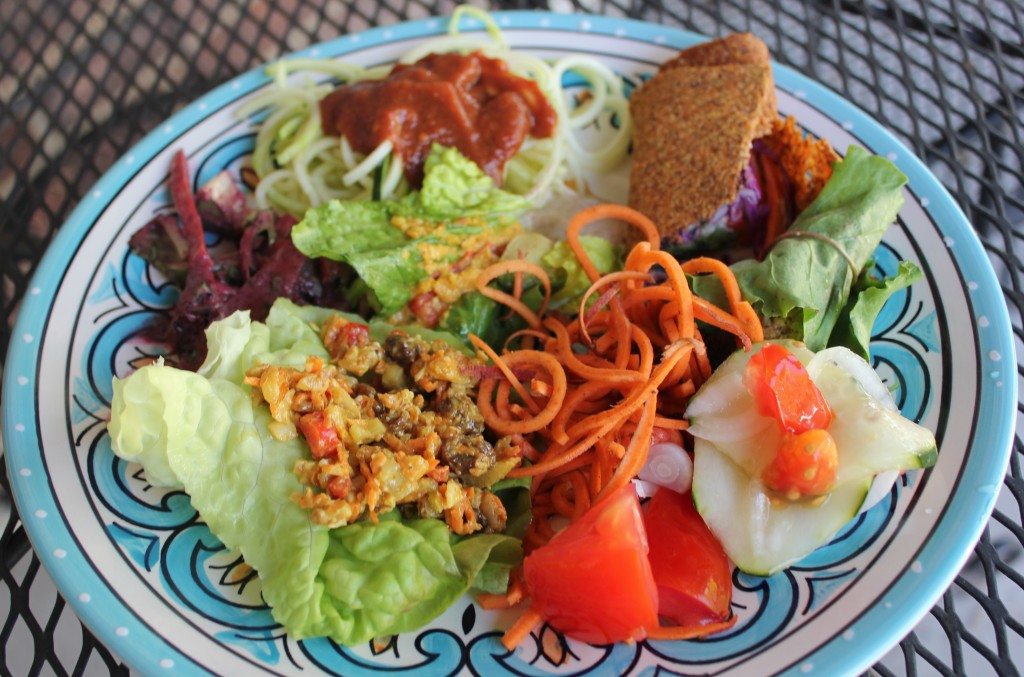 My contributions to the potluck were my Brigadeiros, a decadent chocolate truffle with healthy ingredients, and these Pad Thai wraps.
The wraps were inspired by this recipe, shared by Heather at Gluten-Free Cat. Heather hosts Raw Foods Thursdays and attends raw potlucks often. She inspired me to give it a try and I'm glad I did. I met fun folks at the potluck, heard Dave the Raw Food Trucker speak again and ate lots of delicious food. Plus there was homebrew Kombucha, which makes my body sing. I hope to go to a potluck like this again soon, but in the meantime, I'm gonna make more of these wraps.
About these wraps: I used a dehydrator to make the wrap, but they may also work in the oven on the lowest possible temperature. If you try it, let me know. And the sauce….well, you'll want to make it again and again. It's great not just on these wraps but drizzled over just about any vegetable dish. Or straight off a spoon. Not that I would do that…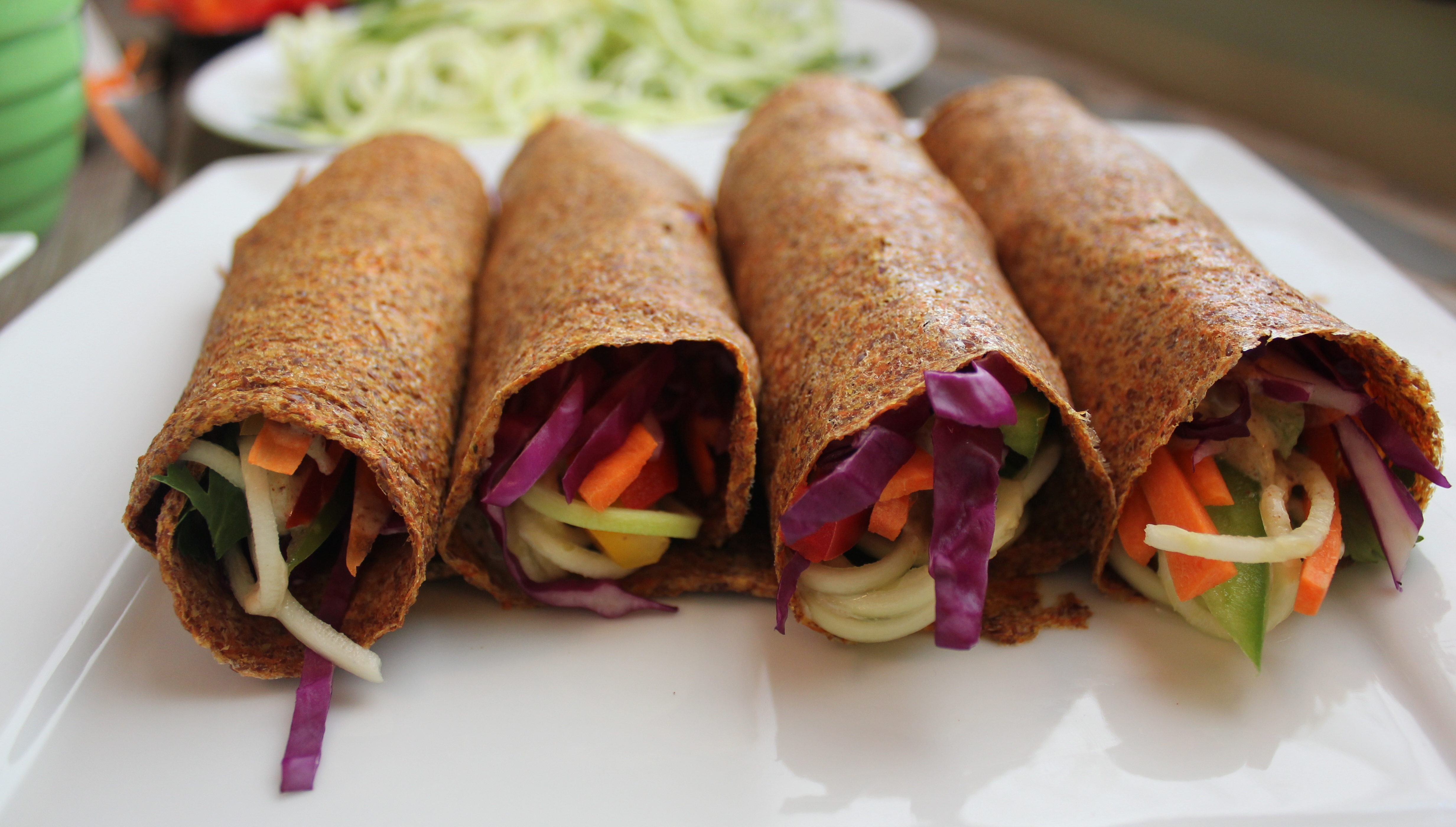 Living Foods Pad Thai Wraps
Ingredients
For The Wraps:
2

cups

carrot pulp

(or grated carrot, squeezed in cheesecloth to remove moisture)

1

cup

flax meal

1

to 1 1/2 cups filtered water
For The Sauce:
3/4

cup

filtered water

1/2

cup

raw almond butter

4

pitted and soaked dates

2

T

. coconut aminos

, Bragg's aminos or gluten-free tamari

2

garlic cloves

1

jalapeno

(remove veins and seeds)

1

" piece ginger root

, peeled
For the Pad Thai Filling:
3

carrots

, cut into matchsticks

1

small zucchini

, spiralized or sliced into matchsticks

1/2

green bell pepper

, sliced into thin strips

1/2

yellow bell pepper

, sliced into thin strips

1/2

red bell pepper

, sliced into thin strips

1/4

head red cabbage

, finely sliced

1/4

cup

fresh cilantro
Instructions
For The Wraps:
Blend all ingredients in high speed blender or food processor until very smooth. Add more water only as needed to reach a thick batter consistency.

Spread batter evenly on two teflex lined dehydrator sheets. Score into six pieces on each sheet. Dehydrate at 115 degrees for about 3 hours or until wraps can be peeled off of the teflex sheets. If the wraps are still too moist to remove, put them back and check again in 30 minutes to an hour.

Once the wraps can be peeled off the teflex, remove the teflex, flip them over onto the mesh dehydrator sheets. Dehydrate another 1 1/2 or 2 hours. If they dehydrate too long, they will crack and won't roll into a wrap. If you do dehydrate too long, you can try placing the wraps in a ziploc bag with a moist paper towel. This is also how the wraps should be stored to keep them from getting brittle.
For the Sauce:
Place all ingredients in the blender and blend until smooth.
For the Filling and Assembly:
Put a bit of each vegetable atop one carrot wrap. Drizzle with a little sauce. Roll and serve! I serve with a small bowl of the sauce along side, as you really can't get too much of this sauce. It's delicious.
A word on preparing these wraps ahead of time: the carrot flax wraps will absorb the moisture of the filling and crumble. If you need to make them ahead of time, I suggest wrapping each wrap in a paper towel. This helps some, but the best way to enjoy these is to make them and immediately eat them. It's hard not to anyway!
I'm linking this post up with Gluten Free Cat's Raw Foods Thursday. Click on over and take a look at all of the goodness folks are sharing!