This post contains affiliate links. See my disclosure for more information.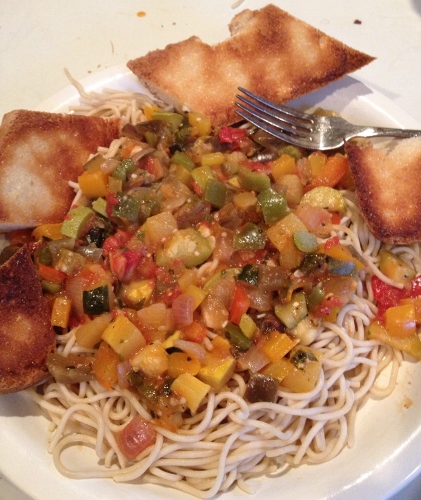 Here's another recipe inspired by the question I asked on Facebook when I realized my garden was going to produce hundreds of pounds of tomatoes this year. A friend said ratatouille…and asked me to deliver some. So I made several delicious batches. And of course, delivered it to the person who requested. Perhaps this is a lesson to all of you. When I ask for input over on Facebook, you might just reap the rewards. 😉
This time around, the reward comes in a recipe for you. This is the simplest and quickest way to make ratatouille that I have tried. I have made a version that took over an hour to make. If I followed the directions, I ended up with something that more closely resembled a chunky marinara than ratatouille. This recipe recipe is a less saucy result. Enjoy it over pasta or on a toasted gluten-free baguette.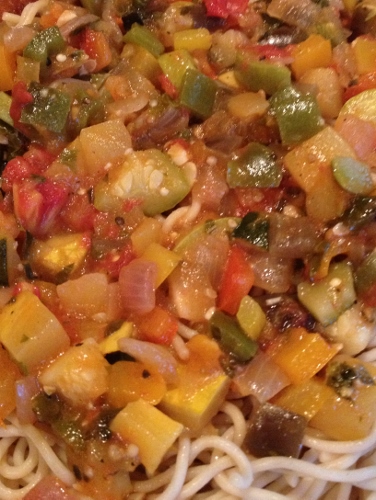 Ratatouille from the Garden
Ingredients
2

T

. olive oil

1 1/2

diced yellow or red onion

2

cloves

minced garlic

2

cups

diced eggplant

, skin on

1/2

teaspoon

fresh thyme leaves

1

cup

diced green bell peppers

1

cup

diced red bell peppers

1

cup

diced yellow or orange bell peppers

1

cup

diced green zucchini squash

1

cup

diced yellow squash

1 1/2

cups

chopped tomatoes

(I eliminate most of the jelly or seeds but leave the skin on)

1

tablespoon

thinly sliced fresh basil leaves

1

tablespoon

chopped fresh parsley leaves

Salt and freshly ground black pepper
Instructions
Using a large, deep skillet, heat olive oil over medium until hot.

Add onions and garlic to the oil, cooking until onions are starting to caramelize, about 7-9 minutes.

Add eggplant and thyme to the mixture and continue cooking over medium. Stir occasionally.

When eggplant is partially cooked, about 5 minutes, add the green, red and orange/yellow peppers and both colors of zucchini. Cook for about 5 more minutes.

Add tomatoes, basil, parsley and salt and pepper to taste.

Cook for 5-7 more minutes, until the vegetables have reached the tenderness that suits you.

Serve hot atop a bed of pasta or hot or cold on gluten-free bread.