This post contains affiliate links. See my disclosure for more information.


With Christmas behind us, it's time for me to share recipes perfect for New Year's Eve and New Year's Day gatherings. I've got several tasty nibbles lined up to share, most of them leaning toward savory. But a little sweet is always welcome, right?
This is a super quick and easy appetizer or addition to a cheese platter, whether you are waiting for the clock to strike midnight or are brunching on New Year's Day. I'm planning to do both with delicious food that leans toward healthy!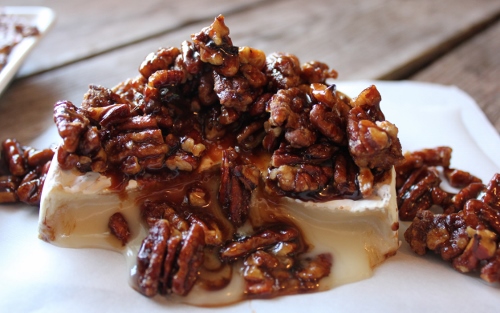 Goat brie is a relatively new discovery to me. I'm exploring all sorts of goat cheese goodness these days since discovering it jives with my body where other dairy doesn't.
I've found goat brie two places: Whole Foods (about $11) and Trader Joes (about $4). They are relatively small wheels of brie. As with cow milk brie, goat milk brie has a white bloomy rind, which is edible. Both of the varieties I have tried have a very buttery flavor and creamy texture, with the brand I picked up at Whole Foods leaning a bit more toward pungent. That said, the flavor of goat brie is more mild than cow milk brie.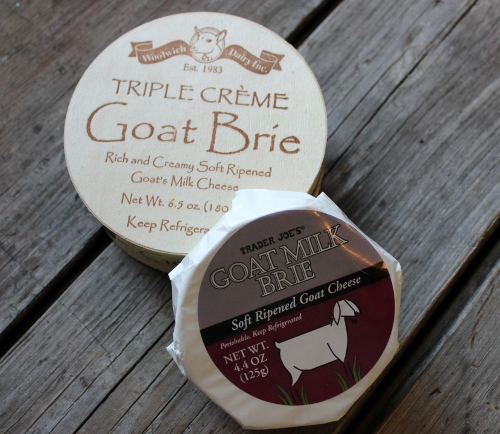 The recipe below will work with any small wheel of brie from four ounces to seven ounces. The smaller the wheel, the more pecan sugar glaze you'll get with each creamy bite of brie. And that is not a bad thing. Enjoy!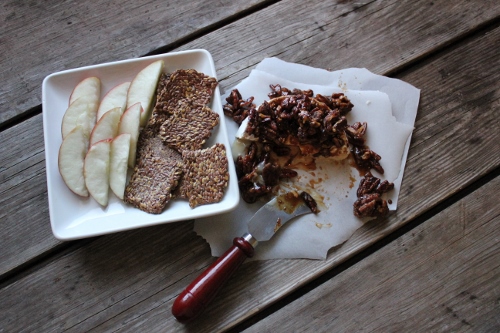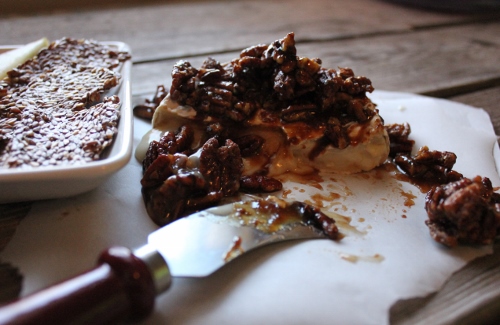 Pecan Sugar Glazed Goat Brie
Ingredients
3

Tablespoons

coconut sugar

3

Tablespoons

chopped pecans

1 1/2

teaspoon

spiced rum

(I prefer Sailor Jerry)

1

wheel goat brie

(4 to 7 ounces)

apple wedges

, crostinis or crackers for serving
Instructions
In a small bowl, mix together coconut sugar, pecans and rum. Stir to combine. You may do this immediately before cooking the brie or you make mix together and refrigerate for up to a week. I like to let mine come together in the refrigerator for about a day.

Heat oven to 500 degrees.

Line a small baking sheet with parchment.

Place goat brie atop the parchment.

Bake for 3 to 4 minutes, just until the wheel of brie is starting to soften.

Remove from oven and spread the sugar, pecan and rum mixture evenly atop the warm brie.

Return to the oven and bake for 3 to 4 more minutes, just until the sugar melts.

Gently lift the sheet of parchment paper to move the cheese to a serving platter or simply serve atop the parchment.

Serve warm from the oven with apple wedges, crostings or crackers.