This post contains affiliate links. See my disclosure for more information.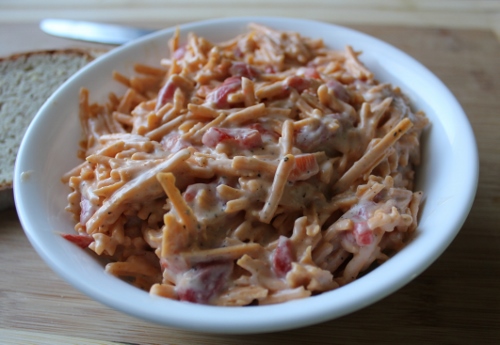 Pimento cheese sandwiches bring back childhood memories of sandwiches on white bread, laden with either homemade pimento cheese or the variety we called pimento cheese "spread," that actually came from a glass jelly jar. Do you remember it, too?
While chatting with my friend Tina and her fella about tasty dishes that contain dairy, pimento cheese came up. Tina's fella mentioned having pimento cheese atop crostinis or crackers that had been heated to the perfectly ooey-gooey stage under the broiler. I knew I had to modify traditional pimento cheese to make it dairy-free and then I had to put it under the broiler on top of gluten-free crackers.
But before I did that, I had to make a sandwich. For nostalgic purposes of course.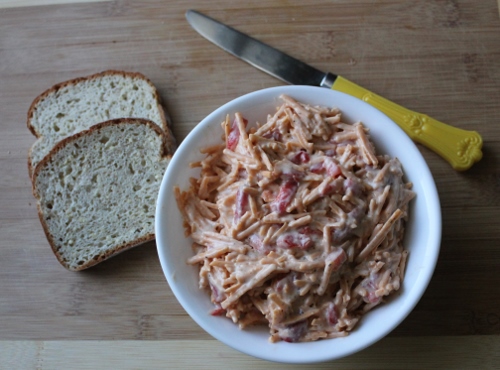 I consider stopping right there. Surely there is no better way to eat pimento cheese than on sliced bread. So good!
But I'm glad I didn't stop there. This pimento cheese spread, perfect even without the dairy, is perfection atop a gluten-free cracker. I would never guess this is dairy-free after it has been heated! What a perfect quick nibble or party appetizer.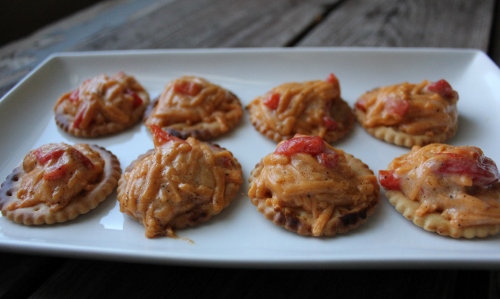 Here's a couple of quick tips on the recipe: You'll need a four ounce jar of pimentos. It is not necessary to obtain these pimentos by removing them, one at a time, with tweezers from jars of green olives tediously stuffed with pimentos. You can buy jars of nothing but pimentos! Who knew?!? You may find them with olives and pickles in the supermarket OR you may find them with canned vegetables. One market near me displays them with pickles, another does not. And speaking of pickles, you'll need a spoonful of pickle juice to really make this recipe taste best. I prefer juice from dill pickles but have used sweet pickle juice in a pinch. If you are out of pickles, apple cider vinegar works just fine. Enjoy!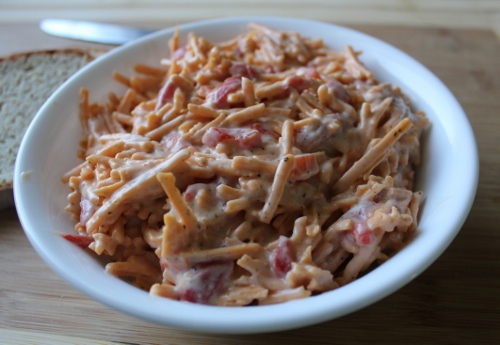 Pimento Cheese Spread (dairy-free, vegan)
Ingredients
1 8-

ounce

bag Daiya Cheddar Style Shreds

1 4-

ounce

jar pimentos

, drained

1/2

cup

mayonnaise

(I use Earth Balance Mindful Mayo)

1

teaspoon

pickle juice

1/2

teaspoon

black pepper

1/4

teaspoon

sea salt

dash hot sauce

Optional--crostinis or crackers to make broiled pimento cheese bites
Instructions
Combine all ingredients in a bowl. Stir well to combine.

Eat immediately or refrigerate for up to one week

To make broiled pimento cheese bites, turn broiler on to high.

Top each cracker or crostini with a scant Tablespoon of pimento cheese spread.

Broil just until cheese is melted, keeping a close eye on crostinis or crackers as the edges will brown very quickly. Serve warm.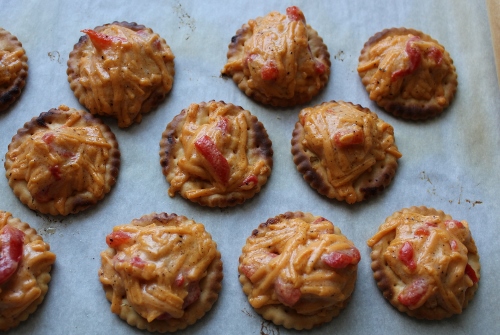 Full Disclosure: This post contains affiliate links. Should you click through and use the services or products mentioned, I may make a few pennies. Affiliate links allow me to continue providing high quality, original recipes and content to you at no charge. I appreciate your support!