This post contains affiliate links. See my disclosure for more information.


Homemade Pimento Cheese Recipe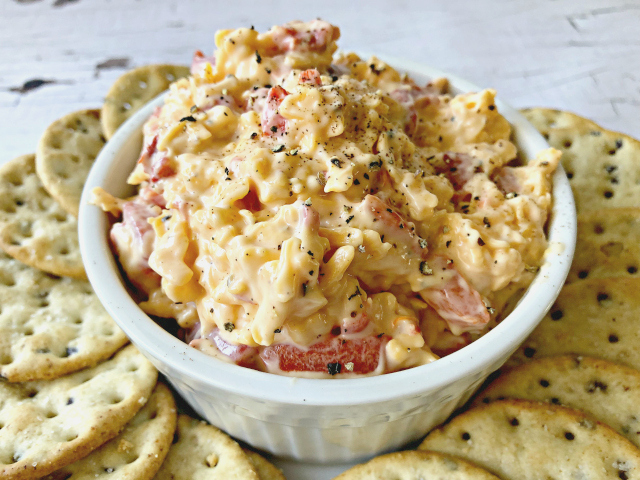 Oh, how I love a good pimento cheese. The sharp tang of cheddar, a touch of creamy mayo, the sweetness of pimento peppers..and always a secret ingredient. My favorite simple sandwich, but fancy enough for a party when served on crackers.
Growing up, sometimes we had pimento cheese in a little quilted glass jar that had a metal top that sort of popped on, it wasn't a screw on kind of lid. It was somehow shelf stable, perfect to take on picnics at the beach. Once a seagull stole my entire sandwich made with that pimento cheese and sliced white bread. I'm still a bit angry when I think back on that. I really do love pimento cheese!
If you've had good, homemade pimento cheese, you know there is a secret ingredient. Some people swear by garlic powder. For some, it's grated onion. Others insist it's mixing in cream cheese or using Velveeta. Or hot sauce. Worcestershire. A bit of pickle or jalapeno. Those are all simply WRONG (and the people who wrote those recipes will tell you my secret ingredient is wrong).
Here are my pimento cheese secrets: shred your own cheese and stir in a little pickle juice. Today's batch was made with juice from a container of bread and butter pickles from the local butcher shop. (I know, there's a joke in there somewhere about a vegetarian walking into a butcher shop… but they have amazing pickles!) I sometimes use dill pickle juice, I've even used a spicy pickle juice. The acidity of vinegar is really the secret, but the extra flavoring the pickling spices impart into the pickle juice is key here.
There are several reasons I prefer to shred my own cheese. First, it's usually less expensive to buy a block of cheese and shred it than it is to be pre-shredded cheese. Second, shredded cheese at the store is coated with some sort of anti-caking agent to keep the shreds separate. This impacts how well it stirs into pimento cheese and also how well it melts. Third, shredding cheese counts as a workout, right? I use a typical box grater, nothing fancy. Some pull out their food processor to do this, but I can have a pound of cheese shredded with the box grater by the time they get their food processor ready to go. Get yourself a box grater and use it often. Every kitchen should have one.
Leftovers. You might have some, although I don't really know how. I make a batch of this and it seems to be gone before I can plan what to do with leftovers. But in case you do have leftovers, this is so good stirred into a batch of grits. Or mixed with elbow macaroni to make the best mac & cheese you've ever tasted. I cook and drain the pasta and then just stir this in until the consistency is what I like, maybe add a splash of milk. I've also used this to make grilled cheese and a time or two have put dollops on top of fancy crackers and stuck them under the broiler. So good.
Dairy-Free Friends: I did not forget about you. I've got an amazing recipe right here for you!
Alright, let's get to the recipe. Pickle juice, don't forget the pickle juice…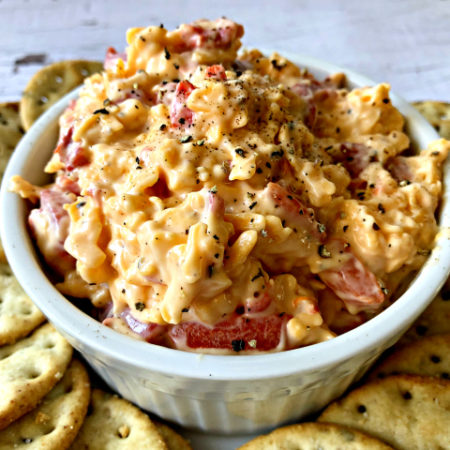 Homemade Pimento Cheese Recipe
Ingredients
2

cups

shredded cheese

(I prefer Sharp Cheddar)

4

ounces

pimentos in a jar

drained

1/2

cup

mayonnaise

(I prefer Just Mayo)

1

teaspoon

pickle juice

1/2

teaspoon

black pepper

1/4

teaspoon

sea salt
Instructions
Stir all ingredients together.

Serve on bread for a sandwich or with crackers.