This post contains affiliate links. See my disclosure for more information.


Looking for a veggie-packed recipe that makes an easy dinner? This is it! My Chunky Garden Veggie Stuffed Spaghetti Squash is my go-to right now. Let me explain why…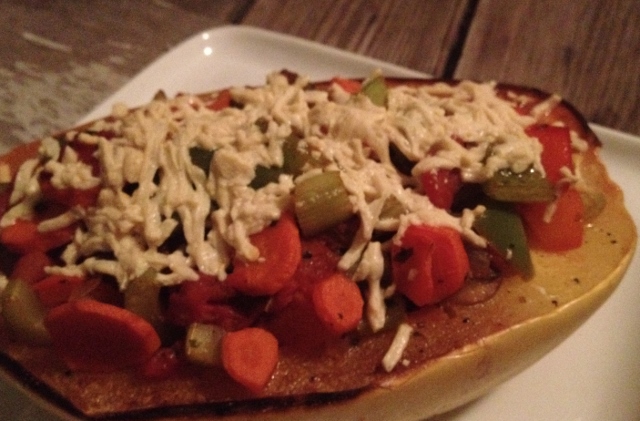 My kitchen, the cute 1970's kitchen you've seen pictured here on my blog and in several print publications, is getting a much needed renovation. The popcorn ceiling is gone. The cabinets are soon to be replaced. Part of a load-bearing wall is being removed. A new sink, all 130 pounds of it, is scheduled to be delivered by the UPS fella soon.
That's the positive part. The challenging part is that my kitchen and living room are covered in drop cloths. Anything that couldn't be removed is draped in plastic that is covered with drywall dust, ceiling fragments and shreds of wallpaper border. On a good day, I can clean enough space to cook dinner and hope that the electrical work is at a point that leaves power for the oven. So far, no meltdowns, but it is challenging to cook a healthy meal at least twice a day.
So last night, after the work had quieted, I ventured into the kitchen and found my oven had power and I could clear a path to cook a meal that isn't microwaved. Seriously, I have used my Keurig to cook something that resembled a meal. Sorta. Ok, not really, it was hot water and a bouillon cube. Maybe there was a meltdown…a little one. 😉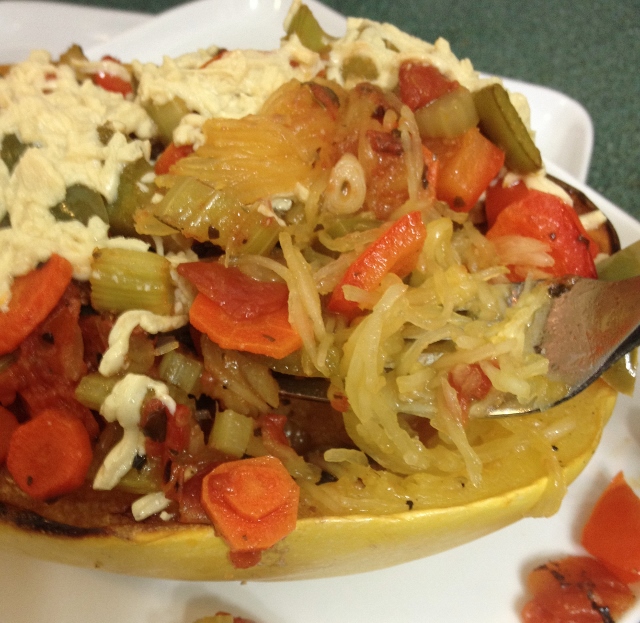 This meal uses one deep skillet, one cookie sheet, a metal spoon, a chef's knife, a cutting board and a wooden spoon. I'm not usually so concerned about how much "stuff" is needed to cook a meal, but it's an issue right now. So I thought I share that. Oh, a plate and a couple forks to eat it. I was able to locate all of those things last night and made this meal in no time at all. So very grateful for a warm, home cooked meal right now. And I'm also excited to share the renovations with you soon. But first….let's eat!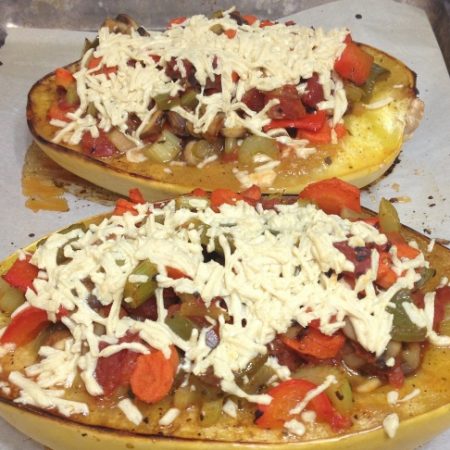 Chunky Garden Veggie Stuffed Spaghetti Squash (gluten-free, dairy-free, vegan)
Ingredients
1

large spaghetti squash

2 14.5-

ounce

cans fire roasted

, diced tomatoes (I use Muir Glen or Trader Joe's)

4

ribs celery

3

carrots

, finely sliced

1

diced yellow onion

1

diced green pepper

1

diced red pepper

1 8-

ounce

container sliced baby bella mushrooms

1

Tablespoon

olive oil

, plus extra for surface of the squash

1

teaspoon

dried basil

1

teaspoon

dried parsley flakes

1/2

teaspoon

dried oregano

salt and pepper

Optional: 1/4 cup Daiya mozzarella shreds or cheese or your choice
Instructions
Preheat oven to 400 degrees.

Line baking sheet with parchment paper.

Using large chef's knife, cut the spaghetti squash in half lengthwise.

Using a metal spoon, scrape out the center of the squash and the seeds.

Rub the cut surface of the squash with a bit of olive oil. Sprinkle the entire squash with salt and pepper.

Place cut side down on the baking sheet and bake for 30 to 45 minutes, until tender. The baking time will depend on the size of the squash and its moisture content.

While the squash is baking, cut the vegetables.

Using a large deep skillet, heat 1 Tablespoon of olive oil over medium heat until hot.

Add the onion, celery, green and red pepper and saute over medium. Once the onion is translucent, add the carrots and mushrooms. Continue cooking until carrots are soft.

Last, add the two cans of tomatoes and spices. Cook until heated through.

Remove the squash from the oven once they are tender. Invert, so the cavity is facing up.

Fill with the warm vegetable filling and sprinkle with Daiya or cheese, if desired.

Return to oven and cook for an additional 10 minutes, until cheese is melted.